Overnight Hot Cross Buns
This post may contain affiliate links. Please read my disclosure policy.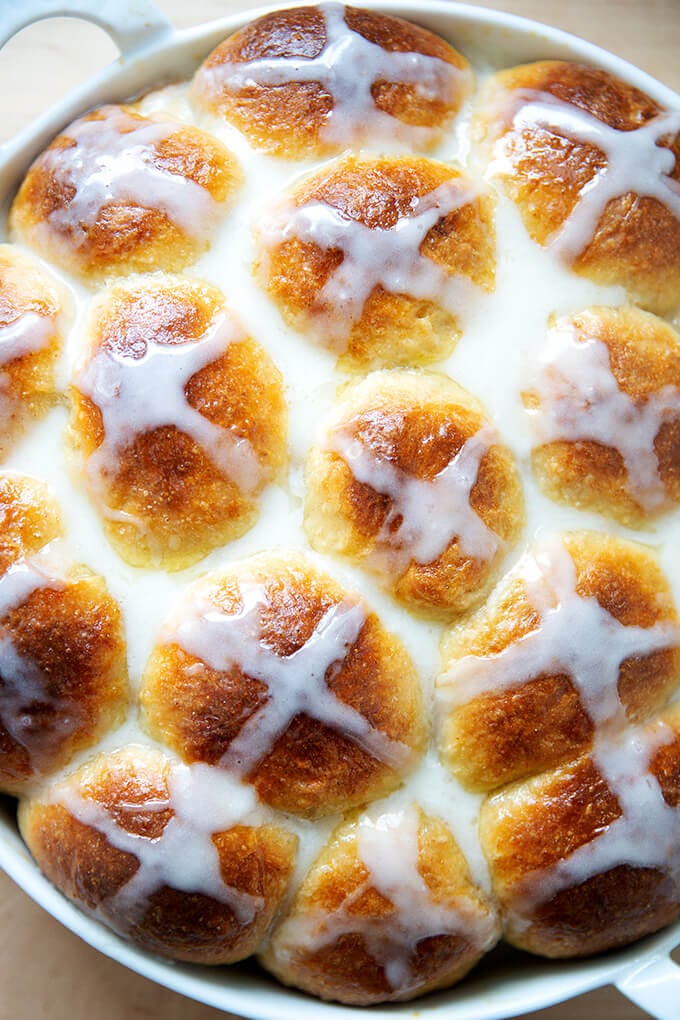 Just as Lahey's pizza dough can be dimpled into pissaladiere and Holly's challah twisted into babka and Nigella's Danish pastry spiraled into croissants, Molly Wizenberg's cinnamon buns can be rolled into hot cross buns.
I've had success using Molly's cinnamon roll dough in other forms, and as I looked online at hot cross bun recipes and at a recipe I had made years ago, I discovered the composition of dough closely resembled Molly's, which has never failed me. This year, Molly's recipe it will be.
These buns can be mixed and baked in the same day, but isn't it more fun to pull a pan from the fridge, pop it in the oven, and tend to fussy toddlers relax with the paper while the smell of freshly baked sweet buns fills the air?
Overnight Hot Cross Buns How-To
Mix the dough: This is a simple no-knead dough that takes 15 minutes to stir together.
Let it rise: Create a warm place for your dough to rise (see recipe for notes); then let it rise for two hours.
Divide and shape: Portion the dough into 16 pieces; roll into balls, transfer to a buttered baking dish.
Transfer pan to the refrigerator and let the buns rise overnight.
The following morning, transfer the pan to the oven, and bake the buns until golden.
While the buns bake, make a simple glaze. Once the buns are done, decorate them each with an "X".
PS: A few ideas for Easter, and my favorite reminder this time of year: If you're making a ham, don't forget the ham sauce! Seriously, it's the most delicious sauce ever.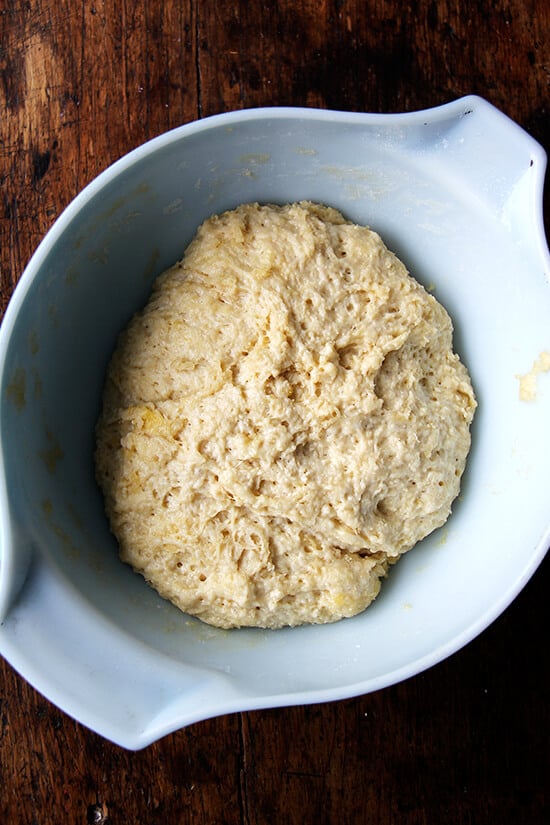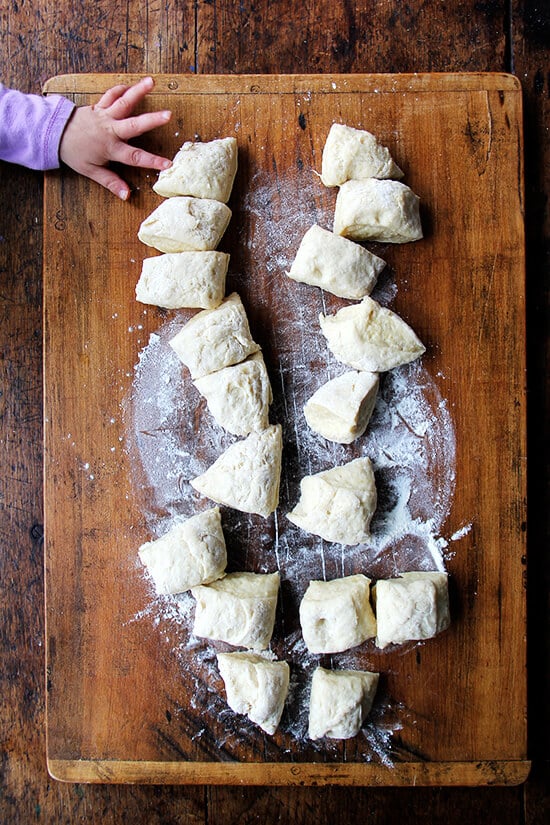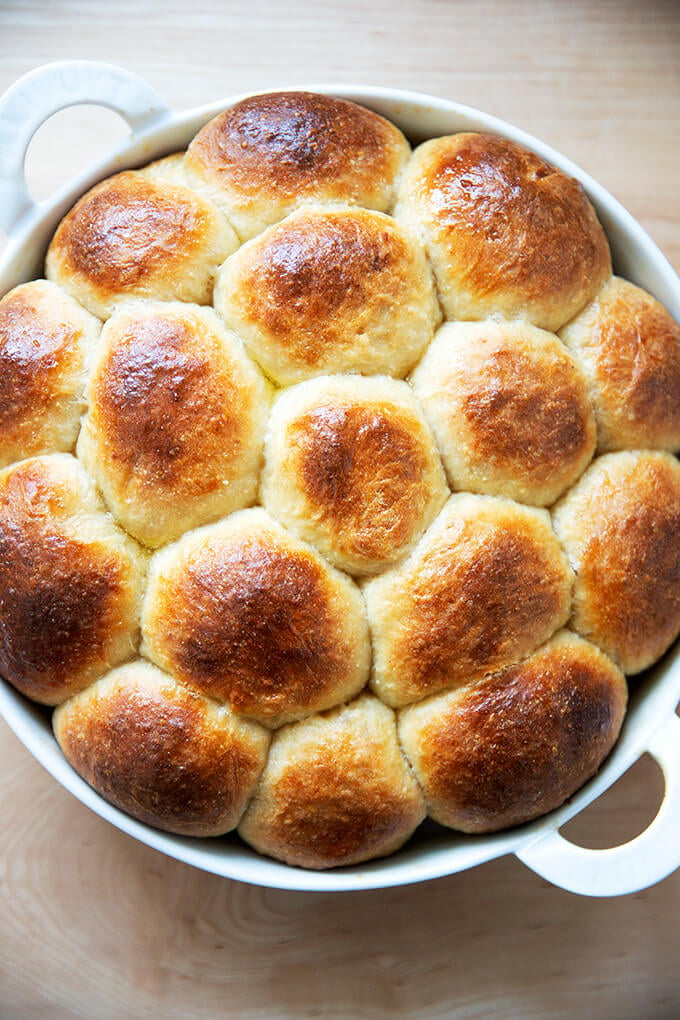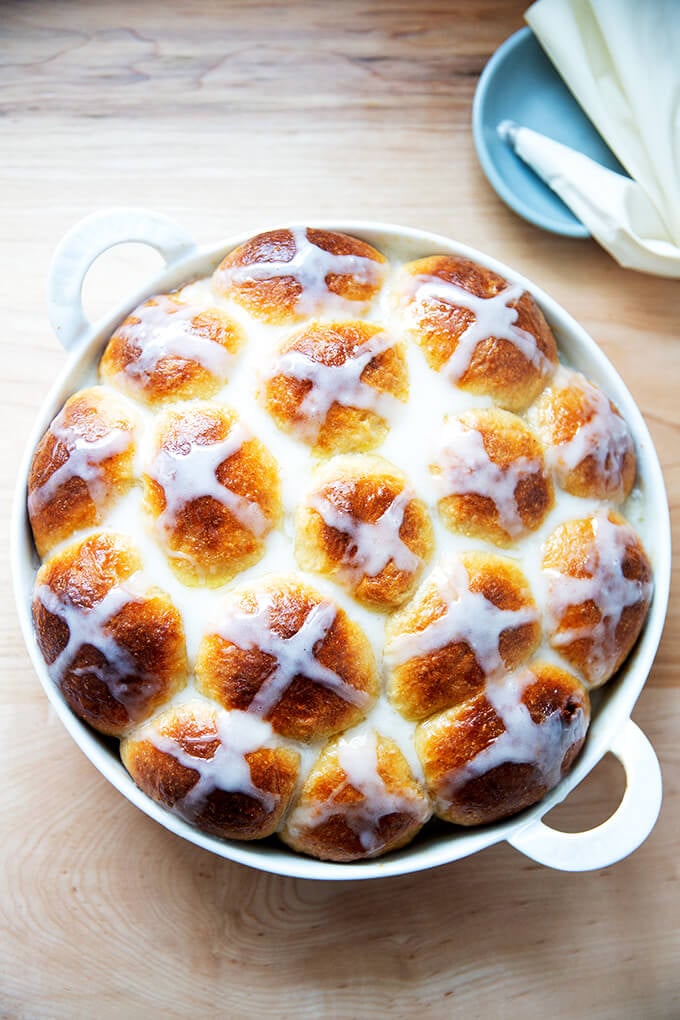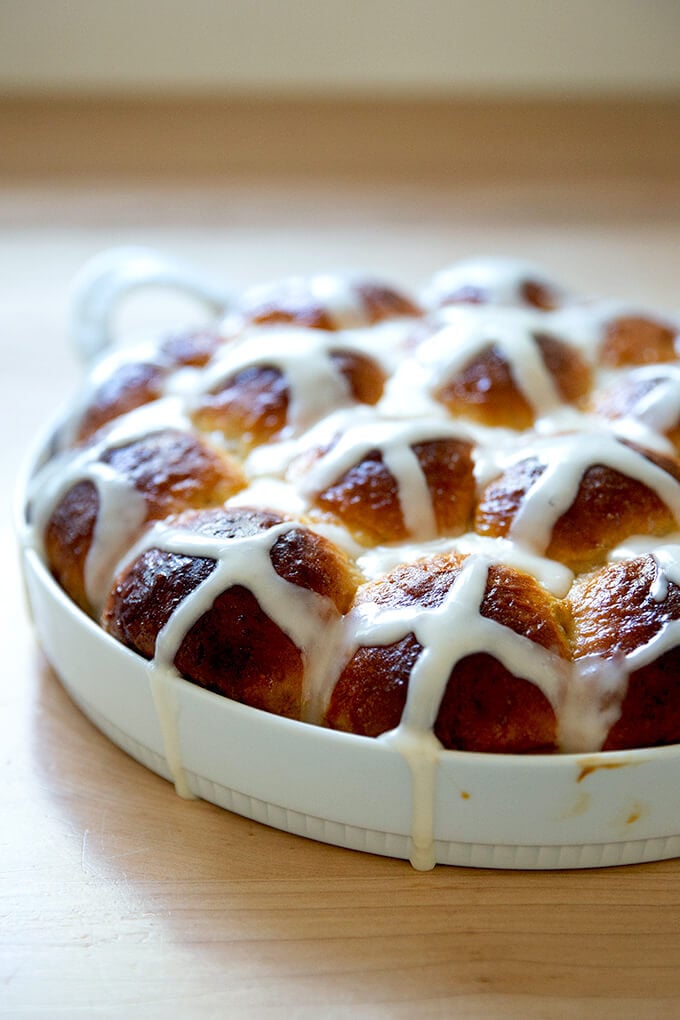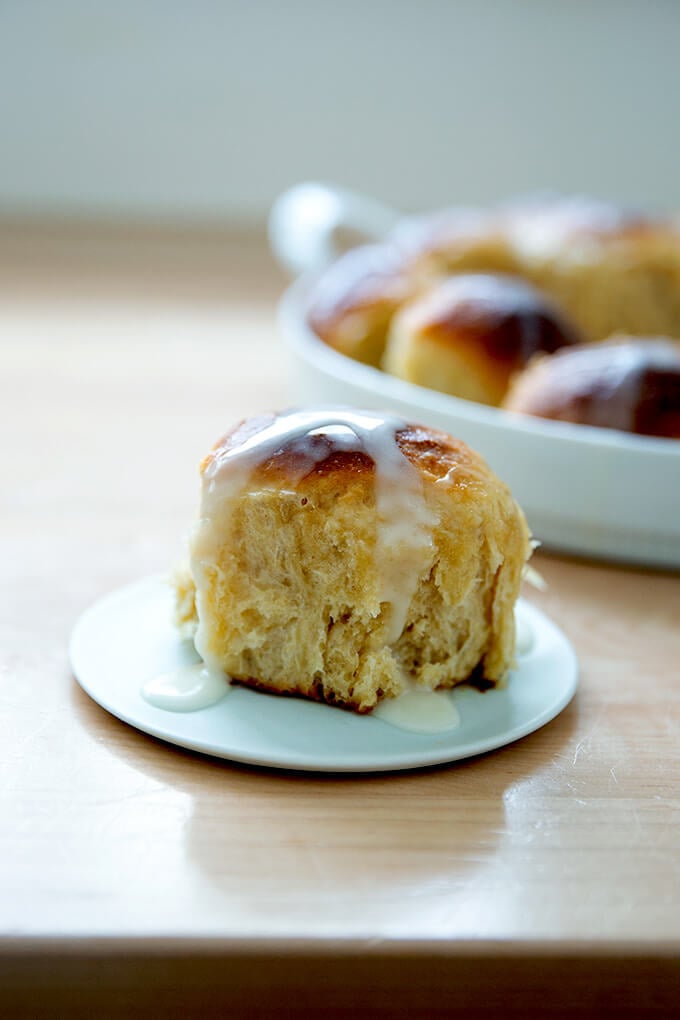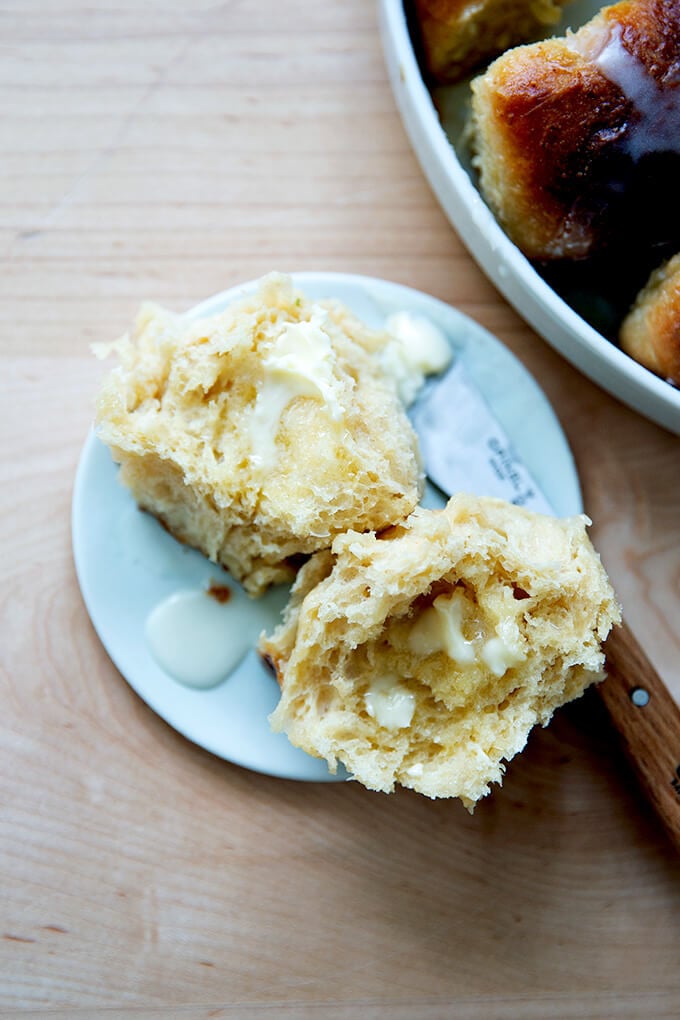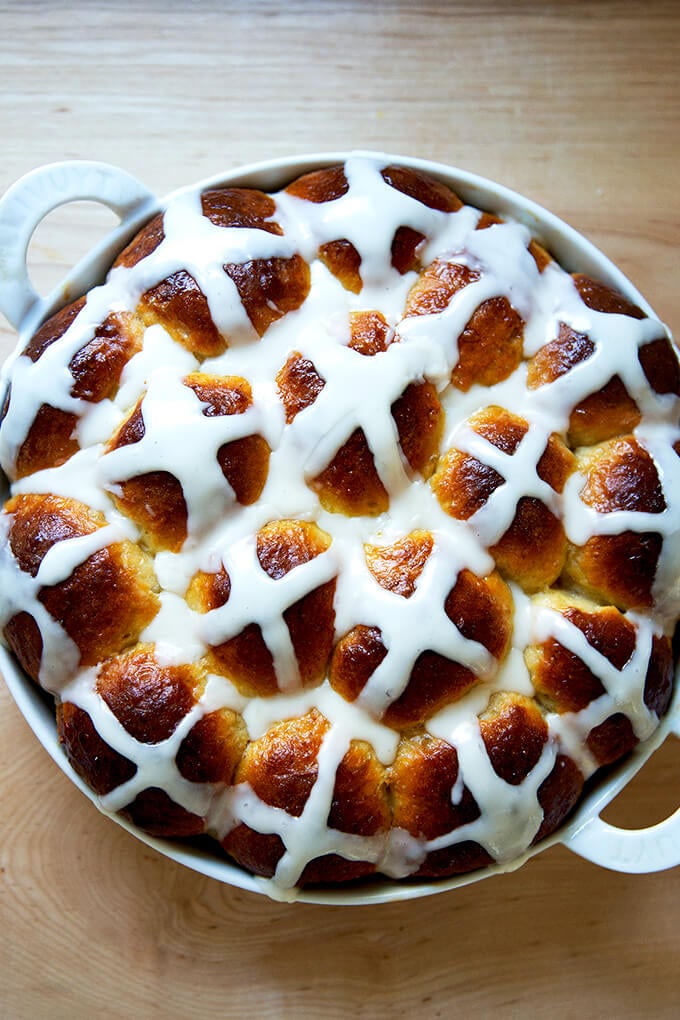 5 Secrets to Foolproof Bread Baking
See how easy bread baking can be in my free ecourse!
Print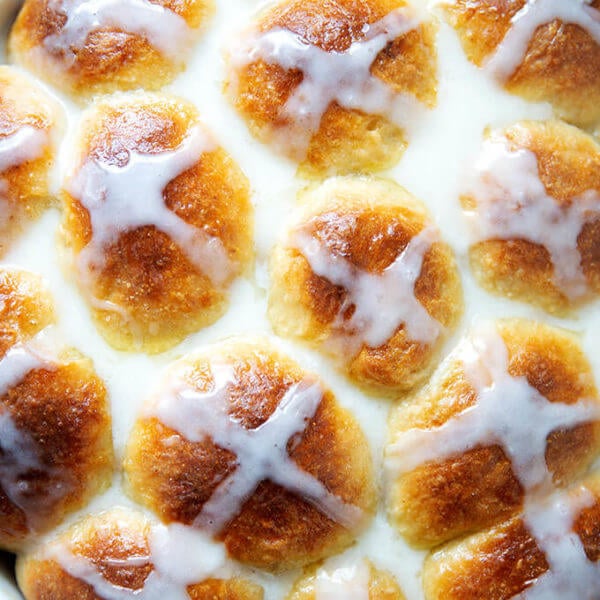 Overnight Hot Cross Buns
---
Description
 Notes:
** UPDATED RECIPE 2020 **
I made these last Easter, as I always do, and while I found them delicious I also found myself wanting some warm, "spiced" notes as well as a little more salt. After a few experiments, these are the minor changes I've made, and I find the resulting buns to be especially delicious:
Replaced 1/4 cup of the sugar with 1/4 cup of brown sugar — in other words, instead of using 1/2 cup of granulated sugar, I use a mix of brown and white. I think the brown sugar really adds here.
Upped the salt to 2 teaspoons. If you use a digital scale, which I highly recommend, it's 10 g.
Added a pinch of nutmeg. I keep whole nutmeg on hand, so I just swiped one across my microplane grater a few times… be careful, spices such as nutmeg, cardamom, cinnamon can overpower quickly. A small pinch is all you need.
Upped the butter from 3 tablespoons to 4. I always use salted butter, but unsalted butter here works just as well. (Just know that if you use salted butter, the buns won't be too salty.)
I brush the just-baked buns with a little melted butter.
Warm Place to Rise: If you need a warm spot, preheat your oven for one minute, then turn it off — it shouldn't get warmer than 100ºF or so and you should be able to press your hands on the grates without burning yourself. Place bowl of dough, covered, in this warm spot until doubled, about 2 hours.
If using active-dry yeast: Boil 1/3 cup of the milk and combine it with 2/3 cup cold milk — this should give you a nice lukewarm temperature. Test with your finger. Add a teaspoon of the white sugar (you can add an additional teaspoon or take from the 1/4 cup of sugar … an extra teaspoon won't make a difference) and sprinkle the yeast over top. Let stand for 15 minutes or until foamy. You can then whisk the egg into this mixture, and you can whisk in the melted butter, too, so long as it has cooled a bit. Then proceed with the recipe. 
2022 Update: Cream Cheese Icing
This year I made a cream cheese icing, and the kids loved it. It also doesn't melt as quickly as the icing in the recipe below. To make it: mix 4 ounces softened cream cheese with 1/4 cup confectioners sugar. Add 1 teaspoon vanilla and a pinch of sea salt. If your cream cheese is very soft, you can mix this with a spatula as opposed to a stand mixer. Taste, and adjust with more sugar and salt as necessary. Transfer to a piping bag or quart storage bag. Snip off a corner of the storage bag, if using, and pipe over the briefly cooled buns. 
---
For the dough:
3½ cups

(

448 g

) or more unbleached all purpose flour

1/4 cup

(

64 g

) sugar

1/4 cup

(56) brown sugar

2 teaspoons

(

8 g

) instant yeast

2 teaspoons

(

10 g

) kosher salt
pinch nutmeg, see notes above

1

large egg

1 cup

(

256 g

) whole milk or 2%, divided

4 tablespoons

unsalted or salted butter, melted, plus more for greasing the pan
For the egg wash:
1

egg beaten with 2 teaspoons water
For finishing (See notes above for a cream cheese frosting variation) 
1 tablespoon

melted butter, optional

1 1/4 cups

confectioners' sugar

2 tablespoons

milk or buttermilk
pinch sea salt

1 teaspoon

vanilla
---
Instructions
In a large bowl, whisk together the flour, sugar, yeast, salt, and nutmeg, if using. Set aside.
In a medium bowl, whisk the egg with 1/2 cup of the milk. Set aside.
Melt butter in a small sauce pan over medium heat. Add the remaining 1/2 cup of the milk and heat until warm to the touch, another 30 seconds or so. Whisk this milk-butter mixture into the bowl with the egg-milk mixture. Resulting mixture should be warm to the touch.
 Add the milk-egg-butter mixture to the bowl with the flour mixture. Use a spatula to combine all ingredients until flour is absorbed and dough is sticky. Sprinkle a handful of dough over the surface, and use your hands to briefly knead dough in bowl just until it all comes together—use more flour as needed, but go light. Dough should be on the sticky side. Cover bowl with plastic wrap or a bowl cover. Let dough rise in warm draft-free area until doubled in volume, about 2 hours. (See notes above for creating a warm place for your dough to rise.)
Butter a 9-inch square or round baking pan. Turn dough out onto a lightly floured work surface. If dough is especially sticky, knead briefly with a little bit of flour. Divide into 16 pieces. If you want perfectly sized balls, each portion should weigh about 59 grams. Roll each piece into a small ball using flour as necessary — this is a very sticky dough! Place balls equally spaced into pan. Cover with plastic wrap or a cloth bowl cover and stick in fridge overnight; or, if baking immediately, let rise again until rolls have doubled and are squishing against each other, 25 to 35 minutes (or more depending on how cold your kitchen is).
Preheat oven to 375ºF. If you are doing the refrigerator rise, remove the pan an hour (or more if possible) before baking. It's OK if, after the hour, the buns look unchanged. Brush rolls with egg wash.  Bake for about 25 minutes, or until rolls are evenly golden brown.
Meanwhile, stir confectioners' sugar with milk, salt, and vanilla to form a glaze (or see notes above if making the cream cheese frosting). Adjust the glaze with more milk or salt to taste. If you like a more pronounced "x", keep the glaze on the thick side. For more control making the "x", transfer glaze to small ziplock back. Snip the corner and use it like a pastry bag (or use an actual pastry bag if you have one).
Remove pan from oven and immediately brush with melted butter, if using. Let buns cool ten minutes before drizzling glaze overtop. Serve immediately, re drawing the "x" over individual buns if you wish. Serve with more softened butter, if you wish… it might sound excessive, but a little warm butter on a hot cross bun is, well, heaven.
Prep Time:

20 minutes

Cook Time:

25 minutes

Category:

Breakfast

Method:

Oven

Cuisine:

American
Keywords: hot cross buns, Easter, breakfast, holidays, overnight, buns, sweet, Good Friday
This post may contain affiliate links. Please read my disclosure policy.