Just as Lahey's pizza dough can be dimpled into pissaladiere and Holly's challah twisted into babka and Nigella's Danish pastry spiraled into croissants, Molly Wizenberg's cinnamon buns can be rolled into hot cross buns.
I've had success using Molly's cinnamon roll dough in other forms, and as I looked online at hot cross bun recipes and at a recipe I had made years ago, I discovered the composition of dough closely resembled Molly's, which has never failed me. This year, Molly's recipe it will be.
These buns can be mixed and baked in the same day, but isn't it more fun to pull a pan from the fridge, pop it in the oven, and tend to fussy toddlers relax with the paper while the smell of freshly baked sweet buns fills the air?
There are two ways you can get a jumpstart on these rolls the day before serving them: 1. Mix the dough and stick it in the fridge. This method will require a little bit of thought in the morning. 2. Follow the recipe until the rolls are shaped and arranged in their buttered baking dish, then stick pan in fridge. This method requires very little thought on baking day.
Both methods work well but I vote for #2. Notes in recipe regarding timing.
PS: A few ideas for Easter, and my favorite reminder this time of year: If you're making a ham, don't forget the ham sauce! Seriously, it's the most delicious sauce ever.
PPS: Passover Chocolate Cake, Torta Caprese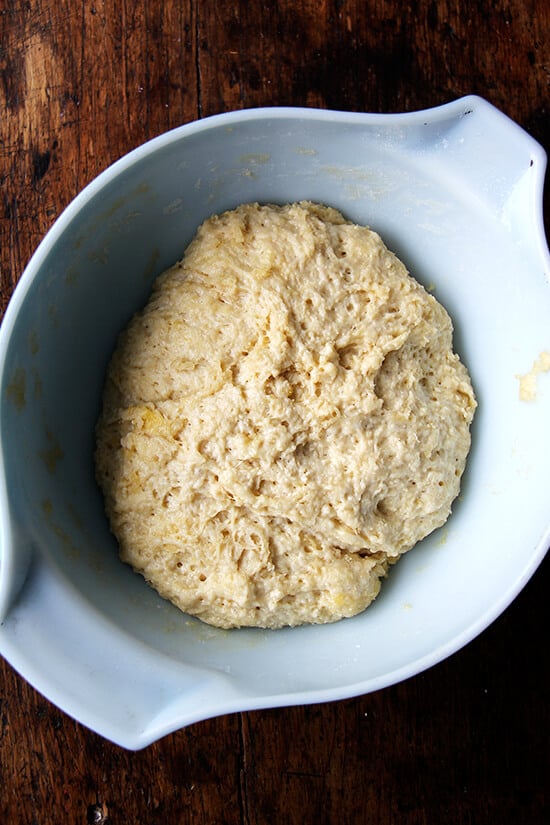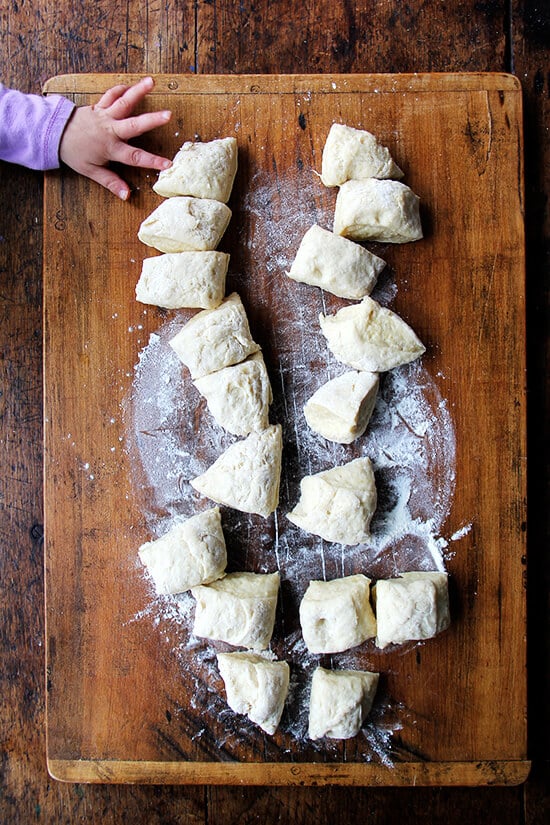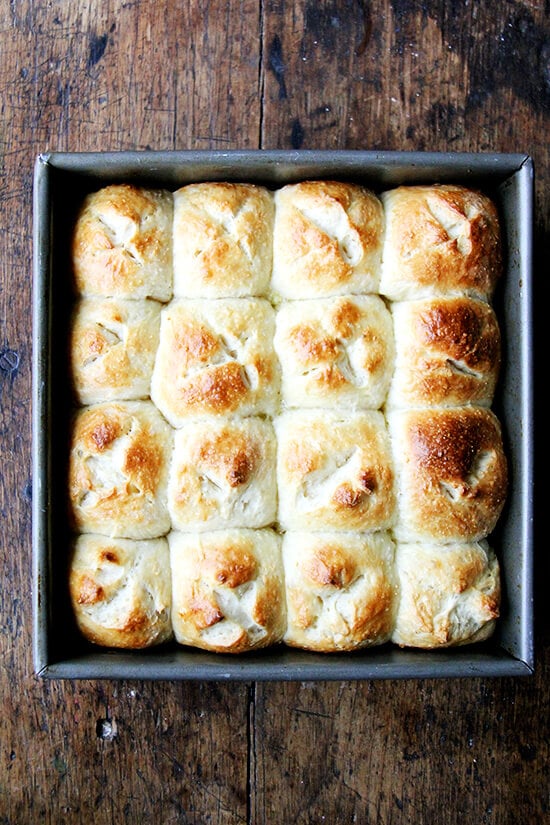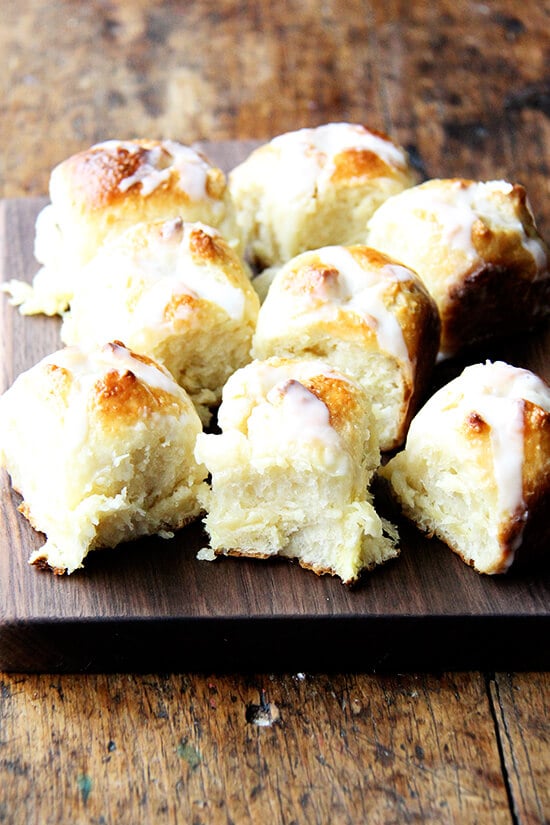 Print
Overnight Hot Cross Buns
---
Prep Time:

20 minutes

Cook Time:

25 minutes

Total Time:

18 hours

Yield:

16 buns
Description
Dough recipe adapted from Molly Wizenberg's cinnamon rolls (another favorite)
There are two ways to make these in advance:
1. You could do the initial mixing at night and let the dough rise overnight in the fridge. This requires a little bit of work in the morning — punching down the dough (provided it has risen sufficiently), shaping, letting rise again, etc. Your rolls won't be ready first thing in the morning, but they'll be ready soon enough.
2. You can follow the recipe until the rolls are shaped and placed in their baking pans, then stick them in the fridge to rest overnight. As far as timing goes, allow yourself about four hours to mix the dough, let it rise, shape the rolls, etc. — so if you go to bed at 10pm, make sure you've started the rolls by 6am, and if you have the time, you're best off starting them even earlier in the day.
If when you take the rolls out of the fridge in the morning they are not doubled in size, let them sit in a warm spot until they have doubled — they should be puffed and squishing against each other. If you need a warm spot, preheat your oven for one minute, then turn it off — it shouldn't get warmer than 100ºF or so and you should be able to press your hands on the grates without burning yourself. Place pan of buns in this warm spot until they have doubled. Also, I don't knead this dough anymore, and I've simplified the mixing process from the original recipe. If you feel like being more careful with the mixing, see the original recipe.
---
Ingredients
For the dough:
3½ cup

s (

448

g) or more unbleached all purpose flour

½ cup

(

117

g) sugar

2¼ teaspoon

s instant yeast

1½ teaspoon

s(

6

g) kosher salt

1

large egg

1 cup

whole milk or

2

%, divided

3 tablespoon

s unsalted butter, plus more for greasing the pan
For the eggwash:
1

egg beaten with 2 teaspoons milk
For finishing:
1½ cup

s confectioners' sugar

2 tablespoon

s milk
---
Instructions
In a large bowl, whisk together the flour, sugar, yeast, and salt. Set aside.
In a medium bowl, whisk the egg with 1/2 cup of the milk. Set aside.
Melt butter in a small sauce pan over medium heat. Add the remaining 1/2 cup of the milk and heat until warm to the touch, another 30 seconds or so. Whisk this milk-butter mixture into the bowl with the egg-milk mixture. Resulting mixture should be warm to the touch.
 Add the milk-egg-butter mixture to the bowl with the flour mixture. Use a spatula to combine all ingredients until flour is absorbed and dough is sticky. Sprinkle a handful of dough over the surface, and use your hands to briefly knead dough in bowl just until it all comes together—use more flour as needed. Dough will still be very sticky. Cover bowl with plastic wrap or a bowl cover. Let dough rise in warm draft-free area until doubled in volume, about 2 hours.
Butter a 9-inch baking pan. Turn dough out onto a lightly floured work surface and divide into 16 pieces. Roll each piece into a small ball.  Place balls equally spaced into pan. Cover with plastic wrap and stick in fridge overnight or let rise again until rolls have doubled and are squishing against each other. (See notes above re storing dough in fridge overnight.)
Preheat oven to 350ºF. Brush rolls with egg wash. Don't bother slashing them to make the "x" — you risk deflating them, and it's just not necessary. Bake for 25 to 30 minutes, but start checking at the 20-minute mark.
Meanwhile, stir confectioners' sugar with milk to form a glaze. For more control making the "x", transfer glaze to small ziplock back. Snip the corner and use as pastry bag. Let buns cool ten minutes before drizzling glaze overtop. Serve immediately.
---
Category:

Breakfast

Method:

Oven

Cuisine:

American
Keywords: hot cross buns, Easter, breakfast, holidays, overnight, buns, sweet, Good Friday