"Alta" Brussels Sprouts
This post may contain affiliate links. Please read my disclosure policy.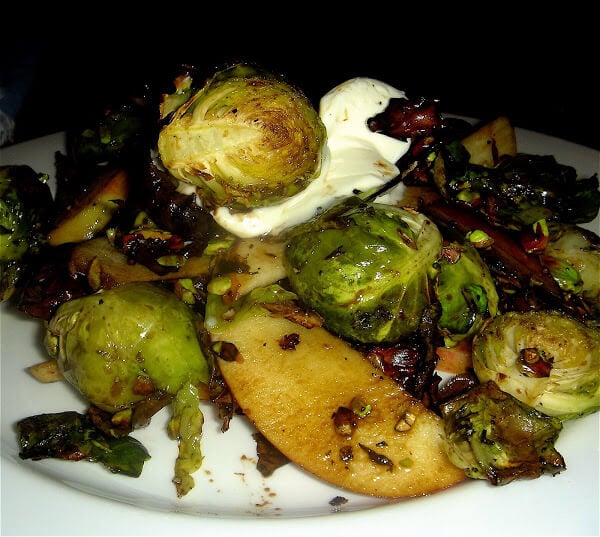 Last night my husband and I traveled to New York to meet a group of friends for an impromptu dinner at Alta, a tapas restaurant in the West Village. Between the seven of us we shared 20 delectable small plates with the unanimous favorite being the Crispy Brussels Sprouts with Fuji Apples, Crème Fraîche and Pistachios — it was the only dish we ordered twice!
I have already written to the "R.S.V.P" and "You Asked For It" sections of Bon Appetit and Gourmet magazines, respectively, requesting this recipe from Alta's Chef Mosher, but in the meantime I have done a little experimenting of my own. While my husband and I were not disappointed with my attempted re-creation — charred Brussels sprouts, sweet apples, sour crème fraîche and toasted pistachios alone combine to form a delicious mixture of contrasting flavors and textures — something was missing.
At Alta, over our second plate of these crispy mini cabbages, we all mused and speculated about this indiscernible ingredient: a very flavorful, at once vinegary, sweet and sharp sauce present in each mouthful. Here, I've reduced balsamic vinegar with honey to capture this effect and until I hear from one of the above contacted authorities with the secret formula, I can survive with this substitute. While we enjoyed this side dish tonight with our hamburgers, the combination of Brussels sprouts and apples would be especially delicious served aside a nice, juicy pork chop.
Print
Roasted Brussels Sprouts with Apple, Crème Fraîche and Pistachios
---
Total Time:

35 minutes

Yield:

2 servings
10 oz

Brussels sprouts, tough stem removed and halved
Extra virgin olive oil
Kosher salt and freshly cracked pepper to taste

3 tablespoons

balsamic vinegar

1 tablespoon

honey

2 tablespoons

pistachios, toasted and coarsely chopped

1/2

Fuji Apple, unpeeled and thinly sliced

1 tablespoon

crème fraîche, or more to taste
---
Instructions
Preheat the oven to 450˚F. Toss the Brussels sprouts with enough olive oil to coat, a generous pinch of salt and pepper to taste. Meanwhile, in a small sauté pan, gently simmer the balsamic vinegar with the honey until the mixture has reduced and is slightly thickened, 3-5 minutes. Set aside.
After 15 minutes, remove the Brussels sprouts from the oven, stir and rearrange with a spoon and test one with a paring knife. If the Brussels sprouts are not sufficiently charred or tender, return to the oven for five minutes. If they appear to be charring too much, reduce the oven temperature to 400˚F and continue roasting until they are knife-tender.
When the Brussels sprouts are finished cooking, remove from the oven, transfer to a bowl, and add the pistachios and apple slices. Pour the reduced balsamic mixture into the bowl and toss to coat evenly.
Transfer mixture to serving platter and top with a dollop of crème fraîche. Serve immediately, seasoning with more salt if necessary and more crème fraîche if desired.
Prep Time:

10 minutes

Cook Time:

25 minutes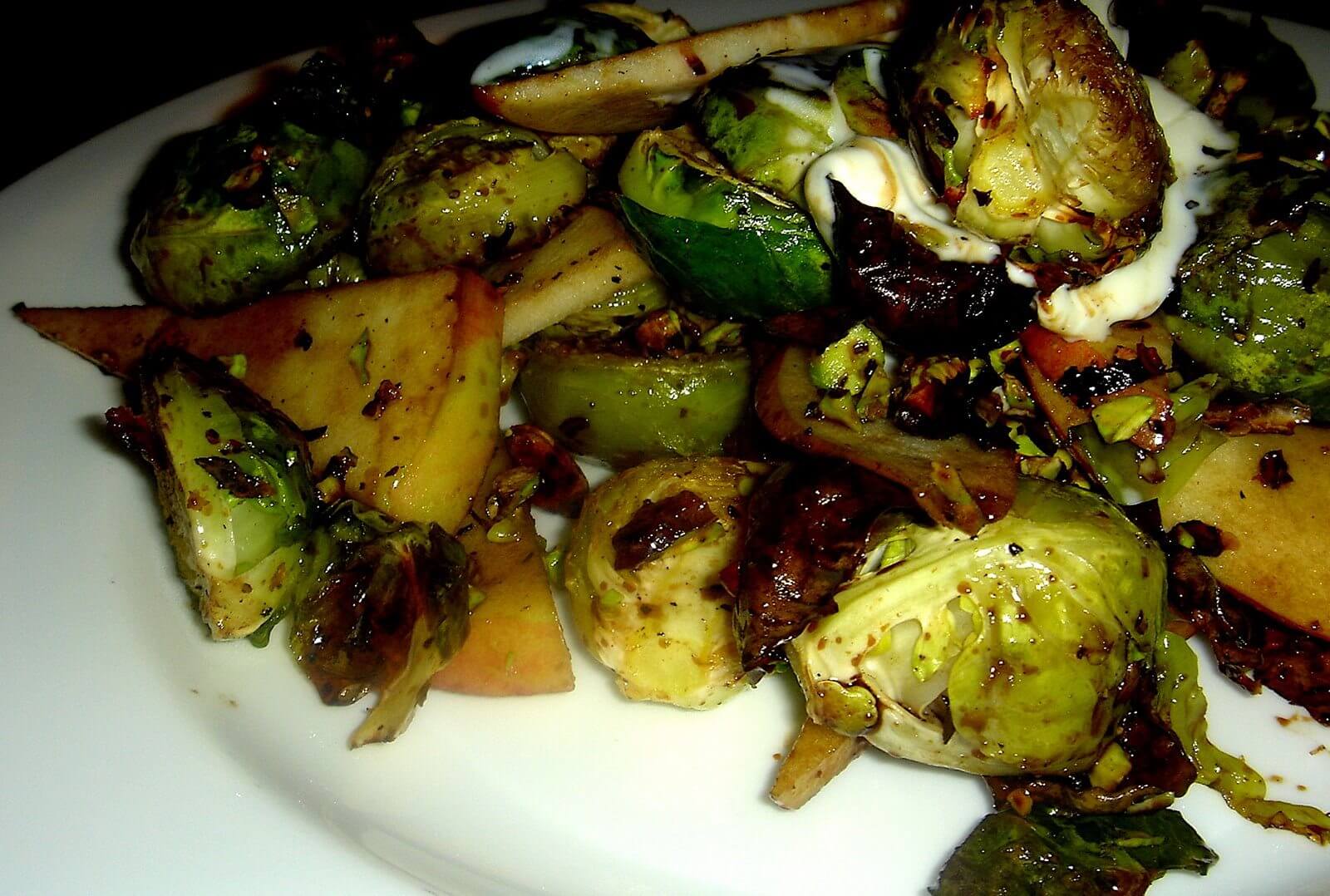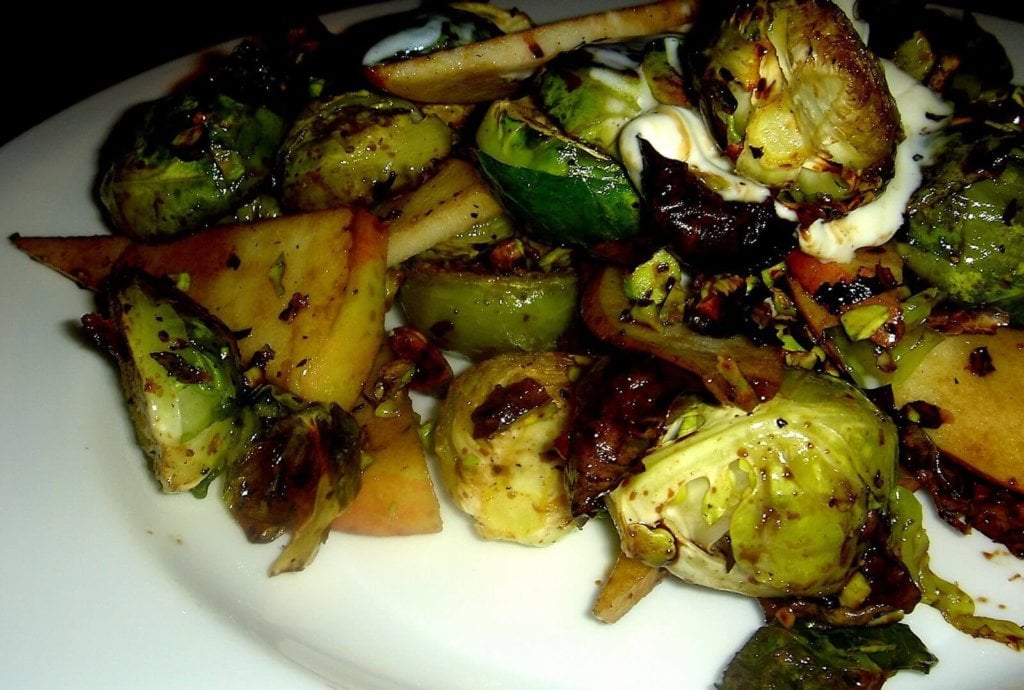 This post may contain affiliate links. Please read my disclosure policy.