Oktoberfest
This post may contain affiliate links. Please read my disclosure policy.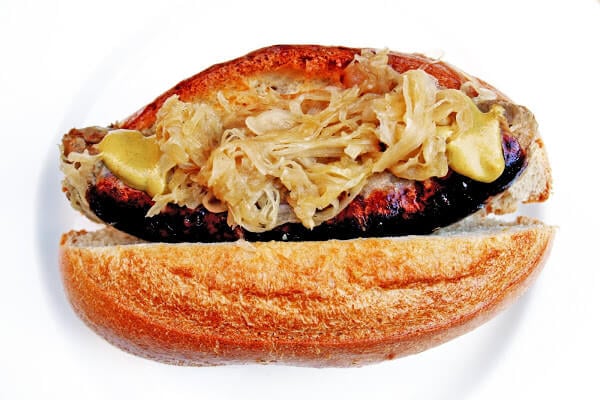 Wanting to prepare a traditional Bavarian dish in honor of Oktoberfest, I wandered through the Italian Market in search of sausage. From Cappuccio's Meats, I purchased a pound of apple and cinnamon pork sausages, assured by the butcher they wouldn't be too sweet.
While these South-Philly links unlikely resemble those served in German pubs, they work perfectly in this recipe: The cinnamon in the sausage pairs nicely with the grated apples and juniper berries in the braise. After 30 minutes of gentle simmering, the sauerkraut absorbs all of these flavors as well as all the juices from the sausage, becoming a tasty condiment for these hoagies.
And while I have only tasted one of the 12 seasonal beers I picked up at the Foodery — the Hofbraü, one of the six local beers served at the Munich festival — I think they all have been inherently designed to taste good with pork or any of the other Oktoberfest fare — roast ox tail, rotisserie chicken, spaetzle.
Heartier than a Pilsner but lighter than a Bock, the Hofbraü is a great fall beer, and tasted even better with my Bavarian hoagie. This Sunday, cheer the Eagles to their first victory while savoring braised sausage with sauerkraut and imbibing in an autumn-spiced Dogtoberfest (Flying Dog Brewery), a pumpkin-spiced Punkin (Dogfish Head Craft Brewery) or any of the other fun Oktoberfest brews.
Read all about the tradition of this renown Munich festival below: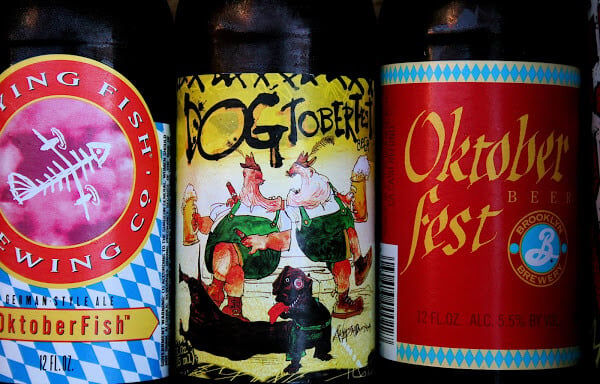 Tapping a keg before a crowd of thousands at noontime tomorrow, the Lord Mayor of Munich will commence the festivities of Oktoberfest, a centuries-old tradition attracting revelers from across the globe. In the next two weeks, more than six million visitors will relish classic German fare such as sausages, sauerkraut, roasted ox tails and spaetzle, while enjoying traditional song and dance. Some will watch the legendary crossbow competitions, others the various parades, but all will celebrate the beer — a dark-colored, high-octane brew, made specially for the occasion.
The first Oktoberfest began on October 12, 1810, when the Bavarian Crown Prince Ludwig and Princess Therese organized a festival to commemorate their marriage. On a meadow outside the city gates, the citizens of Munich celebrated with singing, dancing and feasting, a five-day event ending with a large horse race. The townspeople named the field "Theresienwiese" (after the bride) or "Wiesn" for short, a term that has lasted for nearly 200 years.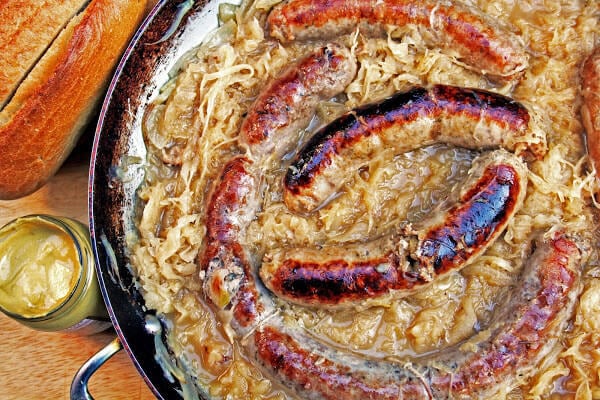 As each successive festival became longer and more elaborate, the royal couple eventually pushed the start date back, taking advantage of the warmer September weather. Historically, however, Oktoberfest has always ended on a weekend in October.
Over the years, this occasion has deservingly earned the title the "Largest People's Fair in the World." Pitched across the 100-acre Wiesn, fourteen tents — some large enough to cover 10,000 seats — form a mini village. Under these tents, 12,000 employees including 1600 barmaids annually serve over 200,000 pairs of sausages, 450,000 rotisserie chickens, 100 roasted oxen and 6 million steins of beer.
Oktoberfest has not only inspired cities all over the world to organize similar festivals, but also breweries to create special concoctions, some honoring the "Marzen-style" brew, the style enjoyed by Germans at the original Oktoberfest. Marzen means March in German, and before the invention of refrigeration, March marked the last month beer could be brewed before the hot weather moved in. Brewers stored their beer in ice caves until October when the cool air returned, welcoming these brews and inspiring harvest festivals, the immortalized Bavarian wedding being one of them.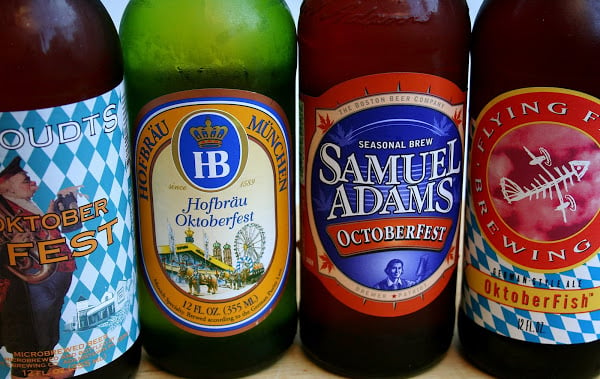 In 1872, the Munich brewery Spaten created the first Oktoberfest beer, and today, only six local breweries (Spaten, Augustiner, Paulaner, Hacker-Pschorr, Hofbraü and Löwenbräu) have permission to serve their seasonal brews at Oktoberfest. Each of these companies abides by the "Reinheitsgebot" or German Purity Law enacted in 1516, stipulating that beer may be brewed with only four ingredients: malt, hops, water and yeast.
In general, however, the numerous beers created each fall in honor of the festival tend to be amber in color, medium to full-bodied in alcohol, and malty in taste. Some Oktoberfest brews such as Sam Adams, Brooklyn Brewery, Stoudt's, Saranac, Flying Dog and Flying Fish use only imported European ingredients (hops and malt). Some brewers age the beer slowly in the tradition of those made for the Munich festival, and others add seasonal flavorings: Weyerbacher Brewing Company of Easton adds pumpkin as well as cinnamon, nutmeg, cardamom and cloves to its Imperial Pumpkin Ale; and Dogfish Head Craft Brewery of Milton, Del., adds pumpkin and brown sugar to its Punkin Ale.
Print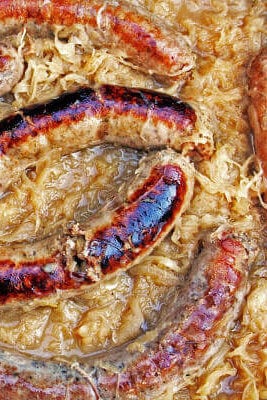 Sausage and Sauerkraut for Octoberfest
---
1 tablespoon

olive oil

4

fresh sausages*

1

onion, peeled and thinly sliced

10

whole juniper berries
kosher salt and pepper

1¾ cups

chicken stock

2

lbs. sauerkraut, rinsed
2 apples, such as Granny Smith or Honey Crisp, peeled and grated
* Cappuccio's on the Italian Market makes delectable homemade sausages (215.922.5792)
* The Fair Food Farmstand sells several wonderful varieties as well from Country Time Farm and Jamison Farm
---
Instructions
Heat the oil in a 12-inch skillet over medium-high heat. Brown the sausage on all sides, then transfer to a plate. Add the onion and juniper berries and sauté until the onions are tender, about five to seven minutes, seasoning with salt and pepper to taste. Add the stock, sauerkraut and apples, and stir to combine, scraping any browned bits from the bottom of the pan. Nestle the sausage back into the sauerkraut mixture, bring to a simmer, cover and cook over low heat until the sausages are cooked through and some of the liquid has evaporated, about 25 to 30 minutes.
Serve with a variety of mustards and hoagie rolls if desired.
This post may contain affiliate links. Please read my disclosure policy.