Blood Oranges and Ettinger Avocados
This post may contain affiliate links. Please read my disclosure policy.
OK, I know, my consumption of oranges and avocados is getting out of hand. What's pictured below is just my mid-morning snack. Ben drew the line last night before dinner. He told me he was starting to get "freaked out."
To be fair, let me put his comment in context. For the most part, we have been eating the widely recognized Hass avocados — the dark, rough-skinned variety. Last night, however, I changed things up a bit and pulled out the Ettinger avocado I had purchased at the Sunday farmers' market. A woman working at the Eli's Ranch table told me Ettinger avocados have a "buttery texture" and "a pine nut flavor." They also look like ostrich eggs, which I believe is what freaked Ben out.
I told Ben to look away as I sliced into its flesh. I didn't want him to lose his appetite. Once on the plate, sprinkled with a little salt, however, these avocados look just like all the others, and Ben could eat his meal in peace.
Blood Oranges. Since reading a post in Matt Bites about a blood orange and campari cocktail I have been wanting to a.) make the drink and b.) experiment more with blood oranges. I have yet to make the cocktail but I have been eating my fair share of blood oranges. Mixed with avocados, sprinkled with sea salt and drizzled with olive oil, they make a yummy, simple salad or, as I mentioned above, a nice mid-morning snack.
Last night, I made a vinaigrette using the juice of two blood oranges, shallots, olive oil and salt (using the same method described on the sidebar below) and tossed it with arugula and shaved parmesan. Yum.
That's all for now. I will try to refrain from mentioning oranges and avocados in the near future.
A Simple, Yummy Snack
Serves 1
1 avocado
sea salt
2 blood oranges
good extra-virgin olive oil

1. Cut the avocado in half. Remove the pit. Scoop out the flesh. Cut into large chunks. Place on a plate. Sprinkle with sea salt.
2. Slice off the ends of each orange. Using a sharp knife, slice off the peel, removing as much of the pith as possible. Cut the orange into large chunks and add to the plate of avocados. Season with a touch more salt.
3. Drizzle with olive oil. Eat.
A crate filled with Ettinger avocados. OK, so they don't really look like ostrich eggs, but they are significantly larger than Hass.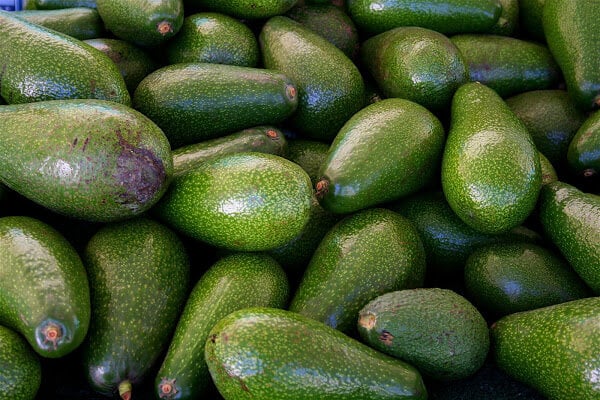 This post may contain affiliate links. Please read my disclosure policy.