American Tuna Open-Faced Tuna Salad Sandwich
This post may contain affiliate links. Please read my disclosure policy.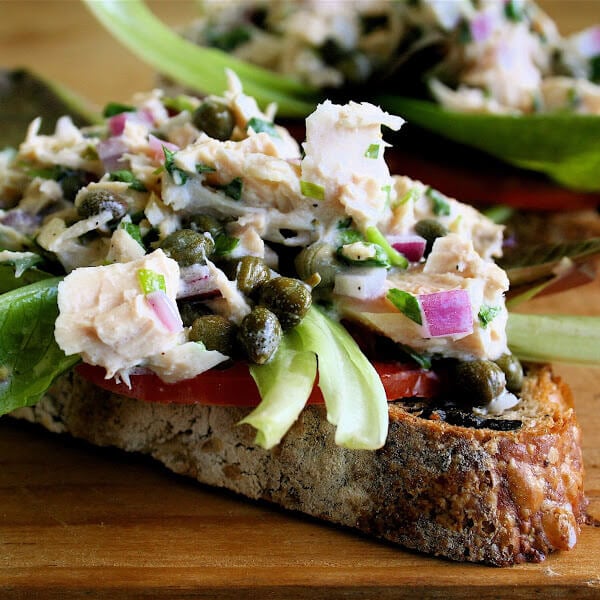 So, I am happy to report that the American Tuna I recently smothered with cheese and wedged between two pieces of buttered bread tastes just as delectable when prepared in a healthy manner. These open-faced sandwiches, made with the same tarragon-tuna salad prepared for the tuna melt plus a couple tablespoons of capers, make a very tasty, light lunch or dinner. Toasted olive bread is an especially nice base.
Additionally, I must report my latest egg preparation: soft-boiled. Yum. The recipe I followed produced perfectly colored and textured soft-boiled eggs. I'm not sure I'm crazy about the method, however, which calls for submerging the eggs in cold water, which makes the eggs, as expected, cold. In any case, soft-boiled eggs atop asparagus, prosciutto and mascarpone-slathered toasts make another great open-faced sandwich.
Lastly, down below, you'll see another batch of the whole-grain muffins I made several weeks ago. In this batch, mashed bananas and pecans have replaced the Fuji apples.
Asparagus Toasts with Mascarpone, Prosciutto & Soft-Boiled Eggs. To make these toasts, preheat the oven to 400ºF. Slice a loaf of french bread into four 1/2-inch thick pieces. Place on a baking sheet, drizzle with olive oil and toast until golden. Meanwhile, place four eggs in a small saucepan. Cover with cold water, bring to a boil and simmer for five minutes. Plunge the eggs into cold water. After three minutes, peel and slice the eggs. Meanwhile, bring a large pot of water to a boil. Blanch one bunch of asparagus for 30 seconds. Spread the toasts with a spoonful of mascarpone cheese. Top each with a slice of prosciutto, a few pieces of asparagus and the sliced eggs. Season with salt and pepper to taste. Serves 4.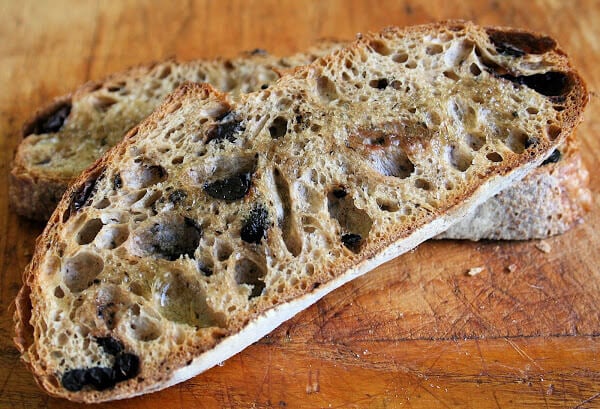 Open-Face Tuna Salad Sandwiches
Serves 4
1 loaf of olive bread
extra-virgin olive oil
2 tablespoons mayonnaise
1 teaspoon Dijon mustard
juice of half a large lemon (about 1½ tablespoons)
kosher salt
freshly ground black pepper
1 6-ounce can American Tuna
¼ cup finely diced red onion
¼ cup chopped tarragon
2 tablespoons capers
1 tomato, thinly sliced
1 small bunch lettuce
1. Preheat the oven to 350ºF. Slice the olive bread into four thin rounds. Place on a cookie sheet, drizzle with the olive oil, and bake until golden brown, about 10 minutes. Remove from oven and let cool.
2. Meanwhile, make the dressing: Whisk the mayonnaise with the mustard and lemon juice. Season with a pinch of salt and pepper to taste. Dressing will be thin. Taste, adjusting seasoning as necessary.
3. Place tuna in a large mixing bowl. Add the onion, tarragon and capers. Pour dressing over top and combine mixture gently with a fork. Set aside.
4. Assemble sandwiches: Line bread rounds with tomatoes. Top each with a small handful of lettuce. Top each with a mound of the tuna salad. Cut in half, if desired. Serve.
The 100% whole-grain muffins pictured below are filled with mashed ripe bananas and crunchy pecans. As FarmGirl promised, this recipe can be adapted in countless ways.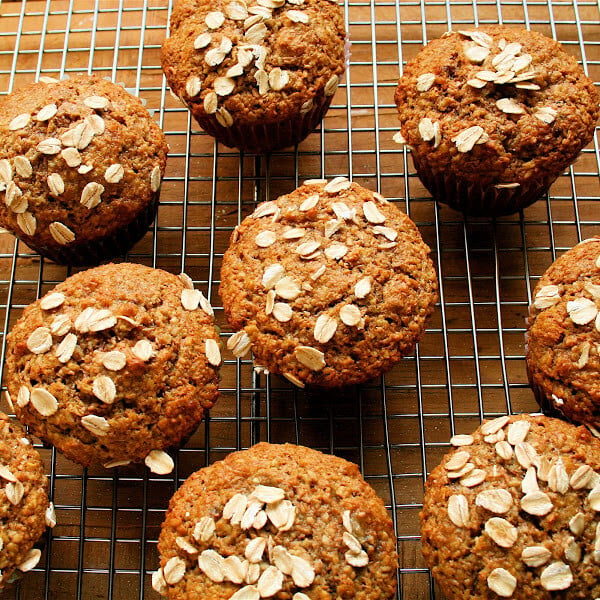 This post may contain affiliate links. Please read my disclosure policy.