Classic Coffee Cake
This post may contain affiliate links. Please read my disclosure policy.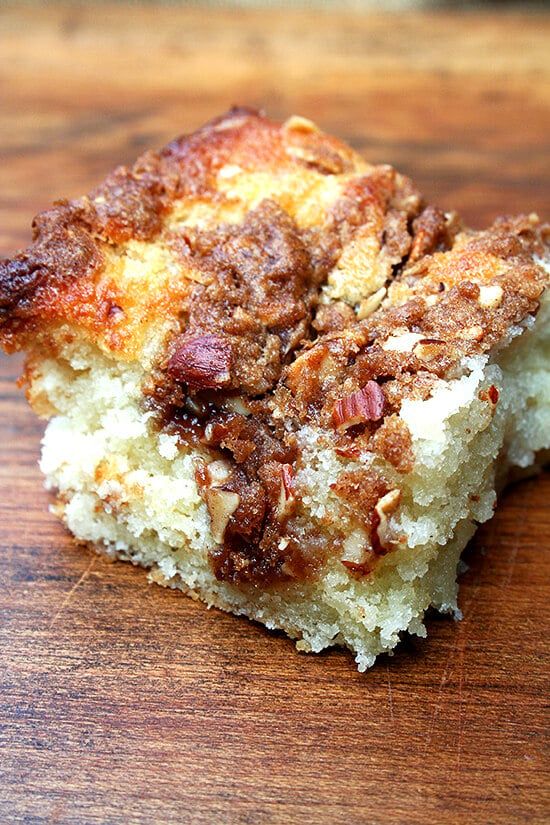 Psssssssst. Do you have a sec? I hate to disturb you while you're working but I'm having people over for breakfast this morning, and I'm serving them this. It's delicious. It's just a classic coffee cake, but boy is it hitting the spot. Seriously, on your next break, please stop by for a slice. Would love to have you join our little party.
I found the recipe by googling "best coffee cake ever," which led me to discover The Pioneer Woman. She's funny. She described the cake as a complete miracle. How could I resist making a complete miracle? I couldn't, but I broke one of my rules in the process.
Rules, you ask? Yes. You see, I try hard to follow a recipe — a baked goods recipe at least — to the T first time around. I was doing well until I saw the word milk. And well, you all know about my inability to not substitute buttermilk for milk in a baked goods recipe. It's a real problem. I'll leave it at that. And then, to make matters worse, I got really lazy — didn't want to separate the eggs or beat the whites until stiff peaks formed — and so I substituted in a whole egg. Yikes. I don't think the Pioneer Woman would approve.
But the cake — oh the cake — it's so delicious. Thank you Pioneer Woman for sharing such a keeper of a recipe. Everyone here is in total heaven. And readers, I encourage you to check out the PW's original recipe. I've enclosed my lazy-man's version below, but fully intend to make the original recipe one day.
Ok all of you, back to work. Promise I won't disturb you again.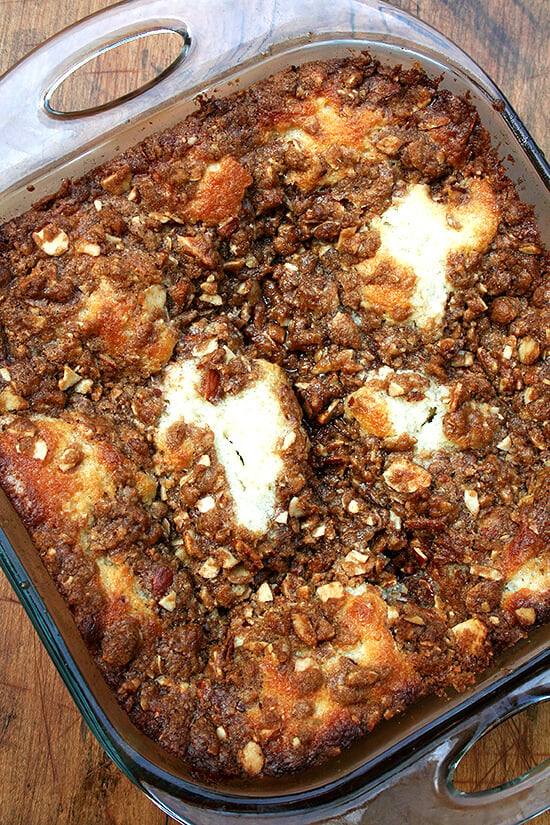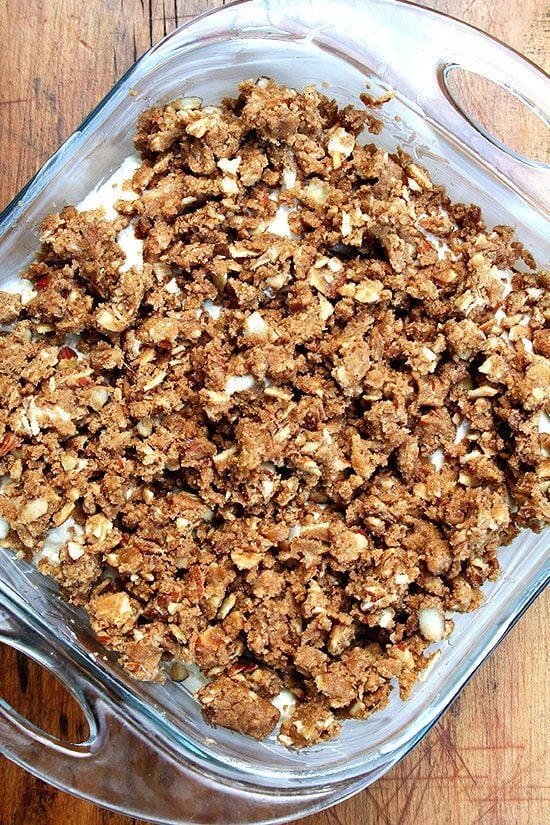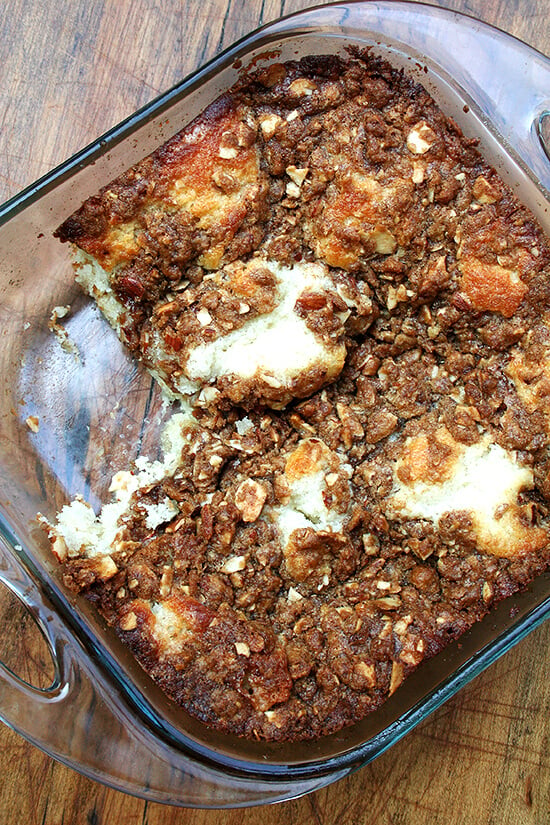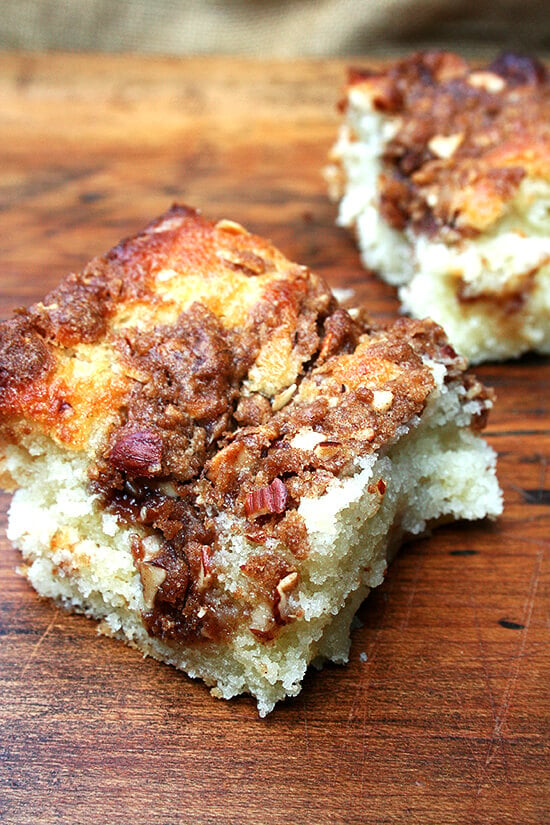 Print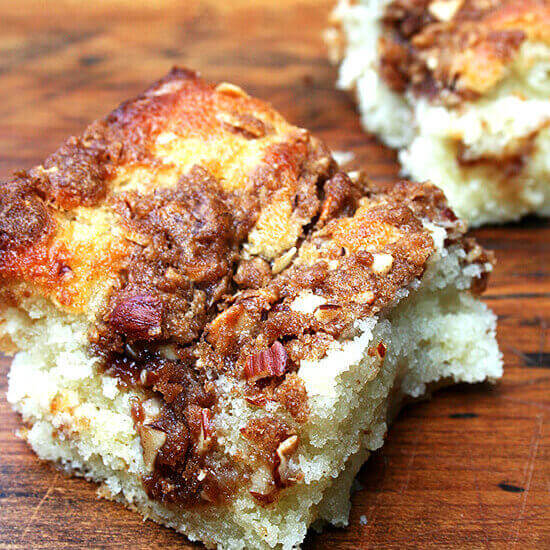 Classic Coffee Cake
---
Description
Adapted from The Pioneer Woman
Note: This half of the PW's recipe. I use a 9-inch square pyrex baking dish, but any 8- or 9-inch square pan will work.
Notes:
I prefer this without the nuts. It has more of that classic coffee cake taste to me. I should note I'm not a huge fan of nuts in baked goods, so if you like nuts, I say use them.
I lightly fill a 3/4 cup measuring cup with brown sugar, which makes the topping slightly less sweet, which I prefer.
---
For the cake:
3/4

stick butter, softened

7/8 cup

sugar (

3/4 cup

+ 2 T.)

1 1/2 cups

flour

2 teaspoons

baking powder

1/2 teaspoon

salt

1

egg

1/2 cup

+

2 tablespoons

buttermilk
For the topping:
3/4

stick butter, softened

1/4 cup

+

2 tablespoons

flour

3/4 cup

lightly packed brown sugar

1

scant tablespoon cinnamon

3/4 cup

almonds or pecans, chopped (optional — see notes above)
---
Instructions
Preheat oven to 350ºF. Grease a 9-inch square pan (or the equivalent) with butter.
Cream butter and sugar until light and fluffy. In a separate bowl, whisk together flour, baking powder and salt. Add egg to butter and sugar mixture. Mix on low until combined. Add half of the dry ingredients. Mix until incorporated. Add all of the buttermilk. Mix until incorporated. Add remaining flour and whisk until just combined. Spread batter into prepared pan.
Meanwhile, make the topping: Combine all ingredients in a large bowl. Use a pastry cutter or your hands to mix everything nicely together. Spread topping over batter. Bake for 40 to 45 minutes or until no longer jiggly. Let cool on wire rack for 10 minutes before serving.
Prep Time:

15 minutes

Cook Time:

40 minutes
This post may contain affiliate links. Please read my disclosure policy.