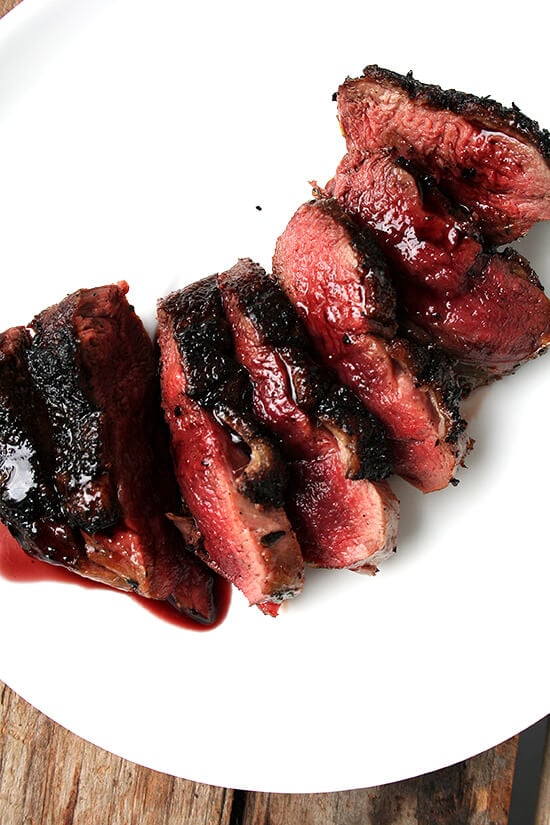 Seared Duck Breast with Port Wine Reduction — it's a dish fit for a bistro menu. Truly, the sauce tastes as if it took hours to prepare, as if pans loaded with veal bones had to be roasted, as if those bones then had to simmer into a rich stock, and as if that stock had to reduce to a syrup.
It's the sort of sauce that elicits comments such as, "I could bathe in this." I promise you, anyone could make this sauce. It's foolproof.
The sauce, incredibly, has only three ingredients — port wine, shallots and chicken stock. Admittedly, a 750-ml bottle of port — cheap port but port nonetheless — gets reduced by more than half. And making it does require a bit of love, by which I mean time, about an hour total.
This is not a sauce you want to casually dip your grilled burger into (as fantastic as that sounds). It's a sauce you want to reserve for a special occasion, perhaps a date night at home?
It's certainly a good recipe to have in your repertoire. Moreover, it comes from Sally Schneider's A New Way to Cook, one of my all-time favorite cookbooks. The spice rub recipe, a mixture of orange zest, thyme, salt, pepper and sugar, is a must-know as well. It's simple yet critical for tenderizing the meat and imparting a subtle orange flavor, which complements duck so well.
Until about a month ago, when my husband returned from a duck hunting trip at Pine Island in Louisiana, I hadn't cooked a duck breast in years. Duck is so yummy! I had forgotten. It has been such a treat having such incredibly tasty meat on hand. And while these breasts hardly need additional seasoning, the spice rub and sauce transform a simple seared piece of meat into a bistro-style entrée.
Unfortunately, I can't prescribe a foolproof method for cooking the duck breasts. With a poor ventilation system and a smoke detector located just inches from our kitchen, we've developed a cooking method that foremost prevents the house from burning down. We start the breasts stovetop in a cast iron skillet and finish them in a 450ºF oven, flipping them once, cooking them no more than five minutes total.
When the breasts are resting, we finish reducing the sauce, pour some wine, and prepare for date night at home. It's fun. I think you'd enjoy it, too.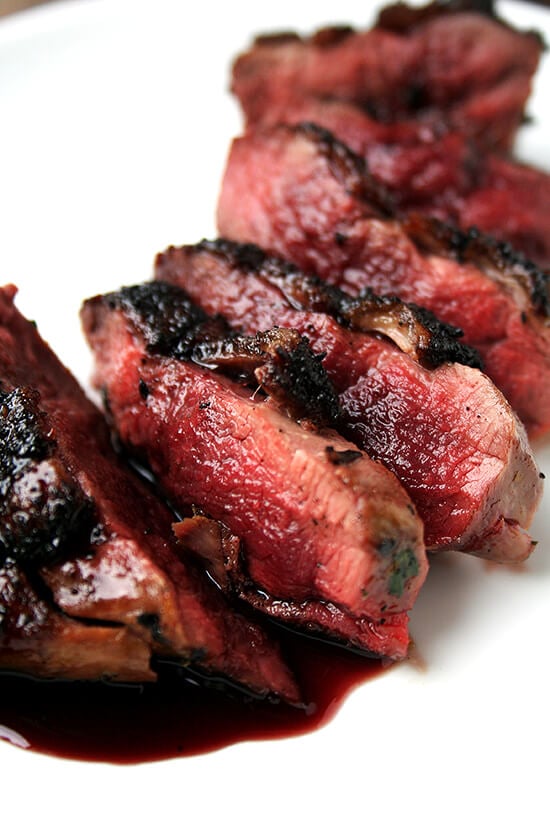 The husband, surrounded by dogs, never happier: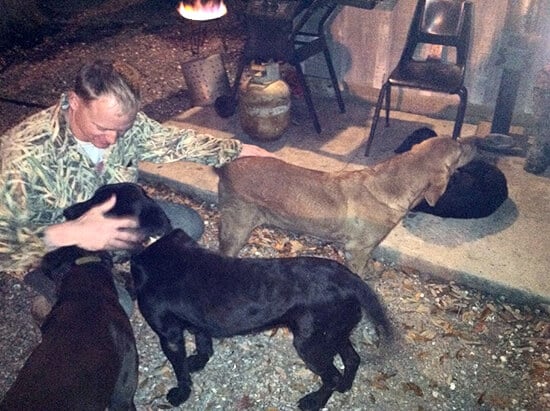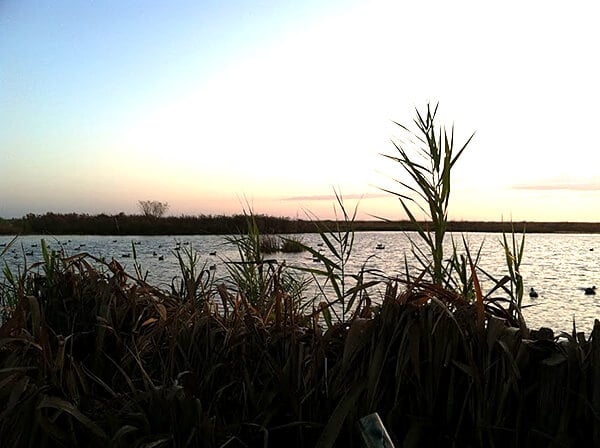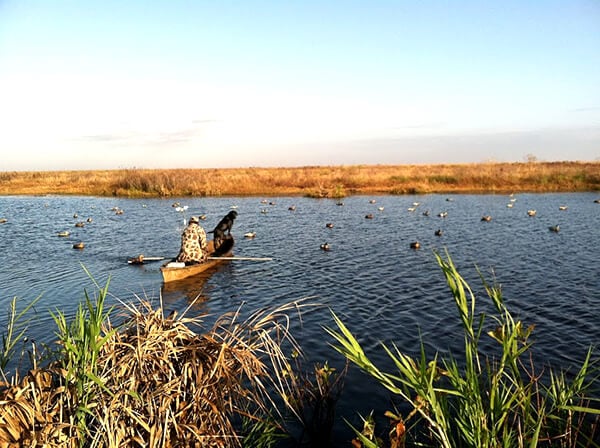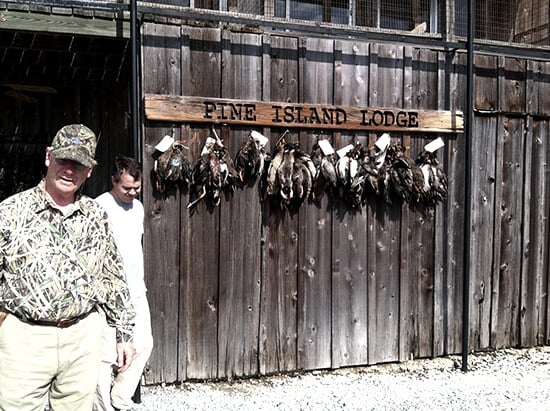 Some good southern cooking — fried soft shell crabs, fried oysters, fried shrimp. Apparently there were some incredible biscuits, too. I'm just a little jealous.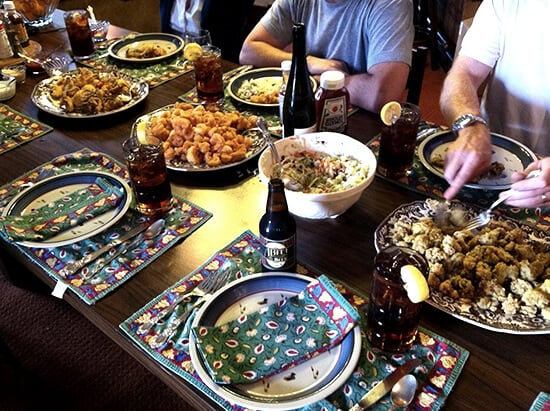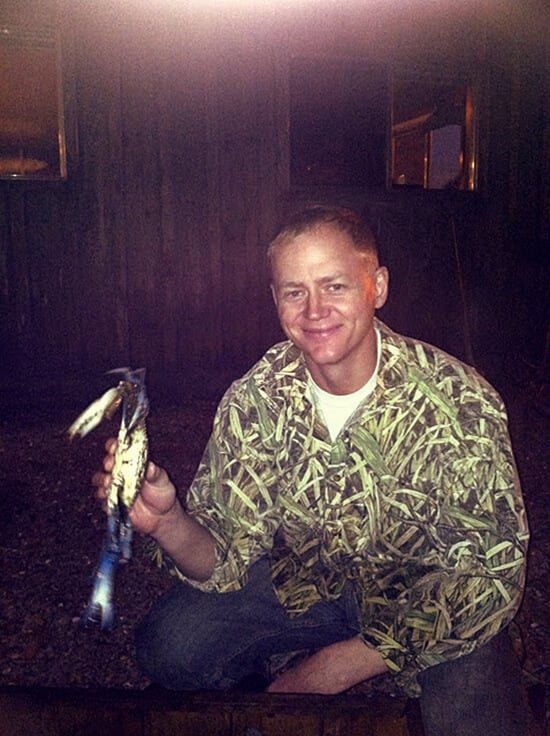 The rub — a mix of orange zest, thyme, salt, pepper and sugar — for the duck breasts.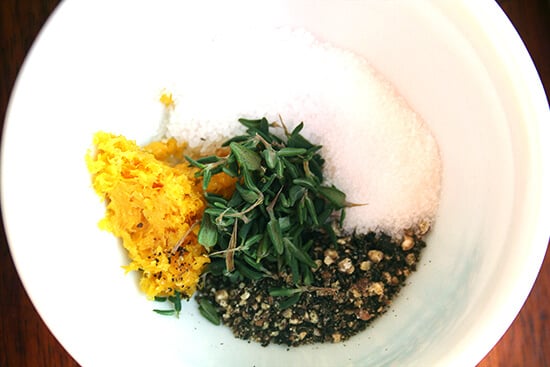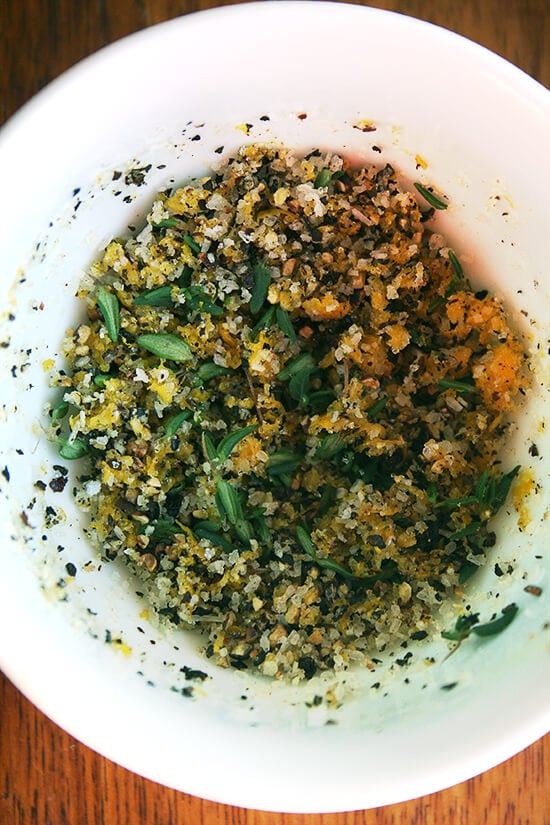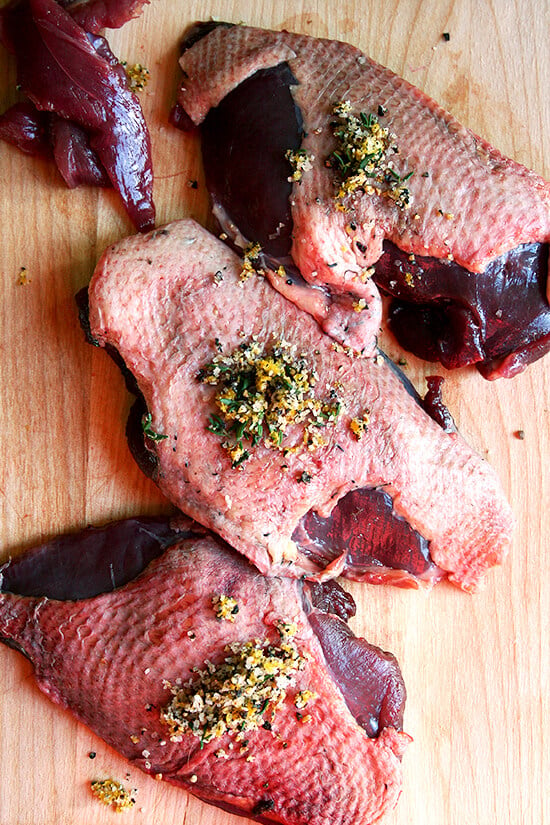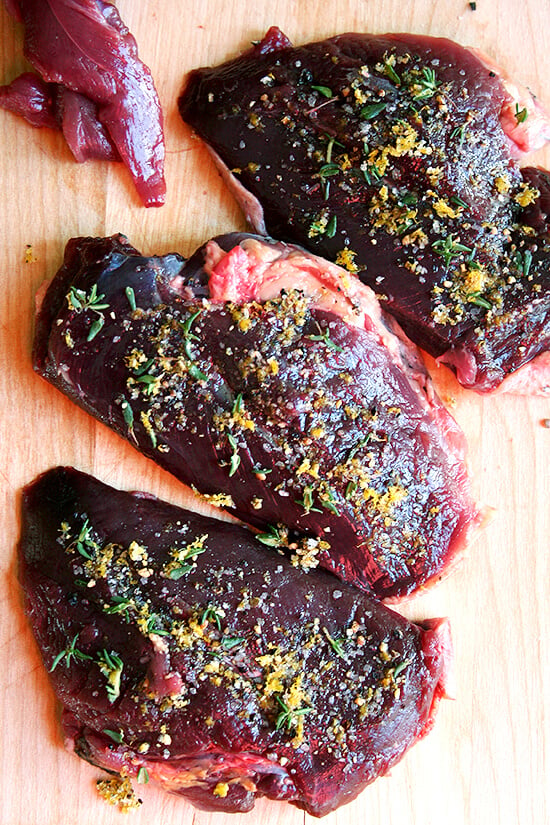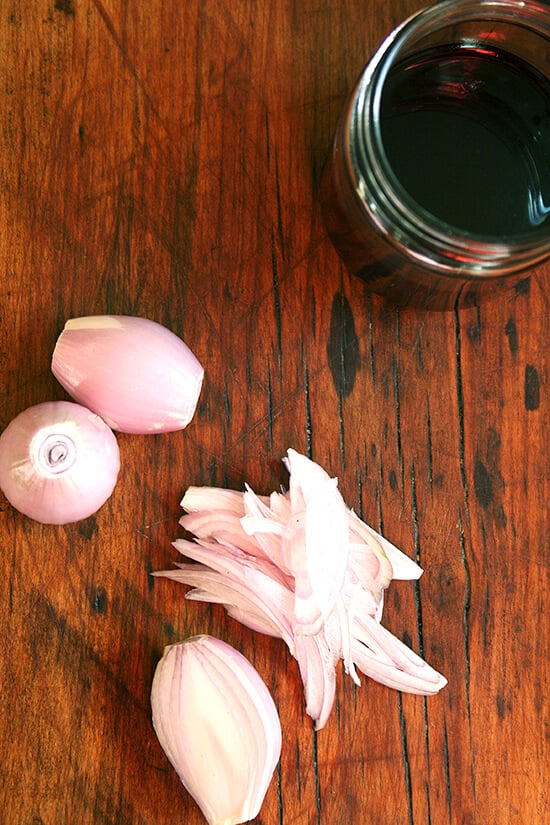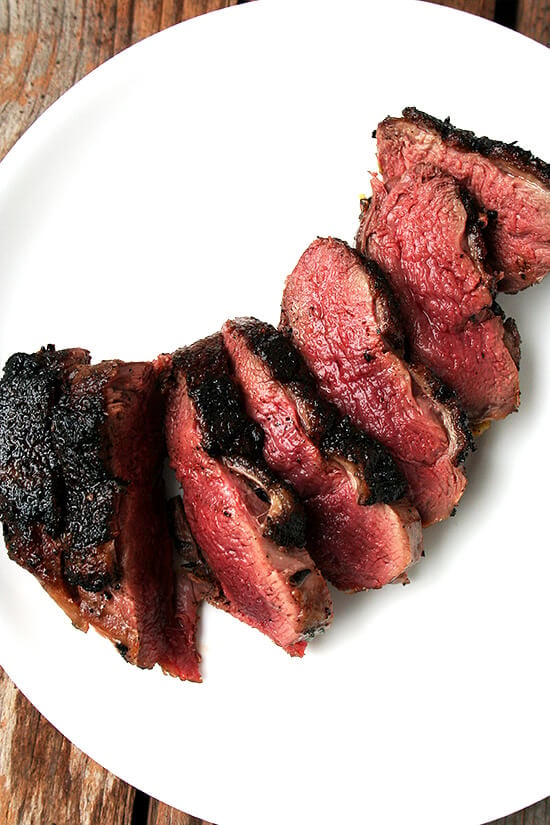 Print
Pan-Seared Wild Duck Breast with Port Wine Reduction
---
Author:

Alexandra Stafford

Prep Time:

4 hours

Cook Time:

5 minutes

Total Time:

4 hours 5 minutes

Yield:

2
Description
Source: Sally Schneider's A New Way to Cook
Notes: I cannot give you a foolproof way of cooking your duck breasts. I've described what we do below to yield a perfectly medium-rare duck breast from our kitchen, but every piece of meat is different, every oven is different, every pan is different, etc. There are so many factors and truthfully, we ruined several duck breasts before we figured out just how to get it right. The rub and the sauce recipes below, however, are simple and foolproof.
---
Ingredients
The Rub
1/4 teaspoon

fresh thyme leaves

1/2 teaspoon

grated orange zest (I use the zest of

one

whole orange)

1/4 teaspoon

sugar

1/2 teaspoon

fresh ground pepper

1/2 teaspoon

kosher salt
Port wine sauce (recipe below)
*Schneider recommends boneless Moulard or Muscovy duck breast halves (3/4 to 1 pound each) or 4 boneless Pekin duck breast halves (about 6 ounces each). She also recommends removing the fat, which I have to disagree with — I think the fat adds nice flavor and helps protect the meat during the cooking process.
---
Instructions
Schneider's recipe calls for a mortar and pestle or a spice grinder because she started with whole peppercorns and allspice berries. I simply stir my salt, freshly ground pepper, sugar, zest and thyme in a small bowl. It works just fine. The mixture should look like sand.
Place the duck breasts on a platter and rub the spice mixture into them. Cover with plastic wrap and refrigerate for at least 4 hours or overnight. About 20 minutes before cooking, remove the duck breasts from the refrigerator and return to room temperature. Preheat the oven to 450ºF. Pat dry with paper towels. With a paring knife, remove the tenderloin, the thin strip of meat that runs lengthwise down the underside of each breast.
Heat a cast iron skillet over high heat. When the pan is hot — it doesn't have to be smoking — put the duck breasts in fat side down. Let the breasts sizzle for about a minute (or longer if your kitchen isn't getting too smoky) or a minute and a half, then place the pan in the oven. After two and half minutes total have passed, open the oven, flip the breasts over, close the oven and cook for another two to two and a half minutes. Remove the pan from the oven, transfer the breasts to a platter, and let rest for five minutes. Turn your oven off.
While the breasts are resting, finish reducing the sauce. (See my notes below with the sauce recipe — I make the sauce a day in advance, and then heat as much as I think we need for the two of us while the breasts are resting.) Place your sauce in a small sauce pan or frying pan and heat over medium-high heat. In no time, the sauce should start to thicken up, at which point you should remove the pan from the stovetop. Slice the breasts, if desired, and pour your beautiful sauce over top. (Or, don't slice the breasts, just pour the sauce over top.)
---
Category:

Duck

Method:

Stovetop/Oven

Cuisine:

French
Keywords: duck, breasts, port, wine, sauce, reduction
---
Print
Port Wine Reduction Sauce
---
Author:

Alexandra Stafford

Prep Time:

5 minutes

Cook Time:

45 minutes

Total Time:

50 minutes

Yield:

2/3 cup
Description
Notes: I make the sauce a day in advance and in the final reducing phase, I only reduce it to about a cup versus a half cup. Then, when I am serving the duck, since it is usually just for my husband and me, I pour about a half cup of the sauce into a sauce pan and reduce that amount to a syrup, which is more than enough for two servings. And then, on a subsequent night, I have more sauce with which to do the same thing. Am I making sense? Please contact me if you have questions.
---
Ingredients
One

750

-millilter bottle Ruby Port (I couldn't find Ruby Port, so I just bought the cheapest port I could find at the grocery store.)

2

shallots, thinly sliced

1/2 cup

unsalted homemade or canned low-sodium chicken stock
---
Instructions
In a heavy medium saucepan, combine the port and shallots and bring to a gentle boil over moderately low heat. Cook until the port has reduced to 1 cup, about 30 minutes.
Strain into a small saucepan and add the chicken stock. Bring to a boil, reduce the heat to a simmer, and cook until reduced to about 1/2 to 2/3 cup, about 15 minutes longer. Serve hot.
The sauce will keep up to 1 month refrigerated in a tightly closed jar.
---
Category:

Sauce

Method:

Stovetop

Cuisine:

French
Keywords: port, wine, sauce, reduction, shallots