Tartine-Style Asparagus & Spring Onion Croque Monsieur
This post may contain affiliate links. Please read my disclosure policy.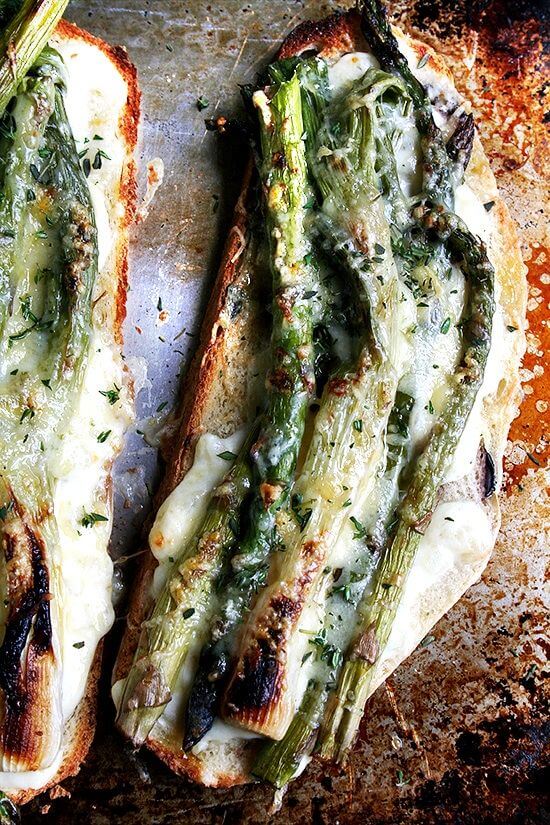 Yesterday morning, a little self-intervention led to a most-delicious discovery.
And right then and there I stopped wasting time and marched straight into the kitchen, making bechamel the order of the hour. And then I preheated the oven to roast some asparagus and spring onions. And then I cut two thick slices of olive bread, grated some Comté cheese and picked a few thyme leaves. And before I knew it, a bubbling, bechamel-and-roasted vegetable-tartine had emerged from my broiler. And in an instant Tartine didn't feel 2,847 miles away, and Tartine-style croque monsieur at home, such an impossibility.
While I didn't even miss the meat on my spring vegetable croque monsieur, I suspect that a few slices of ham would bring my favorite breakfast sandwich even closer to home. Just know that if you can make a bechamel, and if you can get your hands on some good bread, some sort of Gruyère-like cheese, and some fresh thyme, you have the foundation for a daydream-worthy croque monsieur.
Of course, the only possible way this sandwich could be made any more delicious is if it were topped with a poached egg. Yum.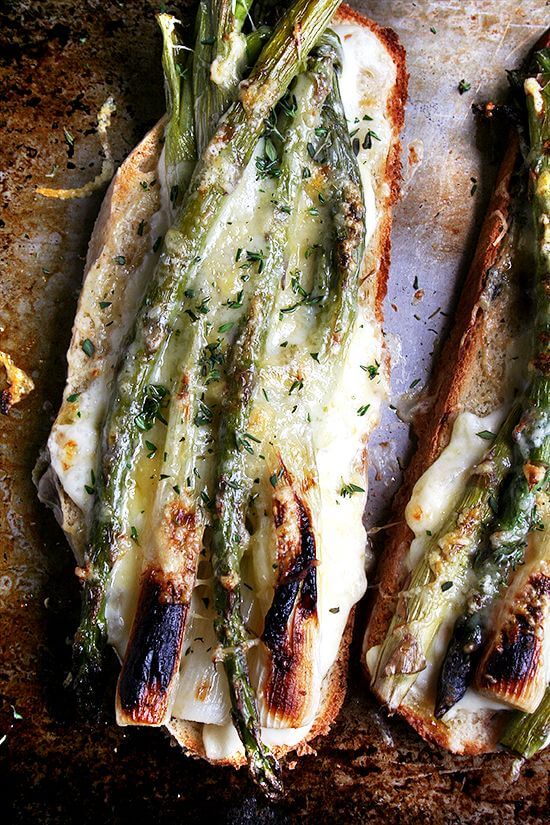 Asparagus and spring onions from our Olin-Fox Farms CSA: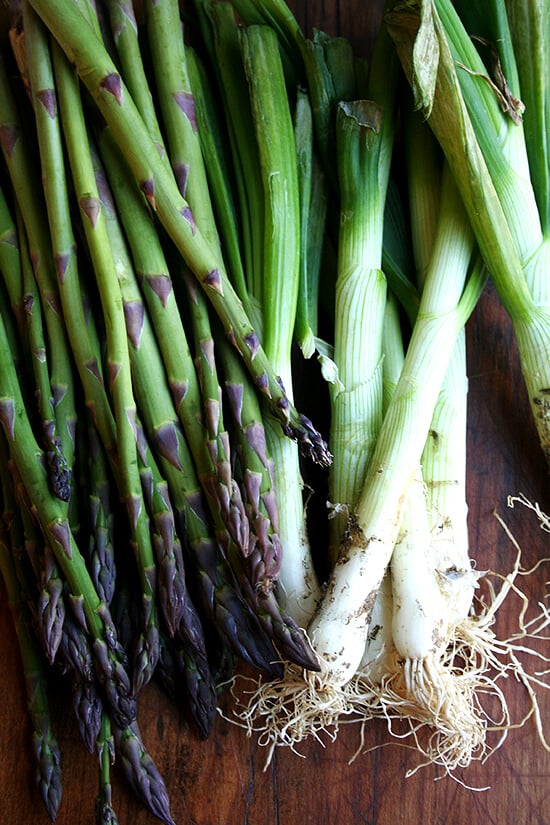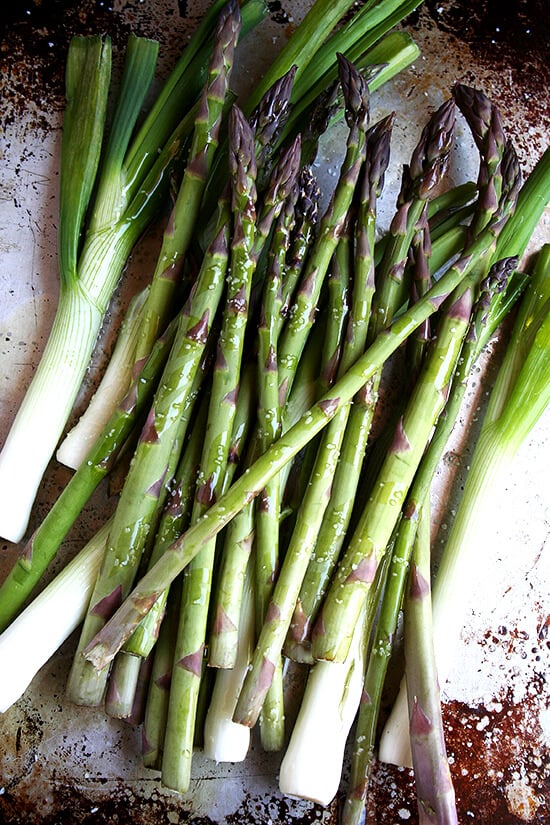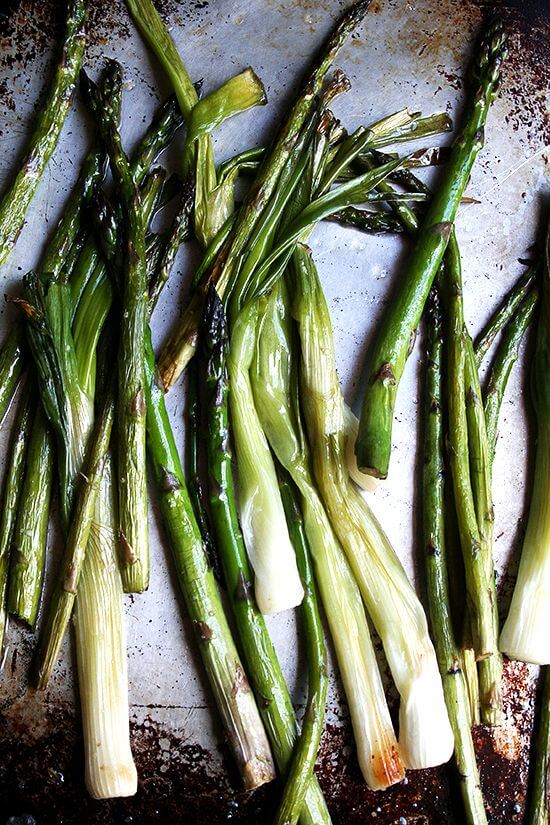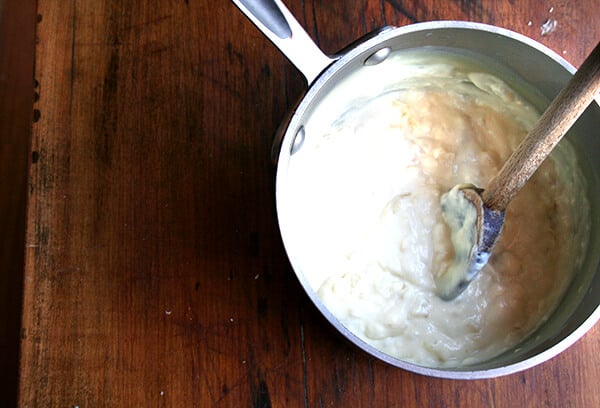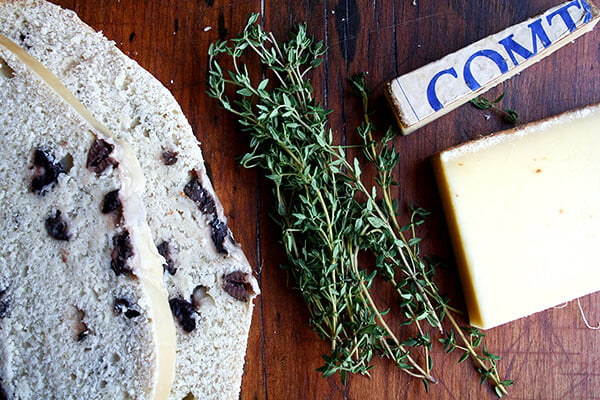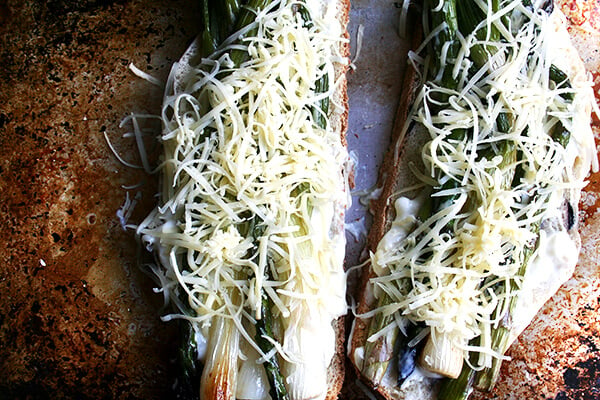 Print
Asparagus & Spring Onion Croque Monsieur
---
Total Time:

25 minutes

Yield:

however many you like
Description
Note: I've included a recipe below for a bechamel sauce that I really like (it's from Nancy Silverton's sandwich book), but by all means, if you have a go-to bechamel recipe, use it. After the bechamel is made, there really isn't a need for a recipe here. Just pick your favorite spring vegetables and cook them however you like, or if you have access to some good ham or bacon, go the more traditional route and substitute the vegetables with the meat. If you use a bakery-style loaf of bread and come Gruyère or Comté cheese, you're good to go.
---
asparagus and/or spring onions, ends trimmed
olive oil
kosher salt
good bread, cut into thick slices
bechamel sauce (recipe below)
grated gruyère, Comté or Swiss cheese
fresh thyme
---
Instructions
Preheat the oven to 400ºF. Toss the asparagus and spring onions with olive oil and kosher salt on a rimmed baking sheet. Roast the vegetables until tender, about 10 to 15 minutes. Test with a knife for doneness.
Preheat the broiler. Place the slices of bread on a sheet pan and broil them about a minute on each side. Remove pan from the oven. Spread about a tablespoon of bechamel over each slice of bread. Top with the roasted vegetables. Top with grated cheese to taste.
Broil until the cheese is bubbling and starting to brown. Sprinkle with the fresh thyme and serve immediately.
Prep Time:

10 minutes

Cook Time:

15 minutes
---
Print
Description
Source: Nancy Silverton's Sandwich Book: The Best Sandwiches Ever–from Thursday Nights at Campanile
Note: This recipe is adapted from Silverton's recipe for Mornay sauce in her croque monsieur recipe in her Sandwich Book. To make it a Mornay sauce, as far as I can tell, stir in 1/2 cup finely grated Gruyère and 1/4 cup finely grated Parmigiano Reggiano at the very end.
Also Note: This makes enough bechamel for about 30 croque monsieurs. I haven't tried halving the recipe, but it likely would work just fine. I don't use bechamel that often, so I'm short on ideas for using up the remaining bechamel. Thoughts? I just plan on eating croque monsieur every day until I'm out of bechamel.
---
2 tablespoons

butter

1/2

medium white or yellow onion (about

4 tablespoons

finely chopped)kosher salt

4

black peppercorns, crushed (I didn't do this)

2 tablespoons

flour

2 cups

whole milk

1

bayleaf
---
Instructions
In a medium saucepan over medium heat, melt the butter. Add the onion, salt, and cracked peppercorns (if using), and cook about 10 minutes, until the onion is soft but has not begun to color. Remove from the heat and add the flour in two batches, whisking to combine it with the onion and butter. Return the pan to the stove and over low heat, cook a few minutes, until the flour is absorbed, stirring constantly so that it doesn't brown. Remove from the heat and slowly whisk in the milk. Drop in the bay leaf.
Return the pan to the stove, and bring the mixture to a boil. Reduce the heat to low and simmer, stirring occasionally to prevent the sauce from burning on the bottom of the pan. Cook for 20 to 30 minutes, until the taste of raw flour is gone and the mixture is thick, smooth and silky. If it's too thick and becoming difficult to stir, you'll need to whisk in a little more milk.
Using a fine mesh sieve, strain the sauce. (I didn't strain the sauce — I don't mind those onion bits, and the bay leaf was easy enough to pull out. Now, if you did the peppercorn thing, you probably want to strain the sauce.)
Prep Time:

15 minutes

Cook Time:

40 minutes
This post may contain affiliate links. Please read my disclosure policy.