The Best Grilled Cheese
This post may contain affiliate links. Please read my disclosure policy.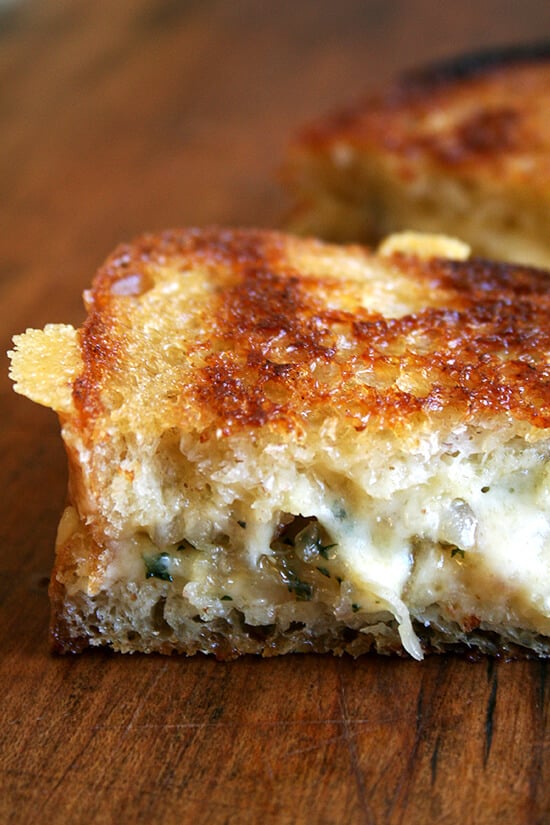 Grilled cheese, like pancakes, has always troubled me in the kitchen. Without fail, the bread burns before the cheese melts. Various techniques employed over the years have improved the final product slightly, but not so much as to leave me satisfied. So when I read the r.s.v.p. section of the September Bon Appetit, which supplied a recipe for a gruyère grilled cheese from L.A.'s Lucques, I couldn't wait to get in the kitchen.
The recipe calls for crisping country white bread slices in a skillet on one side before topping them with cheese and sautéed shallots. The open-faced halves finish cooking in the oven before being pressed together into a traditional sandwich.
It almost pains me that such a simple technique produces such a brilliant result: perfectly golden bread flanking perfectly melty cheese. This discovery made my week. I can finally check "learn how to make a grilled cheese sandwich" off my bucket list and focus on other pressing matters, like "learn how to make pancakes" … if only Lucques served brunch.
One final note: This technique would work very well for making grilled cheese for a crowd. All of the bread slices could be browned ahead of time (which would be the only time-consuming step), and the open-faced sandwiches, which cook in 8 minutes, could all be assembled on a sheet pan until game time. Lucques serves this grilled cheese with an apple and arugula salad, the perfect complement to a perfect fall meal. Perfect.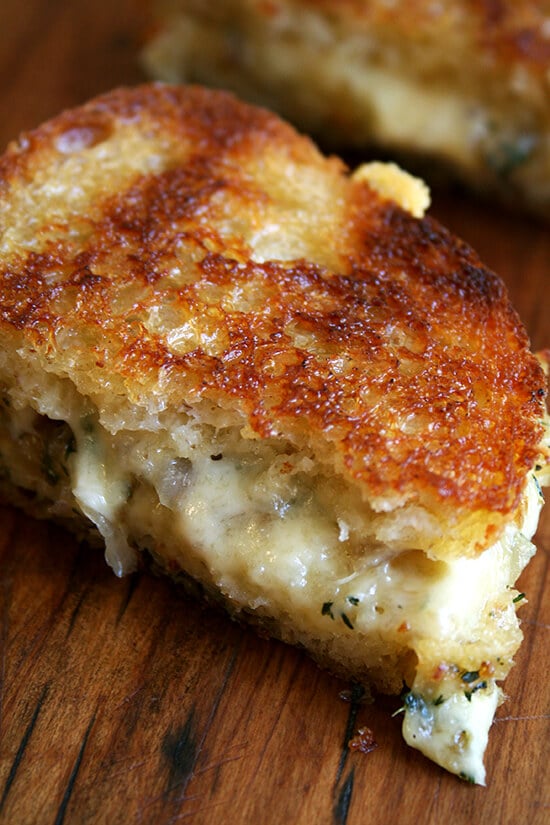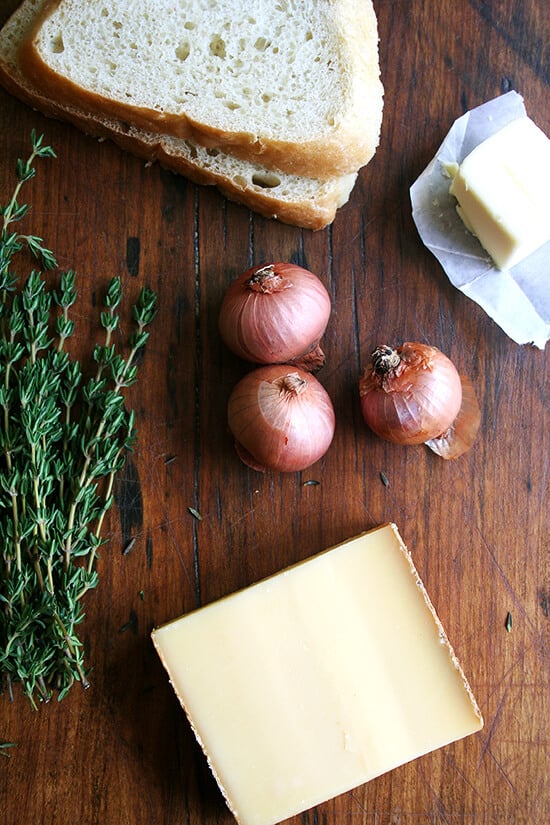 Sautéed in butter with fresh thyme, these shallots might just be the most delicious things I've ever eaten: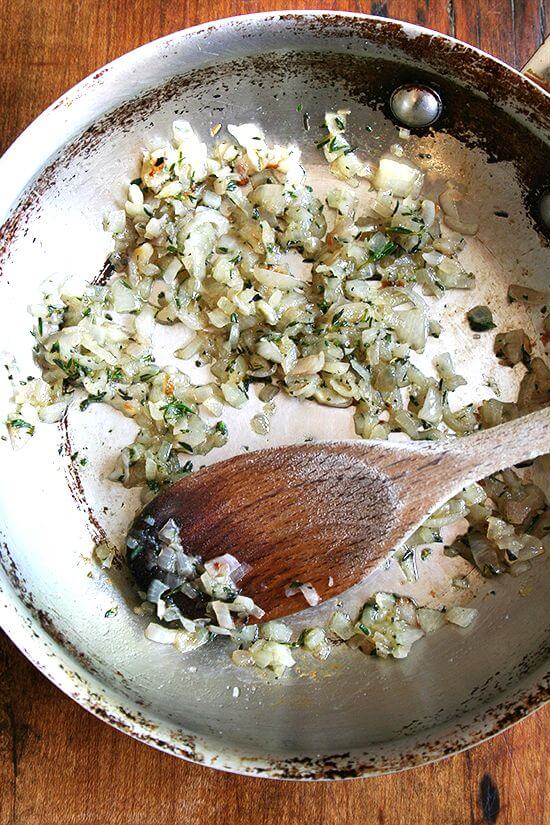 Peasant bread makes the best grilled cheese…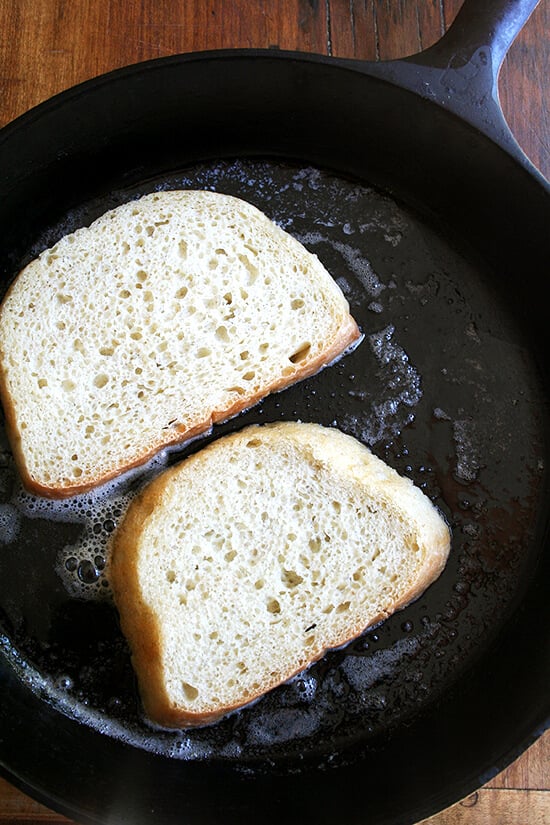 … really, it does.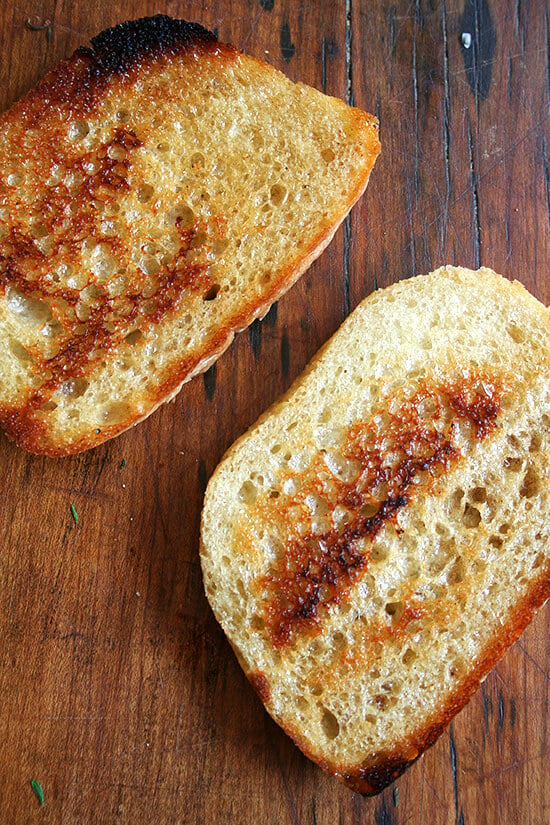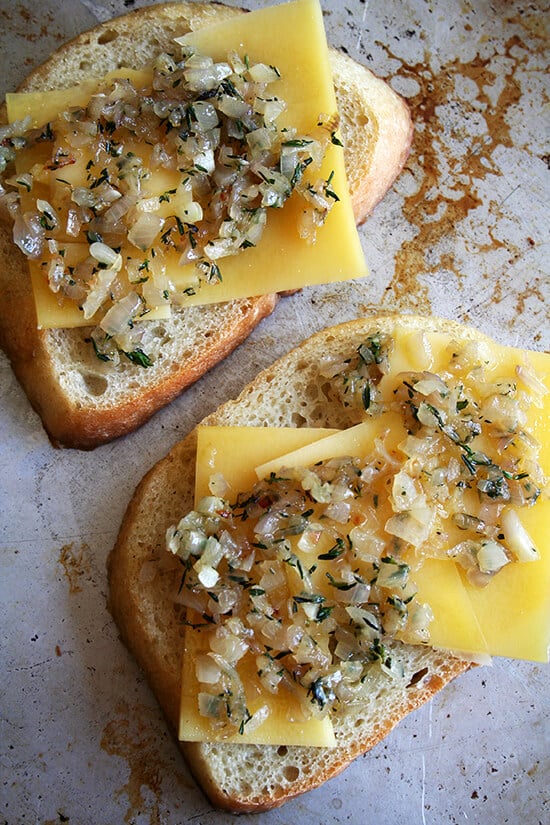 Print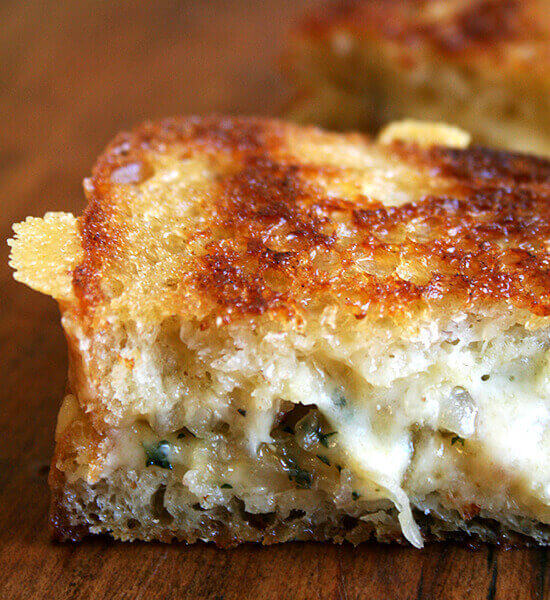 Grilled Cheese with Apple Salad
---
Total Time:

45 minutes

Yield:

2 sandwiches
Description
Source: Bon Appétit
Notes: I have never make the apple salad, though it sounds absolutely delicious and the perfect complement for such a sandwich. Also, I go with about 2 oz. of cheese per sandwich, though I can't imagine 4 oz being so bad.
Update: I now brown the bread a little differently thanks to a tip left by Trina — thank you! — in the comments. These changes apply to step 2. First, I spread one half of each slice of bread I with mayonnaise — it doesn't burn as easily as butter, and the bread browns evenly every time. Second, instead of using butter in the pan, I use about a tablespoon of grapeseed oil — the high smoke point prevents it from burning. Butter, of course, works, but this is my preferred method these days.
---
4 tablespoons

unsalted butter, divided

3/4 cup

1/4-inch-thick sliced shallots

1 teaspoon

fresh thyme leaves
Kosher salt and freshly ground black pepper

4 1/2

-inch-thick white bread, peasant bread is highly recommended
mayonnaise, see notes above

8 ounces

Gruyère or Comté sliced 1/8-inch thick
for the apple salad:
2 cups

arugula

1/2

apple (such as Pink Lady or Fuji), cut into

1/4

-inch slices

2 tablespoons

fresh lemon juice

2 tablespoons

extra-virgin olive oil
---
Instructions
Preheat oven to 400°F. Heat 2 tablespoons butter in a small saucepan over medium heat. When butter begins to foam, add shallots and thyme; season with salt and pepper. Cook, stirring continuously with a wooden spoon or spatula, until shallots begin to soften and caramelize, 4–5 minutes; remove from heat and set aside.
Heat a large heavy-bottomed skillet over medium heat. Working in 2 batches, add 1 Tbsp. butter and swirl in pan to melt butter and coat bottom of pan. Spread a little mayonnaise on one side of each slice of bread. Add 2 slices of bread to pan and cook until golden brown and crisp on the bottom, 2–3 minutes. Transfer bread, toasted side down, to a rimmed baking sheet. Repeat with remaining butter and bread slices. Divide cheese evenly among bread slices; top cheese with reserved shallots.
Place baking sheet in oven and bake until cheese is melted, 7–8 minutes.
Combine arugula, apple slices, lemon juice, and oil in a large bowl; toss to coat and evenly distribute. Season salad to taste with salt and pepper.
Press 2 pieces of bread together, melted cheese sides in; halve sandwich on a diagonal and place on a plate. Repeat with remaining bread slices. Divide salad between plates.
Prep Time:

15 minutes

Cook Time:

30 minutes
This post may contain affiliate links. Please read my disclosure policy.