How to Roast a Chicken (And Make the Most of It)
This post may contain affiliate links. Please read my disclosure policy.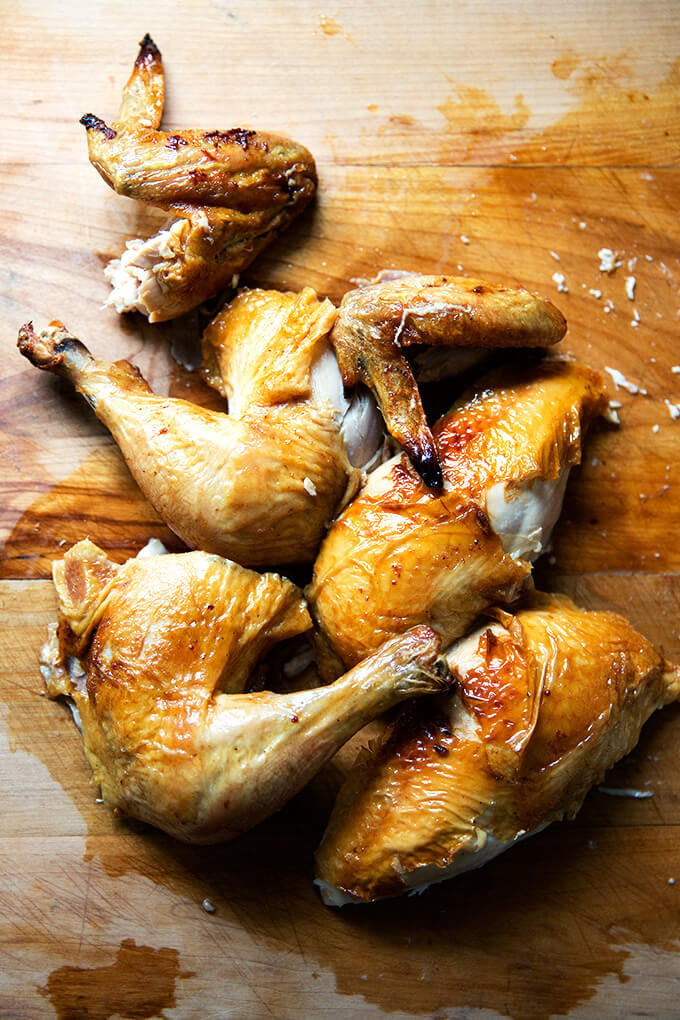 There is nothing more satisfying to me than roasting a whole chicken. It's the gift that keeps on giving. In addition to feeding my family of six, it gives me a carcass with which to make stock and enough extra meat to toss into a salad or add to soup for a meal on a subsequent night.
I've written about the Zuni Cafe chicken before in the context of the bread salad, but I thought the chicken-roasting method, which yields crisp, evenly golden skin and perfectly cooked meat every time, deserved its own post.
The method, if you are unfamiliar, calls for salting the chicken a day or two in advance. Recently, I reread the passage in The Zuni Cafe Cookbook's introduction titled "The Practice of Salting Early," which explains in great detail when author and chef Judy Rodgers learned to salt meat in advance and why it works. I could sum up the takeaways as such:
Salting in advance does not make meat taste too salty; it makes it tasty all the way through.
Salting in advance promotes juiciness and improves texture.
How? Bear with me:
First, salt dissolves some of the proteins within and around muscle fibers that would otherwise resist chewing.
Second, although salt draws moisture from the cells initially, with time the cells reabsorb the moisture in reverse osmosis. Moreover, the salt changes the proteins, enabling them to "open up" and entrap more moisture than before.
Judy writes: "When you heat these transformed proteins, they don't coagulate and squeeze out moisture quite the same way unaltered proteins do; some of the recovered moisture survives the ravages of heat. All of this results in seasoned, moisture-laden cells, less tenaciously attached to one another than their unseasoned counterparts."
Science mostly makes my head hurt, but the results speak for themselves: juicy, well-seasoned meat throughout. I have been salting chickens in advance ever since making Zuni's recipe. In fact, if I don't have time to salt a day in advance, I'll cook something else instead.
Included in the recipe below are instructions for making stock. If you make the stock, here's a simple soup to use it in. And if you find yourself with leftover meat, here's a simple salad to toss it into.
Here's the play-by-play: Salt the chicken a day prior to cooking. Use 1 teaspoon kosher salt per pound of meat. Store in the refrigerator.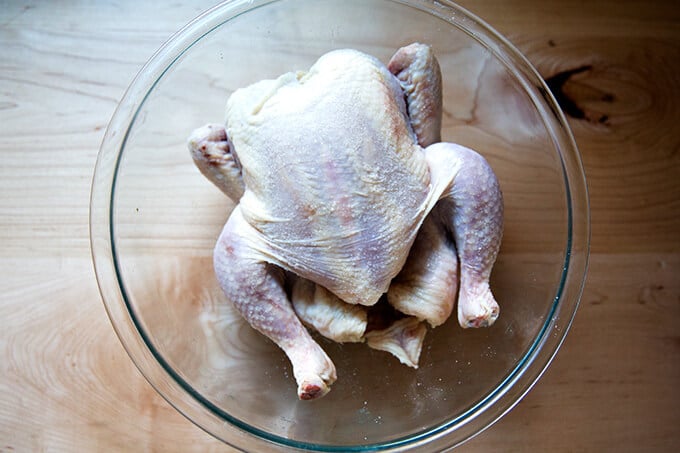 The next day, pat it very, very dry all over with paper towels.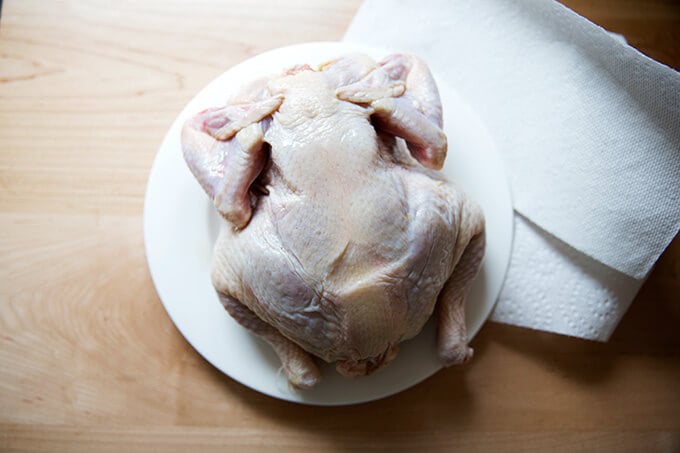 Heat an oven-safe skillet over medium heat for about 5 minutes (without the bird in it). Place the dried chicken into the heated pan breast side up.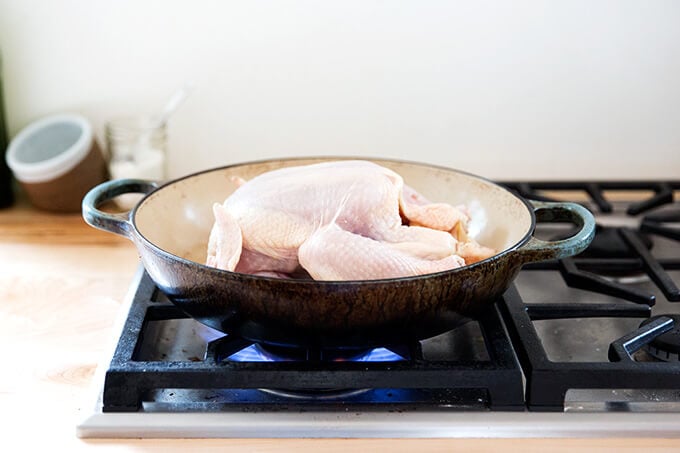 Immediately transfer to the oven, and cook for 25 minutes.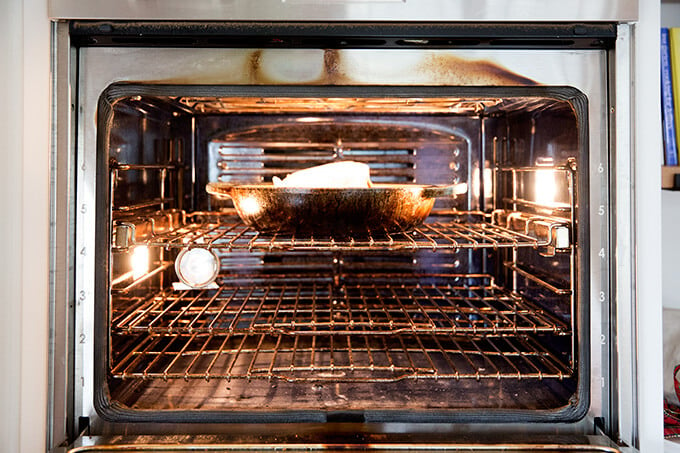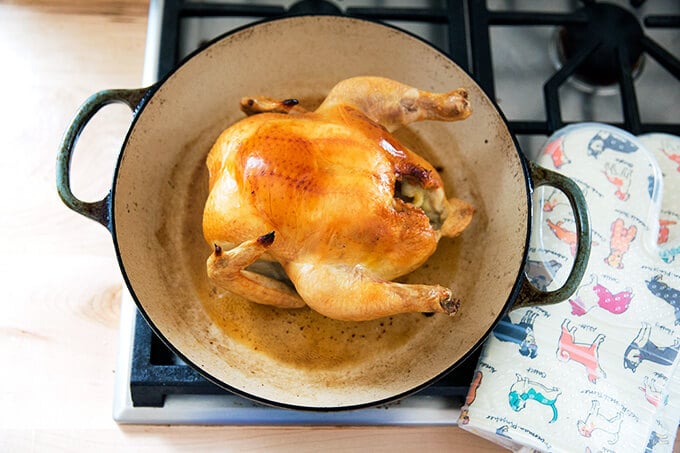 Flip the bird over. Return to the oven and cook for 10 minutes.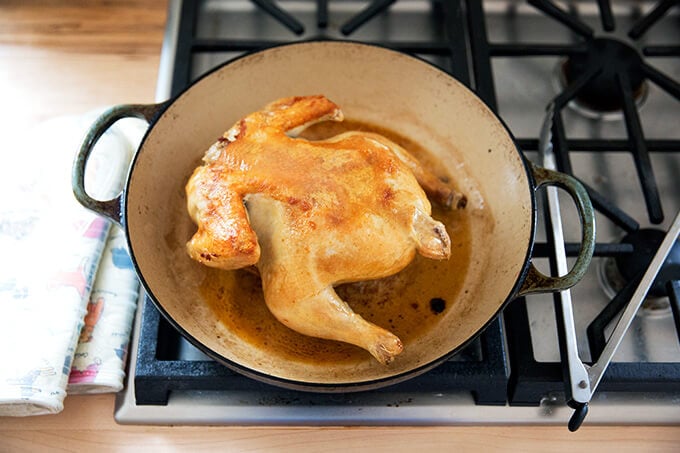 Flip it over again, and cook for 5 to 10 minutes more.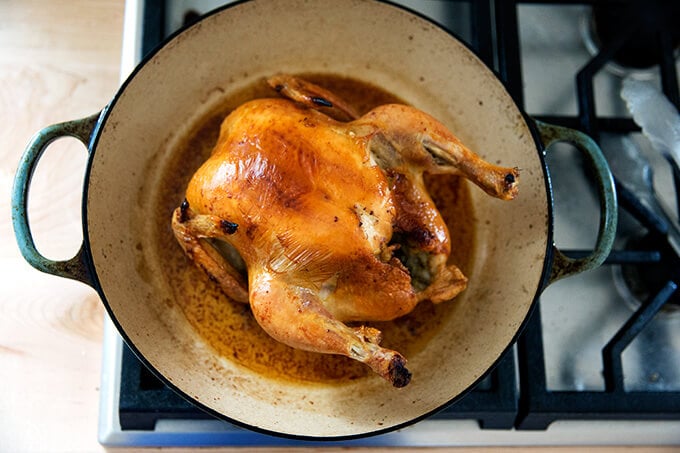 Let chicken rest for 15 minutes before carving it.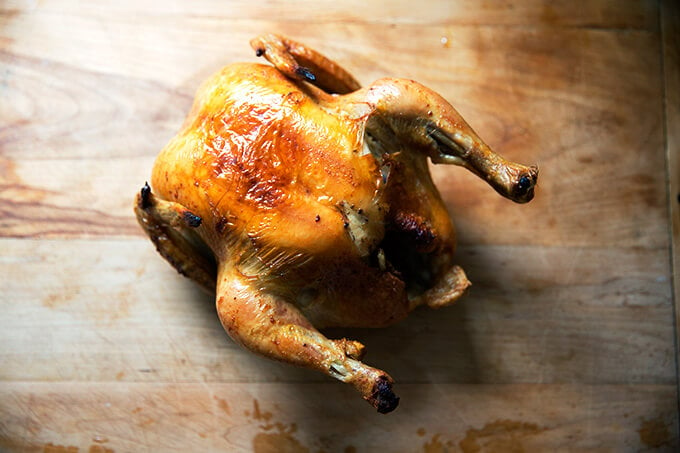 You can make a simple sauce with a splash of water, a pad of butter, and a little lemon if you wish.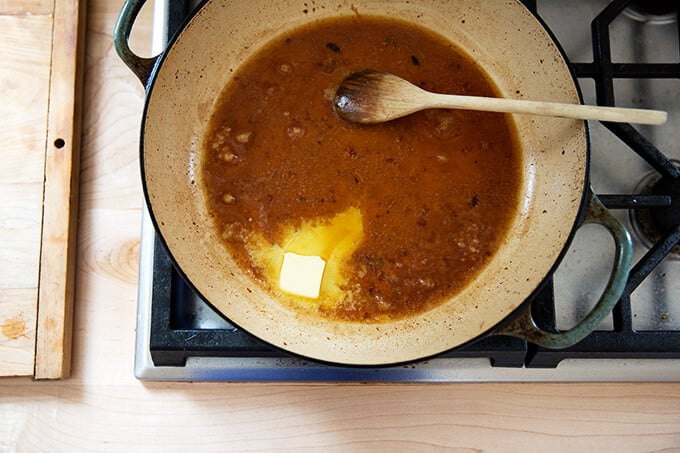 Carve up the chicken.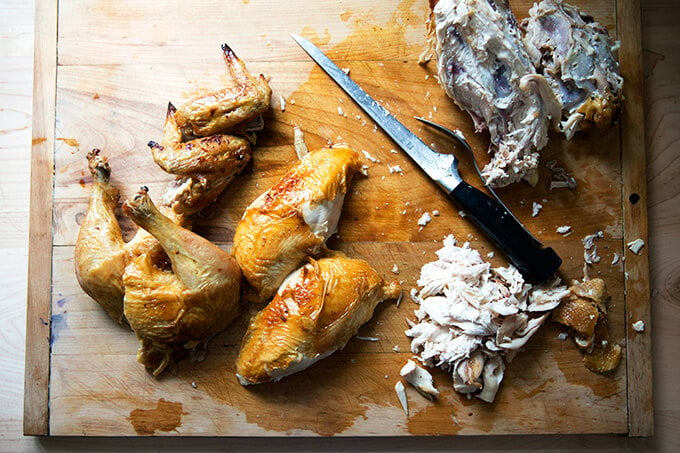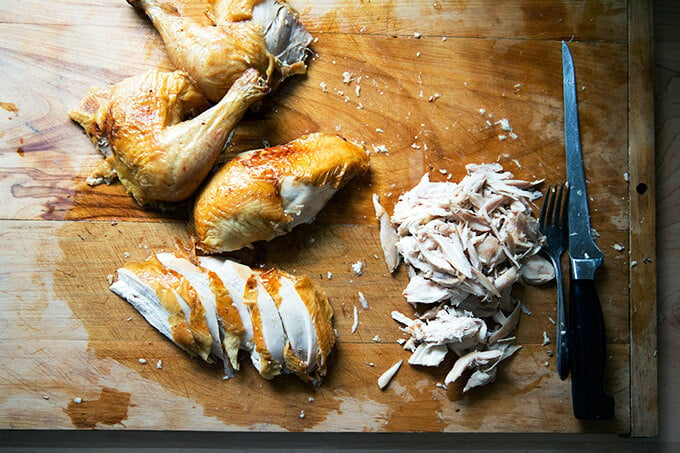 To make stock, throw the carcass and any bones into a 4-qt pot. Cover with water, and…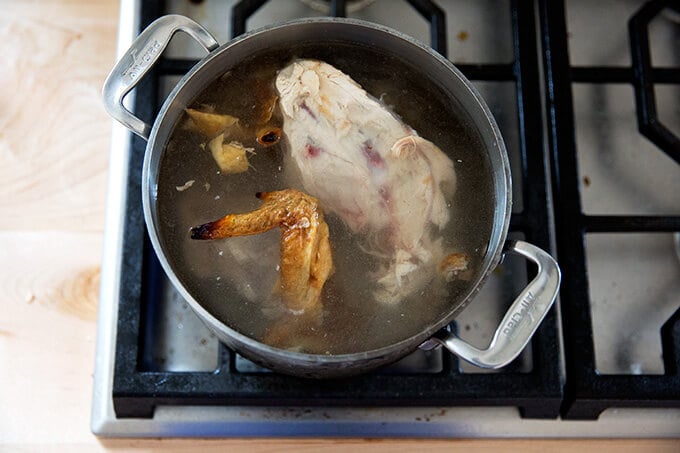 … simmer for 2 to 3 hours.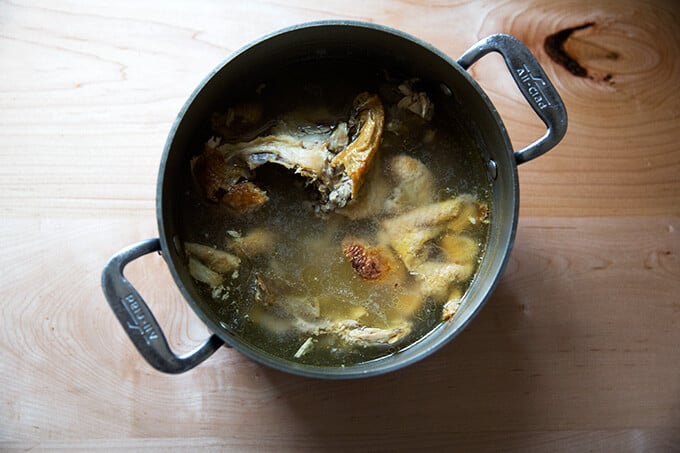 Strain the stock.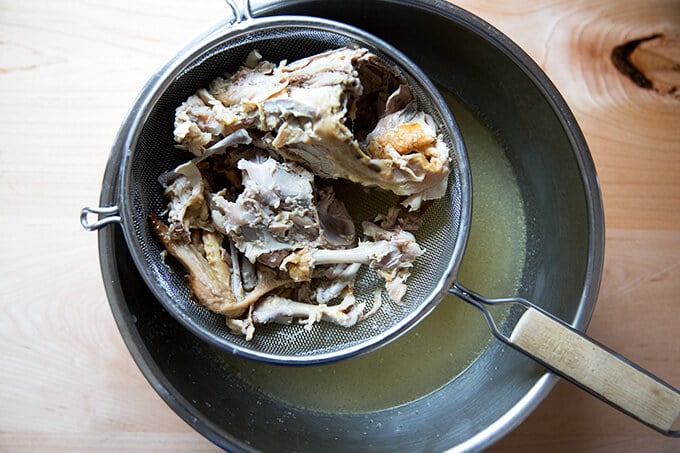 Store the stock. Store in fridge for up to a week; freeze for up to 6 months.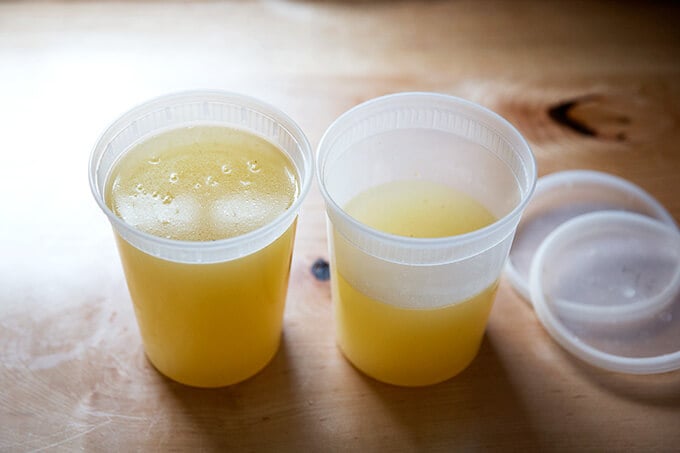 See how juicy the breast is?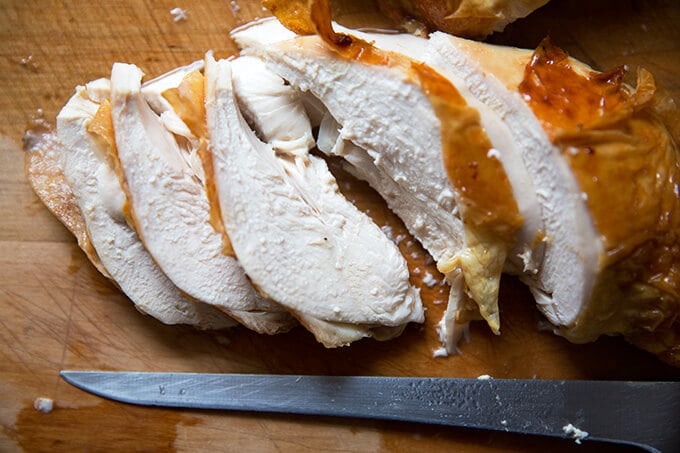 Use any leftover meat for a salad: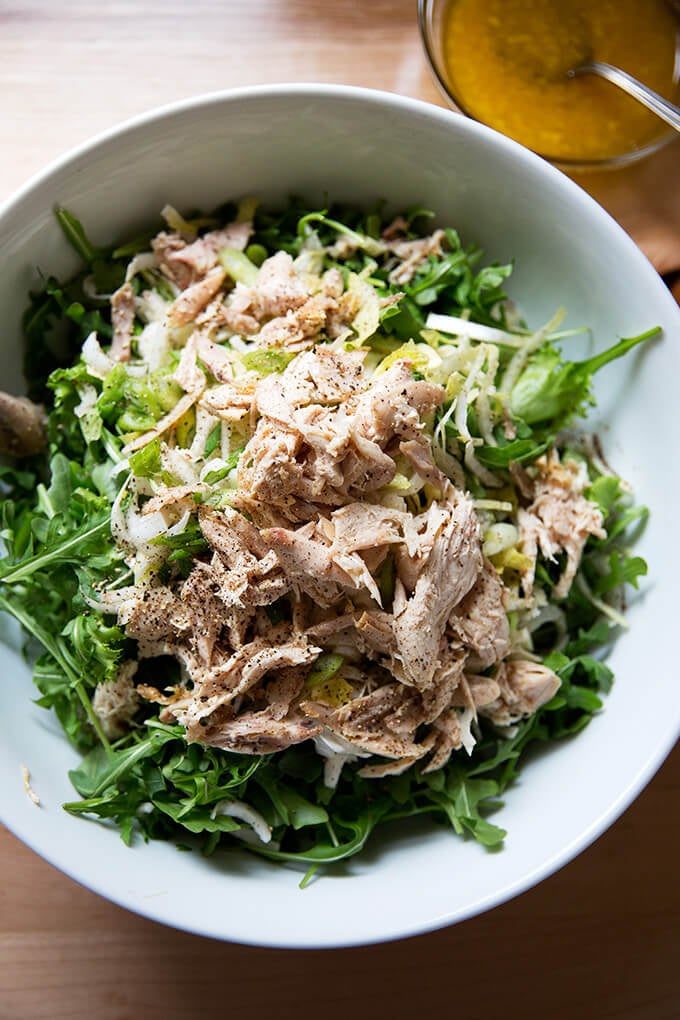 Or a simple chicken-noodle-ish soup: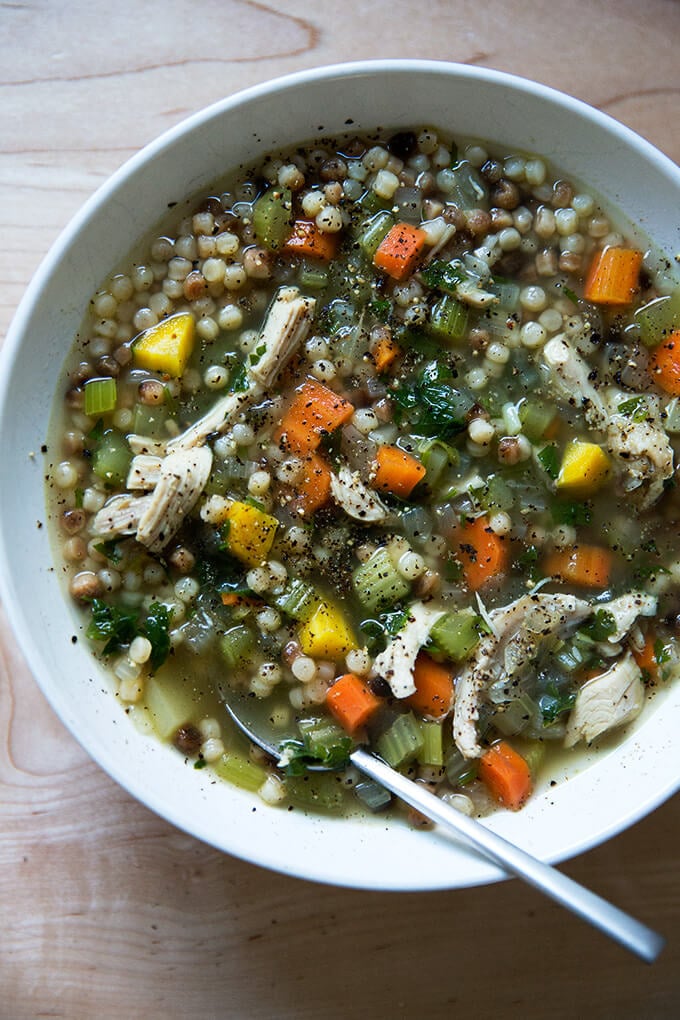 Print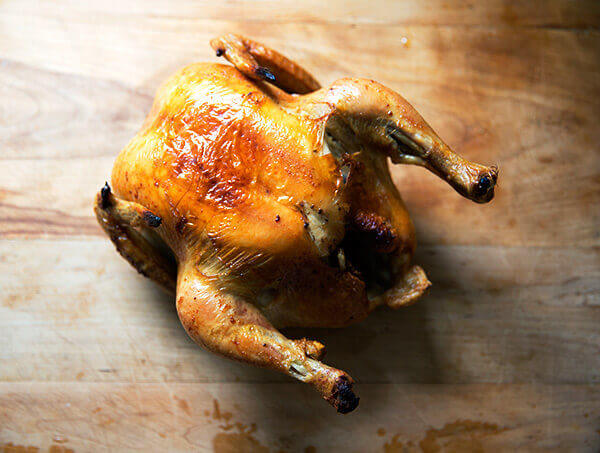 How to Roast a Chicken
---
Description
Adapted from The Zuni Cafe Cookbook
This is my favorite method for roasting a chicken. The key is to salt ahead of time. Two to three hours ahead of time is great; one to two days is even better. A good rule of thumb: use 1 teaspoon kosher salt (I use Diamond Crystal) per pound of chicken.
I store the salted chicken in the fridge in a 4-qt Pyrex bowl that has a lid. When I'm ready to roast, I'll try to pull the chicken out an hour beforehand, and I pat it very dry with paper towels.
---
One chicken, 3 to 4 lbs.
kosher salt
freshly cracked black pepper
pad of butter, optional
squeeze of lemon, optional
---
Instructions
A day before (or at least 2 to 3 hours before) you plan on roasting the chicken place it in a large bowl (4-qt or so). Season it all over with kosher salt using about 1 teaspoon for every pound of meat. Cover the bowl and stick it in the fridge. Remove bowl from fridge an hour (if possible) before you plan on roasting the chicken.
Preheat the oven to 475°F. Choose a shallow oven-safe skillet. Preheat the pan over medium heat for about five minutes. Wipe the chicken dry (very dry!). Season all over with pepper if you wish. Set it breast side up in the pan. It should sizzle.
Place the chicken in the pan in the center of the oven for 25 minutes. Turn the bird over — drying the bird and preheating the pan should keep the skin from sticking. Roast for another 10 minutes, then flip back over to re-crisp the breast skin, another 5 to 10 minutes. If you have an instant-read thermometer, it should register about 165ºF.
Remove the chicken from the oven and turn off the heat. Lift the chicken from the roasting pan and set on a plate. Add about a tablespoon or two of water to the hot pan and swirl it. Slash the stretched skin between the thighs and breasts of the chicken, then tilt the bird and plate over the roasting pan to drain the juice into the drippings. Add a pad (a tablespoon or so) of butter to the pan, if you wish. Using a wooden spoon, scrape up any chicken bits stuck to the pan. Taste the sauce. Add a squeeze of lemon if you wish.
Let the chicken rest 15 minutes before carving it. Serve with the sauce on the side.
To make a stock with the carcass, remove any remaining meat from the bones. Be sure to really get into the breast and backbone and extract any meat. Save this meat for a salad or soup. Place all of the bones in a 4-qt pot and cover with water. Simmer slowly for about 2 to 3 hours. Strain into a bowl. Transfer stock to quart containers and store in the fridge for a week or the freezer for up to 6 months. You should have about 1.5 to 2 quarts of stock.
Prep Time:

5 minutes

Cook Time:

45 minutes

Category:

Dinner

Method:

baked

Cuisine:

American
Keywords: chicken, roast, salt, zuni cafe
This post may contain affiliate links. Please read my disclosure policy.