Two Heart Tarts for Two
This post may contain affiliate links. Please read my disclosure policy.
Frog Commissary Strawberry Heart Tart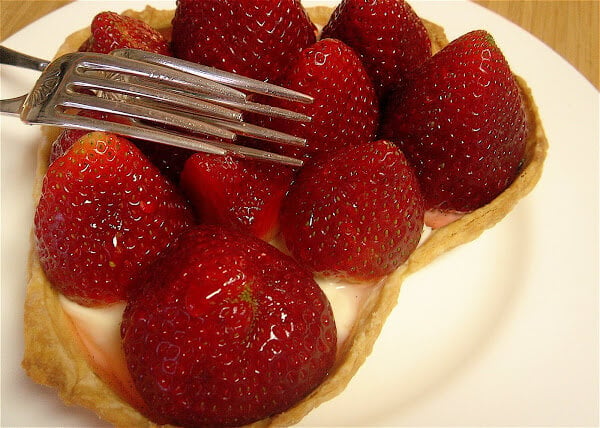 Since purchasing my copy of The Frog Commissary Cookbook, a popular Philadelphia cookbook based on two legendary restaurants, I have been meaning to make its prized Strawberry Heart Tart for Valentine's Day. At the height of The Commissary's popularity, the restaurant allegedly sold 150 of these tarts daily and over 400 on Valentine's Day. Indeed, the tart's ingredients combine to make a truly perfect Valentine's Day dessert: a hidden semi-sweet chocolate lining very nicely complements a Grand Marnier cream cheese filling, and beautiful whole strawberries make a dramatic presentation in a flaky heart-shaped shell. (Truthfully, the whole strawberries are difficult to eat—I would just as soon cut them).
Rhubarb Heart Tart with Vanilla Syrup

If I had to pick between these two desserts on Valentine's Day, however, I'd chose the rhubarb heart tart. Poached in a vanilla bean syrup, the rhubarb tastes deliciously sweet and tart, against the strongly-spiked creamy base. The rhubarb's shiny pink surface, speckled with vanilla seeds, set atop the brilliant white filling, makes a natural and striking presentation. And with "forced rhubarb"—rhubarb that is ultimately grown in heated sheds in complete darkness—currently in season, the opportunities to enjoy its distinctive and delicate flavor are numbered. The Commissary tart can always be saved for a romantic summer evening, perhaps at the peak of strawberry season?
Each of these recipes yields enough for two heart tarts, and the pastry yields enough for six tarts. Freeze the extra portioned dough and thaw as needed. Enjoy!
Flaky Pastry Dough
Yield=Six Heart Tarts
1¼ cups (6¼ oz) unbleached all-purpose flour, plus additional for the work surface
½ teaspoon kosher salt
1½ tablespoons sugar
8 tablespoons (1 stick) cold unsalted butter
1½ tablespoons sour cream
3 tablespoons ice water, plus more if needed
1 heart-shaped crème brûlée dish (or as many as you care to purchase)
Process flour, salt and sugar together in food processor until combined, about 5 seconds. Using a paring knife, quickly cut butter into small pieces directly into the bowl of the food processor. Pulse about 10 times until the butter is the size of large peas.
In a small bowl, whisk sour cream and ice water in small bowl until combined. Add half of this mixture to the food processor and pulse 3 times. Add remaining sour cream mixture and pulse 3 more seconds. Pinch dough with fingers, and if the dough is floury and dry, add more ice water one tablespoon at a time, pulsing and testing again after each addition. (Note: the dough might not appear moist enough, so pinching is important. The dough should not be wet enough so that it balls all around the blade; it should still appear crumbly)
Turn dough out onto a lightly floured surface, pat into a disk, wrap in plastic wrap and refrigerate for one hour.
Preheat the oven to 350°F. Remove the dough from refrigerator. Divide into 6 equal portions, each weighing approximately 2¼ oz each. On a lightly floured work surface roll each portion into a circle, as thinly as possible. Layer the rolled portions, separating each layer with parchment paper. Drape one circle over the back of the heart-shaped dish. Chill the remaining dough. Trim off any excess dough and prick the molded dough several times with a fork. Set the dish in the oven, dough side up and bake 20-25 minutes, until lightly golden and crisp. Remove from the oven and cool completely while still on the mold. Once cooled, repeat with remaining dough, making as many as desired, or freezing the additional dough.
Strawberry Heart Tart
Yield=2 Heart Tarts
Cream Cheese Filling:
4 oz softened cream cheese
2 tablespoons sugar
2 teaspoons Grand Marnier
¼ teaspoon vanilla extract
In the bowl of a stand mixer cream all ingredients until smooth. Refrigerate until ready to assemble.
Simple Syrup:
2 tablespoons water
2 tablespoons sugar
Heat together in small sauté pan and gently simmer until thick and syrupy. Set aside to cool.
Assembly:
1 oz semisweet chocolate, chopped
1 pint of strawberries
Melt the chocolate in a small bowl set over simmering water. Set the two heart tart shells upright and divide the chocolate between the two, spreading to make a thin layer across the bottom.
Stem the strawberries and trim the edge to create a flat surface.
Remove the cream cheese filling and divide between the two tarts. Top with the strawberries and drizzle with the syrup. A light dusting of confectioner's sugar is a nice touch but unnecessary. Enjoy!
Rhubarb Heart Tart:
Yield=2 Heart Tarts
For the rhubarb:
2 cups sugar
2 cups water
1 vanilla bean, halved and scraped
1 lb 10 oz rhubarb, approximately (1½ lbs once trimmed of dead ends)
Place sugar, water and vanilla bean and seeds in a small saucepan and bring to a boil.
Meanwhile, trim ends off rhubarb stalks and cut stalks into 1-inch pieces. Place in a large bowl.
As soon as syrup boils, pour over rhubarb, cover bowl with a plate and let sit for 1 hour. After the one hour, taste a piece. If the rhubarb is still too crunchy and tart, strain the poaching liquid back into the saucepan, bring to a boil, and pour over the rhubarb again, this time leaving the bowl uncovered.
Test again, after 1 hour. This should be sufficient. Strain the rhubarb reserving the poaching liquid. Chill until ready to serve or keep at room temperature if serving within a few hours.
For the filling:
2 oz cream cheese, softened
¼ cup heavy cream
1 tablespoon sugar
2 tablespoons Grand Marnier
In the bowl of a stand mixer, beat the cream cheese until slightly lightened. Add the cream, sugar and Grand Marnier and beat until nicely mixed and slightly thickened. Do not overbeat. Store in refrigerator until ready to assemble.
For vanilla-bean syrup:
6 tablespoons of reserved poaching liquid
Place liquid in small sauté pan and reduce by half or until thick and syrupy. Remove from heat and set aside to cool.
To assemble:
Set the two heart tart shells upright and divide the filling evenly between the two shells. Top with the poached rhubarb. Drizzle with the vanilla bean syrup and enjoy!
This post may contain affiliate links. Please read my disclosure policy.