Super-Easy, Pan-Roasted Baby Artichokes
This post may contain affiliate links. Please read my disclosure policy.
Easy to make and full of flavor, this is the MOST delicious recipe for pan-roasted baby artichokes, which are much easier to prepare than large globe artichokes.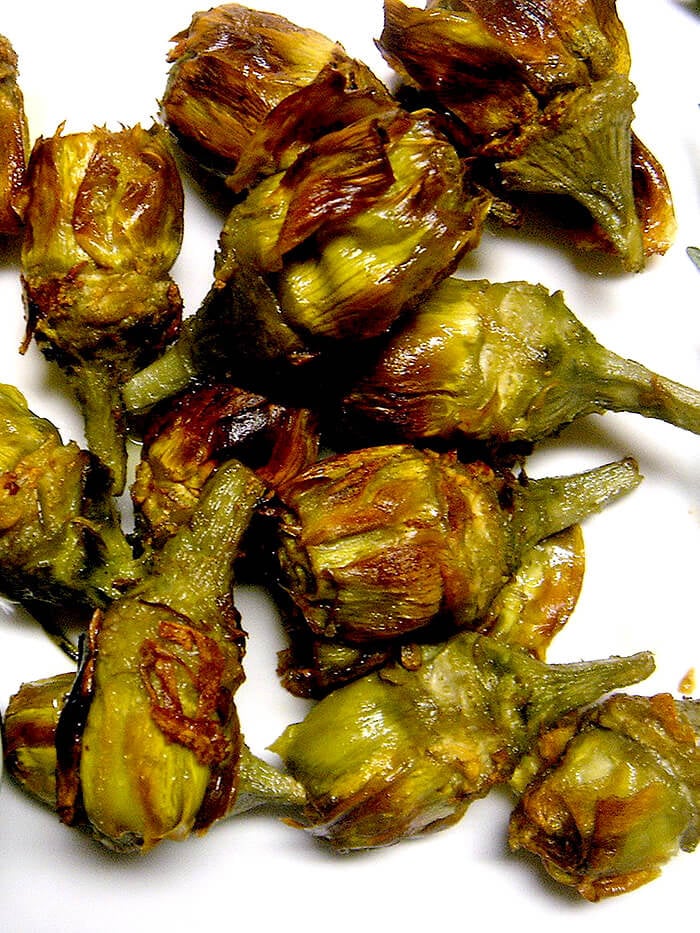 My husband and I recently tasted the baby artichokes "alla romana" at Osteria, a new Italian taverna opened by the owners of Vetri. Cooked slowly in olive oil with rosemary and garlic, the artichokes were, for me at least, the highlight of the evening.
Baby artichokes are the small buds that grow on side shoots off the central stem of the large plants and currently (March through May) can be found at the market. Unlike the large globe artichokes, the tender small ones have no fuzzy inedible choke and are easier to prepare than the large.
Served with a little salt and lemon, these crispy and caramelized little buds make a wonderful appetizer.
Artichoke Notes
An edible flower (of a cultivated thistle), artichokes produce crops twice a year — from March through May and August through October.
Artichokes originated in the Mediterranean and have been grown for over two thousand years.
Sicily is believed to be the actual birthplace of artichokes.
In Italy, young artichokes are eaten raw dipped in extra virgin olive oil, or fried whole in olive oil, and artichokes (young and mature) have been an essential part of the Italian diet for years.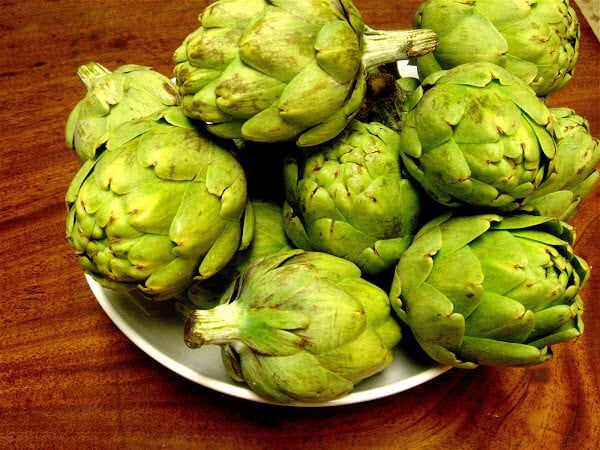 Print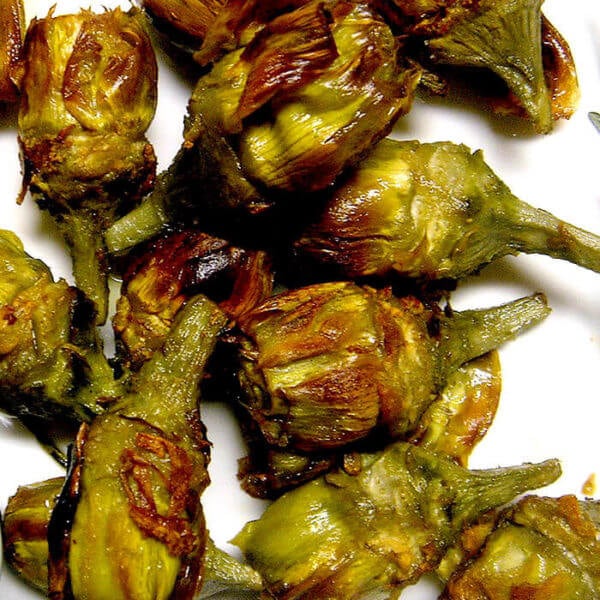 Super-Easy, Pan-Roasted Baby Artichokes
---
Description
Inspired by an appetizer served at Osteria in Philadelphia.
---
1 lemon, halved
15 baby artichokes
½ cup extra-virgin olive oil
½ teaspoon kosher salt plus more to taste
2 sprigs rosemary
4 cloves garlic, lightly smashed
---
Instructions
Fill a large bowl with cold water and squeeze half the lemon into it. Cut off the rough spiky tops of the artichokes and peel away leaves until the pale green leaves are exposed. With a paring knife, cut off very bottom of stem and peel dark green layer off sides of stem. Repeat with each one, dropping each cleaned artichoke into the prepared acidulated water.
In a medium, deep heavy pot, add ½ cup water, the oil, salt, rosemary and garlic. Place over medium-high heat until oil and water mixture begins to bubble. Add the artichokes. Reduce heat to medium, cover and let cook 20 minutes, stirring occasionally.
Remove cover, and increase heat to medium-high. Let the artichokes cook undisturbed until the bottom side begins to turn golden brown and get crispy. Once nicely colored, flip artichokes and cook until second side becomes similarly golden-brown.
When artichokes are crisped all over, remove with slotted spoon, sprinkle with salt to taste and serve with remaining half lemon.
Prep Time:

20 minutes

Cook Time:

30 minutes

Category:

Appetizer

Method:

Stovetop

Cuisine:

Italian
Keywords: crispy, baby, artichokes, appetizer, olive oil, salt, lemon
This post may contain affiliate links. Please read my disclosure policy.