Hot Cross Buns
This post may contain affiliate links. Please read my disclosure policy.
Hot cross buns, associated with Good Friday for centuries, have a storied history. Some trace the spiced sweet rolls back to spring festivals in pagan Britain, when the cross atop the buns represented the four seasons of the year; others believe an Anglican monk in 12th century Britain began adorning his small breads with crosses to honor Good Friday, also known as the Day of the Cross; and another tale describes an English widow who baked cross-topped buns every Good Friday and vowed to have one hanging on her front door until her son, on a journey at sea, returned home.
Perhaps the popularity of hot cross buns, however, stems particularly from an old superstition. In 17th century Britain, many believed that if the buns were made on Good Friday itself, the baker, and everyone eating his festive baked goodies, would be protected from misfortune for the rest of the year.
This weekend, wake to the smell of freshly baked cinnamon-spiced hot cross buns. Prepare the dough a day in advance and store in the refrigerator overnight, where the buns will slowly rise. Treat your family, friends and yourself to these warm, delectable hot cross buns, and begin celebrating the Easter weekend with this ancient tradition.
5 Secrets to Foolproof Bread Baking
See how easy bread baking can be in my free ecourse!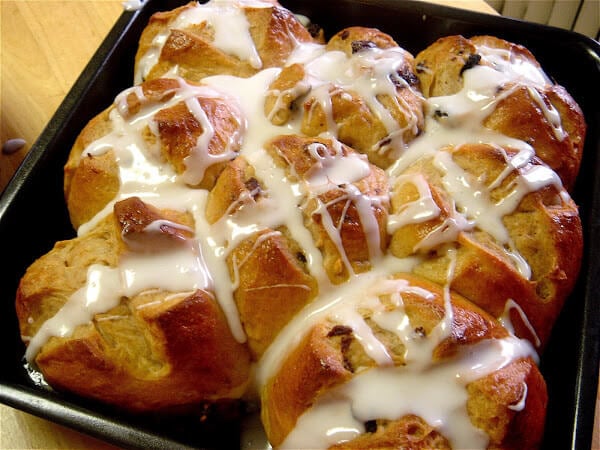 Overnight Hot Cross Buns
Yield = 16
½ cup milk
1 teaspoon sugar
1 tablespoon instant yeast
½ cup whole wheat flour
1 stick butter, room temperature
1 cup milk
1/3 cup brown sugar
2 eggs, lightly beaten
1 teaspoon cinnamon
freshly grated nutmeg to taste
3½ cups all-purpose flour
¼ – ½ cup raisins (optional)
1 egg
2 teaspoons milk
1½ cups confectioners' sugar
2 tablespoons milk
To make the sponge, place milk in microwave on high for 30 seconds. Add sugar, yeast and flour. Stir and let sit 15 minutes until bubbly.
In separate bowl, whisk butter until fluffy and smooth. Add milk, brown sugar, eggs, cinnamon and nutmeg, and whisk until smooth. Add the sponge and stir until smooth. Add flour and stir until stiff dough forms. Turn dough out onto work surface and knead for 4 minutes, adding only enough flour to prevent dough from sticking to surface.
At this point, if you wish to add raisins, divide the dough into two equal portions. Flatten one of the portions and sprinkle _ cup raisins over it. Fold dough to enclose the raisins, then knead for 4 more minutes until raisins are evenly dispersed. (Note: If you wish to add raisins to all of the dough, add ½ cup raisins to whole ball — do not divide the dough — and knead for a total of 8 minutes.) Place dough in greased bowl, cover with plastic wrap and let rise for 1 hour or until almost doubled in bulk.
Knead remaining portion of dough and place in separate greased bowl also covered with plastic wrap.

Grease two 8-inch square or round baking pans with butter. Punch one of the dough balls down, and turn out onto floured work surface. Roll ball into a 12-inch log. Divide into 8 equal portions and shape each into a ball. Place balls in pan, evenly spaced. Repeat with remaining dough ball. Cover each pan with plastic wrap and place in the refrigerator to rise overnight.
Preheat the oven to 350ºF. Remove pans from refrigerator and with a very sharp knife or razor blade, make a cross through each bun. Beat egg with the two teaspoons of milk, brush buns with the mixture, place in the oven and bake for 25-30 minutes. Meanwhile, whisk the confectioners' sugar with milk to make the glaze.
Let buns cool five minutes before drizzling glaze overtop. After the buns are topped with glaze, serve immediately. Note: the glaze is optional — they are delicious spread with softened butter as well.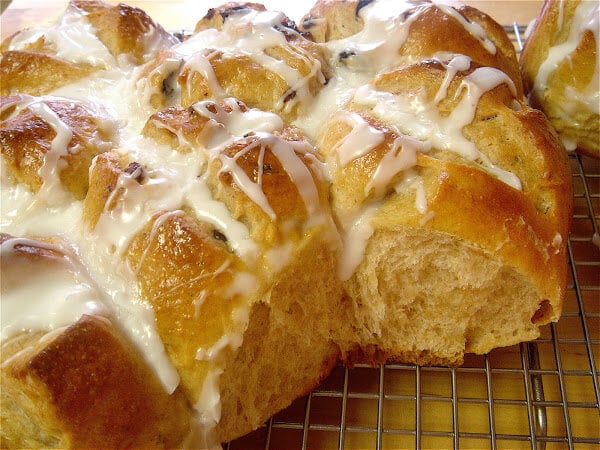 This post may contain affiliate links. Please read my disclosure policy.