Summer Squash Tart
This post may contain affiliate links. Please read my disclosure policy.
Frozen puff pastry is amazing. I finally found a use for the box I've had in my freezer for three years now — the box that survived a move across town in 2005 — and it baked off perfectly. This tart requires a fair amount of summer squash — a perfect showcasing of the season's produce — and takes little time to prepare with puff pastry on hand.This recipe has been slightly simplified from one I saw recently in Saveur, which called for grating, salting and sauteeing some of the zucchini, and also called for chopped and strained cherry tomatoes. With a simple salad, this tart, served at room temperature as suggested by the author, makes a wonderful summer dinner, and leftovers make an even better lunch.
Summer Squash Tart with Ricotta and Feta
Serves 6
1 10" x 13" sheet frozen puff pastry, thawed
parchment paper
pie weights or dried beans wrapped in plastic
1 tablespoon of olive oil
1 small onion, thinly sliced
kosher salt and pepper to taste
2 lbs. mix of zucchini and yellow squash
½ cup fresh ricotta
1 egg, lightly beaten
1 bunch parsley, finely chopped
1 tablespoon butter, melted
¼ cup feta cheese
Preheat the oven to 350ºF. Place pastry on a parchment-lined rimmed baking sheet. With a paring knife, gently score (being careful not to go all the way through) the pastry about one inch from the edge on all sides. Prick bottom of pastry all over with a fork, line center area only with parchment paper and fill with pie weights or beans. Bake for 20 minutes or until the edges are golden. Remove pan from oven and place on a cooling rack. Remove weights and parchment paper.
Meanwhile, heat the oil over medium heat and add the onion. Season with salt and pepper and let sauté until slightly caramelized about 6 to 8 minutes. Remove from heat to cool.
Zucchini and yellow squash at the South and Passyunk Farmers' Market this past Tuesday: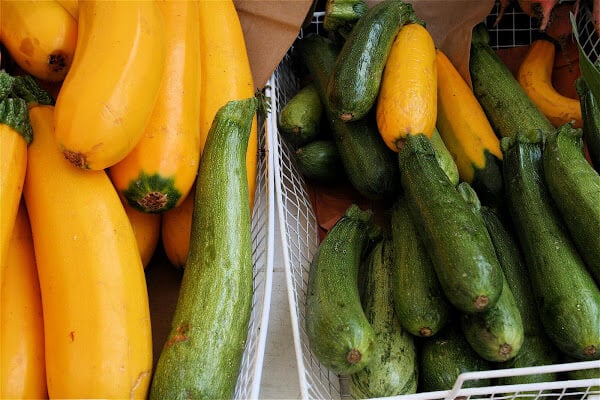 Fill a medium saucepan with water and bring to a boil. Cut the squash crosswise into ¼ – inch thick rounds. Add to the pot of boiling water, cook for 30 – 60 seconds, drain and let dry on a paper-towel lined cookie tray.
In a small bowl, whisk together the ricotta, egg and parsley. Season with salt and pepper to taste and spread onto puff pastry. Top with the onions. Arrange squash pieces in overlapping rows until tart is filled. Bake for 15 minutes. Remove from oven, brush with butter and return to the oven for five minutes longer. Remove pan from oven, sprinkle with feta, and let cool for 10 minutes before serving.
CSA Week 10
1 bunch of beets grown by Farmdale Organics
2 green peppers grown by Meadow Valley Organics
3 Cubanella peppers grown by Green Valley Organics
1 head lettuce grown by Scarecrow Hill Farm
1 Walla Walla onion grown by the Scarecrow Hill Farm
1 dozen ears of sweet corn grown by Green Acres Organics
1 bag of potatoes grown by Green Valley Organic
2 lemon cucumbers grown by Riverview Organics
1 bag green beans grown by Hillside Organics
This post may contain affiliate links. Please read my disclosure policy.