Best Granola Ever
This post may contain affiliate links. Please read my disclosure policy.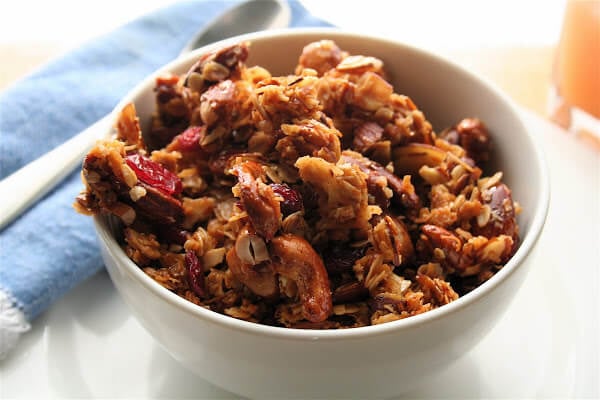 Of all the baked treats I bring my husband on our weekly weekend meetings, I think this homemade granola — maybe even more than chocolate-chip cookies and rich, fudgy brownies — makes him happiest. With a tub of this oat-, nut- and fruit-filled mix on hand, and with the barest of kitchen equipment, Ben can enjoy a homemade breakfast with little effort. Mixed with yogurt or milk, sliced bananas or peaches, blueberries or strawberries, homemade granola truly is a treat.
And as a last resort, granola also makes a fine dinner, as my high school friends — subjected to institutional dining hall food three times a day at an early age — can attest. Amazingly, they still never tire of granola and appreciate a homemade batch all the more.
This recipe has been adapted from Ina Garten's "the bare foot contessa cookbook." While the amounts of oil, nuts and dried fruit have been significantly changed, the proportion of the foundation — a mix of oats, sliced almonds and cococut (the secret ingredient) — remains unaltered.
Homemade Granola
4 cups (14 oz.) rolled oats
2 cups (6.5 oz.) sweetened, shredded coconut
2 cups (6.75 oz.) sliced almonds
½ cup (4 oz.) vegetable oil
2/3 cup (7.25 oz) honey
1 teaspoon vanilla extract
½ teaspoon sea salt or 1 teaspoon kosher salt
1 heaping cup (5.25 oz.) dried cherries or cranberries
candied nuts (recipe below)
Preheat the oven to 350ºF. In a large bowl, combine oats, coconut and almonds and gently stir or toss with your hands to mix well. In a small saucepan, combine oil, honey, vanilla and salt and heat for 2 to 3 minutes, stirring to emulsify slightly. Pour over the oat mixture and with a spatula stir until evenly coated. Spread onto a rimmed baking sheet and bake for 15 minutes. Remove from oven and stir well. Return to the oven and bake for 5 minutes. Stir well again. Repeat twice more until the granola is golden — be very careful at the end: The coconut will burn easily, leaving the granola with a bitter, burnt taste. Remove pan from the oven, place on a cooling rack and leave undisturbed until completely cool, at least one hour. Meanwhile prepare the nuts:
Candied Nuts:
neutral oil such as canola or vegetable
1/3 cup sugar
½ teaspoon kosher salt
½ teaspoon cinnamon
1½ cups raw, unsalted cashews
1½ cups raw, unsalted almonds (skin on)
Preheat the oven to 350ºF. Oil a rimmed baking sheet.
In a small saucepan, combine sugar with ¼ cup water, the salt and cinnamon and bring to a boil. Add the nuts and let the mixture simmer for one minute, stirring constantly to coat them with the syrup. Remove the nuts with a slotted spoon and spread them on the prepared baking sheet — don't be tempted to drizzle the excess syrup on the baking sheet as well (it will just burn). Bake for 15 minutes, stir and return to the oven until golden and crisp, about another five minutes. Remove pan from the oven and place on a cooling rack to cool, about an hour.
To finish the granola:
Using a bench scraper, carefully remove the granola from the pan and transfer to a bowl, keeping the granola in chunks as best as possible. Add the nuts to the bowl, breaking up the mass into small clusters. Add the dried fruit and toss mixture lightly to combine. Transfer to an airtight container to store.
This post may contain affiliate links. Please read my disclosure policy.