Korean Flank Steak and Chilled Soba
This post may contain affiliate links. Please read my disclosure policy.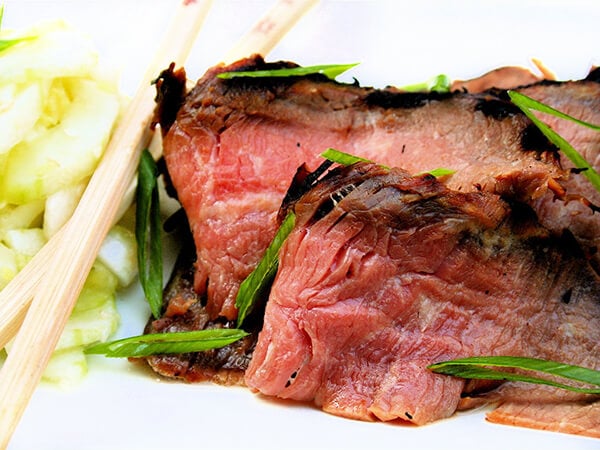 Most people go to Morimoto for sushi. For fatty tuna rolls and tuna belly sashimi, some aficionados will pay any price. Indeed, the sushi at this Stephen Starr, Iron Chef-run restaurant is arguably the best in the city.
I go to Morimoto, however, for something else. Morimoto's cha-soba — chilled green tea soba noodles served with dashi-shoyu, a savory dipping sauce — cannot be found anywhere else in the city. Many sushi restaurants serve soba noodles, hot and cold, but few serve this green tea variety.
Cha-soba translates to tea-soba and describes the noodles, which are made with matcha (green tea powder) and buckwheat flour. Partly I enjoy the dish's assembly — seaweed-green noodles nested on ice in a bamboo box arrive next to a bowl filled with the dashi-shoyu and a plate of sesame seeds, scallions and freshly grated wasabi — but mostly I love the chewy texture and distinct green tea flavor of the noodles.
Chilled soba made with traditional buckwheat noodles: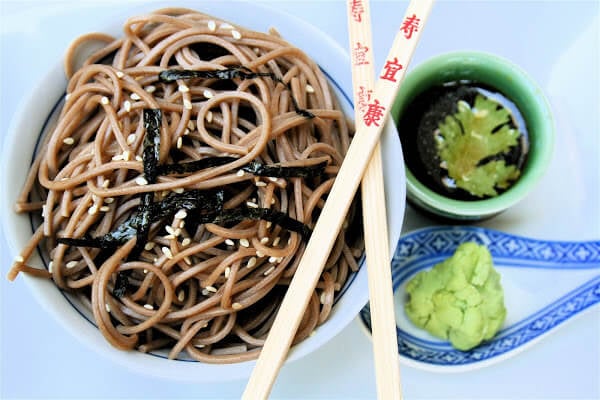 Chef Masaharu Morimoto suggests, as communicated through his attentive servers, tasting the dashi, seasoning it with wasabi, dipping the noodles into the sauce and eating directly from the bowl. A combination of kombu (dried kelp seaweed) and bonito shavings (dried, flaked mackerel) steeped in mirin, soy sauce and water make the dashi, a flavorful and aromatic stock. Dipping the noodles, as opposed to dressing them, in a chilled broth spiked with fresh wasabi — a treat for any sushi lover — ensures a perfect ratio of sauce to noodle.
Ordered on its own, this dish, costing $12 a serving — although not the best deal for noodles in the city — makes a perfect summer lunch and when paired with sushi or grilled fish or steak, a side dish worth sharing at dinner. Cha-soba for me, like a toro-stuffed maki roll for most Morimoto patrons, induces a bliss matched by no other noodle-serving restaurant in the city.
And before I went green, I used to enjoy — adore — Morimoto's kobe beef carpaccio: thin slices of delectable, tender meat, rubbed with ginger and garlic and seared with a hot sesame-olive oil mix. Now, however, I don't know how I feel about kobe beef. Is it grass fed? I really don't know enough about the treatment of kobe beef cows, but I do know that the grass-fed beef from Livengood Farm in Lancaster is delicious. All who enjoyed the grass-fed hamburgers for the Fourth of July can attest. This marinade for flank steak (grass-fed, purchased from Livengood's at the South and Passyunk Farmers' Market this past Tuesday) can also be used for skirt or hanger steak.
Like Morimoto's carpaccio, this steak recipe has tons of ginger and garlic. The sugar in the marinade helps the meat char nicely on the grill and the soy sauce balances the sweetness. The Asian flavors in this Korean-style flank steak makes it a perfect entrée to serve with the chilled soba.
Grass-fed cows at the Livengood Family Farm in Lancaster, PA: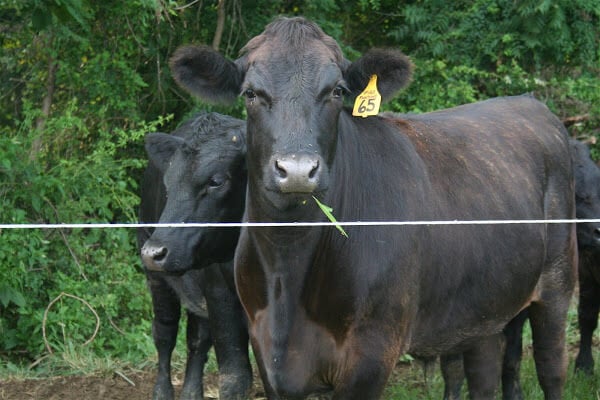 Korean-Style Flank Steak
Serves 4
¼ C. sugar
¼ C. + 2 T. soy sauce
1 T. + 1 tsp. mirin
6 large cloves garlic, minced
6 scallions, white part only, minced
1-inch knob fresh ginger, finely chopped
1 T. + 1 tsp. sesame oil
1½ lbs. flank steak
oil for greasing
kosher salt to taste
Whisk together the sugar, soy, mirin, garlic, scallions, ginger and sesame oil until smooth. Transfer to a resealable plastic storage container or a Ziploc bag. Place the meat and let marinate for 3 to 4 hours or overnight.
Preheat the grill to high. Remove steak from marinade and discard. If meat has marinated overnight, season it very lightly with salt or not at all . If meat has marinated for just a few hours, season lightly with salt. Grease the grill grates with oil.
For flank steak about 1-inch thick, grill four minutes on one side. Flip, grill three minutes on the other side for medium rare. Remove from heat and let rest 10 minutes before slicing across the grain.
Chilled Soba Noodles with Dashi-Shoyu
Adapted from Sally Schneider, A New Way To Cook, (Artisan, 2001)
Serves 6
½ oz. kombu (kelp seaweed)
2½ C. water
½ oz. dried bonito shavings
½ C. mirin
½ C. soy sauce or tamari
12 oz. soba noodles or green tea soba noodles
wasabi powder
1 bunch scallions, thinly sliced
sesame seeds
1 sheet nori, cut into thin strips
Place the kombu and the water in a small saucepan. Bring to a gentle simmer. After one minute, remove the kombu and discard. Remove the pan from the heat, add the bonito shavings and do not stir. When the bonito has sunk to the bottom, after a minute or two, strain the broth through a fine strainer, pressing on the bonito shavings with a spatula to extract all the liquid, then discard.
In a small saucepan, bring the mirin to a boil. Add the kombu broth and the soy sauce and simmer for 4 minutes. Remove from the heat, allow to cool, then refrigerate until chilled.
Bring a large pot of water to a boil. Add the noodles and cook until al dente, about 4 minutes. Drain and rinse under cold water or plunge into an ice bath. Drain and set aside.
When ready to serve, mix wasabi powder with water to make a paste and set aside. Place all of the garnishes — scallions, sessame seeds, nori and wasabi — in separate bowls. Divide the noodles among six plates. Pour the dashi-shoyu into 6 small bowls large enough to handle a serving of chosptick-filled noodles dipped inside, (much larger than what is pictured.) Give each diner a bowl of noodles and sauce and let them garnish their noodles as they please.
This post may contain affiliate links. Please read my disclosure policy.