Pumpkin Waffles, Bread Pudding
This post may contain affiliate links. Please read my disclosure policy.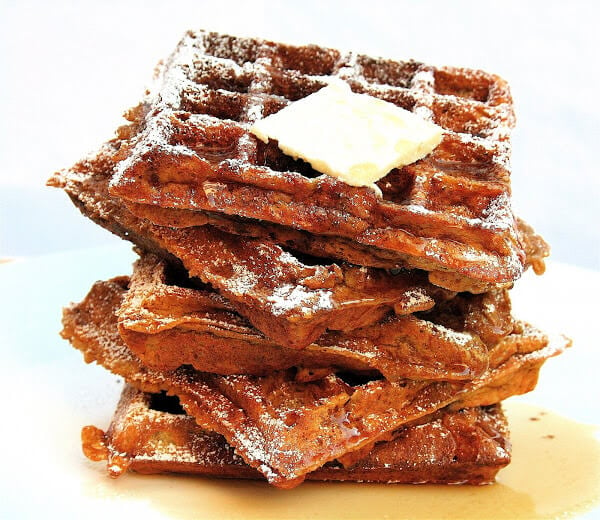 There's nothing like gourd season to separate the purists and the pretenders in the kitchen. As I grew up indoctrinated with my mother's culinary canons — chicken stock is made at home from real chickens, herbs and vegetables; salad dressing does not come from a bottle; homemade bread is simple to prepare; pie crusts are made only with butter; and the best burgers are made with freshly ground meat — I always considered myself a purist.
On Tuesday, however, I made the mistake of telling Sam Consylman, one of the farmers at the South and Passyunk Farmers' Market, I had just made some pumpkin bread. "What kind of pumpkin did you use?" Mr. Consylman asked me. I paused. I knew what he meant. And as I looked around, I felt a sudden pressure, a collective stare emanating from the farm-stand table spilling with butternut, acorn, delicata, hubbard, kabocha and red kuri squashes. I sheepishly confessed: "Libby's."
"Oh man," was all Mr. Consylman could say, his face twisting in disbelief, bordering on disgust. As he shook his head, he extolled the light texture and pure squash flavor of a real pumpkin pie, and he implored me to travel to Lancaster to taste one. I promised him I would.
I hope before winter squash season ends, I will get out to Lancaster, and I hope at some time, I do get around to making my own pumpkin pie from scratch. And in the meantime, I guess I'll have to revise a little axiom of my own: Canned pumpkin for the sweets, fresh for the savories.
Pumpkin Waffles
Serves 3 to 4
2 cups flour
3 tablespoons sugar
4 teaspoons baking powder
1 teaspoon kosher salt
1 tablespoon pumpkin pie spice
1½ cups buttermilk
1 cup pumpkin purée
4 eggs, separated
1 stick butter, melted
1 tablespoon vanilla
powdered sugar, maple syrup and butter for serving
Preheat a waffle iron to hot and preheat the oven to 200ºF. Whisk together the flour, two tablespoons of the sugar, baking powder, salt and spice together. In a separate bowl, whisk the buttermilk, pumpkin, yolks, butter and vanilla until smooth. Combine wet and dry ingredients and mix only until just blended. Beat egg whites with an electric mixer until soft peaks form. Slowly add the remaining tablespoon of sugar and beat until glossy peaks form. Stir one-third of these egg whites into the batter to lighten, then gently fold in the remaining whites. Ladle into heated waffle iron and cook until crisp and golden. Meanwhile, place a cooling rack on top of a cookie sheet. As the waffles come off the iron, place on the cooling rack and place pan in oven to keep warm until all the waffles finish cooking (the rack keeps the waffles from getting soggy on the bottom).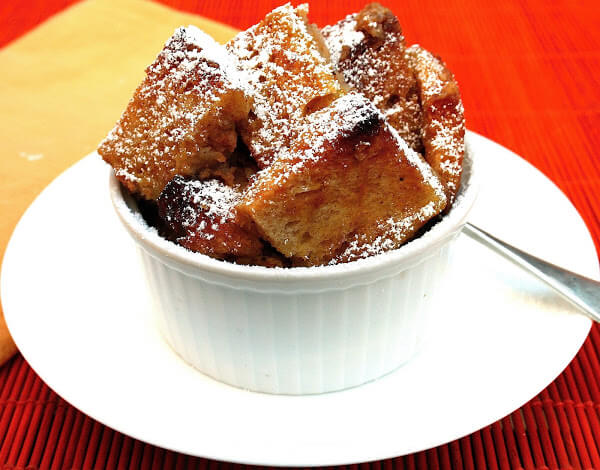 Pumpkin Bread Pudding
Serves 8
1 baguette or loaf of white bread, cut into one-inch cubes, preferably cut and left to stale overnight
¾ stick (6 tablespoons or 3 oz.) of unsalted butter, melted
3 eggs, lightly beaten
3 cups whole milk
½ teaspoon vanilla
½ teaspoon kosher salt
¾ cup pumpkin purée
1 cup brown sugar
2 teaspoons pumpkin pie spice
powdered sugar
Preheat the oven to 350ºF. Place cubed bread in a bowl and pour the melted butter over top. Toss to coat, then transfer to a baking dish such as a 9×12 glass baking dish or any other similarly shaped vessel.
In a separate bowl, whisk eggs, milk, vanilla, salt, pumpkin, sugar and spice together. Strain mixture then pour over the bread in the baking dish. Bake for 55 minutes to an hour. When pressed gently, mixture will feel slightly jiggly but set.
Let cool 15 minutes before spooning into bowls and sprinkling each with powdered sugar.
This post may contain affiliate links. Please read my disclosure policy.