Road Blogging: Indianapolis, Madison and Minneapolis
This post may contain affiliate links. Please read my disclosure policy.
Shapiro's, Indianapolis, IN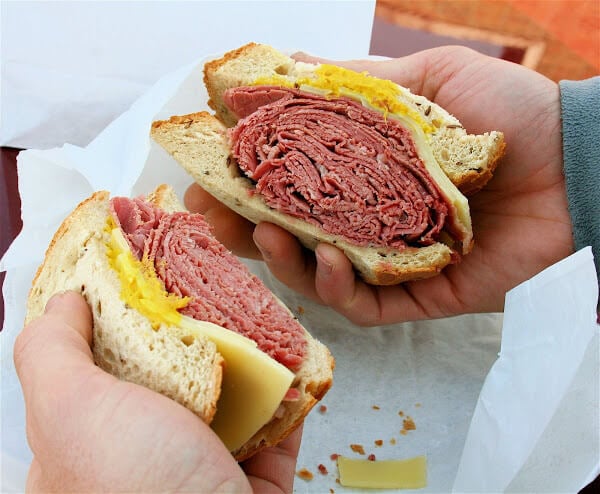 I had envisioned our journey across country much like a trip several friends of mine took to Asia this summer, a culinary adventure highlighted by a yakstravaganza — a feast featuring foods made solely from local yak. To prepare us for our road trip, a friend had given me Jane and Michael Stern's Roadfood, a great guide to finding hundreds of the best under-the-radar eateries in cities across the country.
But after packing and repacking the car for an hour-and-a-half Sunday morning, we departed for Columbus, Ohio, feeling famished, and before we even made it around City Hall, we had stopped at Dunkin' Donuts. Our next three stops — Quiznos, Panera, Starbucks — didn't bode well for our anticipated culinary adventure. We left Columbus Monday morning, however, headed toward Indianapolis with a mission: Eat corned beef sandwiches from Shapiro's, a recommendation in Roadfood. Just as described, Shapiro's looks like a cafeteria, equipped with plastic chairs and Formica tables, and as promised, serves a corned beef sandwich "that will take you straight to deli heaven." The rye bread and crunchy dill pickles were particularly memorable.

Madison, WI
From Shapiro's, we headed to Madison, Wisconsin, bypassing Chicago, fearing the madness of New Year's Eve. Guided by my friend Tara, we reserved a room at the Best Western right by the capital building and headed down State Street for dinner. We had two places in mind, Amy's Café and State Street Brats, but ended up at Tutto Pasta, a lively Italian trattoria. With warm rosemary focaccia, two complementary glasses of champagne, salad Helenica, chicken Marsala and a thin-crust Margarita pizza, Ben and I kicked off the New Year. After dinner, we stepped out into the -1ºF weather and proceeded to sprint to the hotel. Tara, thanks for the help — we tried to go to Mickies Dairy Bar but it was closed for the New Year … we will, however, definitely be returning to Madison!
Hell's Kitchen, Minneapolis, MN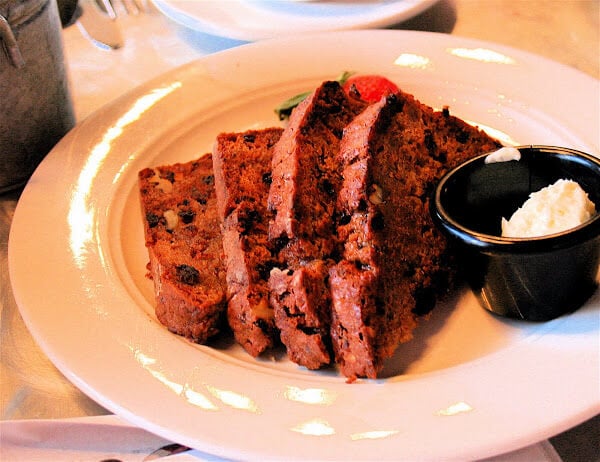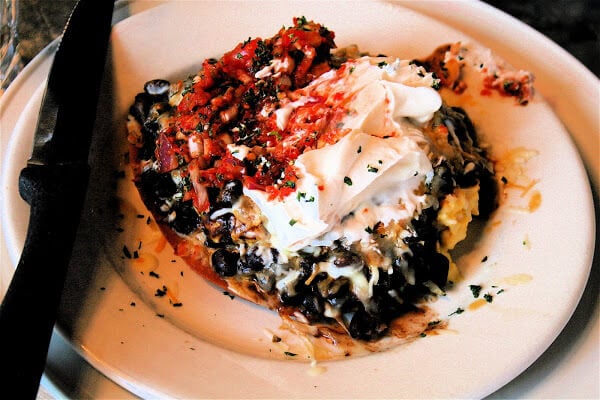 Mahnomin Porridge: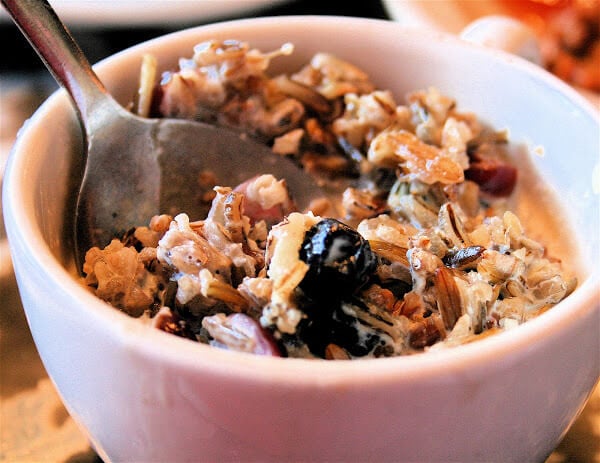 On Tuesday morning in a light snow fall, we left Madison and headed toward the Twin Cities. This morning, we met three of Ben's closest high school friends at one of my all-time favorite breakfast spots, Hell's Kitchen, in downtown Minneapolis. The virtues of Hell's Kitchen are countless: homemade peanut butter and multi-grain bread, sausage bread (made with bison sausage, currants, pecans and coffee … yum!), huevos rancheros, and the Mahnomin porridge, which three out of the five of us ordered. On a frigid (-5ºF) winter day, nothing could be more satisfying than this porridge, a mixture of wild rice, dried blueberries, craisins, hazelnuts and heavy cream, reason enough to venture downtown for breakfast any morning. Incidentally, though the Stern couple didn't include Hell's Kitchen in their book, they are quoted on the Hell's Kitchen menu, praising the homemade peanut butter as the best in the country (or something like that … I've forgotten the quote by this point.)
Tomorrow, to Iowa we depart, for caucus and grandparent fun! Stay tuned.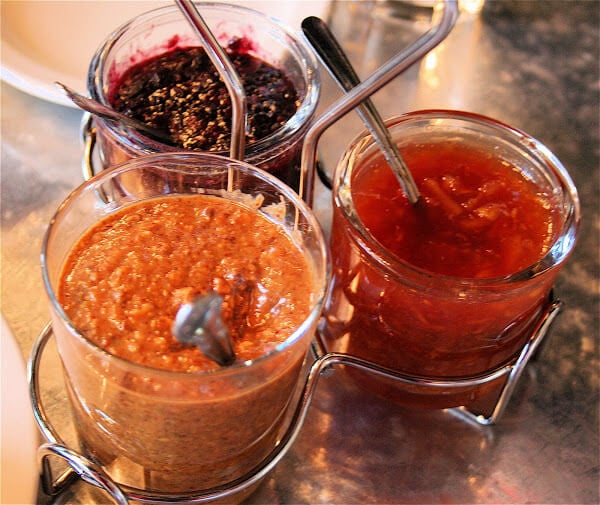 One of Ben's friends passed along this recipe published on Kare 11.com. I'm dying to try it!
Mahnomin Porridge
Recipe From Kare 11, Minneapolis, Adapted from Hell's Kitchen
4 cups cooked wild rice
¼ cup pure maple syrup
¼ cup dried blueberries
¼ cup craisins
½ cup roasted, cracked hazelnuts
1 cup heavy cream
In a heavy non-stick sautee pan, add the cooked wild rice, heavy cream, and maple syrup, and warm through. Add the blueberries, craisins, and hazelnuts, and stir to mix well. Serve in a bowl with sides of warm heavy cream and maple syrup.
This post may contain affiliate links. Please read my disclosure policy.