Pipes Cafe, San Clemente, CA

Since arriving in California, we have been dying to get to Kono's, a cafe in Pacific Beach that, according to a local source (the same source presently living in Philly), serves "the best breakfast burritos ever!" Though my friend strongly encouraged us to try Kono's first, she also recommended Pipes Cafe, a breakfast and lunch spot opened in 1995 by the owners of Kono's.
This morning, we pulled into the San Clemente Pipes Cafe location, smiled at the "No Shoes, No Shirt, No Problem" welcome sign, and ordered our breakfast. We sat outside — why wouldn't we sit outside in January? — sipped our coffee and waited for our food, a breakfast burrito filled with scrambled eggs, cilantro, green chile, cheese and pica sauce rolled in a flour tortilla, for me, and a breakfast burrito filled with eggs, ham, bell pepper, onion, cheese and pica sauce, for Ben. When these massive wraps arrived, we tucked in. If the breakfast concoctions at Kono's even resemble the fare we savored this morning, we're in for a real treat. Thanks Chu!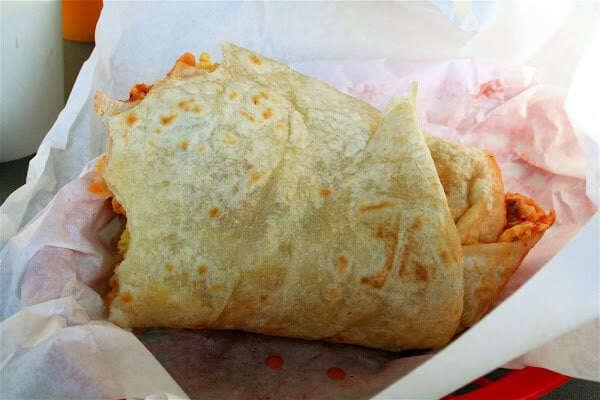 A shot of the ocean in San Clemente. I still cannot believe it is January.

Pedro's Tacos, San Clemente, CA

I wonder if I'll ever get sick of the Mexican food here. So far, I can't get enough of it, especially the fish tacos. Though we've only tried one location, Pedro's in San Clemente has set the bar quite high. These tacos, filled with deep-fried cod, cabbage and some sort of remoulade sauce barely need hot sauce, though a small dash gives them a nice kick. This morning on our way to Pipes Cafe, a small line of customers stretched from the window of Pedro's and the drive-thru lane, where patrons shout orders into a surf board, already had several cars passing through. I could definitely get used to eating fish tacos for breakfast.