Roots of Change Meeting & More Arugula
This post may contain affiliate links. Please read my disclosure policy.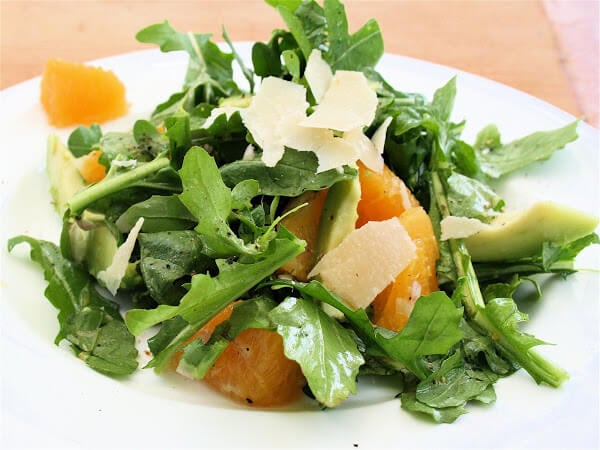 Before I moved out to California, Bob Pierson, director of Farm-To-City, told me my new state would be decades ahead — agriculturally speaking — of the East Coast. While I have been amazed at the number of farmers' markets out here, only after yesterday am I beginning to understand what he meant.
You see, despite the obscene amounts of avocados and oranges I've been delighting in, I've actually spent the past month feeling proud of Philadelphia and the diversity of local foods available to those living in and around the city. While the farmers' markets run only from May until December, Philadelphians can shop year-round at the Fair Food Farmstand and have the option of joining buying clubs during the winter. As I mentioned recently, I lived ten blocks away from a source for local grass-fed beef, lamb and pork, raw milk, raw-milk cheeses, nitrate-free bacon, fresh chickens, eggs and seasonal fruits and vegetables.
I have encountered no such stand or source like the Fair Food Farmstand in my time thus far on the West Coast. Now, I could eat sautéed Swiss chard, mustard greens, kale, etc. mixed with rice and parmesan every night. However, I do have a husband to feed, and my recent dinners, I suspect, have left him wanting. The last time I made a meatless dinner, Ben said, "Mmmm, this is delicious," and he cleared his plate. About an hour later, he was scrambling eggs and scouring the fridge for a morsel of protein to add to the pan.
So, I ventured down to San Diego two days ago to attend a Roots of Change meeting in search, I'll admit, of meat. I wandered into the room, spotted the legendary Melanie Lytle and claimed a chair at her table. Before long, I saw the California Bob Pierson had described.
Like many people across the country, Californians are concerned about the current state of our food system and the future health of our communities and planet. These worries foremost, believes Larry Yee (County Director), are driving the "food revolution."
People partake in this revolution in countless ways: by using reusable shopping bags at the grocery store; by boycotting bottled water; by shopping at farmers' markets; by joining CSAs and buying clubs; by shopping for humanely raised meats; by purchasing organic and locally grown foods.
California, I learned, has taken this effort to the next level: Roots Of Change has drafted a comprehensive plan to create a sustainable food system in the state of California by the year 2030. This plan demands the collaboration of food producers, food distributors, businesses, nonprofits, government agencies, foundations, etc. As Yee noted, a sustainable food system — not just a sustainable agriculture system — is the goal of this ROC initiative. In a state where many people with diverse interests coexist, an "enlightened leadership," says Yee is critical to the success of this project.
Yesterday, I learned a lot about my new state and, in particular, San Diego County:
California is:
• the nation's most populous state; the nation's largest food producer; and the world's 5th largest supplier of food and agricultural commodities.
In San Diego County:
• there are more organic farms than any other county in the country.
• 63% of the farms are 1 to 9 acres.
• 92% of the farms are family owned.
• 22% of the farms are Native-American owned.
California, many of the speakers noted, is the most important agriculture place on Earth. With its countless forward-thinking foundations and entrepreneurs, California sets the trends for the world.
About half-way through the meeting, Michael Dimock, (President of ROC and MC of the event), passed the mic to the crowd.
• Naomi Butler, a nutritionist with the County of San Diego, stressed the importance of getting food into our school systems via garden and farm-to-school programs. We have to start, said Butler, "by changing the taste buds of our kids."
• A young, private chef emphasized educating children on these matters because "they are the future."
• Others inquired about increasing points of contact — farmers' markets, co-ops, distribution centers, etc.
• One chef noted, "We have particular issues down here," referring to the unique problems facing San Diego County. She worried about the welfare of the Spanish speaking community — how are we going to deal, she wondered, with immigration?
• One woman noted the number of farmers that will soon retire (a nation-wide reality) — what will happen to their farms?
While the challenges are vast, the bottom line, as Eric Larson (Executive Director of the San Diego County Farm Bureau) concluded, is straightforward: profitability. If farms are profitable, they'll stay in business. Farmland is expensive in California and in a globalized world, small farmers face serious competition.
I drove home from the meeting feeling slightly overwhelmed, but understanding this: We have a lot of small farms in San Diego County. These small farms use organic and sustainable techniques. Our health as a community rests on the survival of these small farms. And the survival of these small farms demands the work of many hands.
I feel a little embarrassed knowing I had ventured down to the meeting primarily to learn how I could find meat for Ben and me. There are far more important issues to tackle, namely getting good food into schools and low-income communities. Alas, I am inspired by the many people involved in this daunting task, and hope to play a role in the ROC's effort.
As I mentioned in my last post, the farmers' market arugula has been delectable, tasting particularly spicy. This bunch comes from Don's Farm in Wildomar, CA (purchased at the Sunday San Clemente farmers' market … shocker). As Don calculated my total, he looked a little nervous, apologizing for some of the dirt, explaining he had pulled the arugula out of the ground in complete darkness at 4:00 that morning. Don had nothing to worry about — a quick soak in cold water removed any lingering dirt. Besides, for greens this fresh and tasty, anyone can live with a little dirt.
I find a simple lemon vinaigrette to be the best dressing for arugula, (a deduction likely influenced by my love for Melograno's arugula and prosciutto salad). I don't have a precise recipe for this dressing, but I follow Alice Waters' method as described in Chez Panisse Vegetables. She begins many of her vinaigrettes by macerating finely chopped shallots for about 20 minutes in either citrus juice or vinegar. She then adds salt, pepper, sugar, maybe mustard (I don't have my book on hand to verify), finishing each dressing by slowly whisking in extra-virgin olive oil. It could not be simpler.
Arugula, Orange & Avocado Salad
Serves 4
1 shallot, finely diced
1 to 2 lemons, depending on size
sugar, to taste
kosher salt and freshly ground black pepper, to taste
extra-virgin olive oil
1 to 2 heads arugula
2 oranges
2 avocados
Parmigiano Reggiano, shaved
1. Place the shallots in a small bowl. Squeeze the lemons over top, removing any seeds that fall in. Let sit for 20 minutes.
2. Meanwhile, prepare the salad: Place the arugula in a large bowl filled with cold water to soak. Peel the oranges, removing sections from the pith if desired. Slice the avocados in half; remove the pit; scoop out the flesh; and slice into strips or dice into cubes. Set aside.
3. To the bowl of shallots, add a ¼ teaspoon of sugar, a pinch of salt and pepper to taste. Slowly whisk in the oil. The mixture won't totally emulsify. Taste, adjusting seasoning as necessary (with more sugar or oil, for example, if the mixture is too tart).
4. Drain the arugula and spin dry. Place the arugula in a bowl. Top with the oranges and avocados. Add dressing to taste. Toss gently. Divide among plates. Top each salad plate with a few shavings of Parmigiano Reggiano.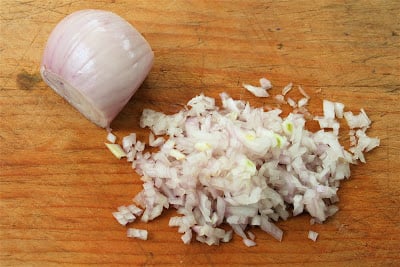 This post may contain affiliate links. Please read my disclosure policy.