Grass-fed Flank Steak, Not Local, But Tasty
This post may contain affiliate links. Please read my disclosure policy.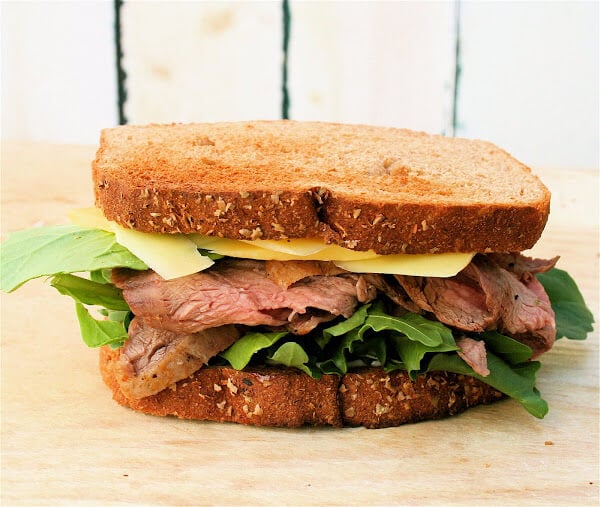 Last weekend I made my first visit to a Whole Foods Market since arriving on the West Coast. After a long visit at The Getty — my dad has serious endurance when it comes to art — we drove home along Pacific Coast Highway and stopped in Long Beach to pick up dinner. Exhausted from the day, my dad stayed in the car for a snooze.
Inside, I spotted a fairly large selection of grass-fed beef in the meat department. Though the man behind the counter did not know where the meat originated, I bought two slabs of flank steak. I have since learned it comes from Nebraska. I know, I'm a total hypocrite.
For dinner, we kept preparations very simple. Ben seasoned the meat with salt and pepper and threw it on the grill. As my dad worked his way through a wedge of Stilton, I prepared an arugula salad and sliced up some avocados. Dinner was ready in no time.
We all really loved the steak. Grass-fed meat is noticeably different than corn-fed. Its color, at all stages of doneness (rare, medium-rare, etc.), is a lighter shade of pink. Its smell, before cooked, is different too, earthy perhaps? And it tastes, well, grassier? It's hard to describe. Ben said the meat tasted like an egg, and I don't think that's just because he has been eating a lot of eggs these days. Anyway, the steak was delicious. Too bad it's not local.
And, for a change, Ben had some more desirable leftovers to bring to work this week. Piled in between two slices of whole wheat bread, slathered with mustard and mayo, and topped with arugula and cheddar cheese, flank steak makes a great sandwich — a vast improvement over the mixture of chard and brown rice Ben often zaps in the microwave for lunch.
Also, I'm having some technical difficulties with Google docs right now, but The Bulletin can be read here: Feeding A Marine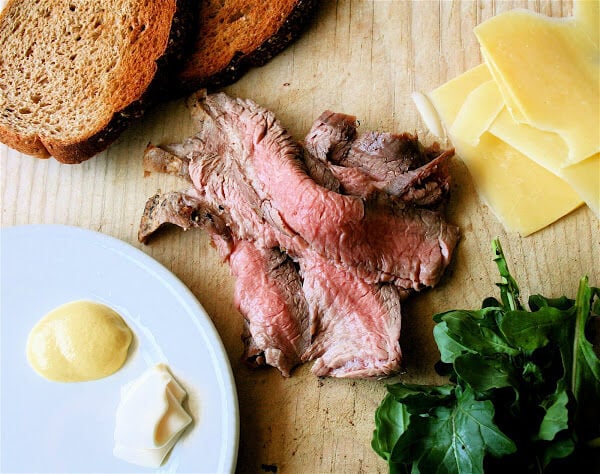 Grilled Flank Steak & Leftover Sandwiches
Serves 3 for dinner, with meat for leftover sandwiches
2 smallish-sized slabs grass-fed flank steak
kosher salt freshly ground black pepper
For the sandwiches:
arugula
whole wheat bread
Dijon mustard
mayonnaise
cheddar cheese
black pepper
For dinner:
1. Preheat the grill to high. Season meat on both sides with salt and pepper. Grill three to four minutes a side, depending on thickness. Let rest five minutes before slicing thinly against the grain.
For lunch:
2. If you are reading this blog, you likely know how to make a sandwich.
This post may contain affiliate links. Please read my disclosure policy.