Tortillas & Blossoms
This post may contain affiliate links. Please read my disclosure policy.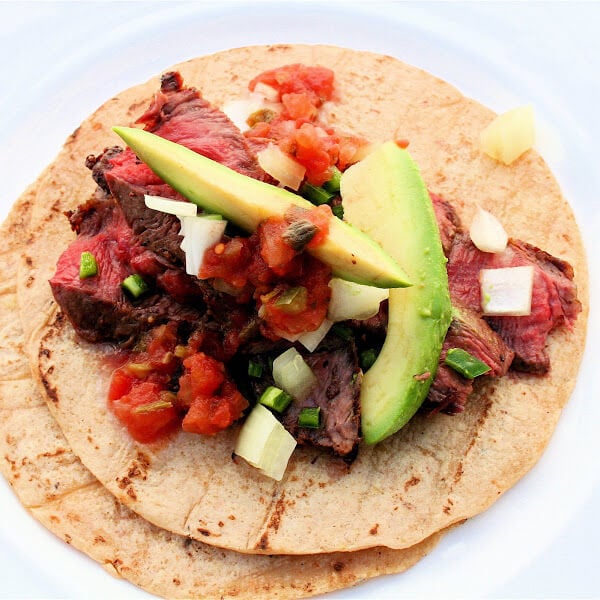 I have a vision of the perfect tortilla. It's made of corn, from fresh masa, not masa harina. It's thin. It's soft. And, ideally, it's made to order on a griddle-like surface like the ones served every weekend at the Primavera Mexican stand at the San Francisco Ferry Building Farmers' Market. Several summers ago on a visit to San Fran for a wedding, Ben and I savored these freshly made tortillas for breakfast, filling them with scrambled eggs, salsa, avocados and cheese.
This meal inspired me to buy one of those tortilla presses and to try to replicate our experience at home. I soon learned, however, the task would be impossible — fresh corn masa was no where to be found in the Philadelphia area. Ben even called a shop in California (after reading an article online), to ask if the masa could be shipped across country. (This was before we went local). The woman refused, however, alleging that the masa would perish en route. I made a batch of tortillas anyway using the Maseca brand masa harina — the product all the local taquerías used as well — but the results proved far from satisfying. As time passed, I gave up my search for fresh masa and settled for store-bought varieties, which tasted far superior to my homemade creations. (Incidentally, if you are interested in learning more about the homemade tortilla making process, read this San Francisco Chronicle article.)
I just returned from a wedding in Baja where the yummy tortillas I ate at every meal reminded me of my bygone quest for the perfect tortilla. At the hotel restaurant, the waiters delivered a basket of warm flour and corn tortillas with every meal to be filled with eggs, fish, beef or whatever. Now, I don't know if it's just that no tortilla will ever measure up to the ones made at the Primavera stand, or if I've changed — I think I prefer flour to corn. I know, I know, corn is more authentic, but there was something about these small, thin, chewy flour tortillas that I could not resist. Alas, it seems my vision of the perfect tortilla may have changed.
How cute is this little zucchini? Each time I walk by my blossom-filled pot, however, I am tempted to rip off the flowers, stuff them with cheese and fry them up. Fortunately, my farmers' market has a limitless supply of these blossoms, and I can resist the urge.
Now, about this non-local, grass-fed beef. I'm embarrassed to name its country of origin, but I had traveled all the way to Jimbo's market with Aunt Vicki and her mother, Sy, and I could not pass up the opportunity to purchase a bit of grass-fed meat. Seasoned with salt and pepper, grilled for three to four minutes a side, tri-tip makes a wonderful taco filling, needing little more than salsa, chopped onion and a splash of lime.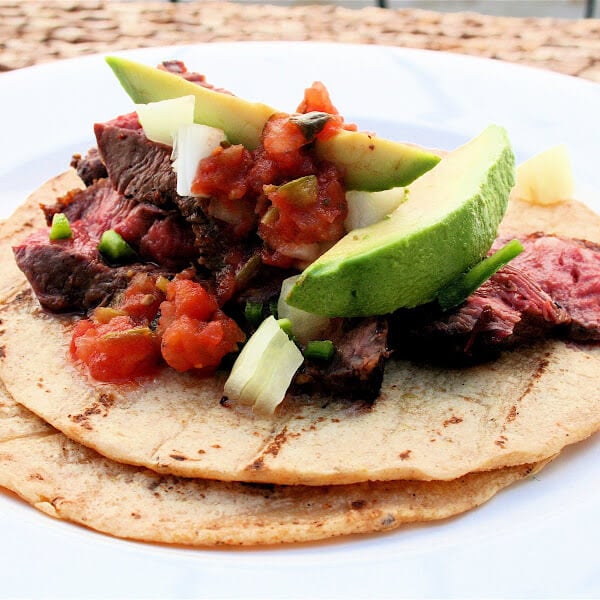 Grass-Fed Tri-tip Tacos
Serves 2 to 3
1 lb. grass-fed tri-tip, flank or skirt steak
kosher salt and peper to taste
6 to 9 soft, corn or flour tortillas
finely diced white onion
chopped cilantro
1 avocado, thinly sliced
pico de gallo
1 limes, quartered
grated cheese (optional)
sour cream (optional)
1. Preheat a grill to high. (Alternatively, place a large frying pan over high heat and add a tablespoon of olive oil.) Season the steaks on all sides with salt and pepper to taste. Preheat the oven to 300ºF. Wrap the tortillas in foil and place in the oven.
2. Place onion, cilantro, avocados, pico de gallo, limes, cheese and sour cream in small bowls. Place in the center of the table.
3. Grill the steaks to desired doneness, then let rest for five minutes. Slice thinly against the grain and pile onto a platter. Remove tortillas from the oven, and place two on each plate. Begin assembling tacos.
This post may contain affiliate links. Please read my disclosure policy.