Selling Lentil Soup In The Summer and Helping Iowan Farmers
This post may contain affiliate links. Please read my disclosure policy.
I know this isn't the most summery of soups. Even us Southern Californians are experiencing a bit of a heat wave. So, why would anyone make lentil soup in the summer? It's sort of a hard sell, I'll admit, but I'm going to give it a go.
The 12oz. bag of lentils I purchased cost $3.23. I used about 9 oz. (1½ C.) or $2.42 worth of lentils in this recipe. (As far as lentils go, $3.23 for 12oz. is rather steep. You'll likely pay much less.) Now, I don't have all of my receipts to give an accurate estimate of what this soup costs to prepare, but the remaining ingredients, a mixture of pantry items (vinegar, bay leaf, olive oil, tomato sauce and salt) and vegetables (carrots, celery, onions and garlic) cost next to nothing, even given the crazy-high food prices we are currently facing at the market.
This soup is one of the most economical dishes you could ever prepare. It yields three quarts or eight generous servings. Even if the cost of ingredients totaled $10, which is very unlikely, the cost per serving is only $1.25. Serve it with a loaf of bread and you have a complete meal. Lentil soup and bread for dinner might seem a little Spartan, but the addition of a salad with this meal in a way would be superfluous — this soup is filled with vegetables for one, and lentils themselves are nutritional powerhouses: These little legumes are high in fiber, protein, vitamins and minerals and are an excellent source of complex carbohydrates. Also, according to the Web site, The World's Healthiest Foods, one cup of cooked lentils contains just 230 calories.
Have I sold anyone?
I should note that this soup takes little time to prepare — you basically throw all of the ingredients in a pot and let it simmer for an hour — and that it is delicious. This is one of my mother's favorite recipes, passed down, I believe, from her mother, and maybe even from her mother's mother. Am I making this up, mom?
Lastly, the publisher of Edible San Diego, a wonderful magazine "celebrating local food, from coast to crest, season by season" recently informed me about Farm Aid's Family Disaster Fund. Severe flooding in Iowa and Wisconsin is threatening the lives of family farmers and Farm Aid is providing serious help to the region. Click here to read more about Farm Aid or to help the farmers in these states.
A bowl of French green lentils. I have yet to find a source of local lentils, but I can't say I have looked terribly hard. In Philadelphia, one of the vendors at the Sunday Headhouse market sold lentils and they were delicious. I purchased these at a shop in Philadelphia nearly a year ago and they traveled with me across country. Unless you have a local source for lentils, I highly recommend the D'Allasandro French Green Lentils.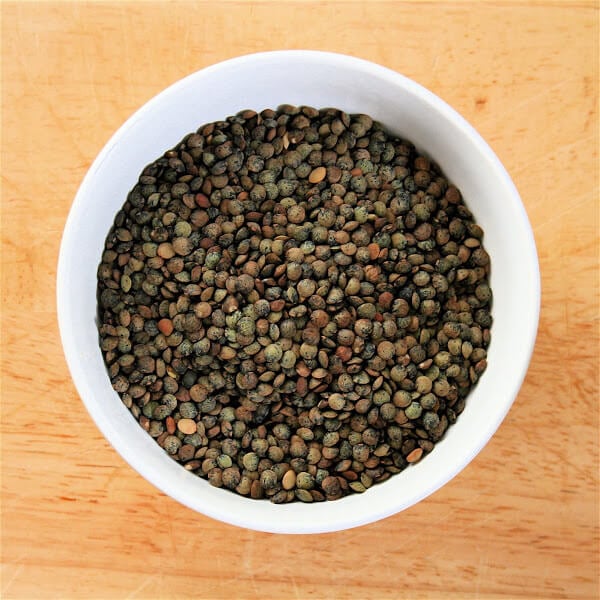 Print
Simple Lentil Soup
---
Total Time:

1 hours 5 minutes

Yield:

3 quarts or 8 generous servings
1½

C. French green lentils

1

8oz. can +

1/2

can of tomato sauce, such as Pomi brand

2

large onions, chopped 

2

cloves garlic, minced

1

bay leaf

½

C. red wine vinegar

½

C. extra-virgin olive oil

1 tsp

. kosher salt

½ tsp

. fresh thyme leaves, chopped

3

carrots, peeled and diced

3

celery stalks, peeled and diced
crushed red pepper flakes to taste
---
Instructions
Throw all ingredients together in a pot. Add 1½ qts. plus one cup of water (seven cups total). Simmer for one hour uncovered. Stir and serve with crusty bread. Tastes even better on day two. Keeps for over a week in the refrigerator. Freezes well, too.
Prep Time:

5 minutes

Cook Time:

1 hours
This post may contain affiliate links. Please read my disclosure policy.