Summer Squash Tart & Happy Fourth!
This post may contain affiliate links. Please read my disclosure policy.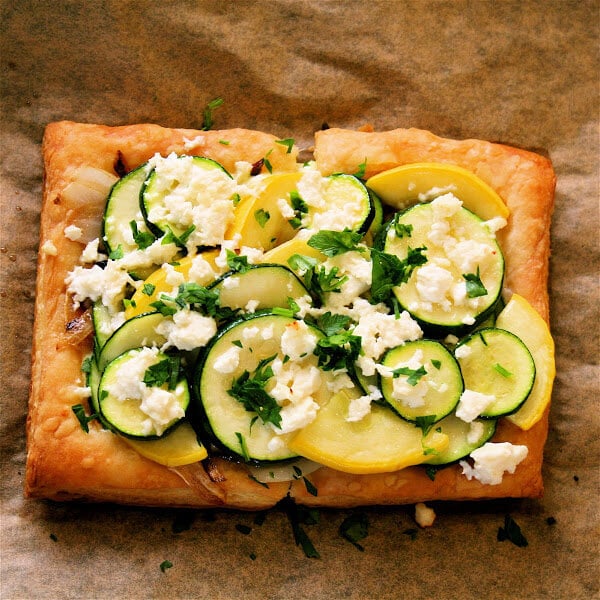 Hi everyone. Happy Fourth. Just a quick post here. I made this tart, as you may recall, once last summer. This year's version, made with squash entirely from my garden, is far more special.
I must admit, however, this recipe could be improved, namely because it calls for puff pastry. I don't want to diss puff pastry or anything, but i'm just not wild about its taste. In a pinch, its great — it saved me this passed Monday when I needed to whip something up for a potluck. If I had more time, however, I might have experimented with a different base. The thin pizza dough, I don't think would have held up too well for a potluck. A thicker pizza dough might work. Or a savory galette dough. Or the buttery cornmeal crust used in the heirloom tomato tart. I definitely want to try something other than puff pastry because everything else about the tart is great, from the ricotta-parsley spread to the caramelized onions to the blanched squash rounds to the barely melted feta crumbled on top at the last moments of baking.
Also, the pictures here show a tart that has been made with one-third of one sheet of puff pastry. The box I bought came with two units of puff pastry, and I used one and two-thirds for the potluck tart. I had left over ingredients and so made a mini tart, which I ate for breakfast on Tuesday.
Happy Fouth! Oh, and here's a festive dessert for the holiday: Patriotic Ice Cream Sandwiches
First, you must blind bake the tart shell. I have a stash of beans I use over and over again for this purpose.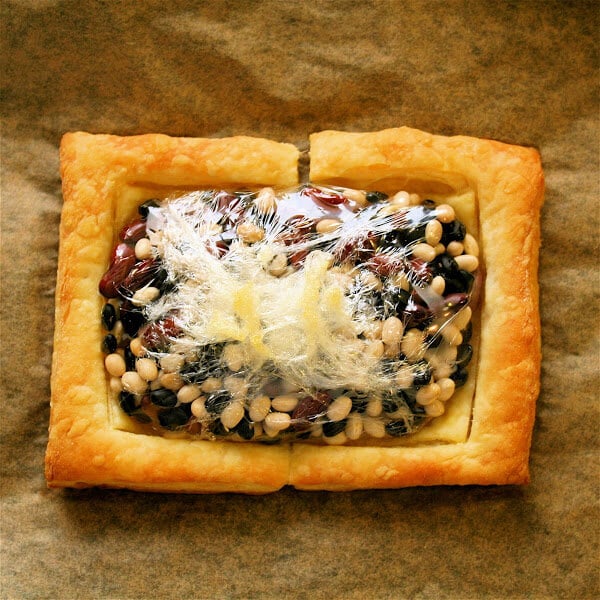 Then, you whisk together ricotta, parsley, an egg, and salt and pepper, and spread it across the bottom.


Then, you top the cheese spread with a layer of caramelized onions.


Then, you top the onions with blanched squash rounds. You bake it for 15-20 minutes. Brush it with butter. Bake it again. And you sprinkle on the feta and parsley at the very end.

Print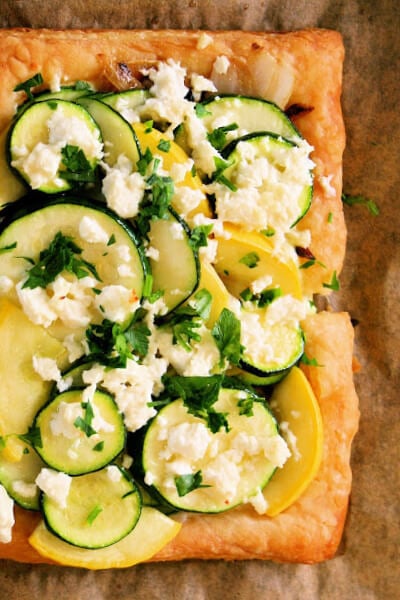 Summer Squash Tart with Ricotta and Feta
---
Total Time:

1 hours 10 minutes

Yield:

6 servings
1

10" x 13" sheet frozen puff pastry, thawed
parchment paper
pie weights or dried beans wrapped in plastic

1 tablespoon

of olive oil

1

small onion, thinly sliced
kosher salt and pepper to taste

2

lbs. mix of zucchini and yellow squash

½ cup

fresh ricotta

1

egg, lightly beaten

1

bunch parsley, finely chopped

1 tablespoon

butter, melted

¼ cup

feta cheese
---
Instructions
Preheat the oven to 350ºF. Place pastry on a parchment-lined rimmed baking sheet. With a paring knife, gently score (being careful not to go all the way through) the pastry about one inch from the edge on all sides. Prick bottom of pastry all over with a fork, line center area only with parchment paper and fill with pie weights or beans. Bake for 20 minutes or until the edges are golden. Remove pan from oven and place on a cooling rack. Remove weights and parchment paper.
Meanwhile, heat the oil over medium heat and add the onion. Season with salt and pepper and let sauté until slightly caramelized about 6 to 8 minutes. Remove from heat to cool.
Fill a medium saucepan with water and bring to a boil. Cut the squash crosswise into ¼ – inch thick rounds. Add to the pot of boiling water, cook for 30 – 60 seconds, drain and let dry on a paper-towel lined cookie tray.
In a small bowl, whisk together the ricotta, egg and parsley. Season with salt and pepper to taste and spread onto puff pastry. Top with the onions. Arrange squash pieces in overlapping rows until tart is filled. Bake for 15 minutes. Remove from oven, brush with butter and return to the oven for five minutes longer. Remove pan from oven, sprinkle with feta, and let cool for 10 minutes before serving.
Prep Time:

20 minutes

Cook Time:

40 minutes
Lastly, Ben says Happy Fourth, too!

This post may contain affiliate links. Please read my disclosure policy.