Leftover Tortillas? Make a Quiche
This post may contain affiliate links. Please read my disclosure policy.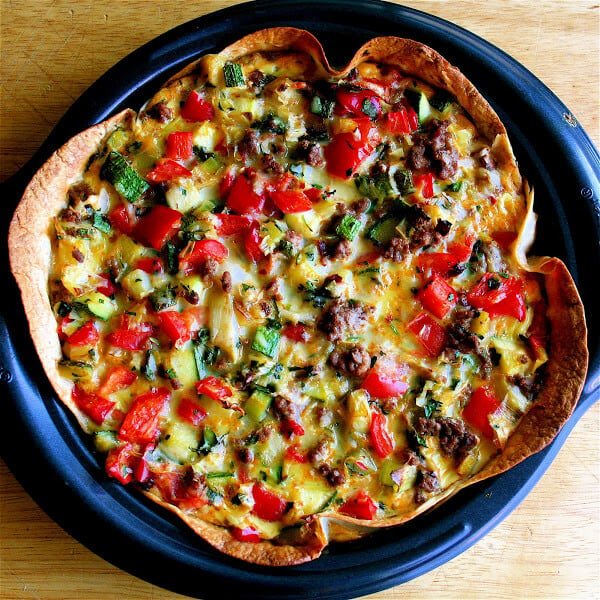 I hate wasting food. I really do. But sometimes, I stash things in the freezer merely to avoid the guilt of trashing food at the present moment. By "things" I mean 4 tortillas or 6 egg whites or the heels of a loaf of bread. I have good intentions. I really do. With the tortillas, I envision making a quick wrap for lunch one day. With the egg whites, an angel food cake. With the bread, homemade croutons.
These things sit — preserved, certainly — but effectively, trashed. Inevitably, I clean out the freezer several months down the road and toss the cracked tortillas and frost-encrusted heels of bread into the garbage can.
Anyway, last weekend, I rescued four flour tortillas from meeting their cold fate. When I spotted them in my fridge, I recalled a recipe I had seen on the Blue Heron Farm Web site for asparagus quiche that used tortillas as a shell. And then I played a game called "use every possible item of food in your fridge that can be sautéed and packed into a quiche shell." Never played? Give it a go. It's a great time. What's most fun about the game is that there are no rules: Expiration dates should be overlooked; mold, scraped away and sent down the disposal; shriveled, wilted vegetables, scrubbed and chopped as if they were new.
I wish I could say I were exaggerating. I'm not. I cut off serious mold from a pepper. I gave a block of cheese a chemical peel. I browned a questionable piece of several-days-old hamburger meat. The result? A yummy yummy quiche.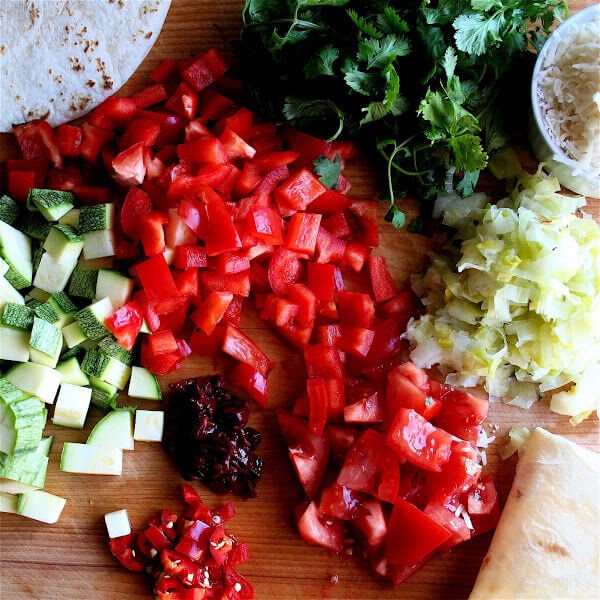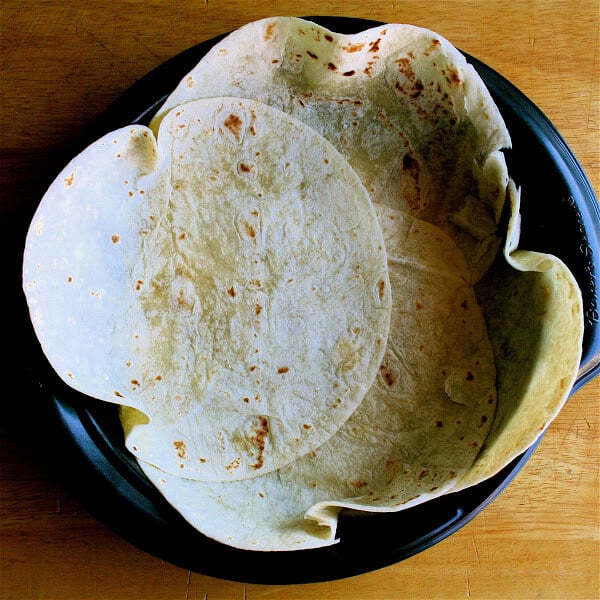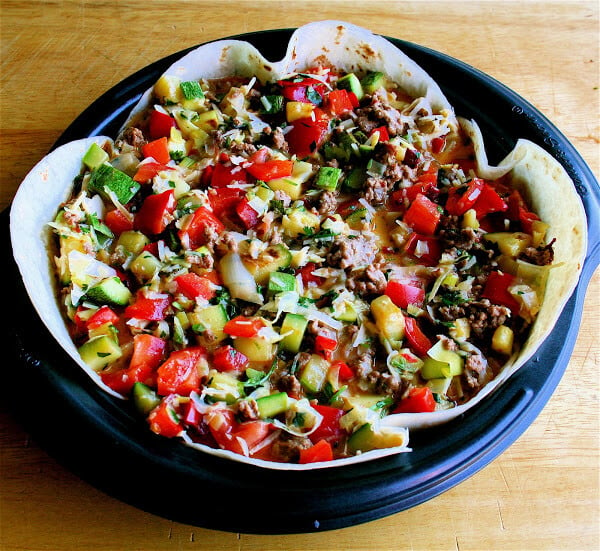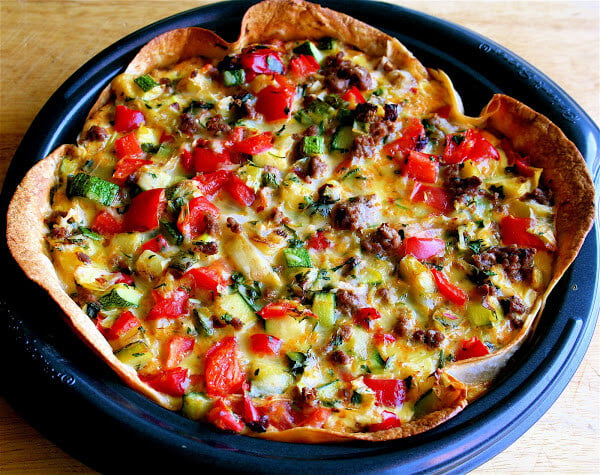 Print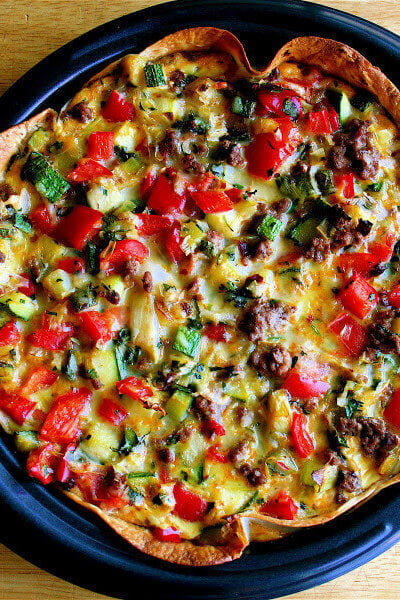 Tortilla Quiche
---
1

bell pepper, chopped

1

zucchini, chopped

2

chipotles in adobo, minced

1

hot chili pepper, diced

1

tomato, chopped
leftover sautéed leeks, sliced
grated Parmigiano Reggiano
cilantro, minced

3

eggs

1/2 cup

milk
---
Instructions
Preheat the oven to 350ºF.
Sauté peppers and onions and such together. (I also had a leftover uncooked hamburger patty, so about 6 ounces of ground beef.) Season with salt and pepper. Add zucchini and tomatoes and cooked leeks. Add cilantro at the end. Note: This is just what I had on hand — use anything you have.
Line a buttered dish, such as a 9-inch round baking or pie pan, with about 4 tortillas.Whisk together 3 eggs with 1/2 cup of milk in a large bowl. Add the prepped ingredients. Add the cheese and stir.
Pour into prepared tortilla-lined pan. Bake for about 30 minutes or until set. Mixture should jiggle just slightly when shaken.
Remove from the oven and let sit for 10 minutes before cutting. Ta-da! A simple simple quiche.
Prep Time:

15 minutes

Cook Time:

30 minutes
This post may contain affiliate links. Please read my disclosure policy.