Roasted Grapes with Thyme, Fresh Ricotta & Grilled Bread
This post may contain affiliate links. Please read my disclosure policy.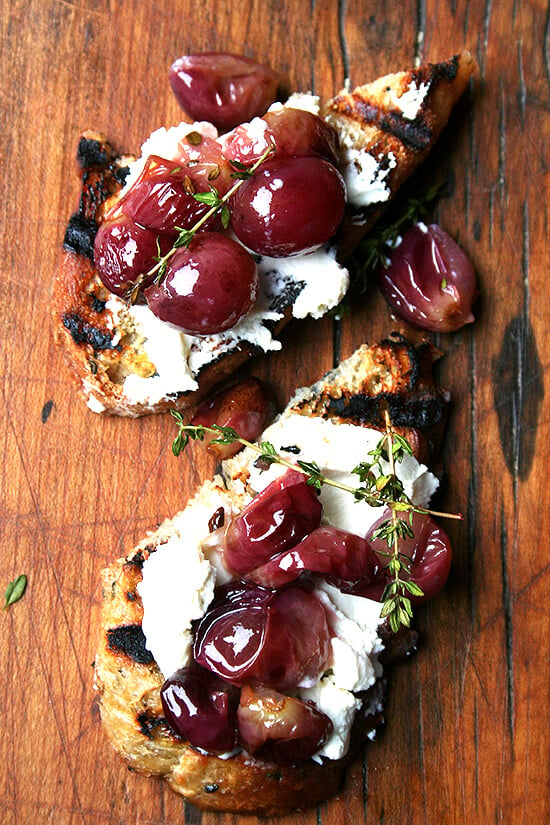 Oh, hello there. Sorry to do this again while you're all busy working, but I feel compelled to share another lunch with you: roasted grapes with thyme over grilled bread and fresh ricotta…yum. I promise to only do this when I really mean it. This recipe comes from this month's Real Simple magazine, and fittingly, it couldn't be more simple or delicious.
I first made this over the weekend as a side dish, omitting the bread, just spooning the warm, thyme-infused grapes over a dollop of homemade ricotta. It was delectable. Why omit the bread, you ask? Well, because the main dish was pear and bacon panini, and serving grilled bread aside panini seemed like overkill. BTW, the pear and bacon sandwiches (another September RS recipe) were fabulous — hoping to report back on those soon.
What I love about this recipe is its versatility. It's delicious with or without bread. It could be served with any number of cheeses. It could be served at a casual lunch as an open-faced sandwich or at a fancy dinner party as a beautiful hors d'oeuvres.
And what I can't stop dreaming about doing is this: making an all-white pizza (perhaps with homemade ricotta, Parmigiano Reggiano, and mozzarella) and, as soon as the pie emerges from the oven, topping it with these just-bursting, sweet-salty grapes. I'll let you know when that day arrives.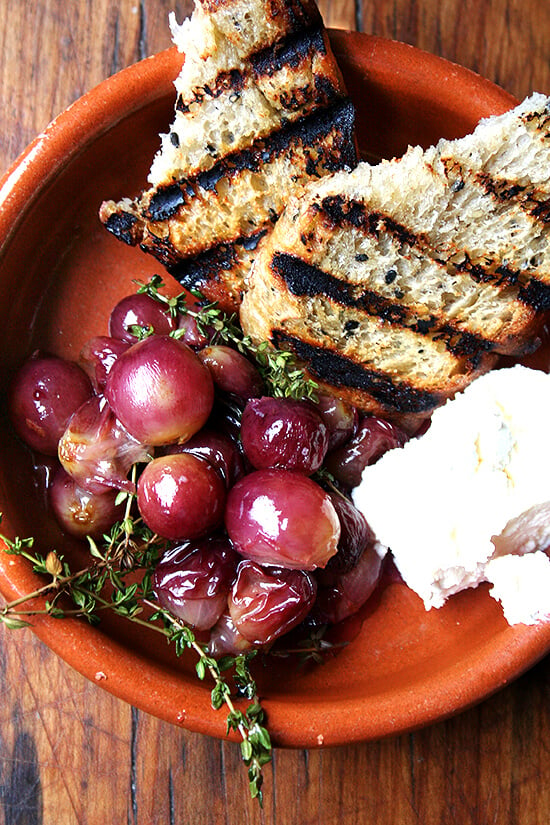 Grapes tossed with thyme, olive oil and salt: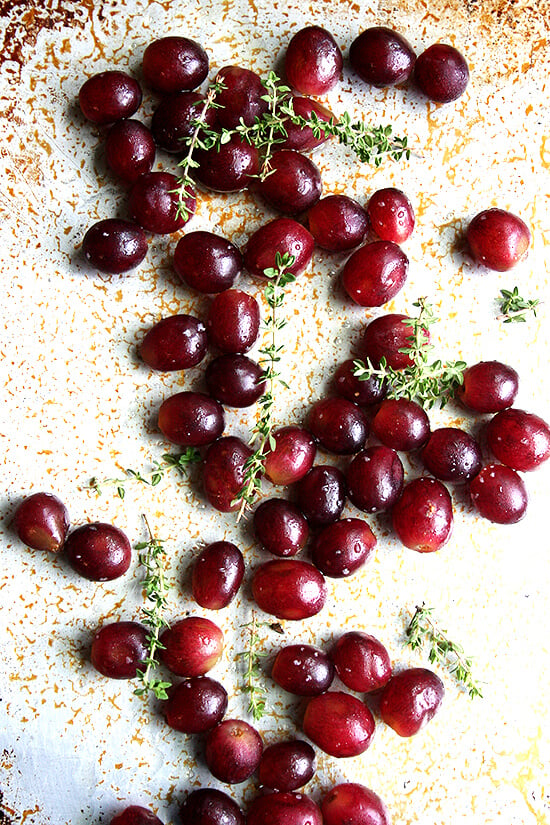 Grapes just removed from the oven: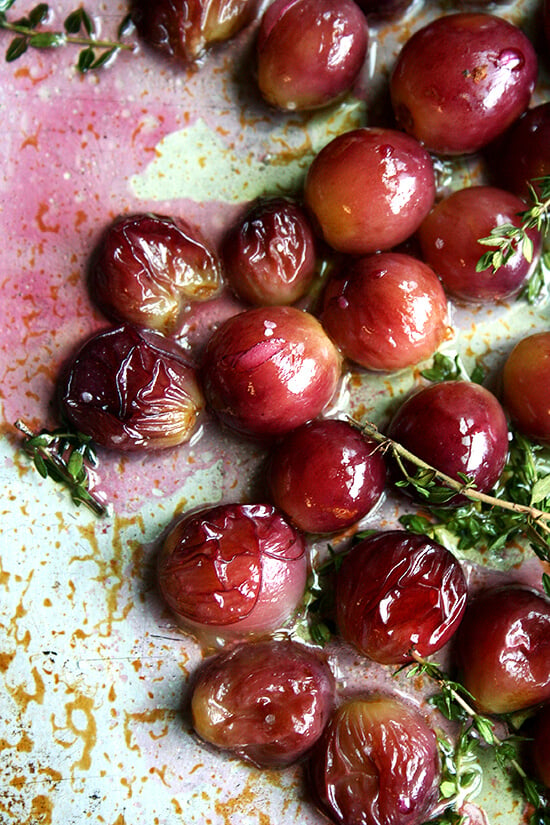 Print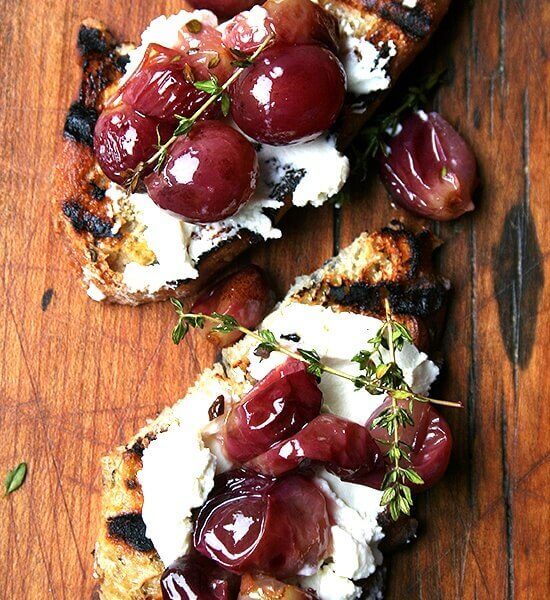 Roasted Grapes with Thyme, Fresh Ricotta & Grilled Bread
---
Description
Adapted from Real Simple Magazine September 2011 (Sorry, can't find a direct link.)
---
grapes
olive oil
kosher salt
fresh thyme sprigs
good rustic bread, sliced into 1/2-inch thick pieces
olive oil
fresh ricotta, preferably homemade (recipe below)
---
Instructions
Preheat oven to 450ºF. Spread grapes onto a sheet pan. Drizzle with olive oil. Sprinkle with salt. Lay thyme leaves over top. Toss all together gently with your hands. Place pan in the oven for 7 to 9 minutes or until grapes just begin to burst. I prefer the shorter roasting time — it's nice when some of the grapes remain in tact.
Meanwhile, heat a grill or grill pan to medium-high. Brush the bread with olive oil. Grill until nice and toasty.
Assemble the open-faced sandwiches: Spread fresh ricotta over bread. Top with roasted grapes. Discard thyme sprigs. (While the thyme sprigs look pretty, it's a little impractical to serve the sandwiches with the sprigs…they don't taste so yummy.)
Print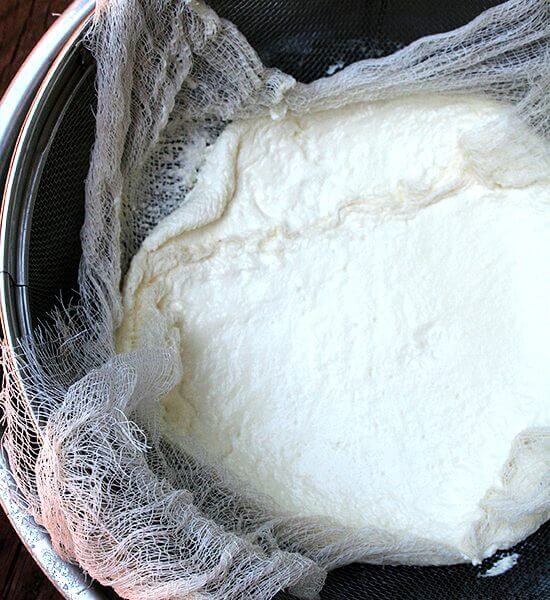 Homemade Ricotta
---
Description
---
4 cups

whole milk

2 cups

heavy cream

1 teaspoon

kosher salt

3 tablespoons

good white wine vinegar
---
Instructions
Set a large fine-mesh sieve over a deep bowl. Dampen (or don't) 2 layers of cheesecloth with water and line the sieve with the cheesecloth.
Pour the milk and cream into a stainless steel or enameled pot. Stir in the salt. Bring to a full boil over medium heat, stirring occasionally. Turn off the heat and stir in the vinegar. Allow the mixture to stand for 1 minute until it curdles. It will separate into thick parts (the curds) and milky parts (the whey).
Pour the mixture into a cheesecloth-lined sieve and allow it to drain into the bowl at room temperature for 20 to 25 minutes, occasionally discarding the liquid that collects in the bowl. The longer you let the mixture drain, the thicker the ricotta. Transfer the ricotta to a bowl, discarding the cheesecloth. Save the whey — you can make bread with it. Use the ricotta immediately or cover with plastic wrap and refrigerate. The ricotta will keep refrigerated for 4 to 5 days.
Prep Time:

2 minutes

Cook Time:

25 minutes

Category:

Cheese

Method:

Stovetop

Cuisine:

American/Italian
Keywords: homemade, ricotta
This post may contain affiliate links. Please read my disclosure policy.