Summer Squash Spaghetti
This post may contain affiliate links. Please read my disclosure policy.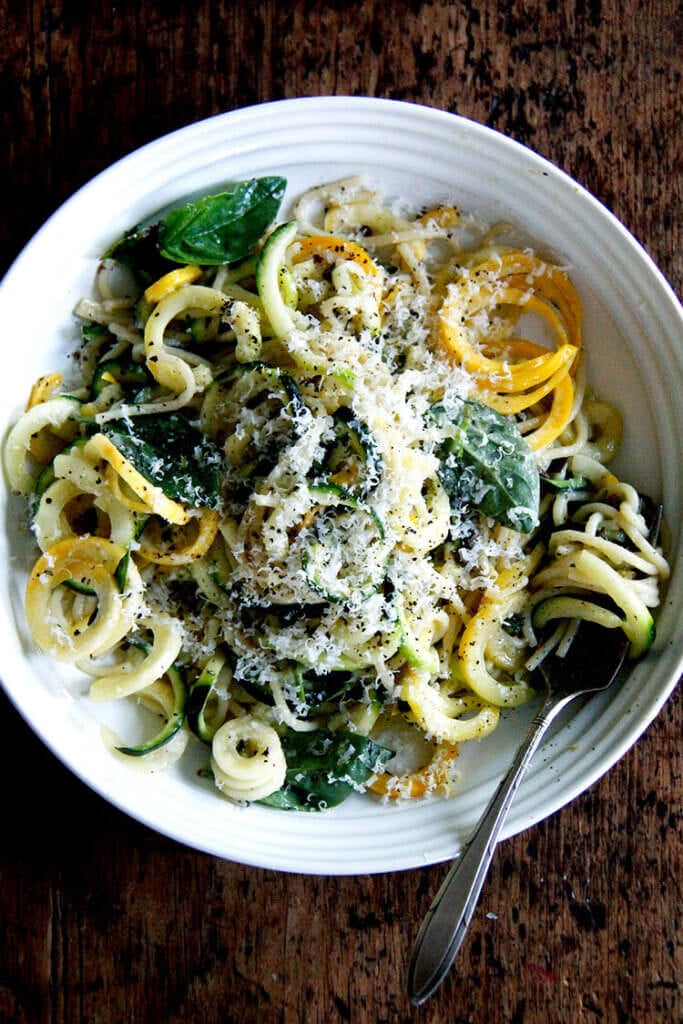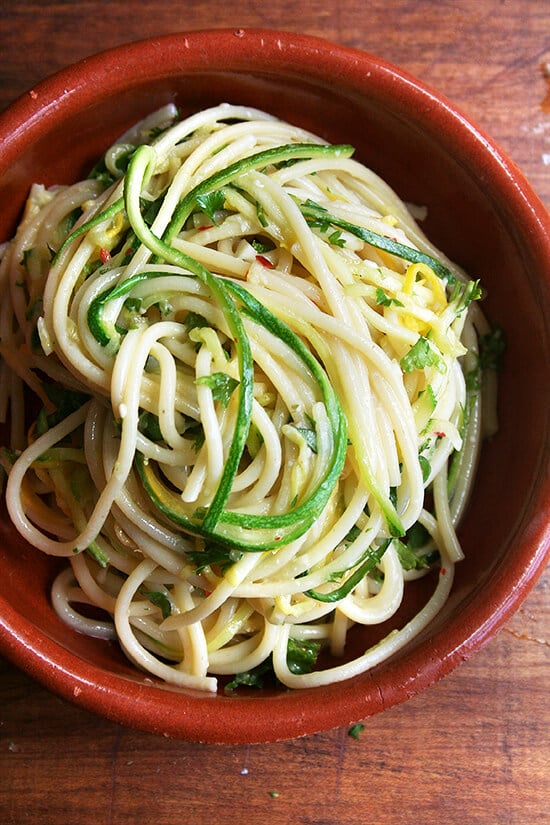 Several years ago I bought a Benriner turning slicer. It is a ridiculous (but fun) tool that sits in my cupboard 364 days a year. To justify hanging on to it, I pull it out every year, just once, at the start of zucchini season, when I set out to make one of my favorite spaghetti recipes, the very dish that inspired its purchase.
I had read about the turning slicer in Michael Chiarello's Tra Vigne Cookbook, which extolled the tool for its ability to cut vegetables into long spirals, perfect for making cucumber salads or for preparing potatoes for the deep fryer or for turning out zucchini slices for this very spaghetti recipe. That sounded like fun, I thought, and I ran out to Fante's to see for myself.
While the gadget works beautifully and while it, unlike some of my other slicers, poses no risk to my fingers, my experimentation has extended no further than this single recipe. Truthfully, I prefer the shape of the long thin wisps created by a mandoline.
While neither tool is required to prepare this pasta recipe, having one helps. The beauty of the dish lies in the delicateness of the zucchini and summer squash strands, which cook in the final minute of the assembly process while they're being tossed with the just-boiled spaghetti.
The sauce for this pasta is simple: extra-virgin olive oil heated briefly with minced garlic and crushed red pepper flakes. Lemon zest and lots of chopped basil and parsley add a touch of freshness. Grated Parmigiano Reggiano is a must.
I love this pasta. It's simple and summery, and it always inspires me once again to unearth such a promising gadget. Maybe this summer will be different? Maybe we'll take to feasting on whimsical cucumber nest salads and carrot and daikon radish slaws? Maybe we'll grow accustomed to sliding our grilled steaks onto beds of crispy potatoes? It's unlikely, but I'll be sure to keep you posted.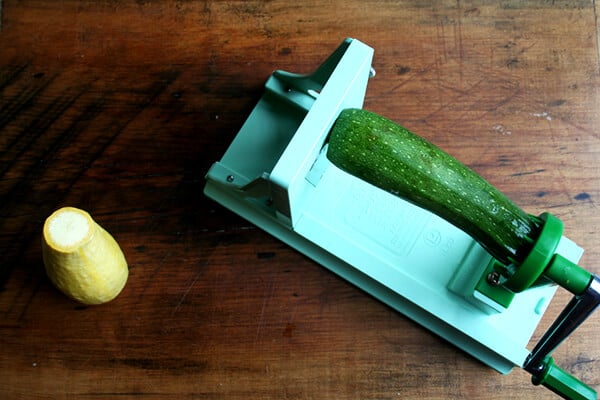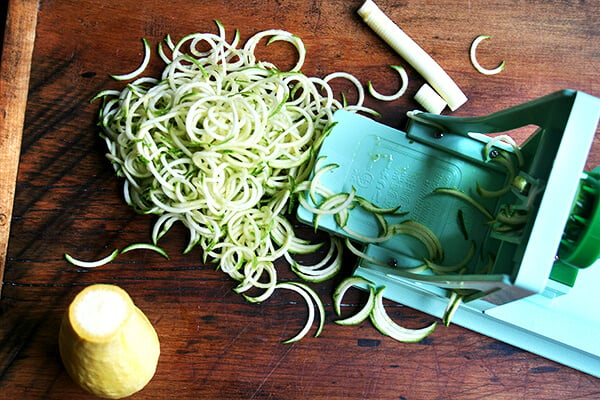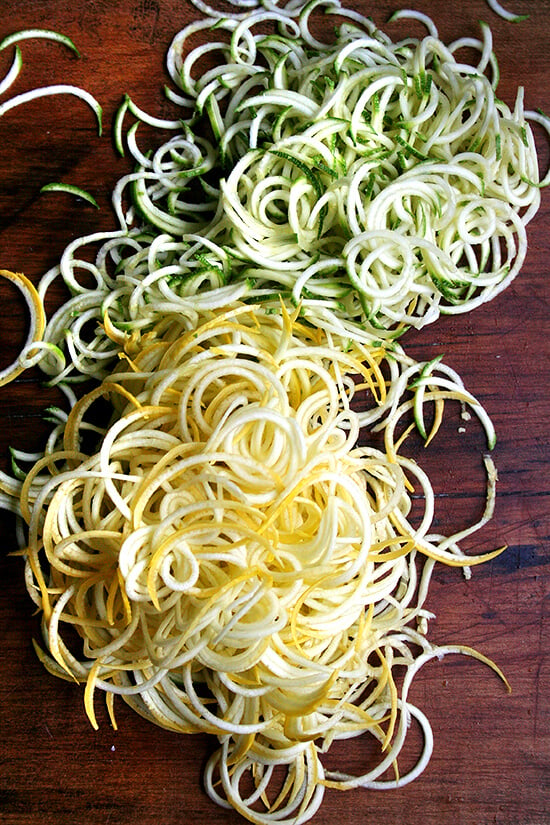 Love my Benriner mandoline: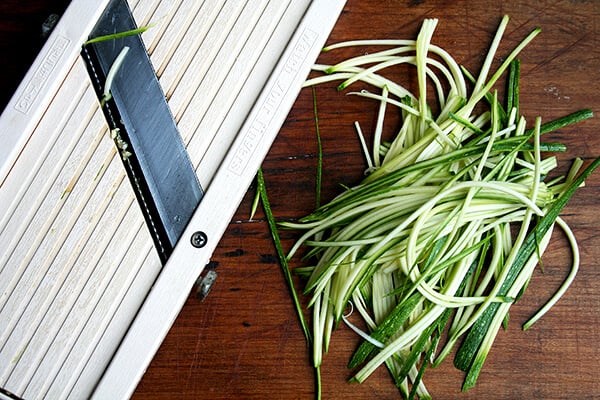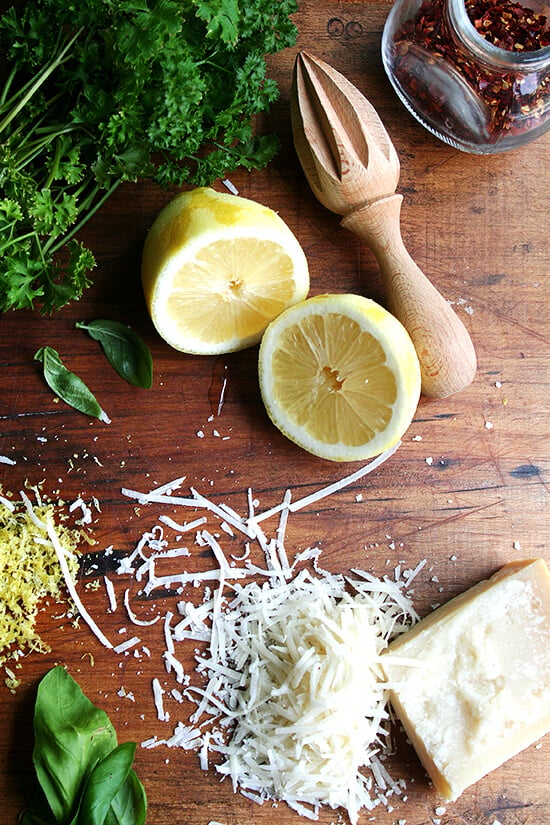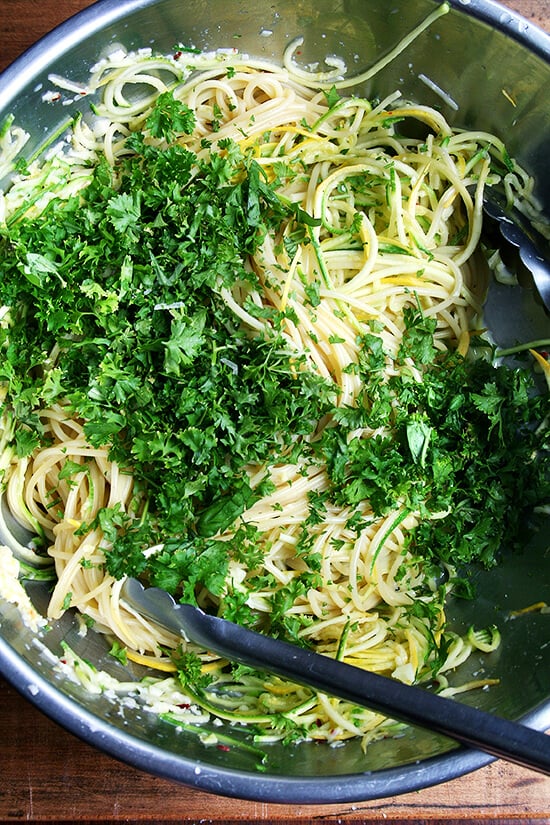 Have a nice weekend.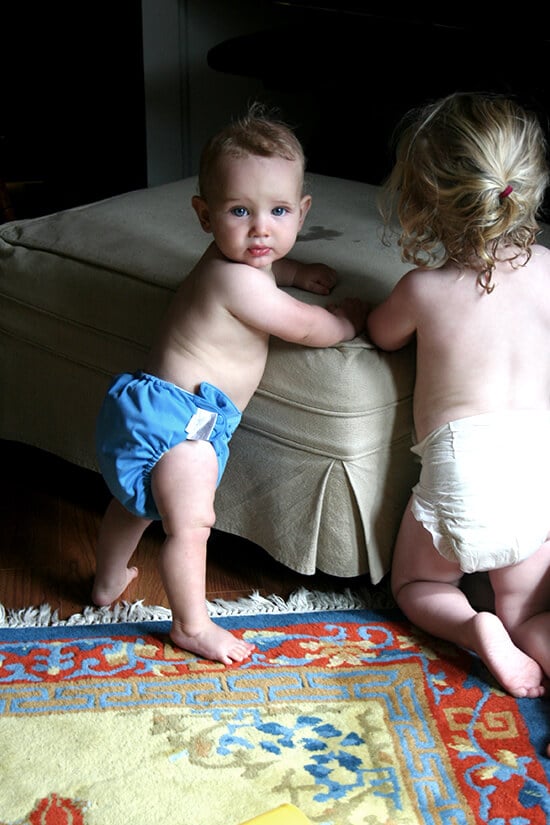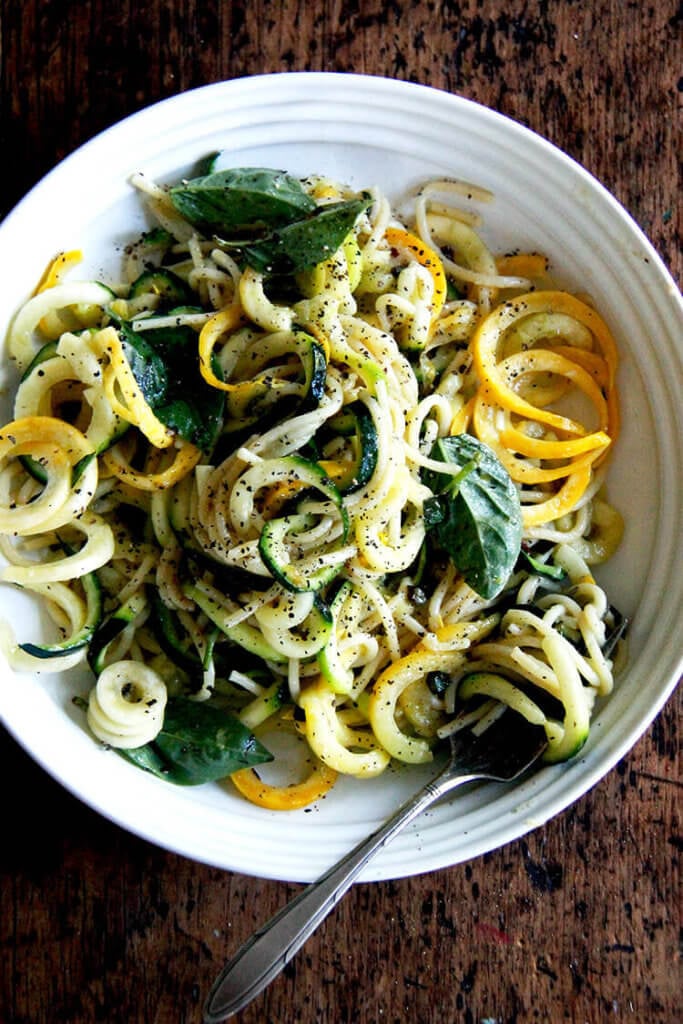 Print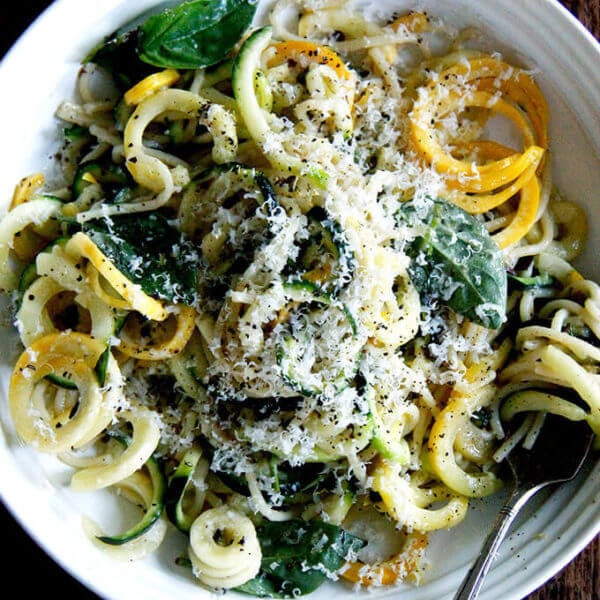 Summer Squash Spaghetti
---
---
1/2

lb. spaghetti
kosher salt

1/2

lb. or more zucchini or yellow squash

¼ cup

extra-virgin olive oil (or more or less)

2

cloves garlic, minced

½ teaspoon

red pepper flakes
zest of

one

lemon

¼ cup

chopped fresh basil

¼ cup

finely chopped parsley (optional)

½ cup

grated Parmigiano Reggiano
freshly ground pepper
---
Instructions
Bring a large pot of water to a boil and add a big pinch of salt. Meanwhile, using a mandoline or Benriner turning slicer, cut the squash into long thin strips. Alternatively, cut the squash with a knife as thinly as you are able. Place the sliced squash in a colander in your sink. Cook the pasta until al dente, reserving ½ cup of the pasta cooking liquid .
Place the oil, garlic and red pepper flakes in a small skillet and turn heat to high. When the oil and garlic begin to sizzle, turn off the heat. (If you have an electric burner, remove pan from the heat source if the garlic begins to brown.)
Drain the pasta over the colander containing the squash, then transfer pasta and squash to a large bowl. Add the garlic-red pepper oil to the bowl. (Note: I add all of the oil at once, because I like the pasta to be nicely coated, but if you are wary of oil, add about half of the oil to start, then add more as needed.) Add the zest and the herbs. Add the Parmigiano. Toss. Taste. Season with kosher salt (if necessary — I add a lot of salt to the pasta water so I usually don't have to add any extra salt) and pepper to taste. If necessary, add some of the reserved cooking water, more olive oil, if necessary, or salt and pepper to taste.
Prep Time:

15 minutes

Cook Time:

10 minutes

Category:

Pasta

Method:

Stovetop

Cuisine:

Italian
Keywords: summer, squash, spaghetti, pasta, zucchini
This post may contain affiliate links. Please read my disclosure policy.