Homemade Tarragon Mayonnaise + A Squeeze of Lemon = Unbelievable Lobster Rolls
This post may contain affiliate links. Please read my disclosure policy.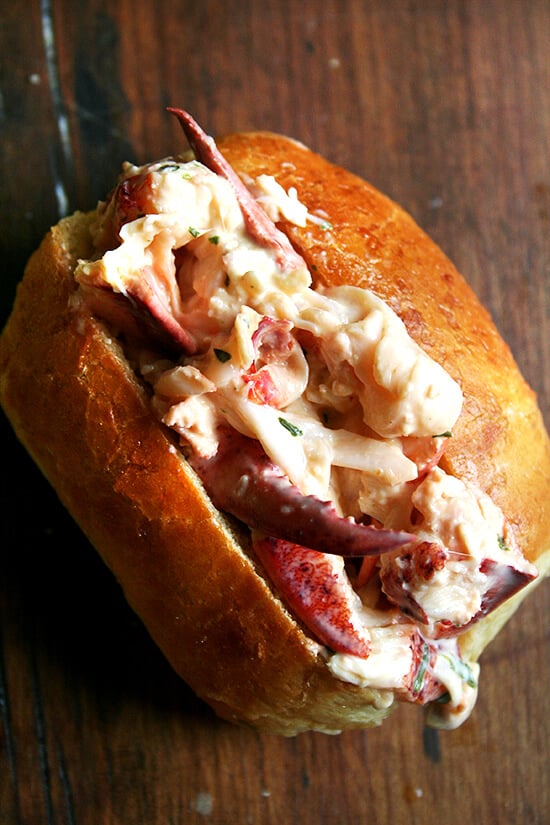 With lobster rolls on my brain for weeks, it was high time to brush up on my homemade mayonnaise making. I took my mother's advice and made Mark Bittman's food processor mayonnaise, which, as my mother promised, was both delicious and foolproof thanks to a teeny hole in the food-pusher insert (see photo below). From start to finish (including cleanup), the whole process took five minutes, the mayonnaise itself coming together in less than one minute once the blades started spinning.
In preparation for the lobster rolls, I threw in some tarragon at the end, an ingredient I've always associated with a good lobster roll — a good lobster roll made at home I should say. It has been too many years to say for sure, but I don't recall any tarragon present in the $3 lobster rolls my mother and I inhaled three times a day for a week straight at the various roadside stands dotting the Maine coastline during one summer road trip. Those were the best lobster rolls I've ever tasted, ones I've never even tried to replicate at home.
At home I make lobster rolls just as my mother does with nothing more than homemade mayonnaise, fresh tarragon and a squeeze of lemon. They are so simple — with the exception of the whole killing/boiling/cracking of the lobsters process — and so delicious. It never feels like summer till I've had my first lobster roll, at a roadside stand or not, and these, despite arriving just days before the Fourth, were no exception. Happy Fourth Everyone!
A few notes on buying/killing lobsters: The consensus seems to be that it is more humane to kill a lobster by thrusting a sharp knife through the lobster's shell behind its eyes than by dropping the live lobster into boiling water. A little internet research led me to a youTube video featuring Eric Ripert, whose comments and demonstration finally gave me the courage to kill the lobsters before boiling them. If you have any inclination to do this, watch Ripert's video, and then go for it. As Ripert says:
"It's not a pleasant experience, but when you eat lobster and when you eat any kind of animal, that animal has been alive and it's very important to be aware that we are taking that life away and that we are going to eat it, and if we do a good job, we are actually paying homage to the lives that we sacrifice."
I'll be honest, it wasn't a pleasant experience, and I had the jitters before, during and after the process (they seemed to linger all afternoon in fact), but it was worth it.
Finally, Seafood Watch's Ocean Friendly Seafood App lists wild-caught lobster from California or Florida as the "Best Choice" and trap-caught lobster from the Northeastern U.S. and Canada as a "Good Alternative." Wild-caught lobster from Brazil is on the SW's "Avoid" list.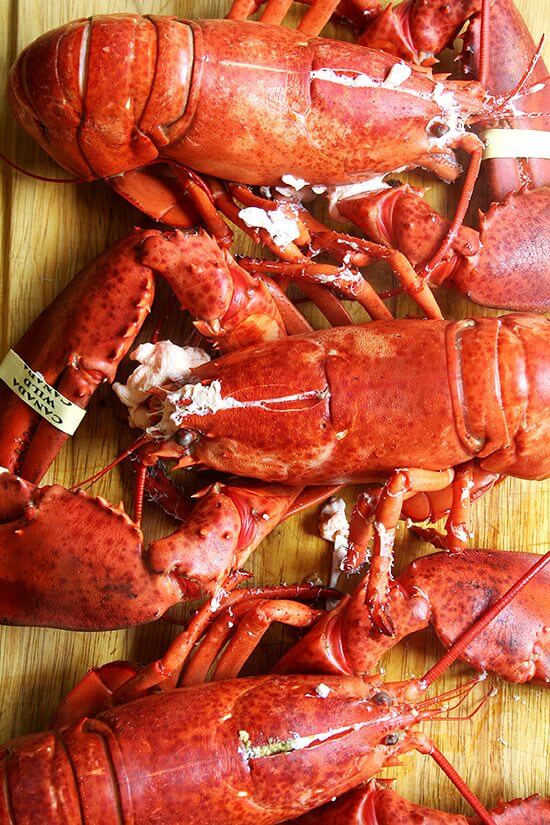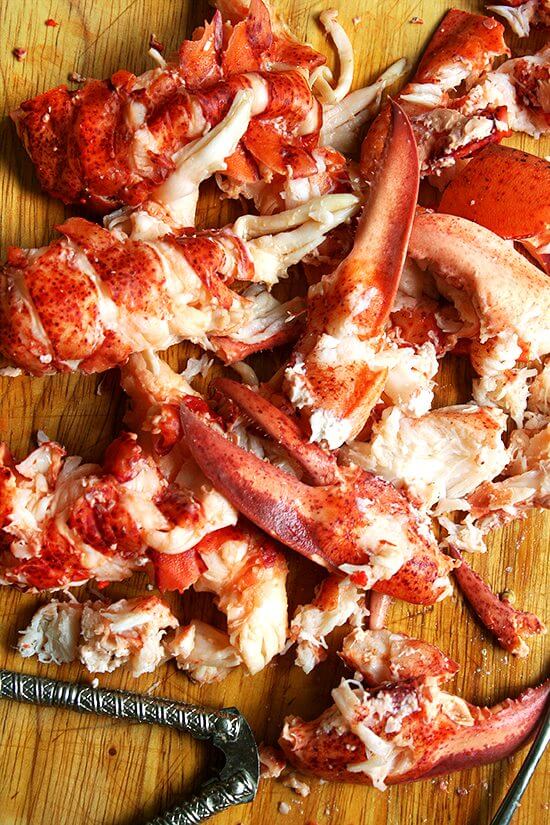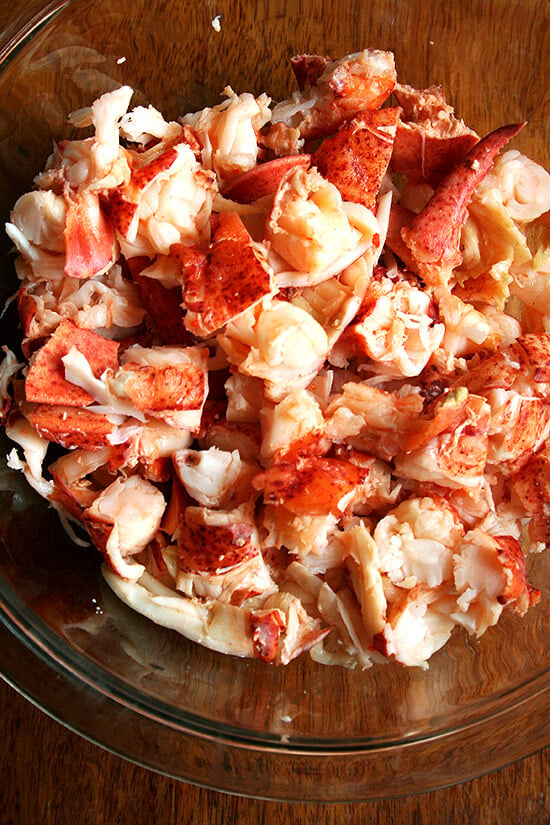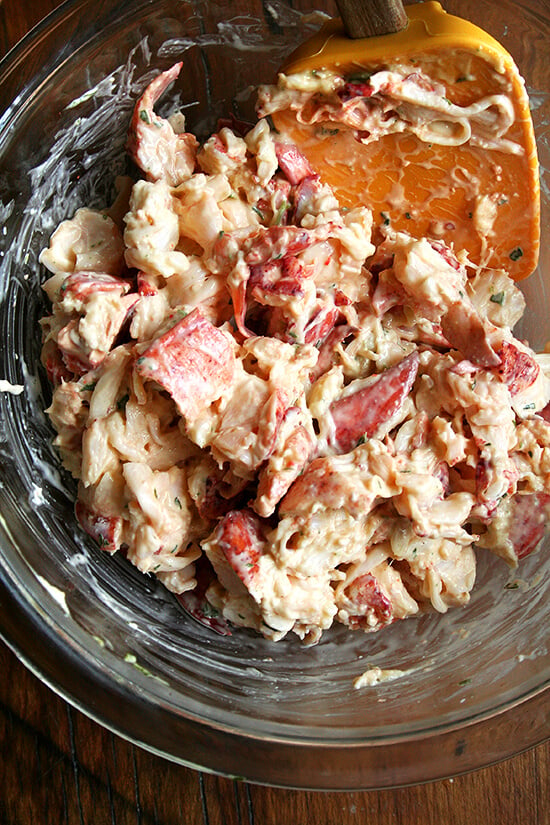 See this teeny hole? It's this hole that allows the oil to enter the food processor in a slow steady stream, allowing the mixture to emulsify perfectly into mayonnaise.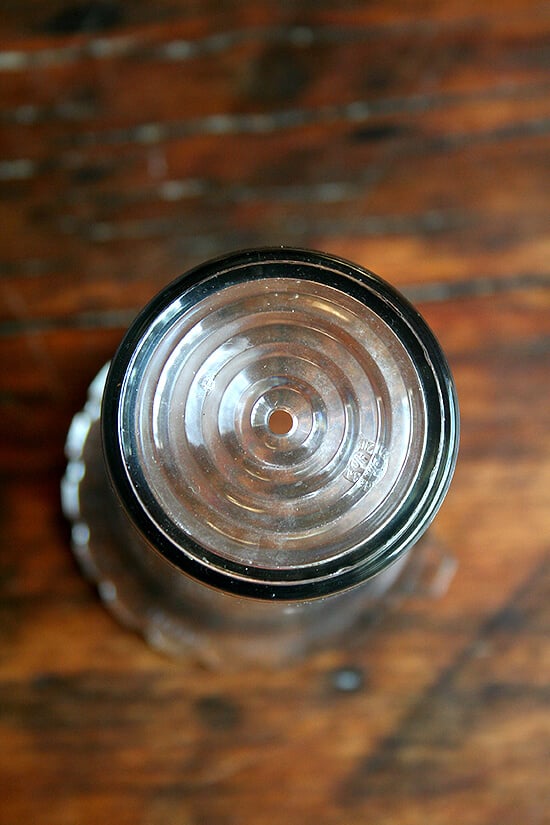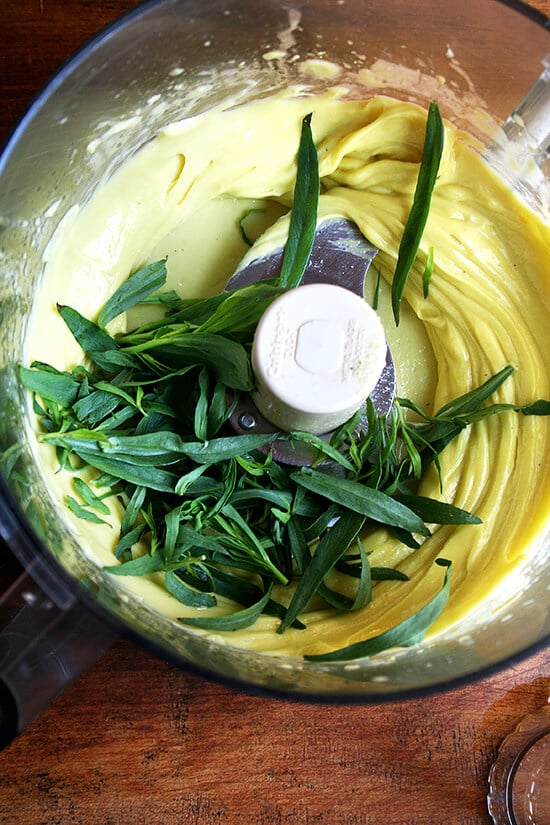 You all know how to cut a lemon, right? I mean the pretty way? Not sure? Check this out. It's not necessary to cut lemons this way but it makes for a nice presentation.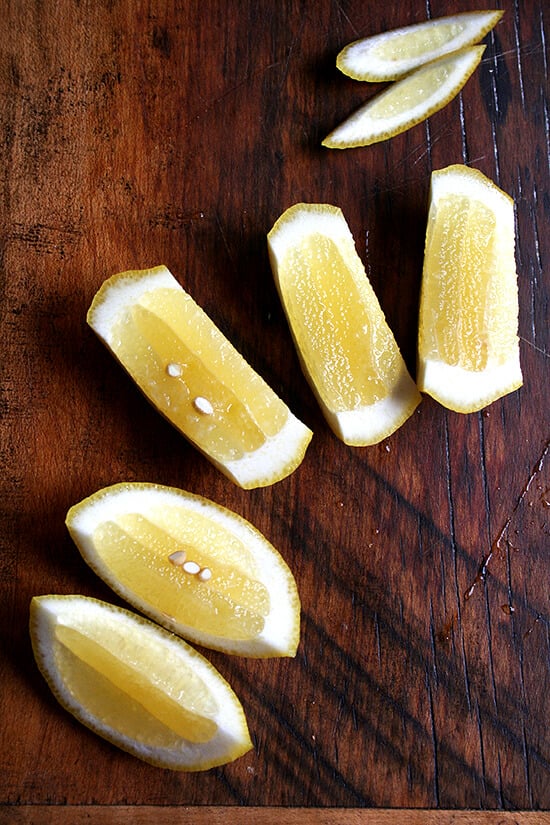 Print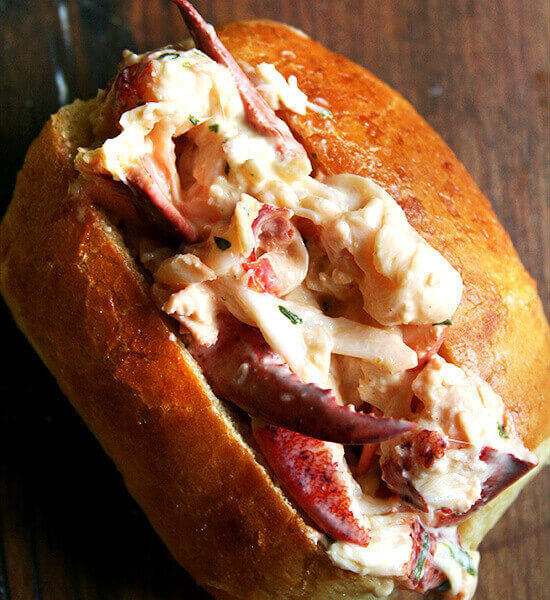 Unbelievably Delicious Lobster Rolls
---
Total Time:

41 minutes

Yield:

3 servings
3

lobsters, about

1

lb to 1.25 lbs each
kosher salt
homemade tarragon mayonnaise (recipe below)
fresh squeezed lemon juice, to taste
additional lemon for serving (cut like this for a pretty presentation)
hotdog buns (or homemade brioche hotdog buns)
---
Instructions
Bring a very large pot of water to a boil. (Since I do not own a lobster pot, I used my two largest stock pots.) Kill lobsters, as described above (if desired), then plunge into boiling water. Boil for 10 to 11 minutes. Remove lobsters from pots, let cool briefly, then start cracking. Remove meat from lobster, chop coarsely and place in a large bowl.
Spread the lobster meat out in the bowl into a single layer. Season with kosher salt. Add tarragon mayonnaise to taste. To give you an idea, my three lobsters yielded 13.5 oz of meat, and I used a quarter cup of the homemade tarragon mayonnaise. Add lemon juice — I used about half a lemon — to taste. Gently mix the ingredients with a spatula. Taste. Adjust seasoning as necessary.
Toast hotdog buns, if desired. (My buns had been baked that day, so I did not toast them.) Spoon lobster meat into buns. Serve with additional wedges of lemon on the side.
Prep Time:

25 minutes

Cook Time:

11 minutes
---
Print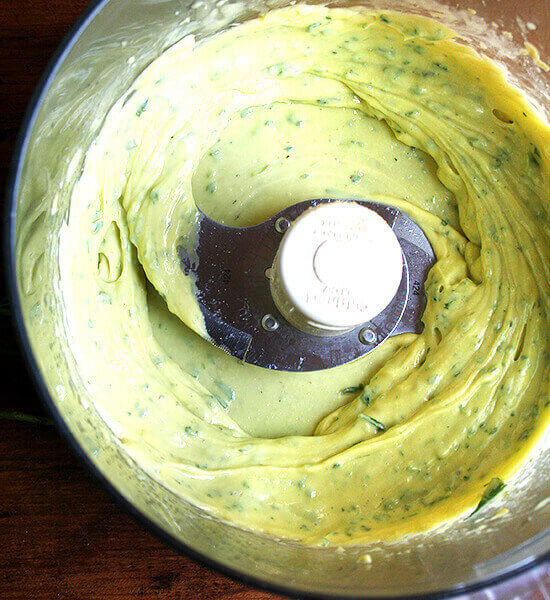 Homemade Mayonnaise
---
Description
---
1

egg yolk or whole egg (I used a yolk)

2 teaspoons

Dijon mustard
Salt and freshly ground black pepper

1 tablespoon

lemon juice or sherry or white wine vinegar (I used white balsamic vinegar)

1 cup

neutral oil, like grapeseed or corn, or extra virgin olive oil, or a combination (I used extra-virgin because it was all I had)
fresh tarragon (optional) — I threw in a whole bunch (5 to 6 tablespoons maybe?)
---
Instructions
Put the yolk or egg, mustard, salt, pepper and lemon juice or vinegar in the container of a food processor and turn the machine on. While it's running, add the oil in a slow, steady stream. (Your food processor should have a teeny hole in the food pusher insert in the top). When an emulsion forms you can add it a little faster. (Again, the little hole makes this unnecessary.) Taste and adjust seasoning if necessary. Add the fresh tarragon (if desired) and pulse until chopped.
Homemade brioche hotdog buns: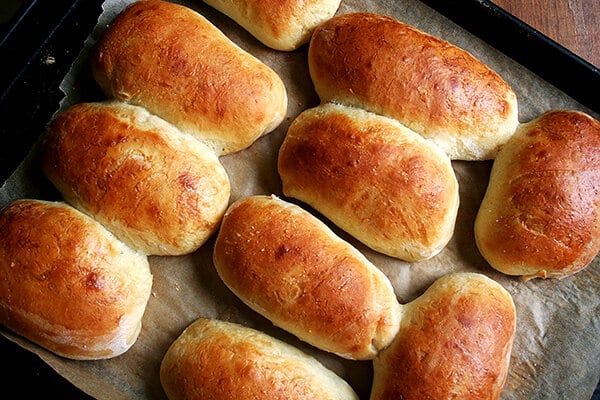 This post may contain affiliate links. Please read my disclosure policy.