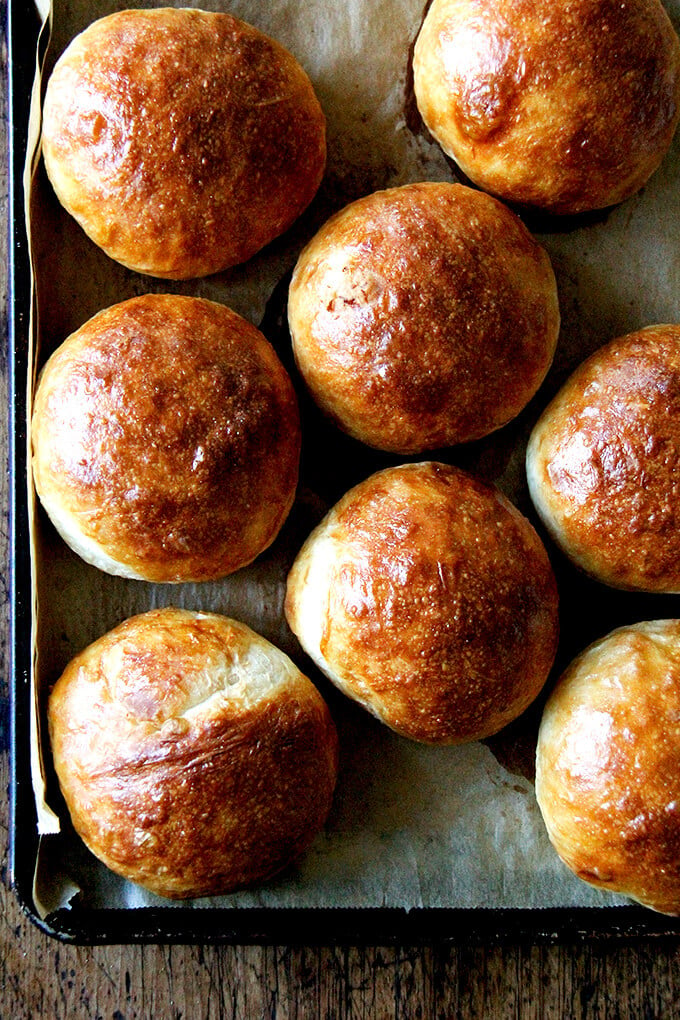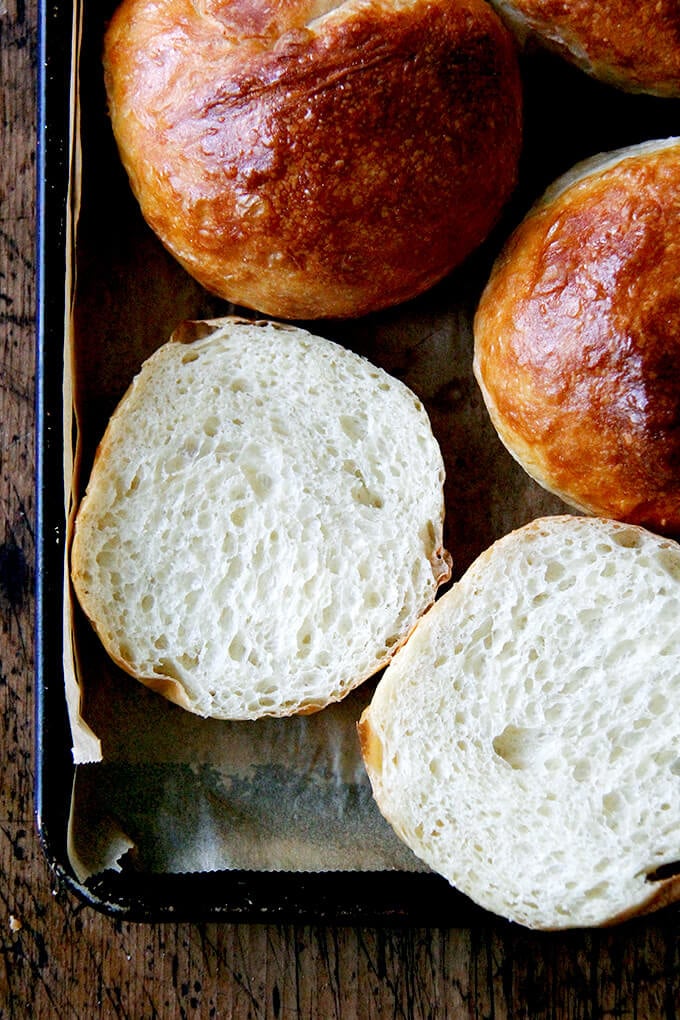 Today, I offer my sincerest apologies. On May 22, 2012, I posted a recipe for light brioche buns, promising you the brioche bun to end all brioche buns. Look no further, I said.
And then, in the recipe, I asked you to use not only bread flour but also a third cup of all-purpose flour. And I didn't offer you any measurements in weights; I gave you cups only. And I asked you to bloom your yeast in warm milk and warm water, but I didn't tell you how warm the milk and water should be. And I had you soften butter and massage it into the flour. I even asked you to scoop up the mixed dough and slap it down on the counter. And I  asked you to knead your dough for 8 to 10 minutes until it was smooth and elastic.
Friends, I am sorry. I promise never to do this again. I promise never to ask you to use two types of flour unless it's completely necessary. I promise never to ask you to bloom yeast. I promise to always give you weights of flour. I promise never to ask you to knead dough unless it serves some purpose. I promise. I promise. I promise.
Light Brioche Buns, Even Better
The recipe included below is similar in makeup to the light brioche bun I once loved —there's a little milk, a little butter, a little egg — but the method is simpler: in sum, it follows the Bread Toast Crumbs method, which is to whisk together dry ingredients (flour, salt, sugar, and instant yeast) and add lukewarm liquid. To get the lukewarm liquid here, you heat milk with butter until the butter melts; then you whisk this hot milk-butter mixture with cold water and an egg.
That's it. The dough comes together in no time, and the rest of the recipe is straightforward, too. I made these buns last Friday evening to eat with Joanne Chang's famous egg sandwiches (more on this soon) over the weekend, and then I made them a few more times on Instagram Stories, which you can find in the story highlights if you are looking for some video guidance.
Make Them Ahead
You can make these rolls two ways: mix the dough, let it rise for 2 to 3 hours, then shape and bake; or you can mix the dough at night, store it in the refrigerator, and shape and bake in the morning. As with the focaccia, the overnight, refrigerator method creates lighter, airier rolls, but both methods work well. I love the convenience of mixing dough at night and baking the following day, but you absolutely can mix and bake these the same day and get great results.
PS: Go make yourself a margarita.
Here's a step-by-step look: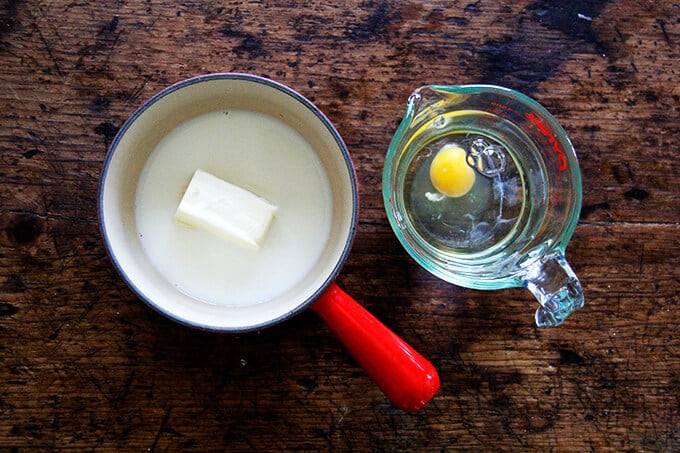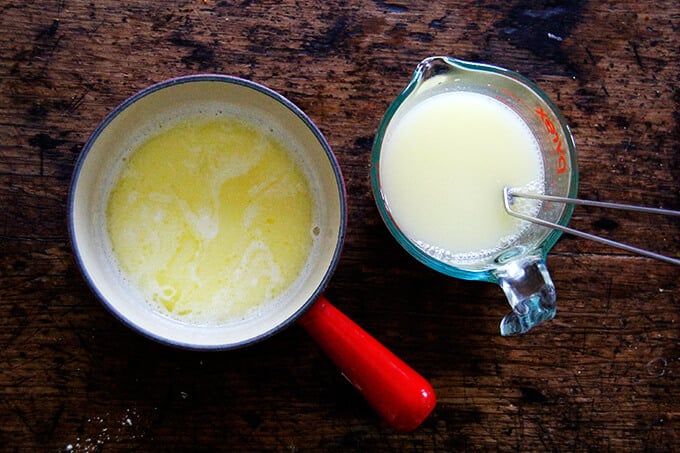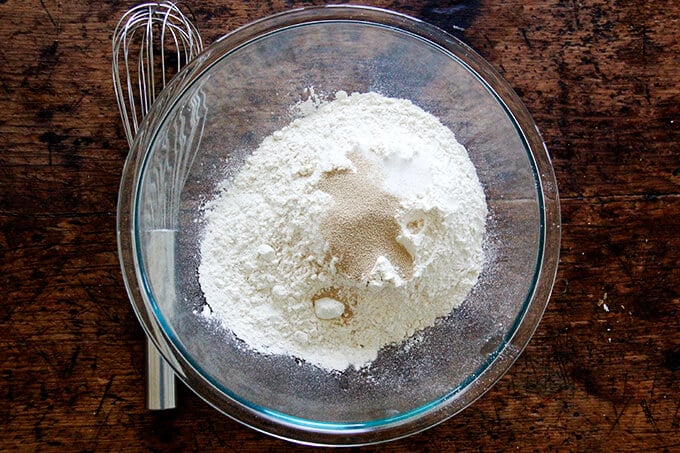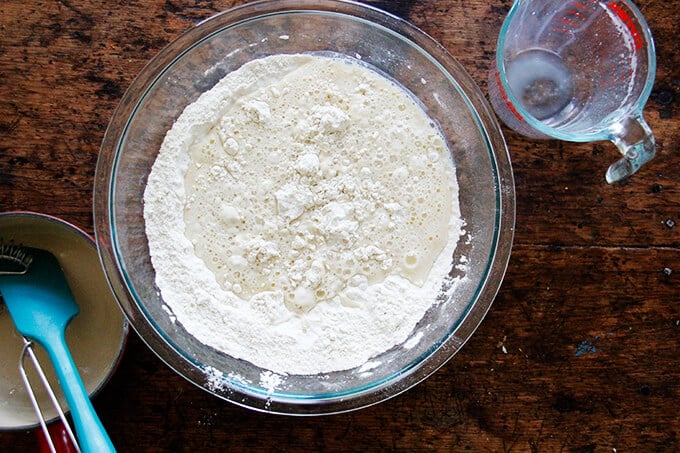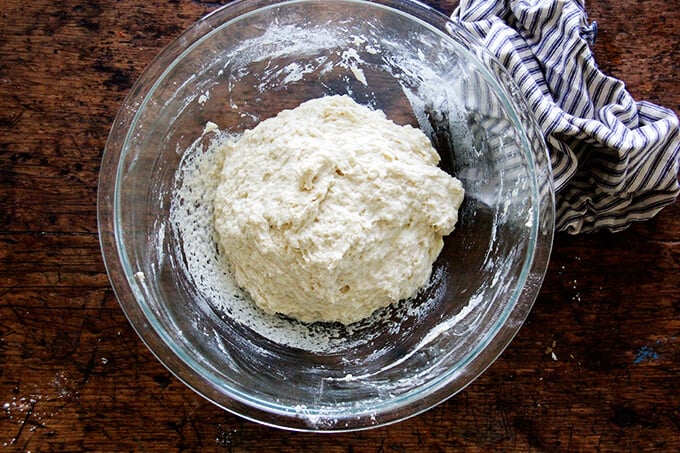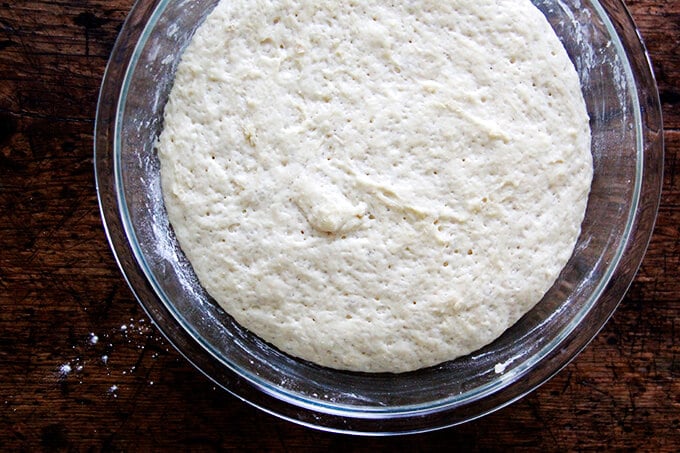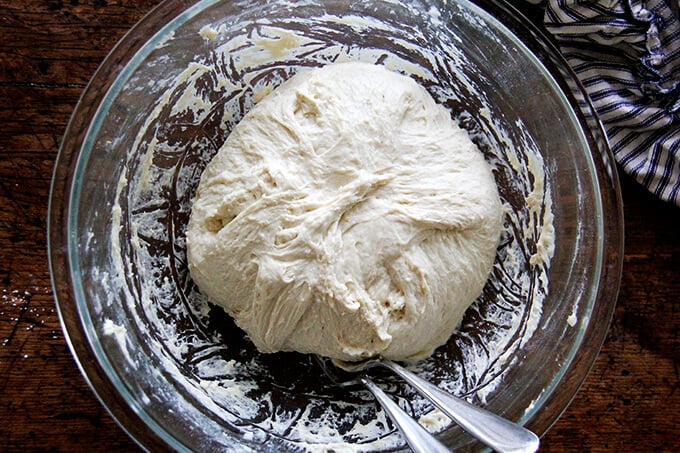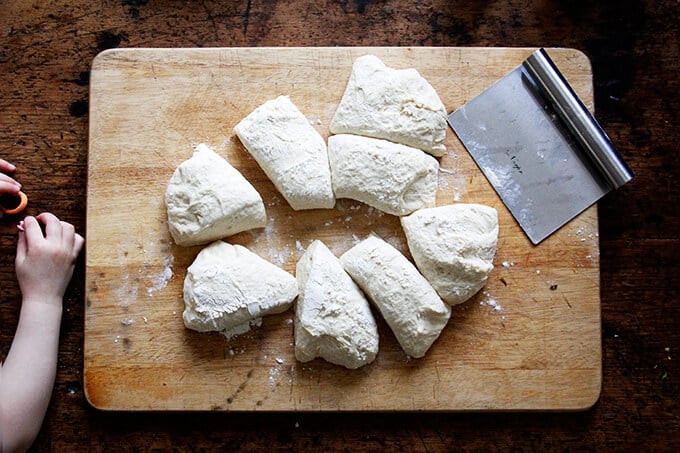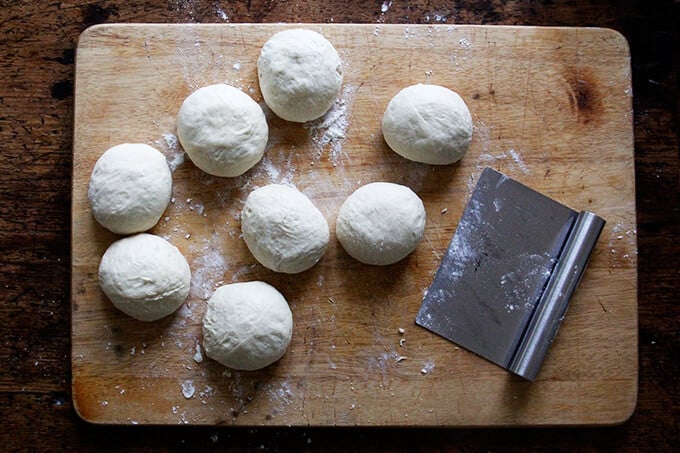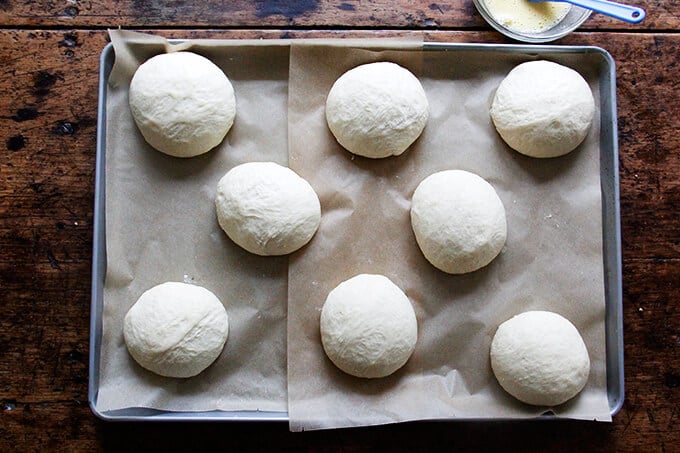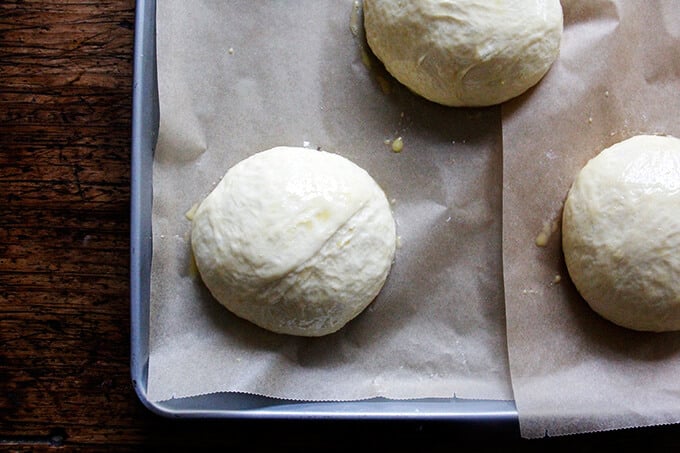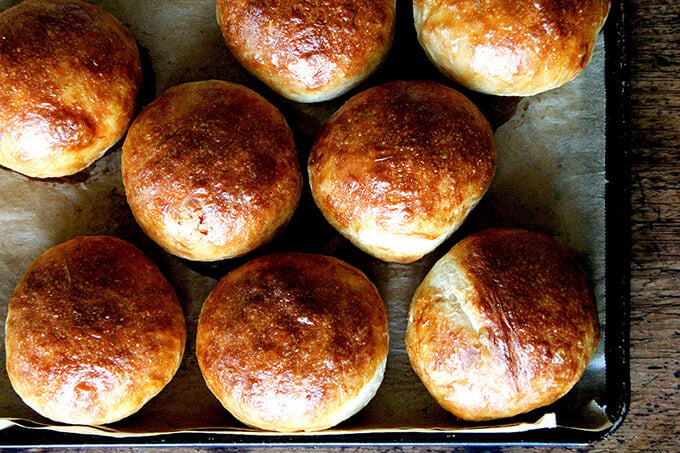 Joanne Chang's Famous Egg Sandwich from the Flour, Too cookbook: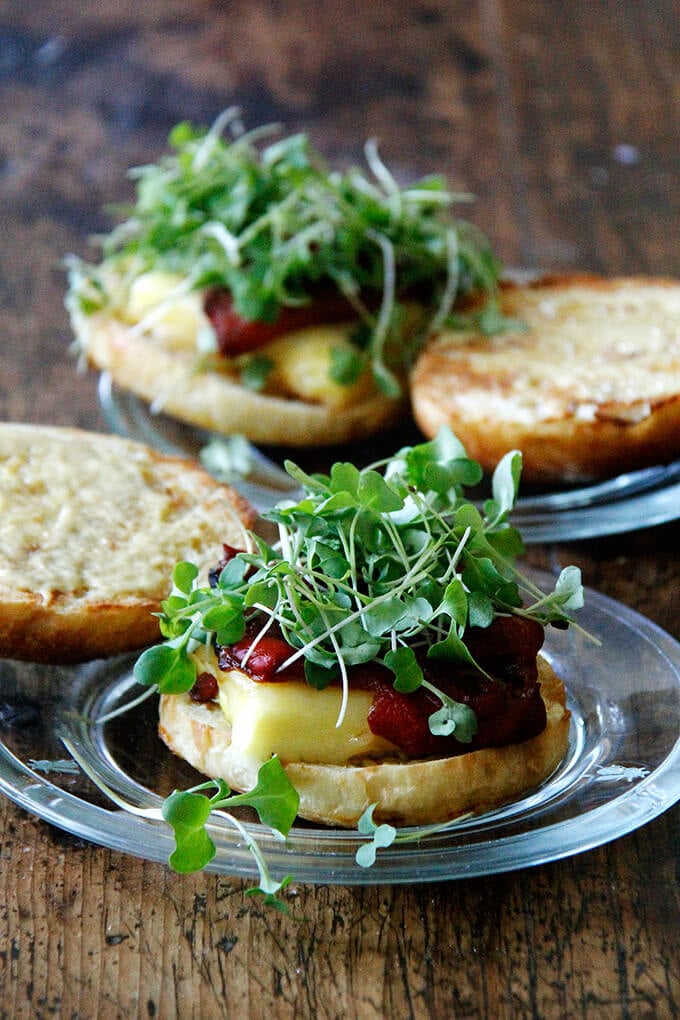 Print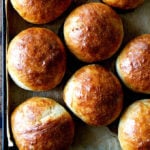 Easy, No-Knead Brioche Rolls (Overnight, Refrigerator Method or Not)
---
Prep Time:

3 hours

Cook Time:

20 minutes

Total Time:

3 hours 20 minutes

Yield:

8-10 rolls
Description
For video guidance, see this Instagram Story.
If you have Bread Toast Crumbs, this is essentially 2/3 the light brioche recipe in the book with the sugar cut back by a bit more.
---
Ingredients
4 cup

s (

512

g) all-purpose or bread flour

2 teaspoon

s (

8

g) kosher salt

2 teaspoon

s (

8

g) instant yeast

2 tablespoon

s (

28

g) sugar

1 1/3 cup

s (

300

g) cold water

1

egg

1/3 cup

(

78

g) milk

4 tablespoon

s (

57

g) butter
for the egg wash: 1 egg beaten with 1 tablespoon water
---
Instructions
Whisk together the flour, salt, yeast, and sugar.
In a medium bowl, whisk together the cold water and the egg.
Heat the milk and butter together until the butter is melted. Pour this hot mixture into the cold water-egg mixture. The combined mixture should be perfectly lukewarm. Add it to the flour bowl and stir with a spatula till you have a sticky dough ball.
Cover bowl and let rise in a warm area for 2 to 3 hours or until doubled. Alternatively, stick bowl in the fridge immediately and let it rise overnight or for 12 to 18 hours.
Deflate dough, divide into 8 equal portions (use a scale and weigh each roll if you want perfectly even rolls: about 128 g each), roll into balls, and place on a parchment-lined sheet pan or two. I have an extra-large sheet pan (15x21x1) that I use to fit all 8 rolls on at once. Note: If you prefer smaller buns, divide dough into 10 equal pieces.
Let rise until the rolls puff and feel light to touch — this can take 30 minutes to an hour, or as long as 2 hours for refrigerated dough. Note: if you refrigerate the dough, you can deflate it immediately after taking it out of the fridge … no need to let it come to room temperature first.) Preheat the oven to 425ºF.
Brush rolls with egg wash. Bake 15 to 20 minutes or until golden all around. Transfer rolls to wire rack to cool completely.
---
Category:

Bread

Method:

Oven

Cuisine:

French, American
Keywords: no-knead, brioche, buns, best