What to do with those Radishes …
This post may contain affiliate links. Please read my disclosure policy.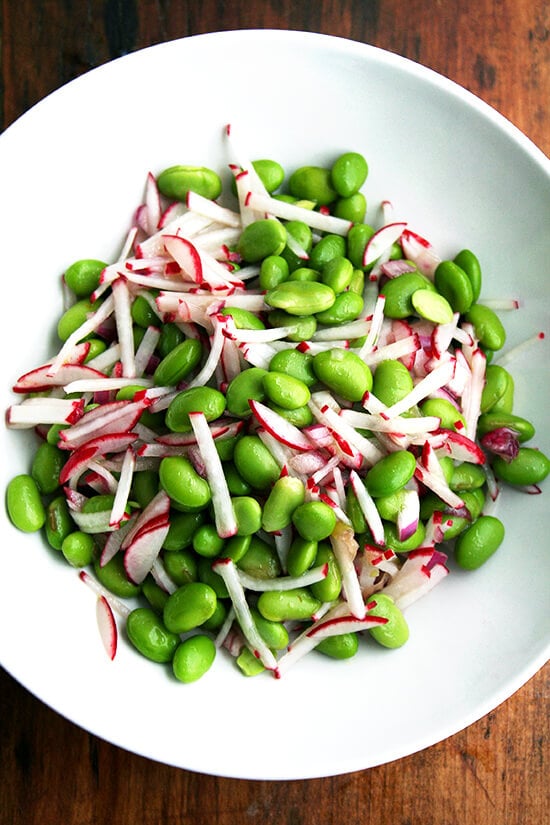 On Wednesday we welcomed spring, the arrival of a new season's CSA, and the first of many many many many many radishes. Can you sense my enthusiasm?
Look, I love radishes — honest, I do — and I don't want to sound ungrateful, but I do have mixed feelings about the quantity I consume as a CSA subscriber. I've mentioned this before, so I won't dwell, but I just find it challenging to work radishes into meals in substantial ways, in ways that make me feel I am getting more than just a yummy snack. Yes, I love eating radishes on buttered bread or simply halved and dipped in salt. Served with some canned fish and a few cheeses, I can call these preparations dinner and feel the radishes have played a significant role in the meal.
But wouldn't it be nice if radishes could pull a little more weight at the dinner hour? As I was unloading my CSA last week, I remembered a salad — an edamame and radish salad — we used to make at Fork for Fork:etc, (the prepared food, sandwich, salad, on-the-go part of the restaurant). During the lunch hour, this salad flew out of the case. High in protein, light, colorful, satisfying — what's not to love?
Now, back then, edamame comprised the bulk of the salad while the slivered radishes and diced red onion mostly offered a little bite and color. In this variation, the radishes and edamame are in nearly equal proportion by volume, but the increased proportion of radish doesn't dominate in any way — the salad is just as if not more so delicious. And the dressing is simple: equal parts olive oil and vinegar and a good sprinkling of salt — both the radishes and the edamame can handle it. It's a cinch to throw together.
When fresh peas and favas start arriving at the market, you can keep that edamame in the freezer. But this time of year, as a supplement and complement to radishes, edamame are hard to beat.
Happy spring everyone. Any ideas regarding radish employment are most welcome.
A few things to remember when dealing with radishes:
1. If you trim the greens from the stem right away, the radishes will keep longer.
2. Try to eat the radishes within a few days of receiving them — they shrivel up in the fridge quickly. A few ideas: this salad (edamame can be replaced with peas or favas when they start appearing); sliced in half and served with nice salt; thinly sliced and served with good bread, butter and salt; thinly sliced and served with good bread, butter, salt, and anchovies; halved, tossed with olive oil, seasoned with salt, and roasted at 450ºF until tender, 10 to 15 minutes.
3. If you have to store radishes in the fridge for a few days, use an airtight container or ziplock bag for both the greens and the bulbs themselves.
4. Sauté the greens (see recipe below) on their own or save them and sauté them with other greens you might have on hand — beet greens, chard, watercress, etc.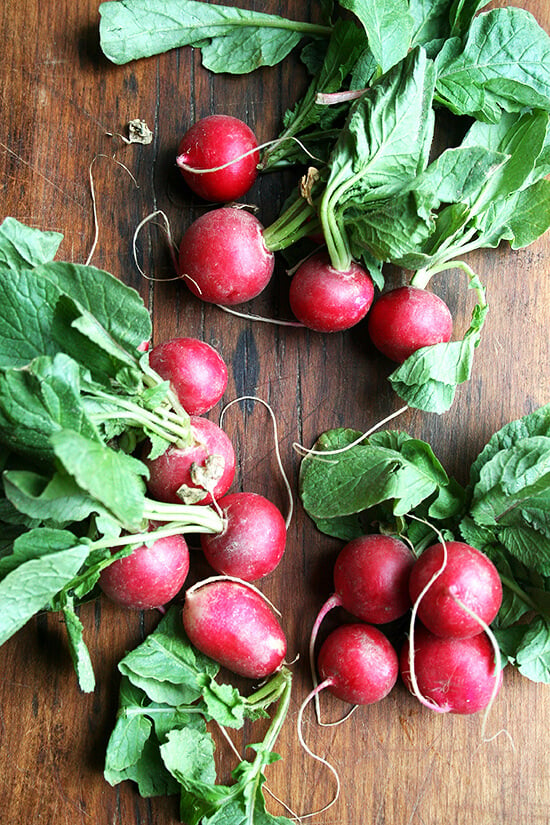 This simple salad is made with sliced radishes, freezer-burnt edamame and red onion: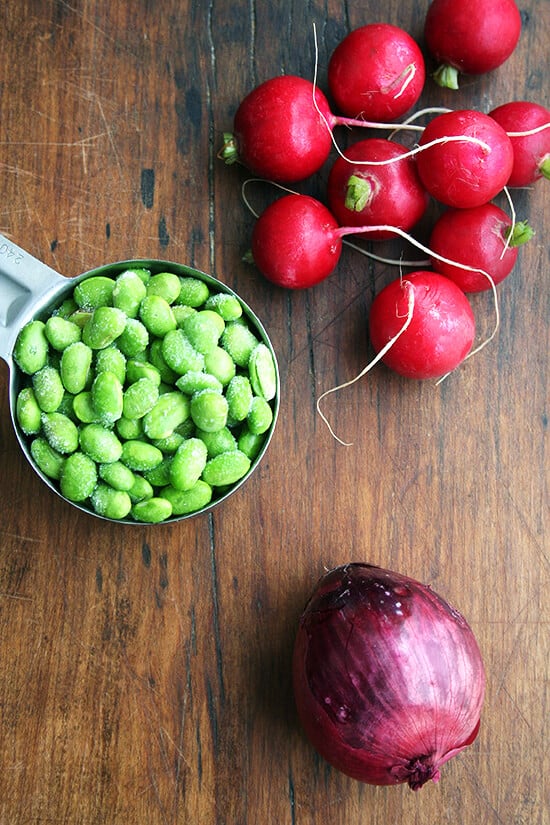 Snip the greens to preserve both the radish bulbs and greens longer: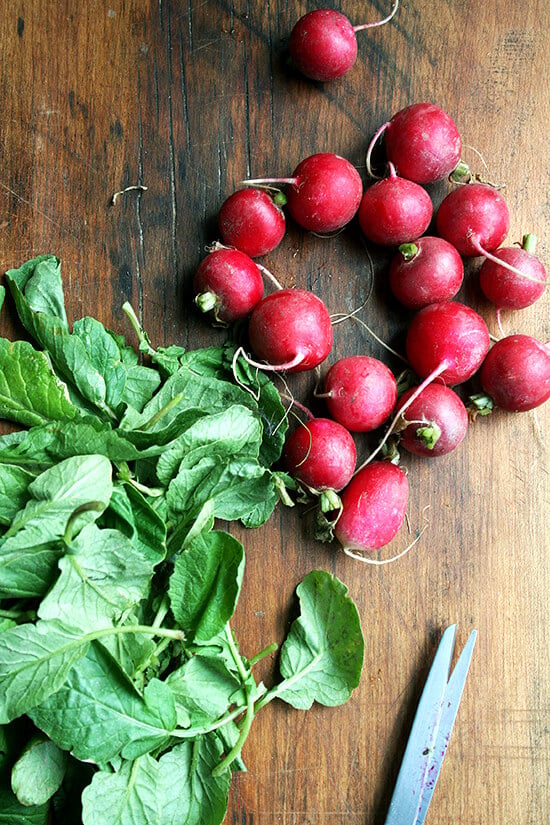 If you leave the stem intact, you have a nice little handle to grab onto while you run your radishes down the plane of the mandoline: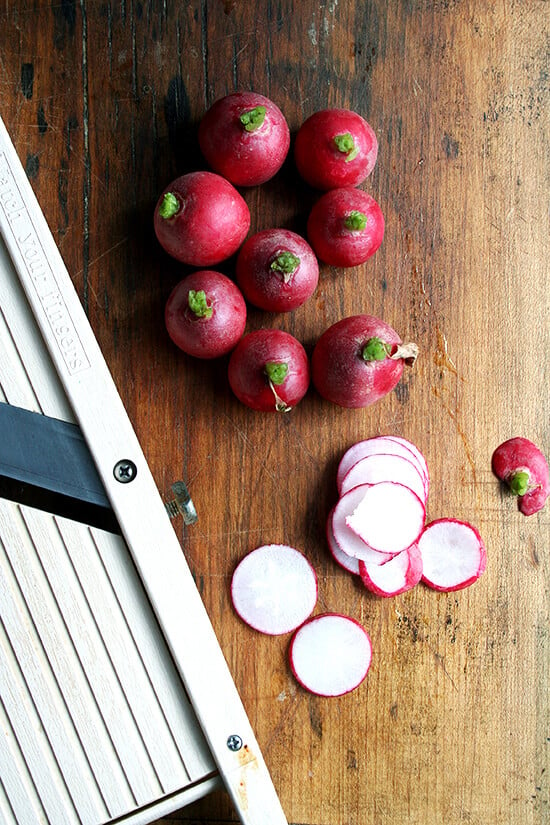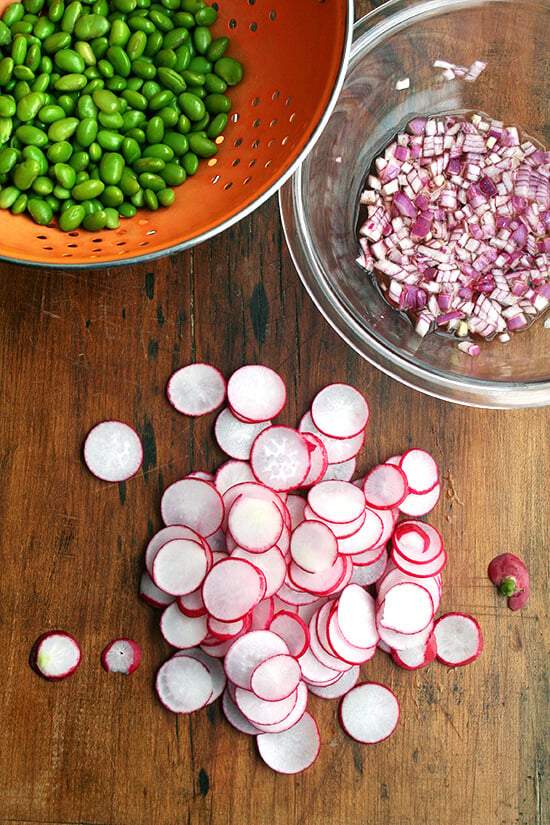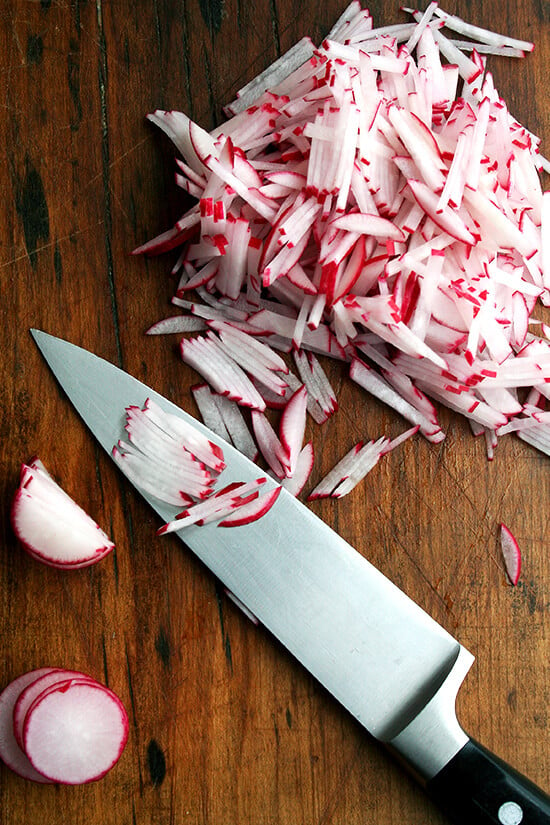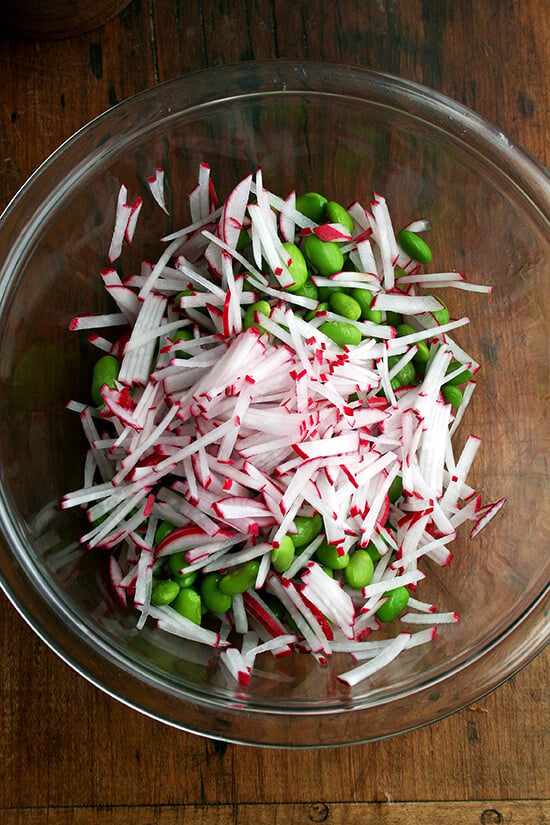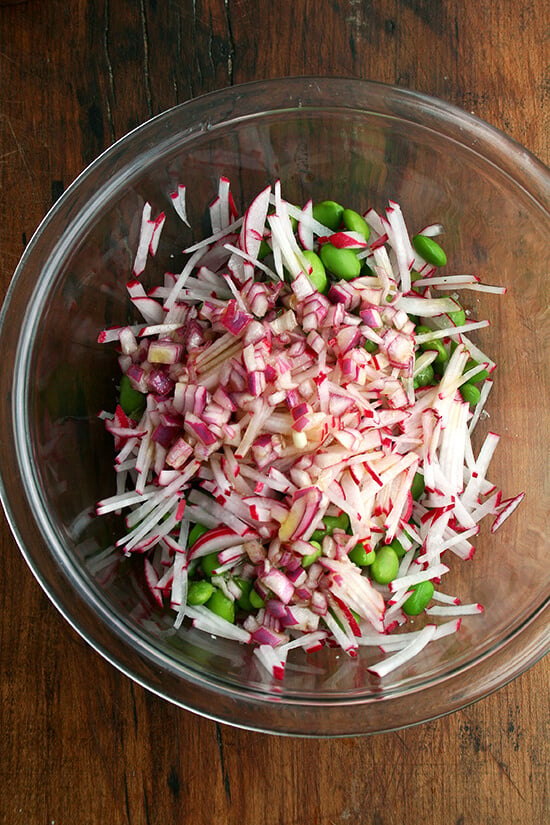 Now for the greens: First, be sure to soak them in cold water for a few minutes so that the dirt falls to the bottom of the bowl.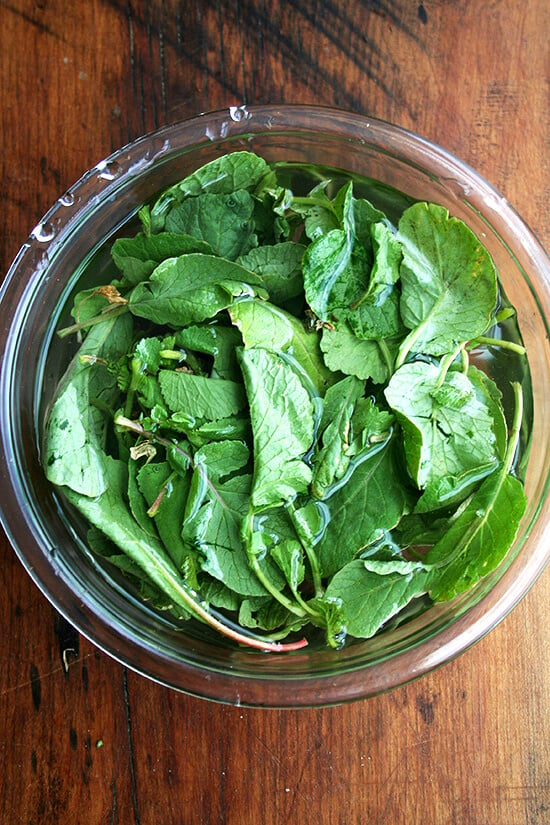 Then let them drain — no need to spin them dry if they are going to be sautéed: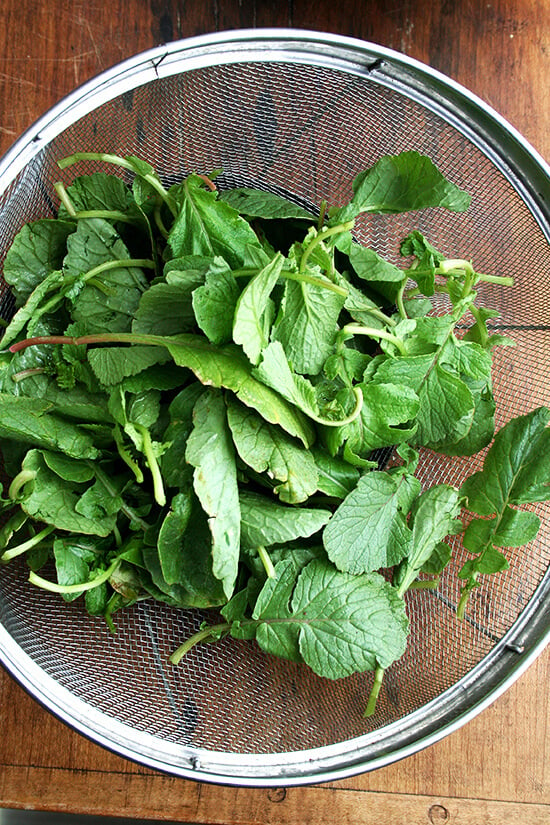 Toast some bread crumbs if you feel like sprucing up your sautéed greens: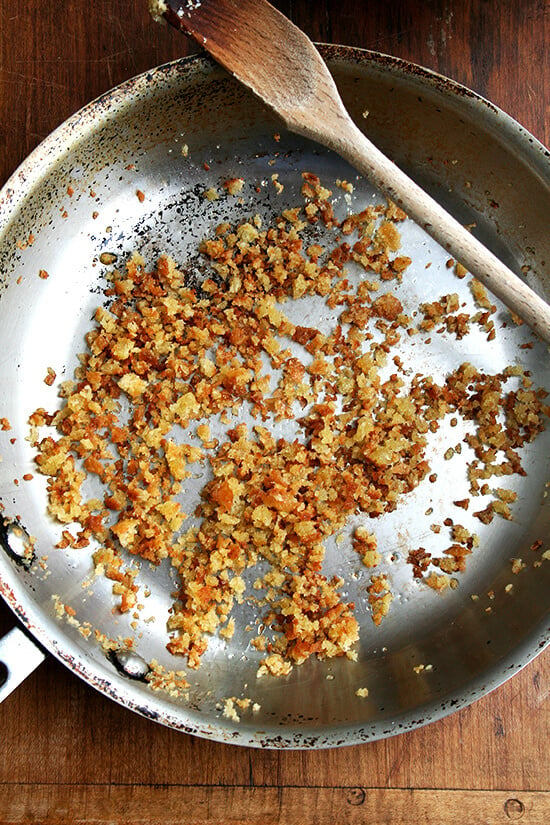 Remove crumbs and set aside; wipe out the pan and place it over high heat; when it's nice and hot, add some olive oil and immediately following, the greens; season with a pinch of salt; toss with tongs and remove from heat — radish greens wilt and shrink very quickly; add a splash of vinegar and toss; stir in bread crumbs if you wish and serve immediately: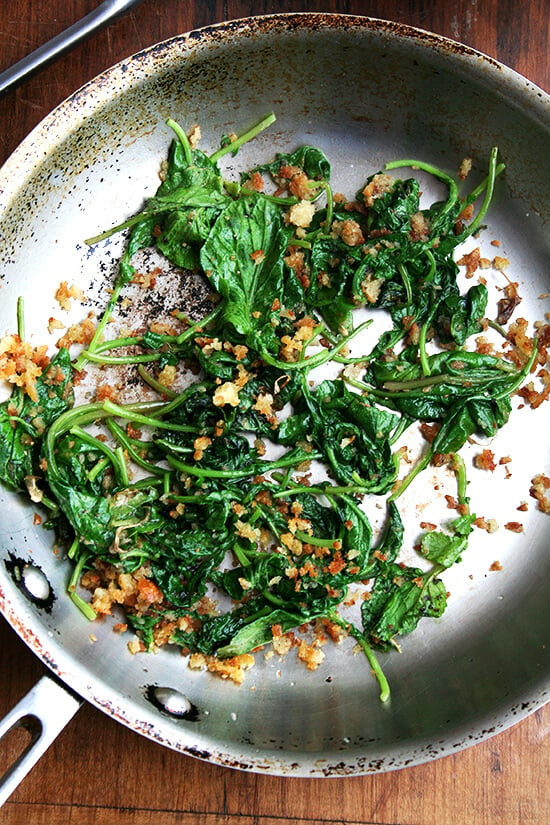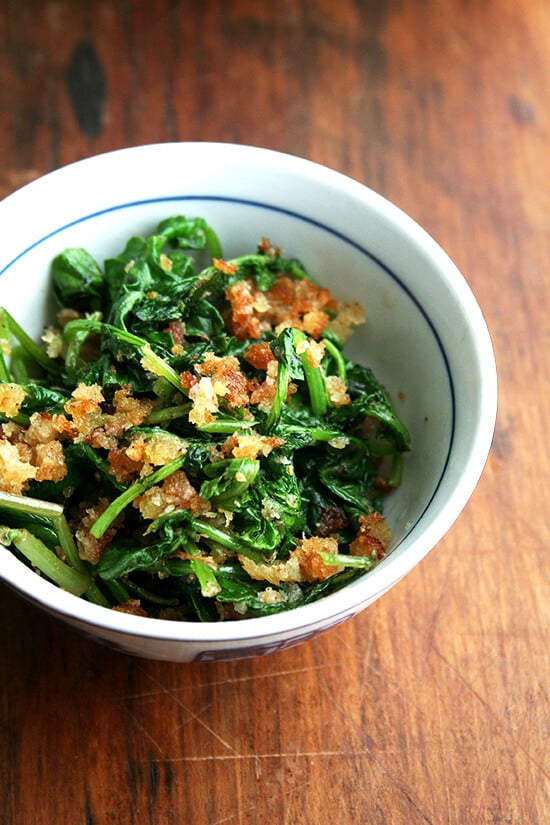 Of course, you can always just stick to this classic preparation: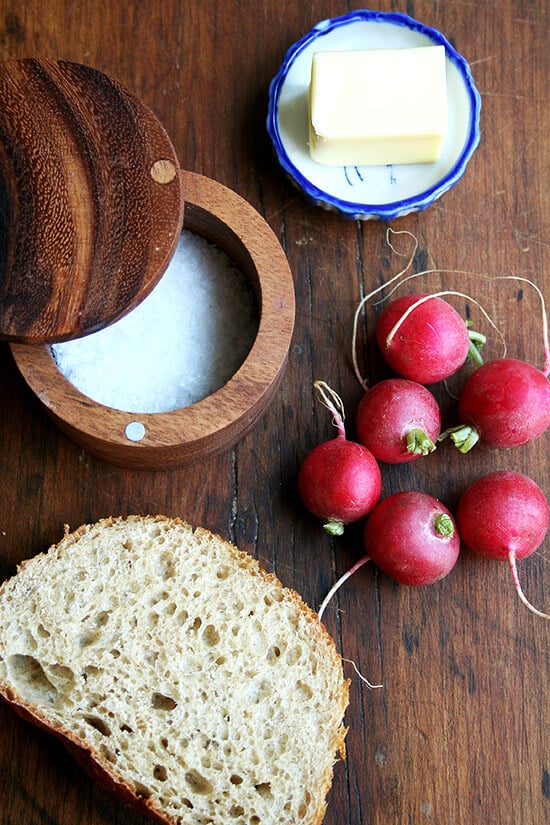 It's seriously so good.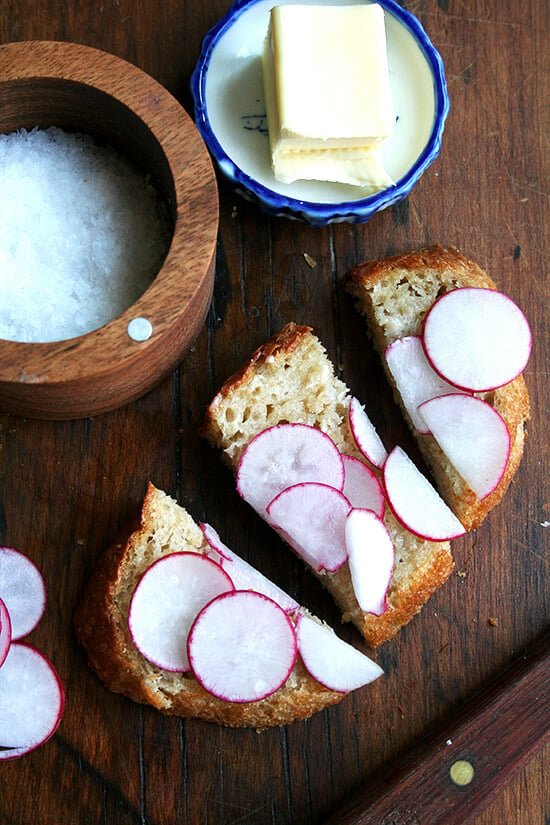 And if you're feeling adventurous, you can ease up on the salt and top your tartines with a few anchovies — I read about this preparation in Chez Panisse Vegetables and couldn't resist trying: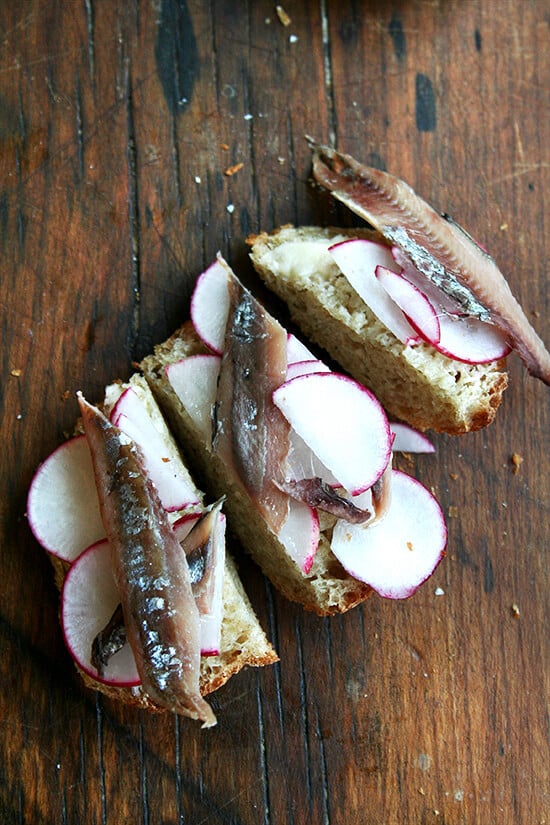 Incidentally, I recently purchased this salt cellar from Crate and Barrel for $9.95 and couldn't be happier with it. I have been using it for my Maldon sea salt. I think a box of sea salt paired with this salt cellar would make a lovely gift: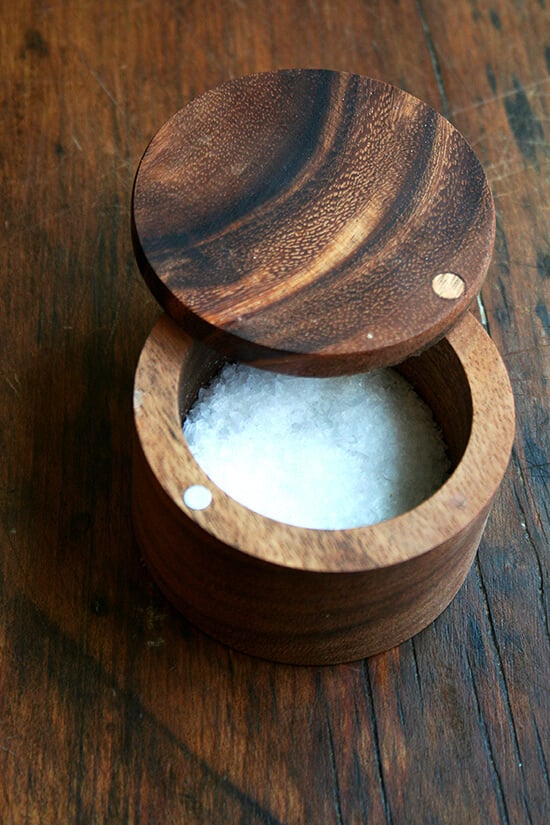 Señor Pescado is delighted to have some company: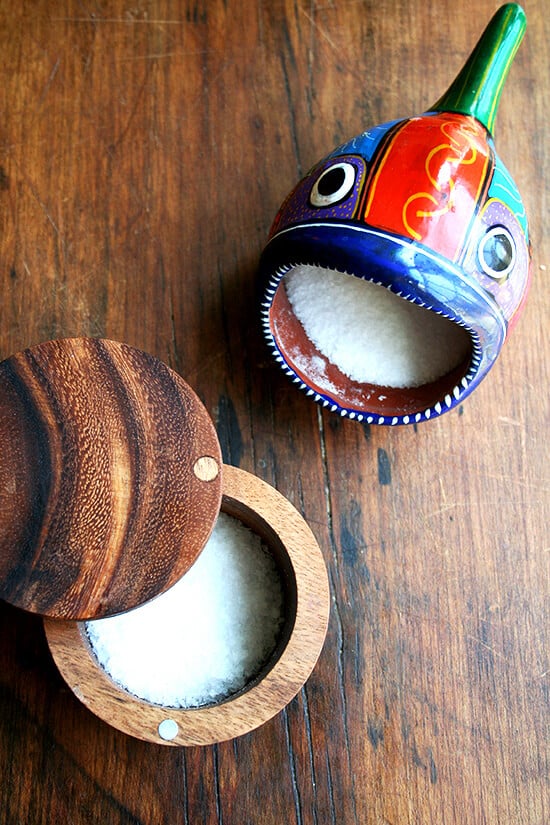 Print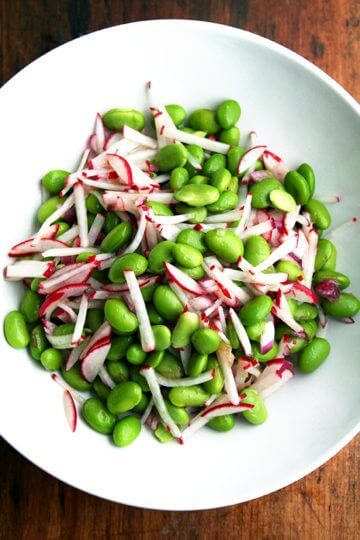 Edamame and Radish Salad
---
Author:

Alexandra

Total Time:

17 minutes

Yield:

2 to 3
Description
If you are preparing this for a luncheon or some event, tossing at the last minute helps preserve the color of the edamame as well as the integrity of the radishes — after too much time in the dressing, the radishes wilt and the edamame gets a little pale. It still tastes great, but it might not look as appetizing.
---
1 cup

frozen edamame

1

small red onion or shallot (about

1/4 cup

minced)

2 tablespoons

vinegar — I like white balsamic
kosher salt
pinch sugar

8

to

10

radishes, rinsed, tail trimmed, stem left intact

2 tablespoons

olive oil
---
Instructions
Place a pot of water on to boil. When it boils, add the edamame and cook for about 2 minutes — most bags call for a 5-minute blanching, but I think shorter is better. Drain and run under cold water. Set aside.
Meanwhile, finely dice your onion or shallot — you can use as much or as little as you like (sometimes I add more like a half cup) — and place in a small bowl with the vinegar a pinch of salt and a pinch of sugar (no more than 1/8 teaspoon). Set aside to macerate for about 15 minutes.
If you have a mandoline, carefully slice up each radish. As noted above, if you keep the stem intact, you have a little handle to grab onto while you run the radishes down the mandoline's plane. Alternatively, thinly slice the radishes with a knife. Stack the circles on top of each other and slice straight down to get mini matchsticks.
Just before serving, toss the edamame with the radishes and onions. Add two tablespoons of olive oil. Toss to coat. Taste. Don't be afraid to go a little heavy on the salt — both the edamame and the radishes can handle it.
Prep Time:

15 minutes

Cook Time:

2 minutes
---
Print
Sautéed Greens with Bread Crumbs
---
Description
Note: Use this recipe as a guide. The quantity of bread crumbs, olive oil, and seasonings will vary depending on the quantity of greens and what type of greens you are using.
---
homemade bread crumbsfor a more in depth

recipe, click on the link above,

otherwise

follow this simple guide:

Heat about 1.5 tablespoons of olive oil in a skillet over medium-high heat; sprinkle in about a cup of bread crumbs; season with a pinch of salt; stir until golden; remove from heat until ready to use.
olive oil
greens (chard, watercress, radish, beet, mustard, kale, etc), any thick stems removed
kosher salt
minced garlic (optional — I don't use it for radish greens)
crushed red pepper flakes (optional)
splash of vinegar
---
Instructions
Place greens in a large bowl filled with cold water. Let them soak for a few minutes so that the dirt falls to the bottom of the bowl. Place in a colander to drain. Shake gently to remove excess water, but there is no need to spin them dry.
Heat a large skillet over high heat. Drizzle in some olive oil — again, quantity will vary depending on quantity

of greens. When it starts skidding, add the greens. Season with a pinch of salt. Add minced garlic if you are using and a pinch of crushed red pepper flakes if you are using.

Using tongs, begin flipping greens around so they wilt evenly. This should happen very quickly if you are using tender greens such as radish, watercress, spinach, etc. Add a splash of vinegar and remove from the heat.
Sprinkle in bread crumbs to taste, toss, and serve immediately.
Prep Time:

5 minutes

Cook Time:

10 minutes
This post may contain affiliate links. Please read my disclosure policy.