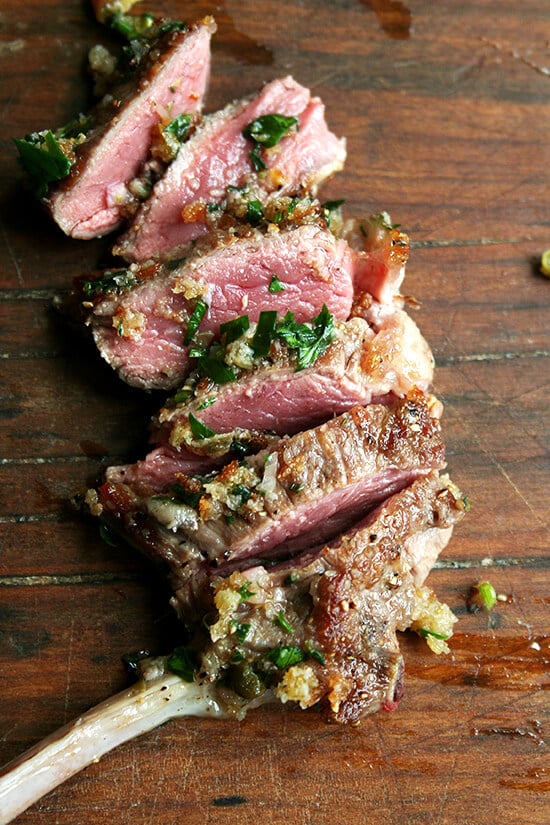 For years, all of my favorite cookbooks have been urging me to seek out salt-packed anchovies, that I won't be disappointed once I find them, that their superior quality is worth the effort of soaking and filleting them, that once I get my hands on them I will want to sneak them into everything from herb butters to pizza toppings to sauces and salsas.
So when I read once again in my latest cookbook purchase, April Bloomfield's A Girl and Her Pig, about their umami properties, I decided it was time to bite the bullet on a tin. To my computer I marched, to the rescue came Amazon, to my door two days later for a grand total of $24 arrived a kilo of salt-packed Italian anchovies. It may have been the beautiful tin; it may have been the sight of something other than diapers and Desitin; it may have been the snow on the ground; but opening that package felt like Christmas in March.
The arrival of the anchovies coincided with the arrival of my parents, who would take part in the little fishies' induction to my kitchen whether they knew it or not. Let me explain. My stepfather believes he dislikes anchovies. Because of this, I would have to be strategic, as my mother always is, about preparing them, first with the rinsing and filleting, next when adding them to the bread crumb salsa, their ultimate destination that evening. When Chip escaped for an afternoon walk, my mother, Auntie and I began scrambling. All evidence of anchovies — the tin, the backbones, the scent — had to be removed before Chip returned lest he suspect their presence and in turn ruin his dinner.
We made it happen: Auntie prepared the lamb chops à la April Bloomfield — whacking them with a mallet and seasoning them generously with salt all over — while my mother and I made the salsa, a Chez Panisse Café Cookbook recipe made with macerated shallots, toasted bread crumbs, olive oil, minced capers, anchovies, parsley and thyme. There is so much goodness in this mixture — it's the kind of sauce you could serve with anything from roasted chicken to grilled steak — that one (those of the anchovy-averse mindset) might consider leaving the anchovies out altogether. And while I am sure the salsa would taste quite good without the anchovies — you would never suspect they were in there — I can't help but think they are essential, that the sauce wouldn't be as irresistibly delicious without them. This I believe, dare I say it, is their umami properties at work.
And wouldn't you know, Chip consumed more of the bread crumb salsa than anyone at the table, spooning it over every bite of his lamb chops, drizzling it over his roasted potatoes, wiping his bread through the dregs on his plate. Sorry, Chip, I'm afraid to say, it seems you do like anchovies after all.
So, were my favorite cookbook authors to be trusted? For me the answer is an unequivocal yes. But if you are on the fence about purchasing a tin of salt-packed anchovies, let me offer a few thoughts:
1. Don't be deterred by the amount of work that goes into preparing them. I had read in several books/articles over the years that the anchovies should be soaked in milk sometimes for as long as 30 minutes before they are filleted. April Bloomfield's method entails rinsing off the salt, soaking them in water for one minute, and then filleting them with your fingers under gently running water. Sure this is a little more labor intensive than opening a tin or jar of the oil-packed anchovies, but once you get the hang of it, it takes no time at all.
2. Keep in mind that once you open the tin, you will need to store it in the fridge. I have dedicated a tupperware container for this purpose that will likely house anchovies exclusively for the rest of its life.
3. The salt-packed anchovies definitely taste better than the oil-packed — they are meatier and more palatable on their own, tasting almost sweet even.
4. After some very crude calculations based on the price of a 2-oz tin of oil-packed anchovies sold at the grocery store, I don't think $24 for a kilo of anchovies is really that exorbitant.
5. An added bonus: the tin is beautiful. I have saved mine with visions of turning it into a clock or a storage vessel of some sort — it amazingly doesn't smell fishy. So, perhaps you could rationalize the purchase with this potential piece of artwork in mind?
Personally I am thrilled to have these guys on hand. I think many of you might be, too.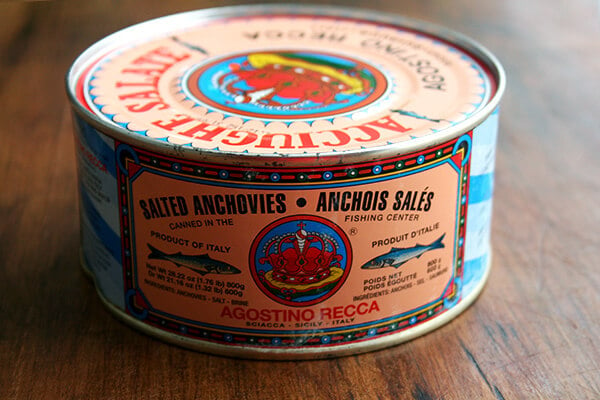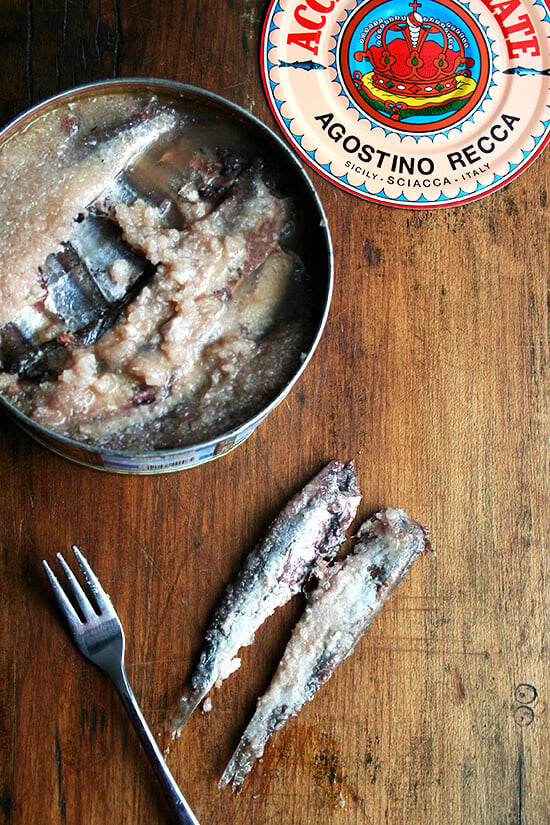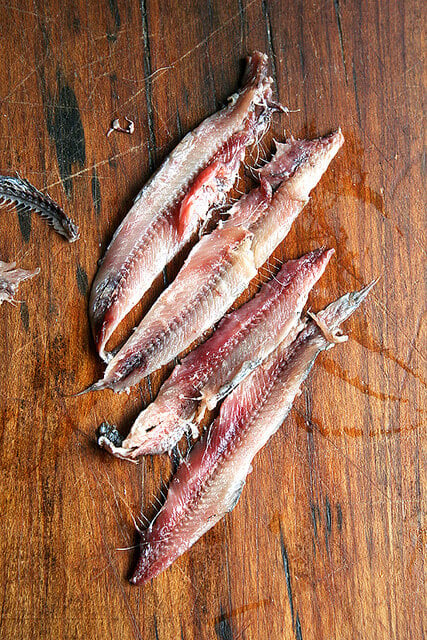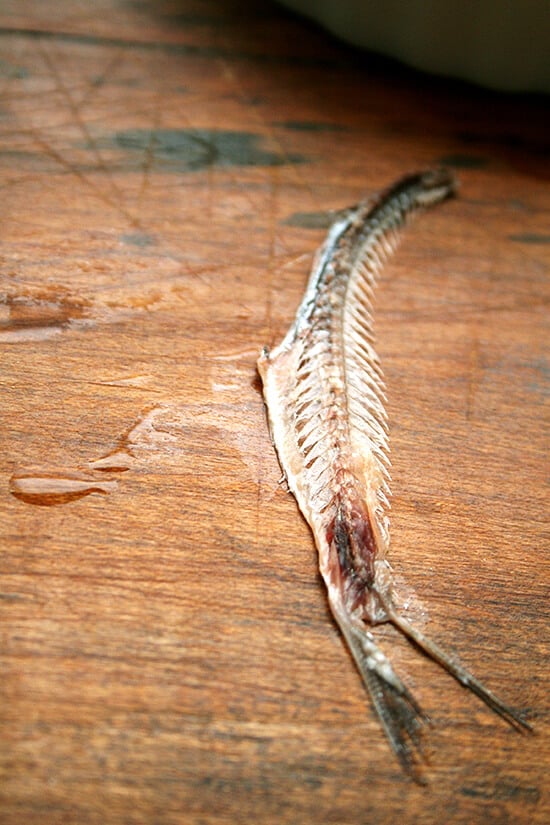 bread crumb salsa ingredients: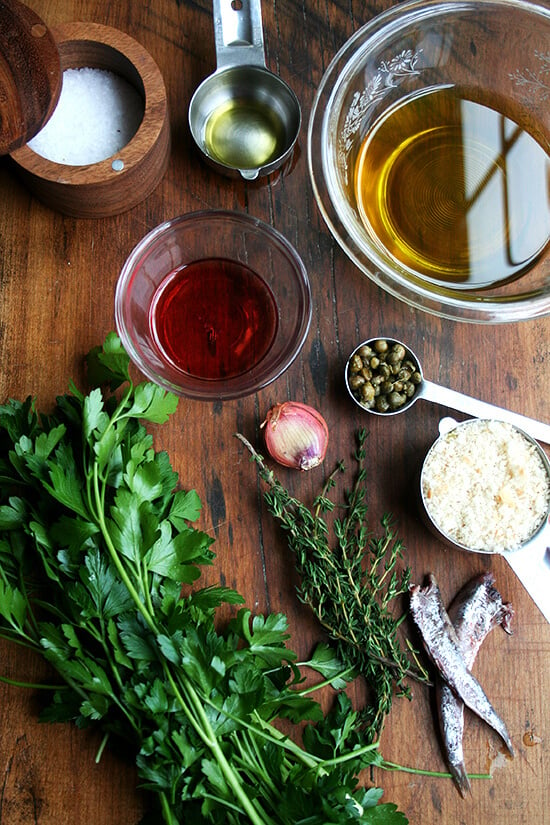 The bread crumb salsa can be broken down into three main components: toasted bread crumbs; shallots macerated in red wine vinegar; and a mixture of oil, herbs (thyme and parsley here, but feel free to improvise), and minced capers and anchovies: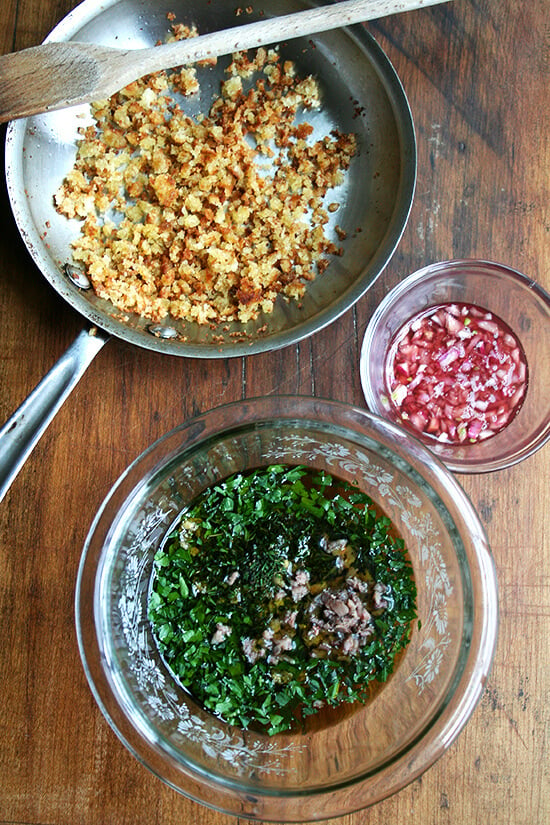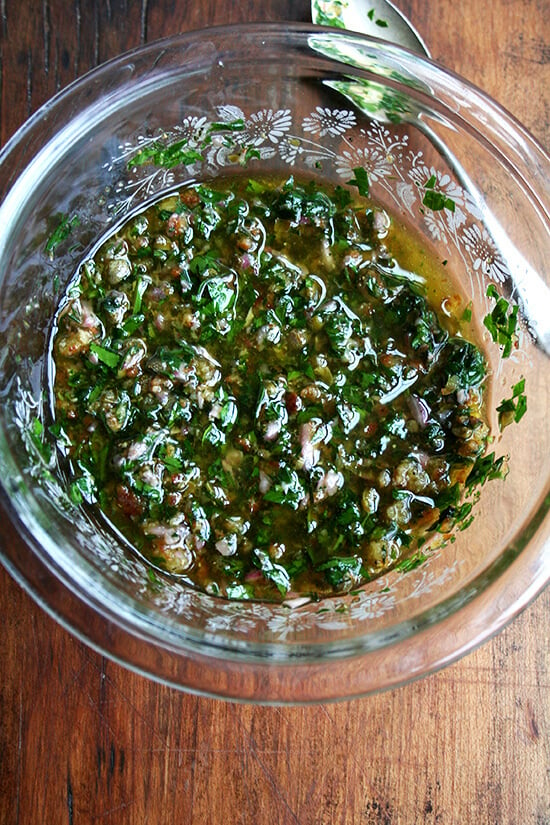 First the chops are whacked with a mallet: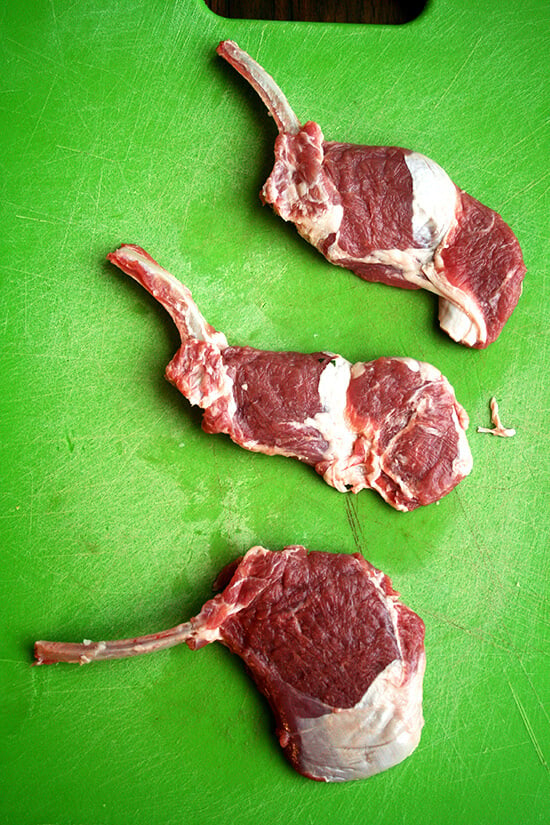 Then they are generously seasoned with salt (and pepper if you wish) all over: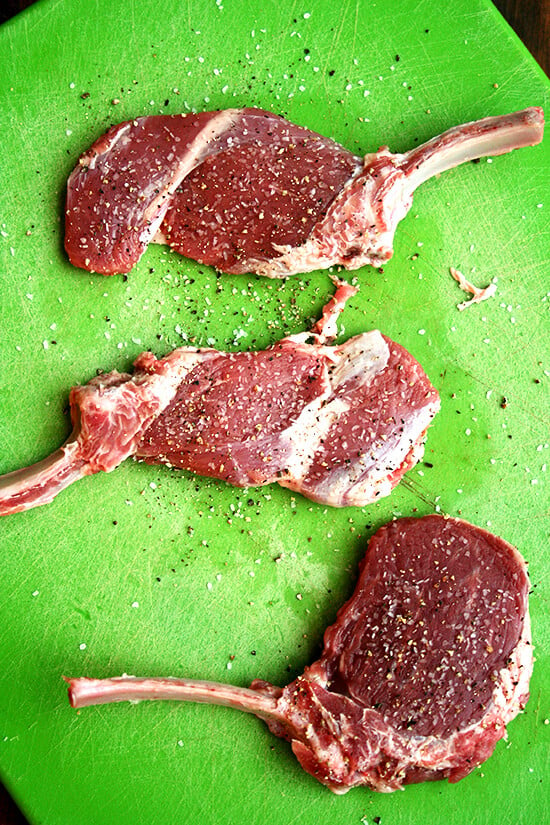 After two minutes in a hot pan, they are done. Spoon the bread crumb salsa over the chops, pile them on a platter, and serve: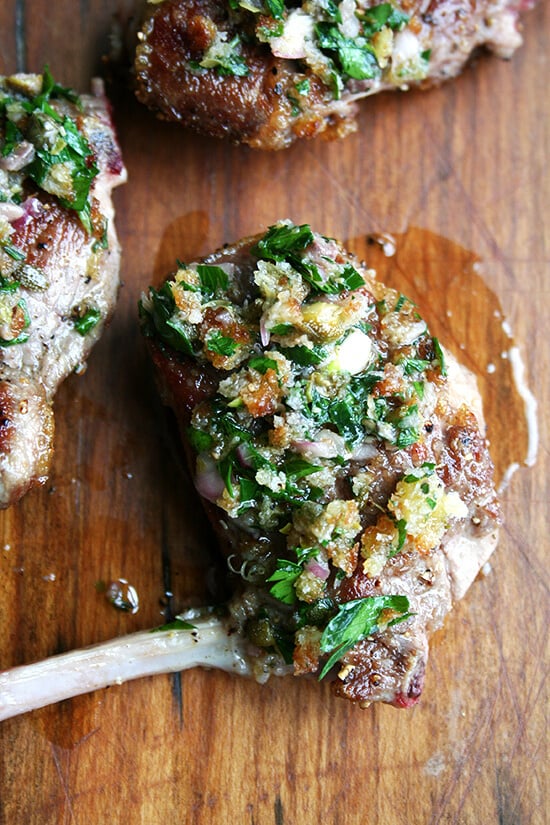 ---