Getting the Most From Your CSA + Two Favorite Potato Recipes
This post may contain affiliate links. Please read my disclosure policy.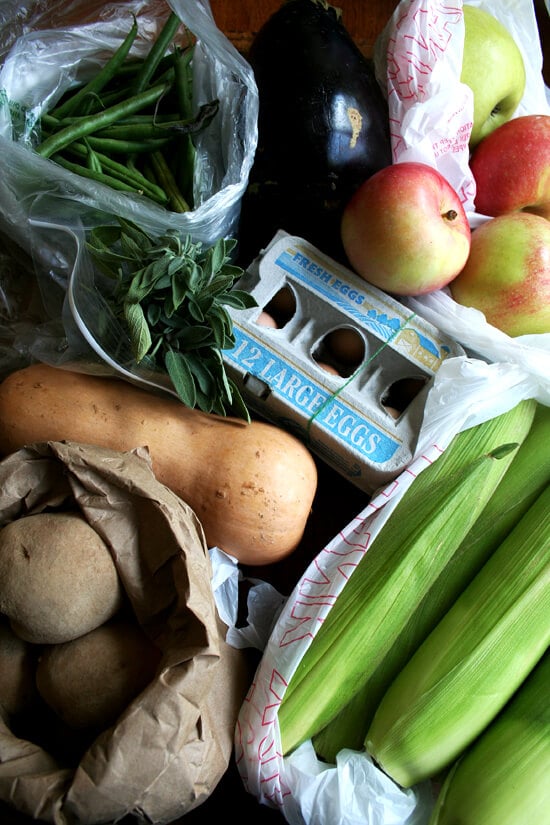 There was a time in my life when subscribing to a CSA had little appeal. I wanted to buy what I wanted to buy when I wanted to buy it. Today, I am happy to have somebody else make the decision for me.
In the past six years, subscriptions to CSAs in eastern Pennsylvania, southern California and northern Virginia have forever transformed how I eat and cook. I have learned to plan meals based on the vegetables I have at hand not the protein. I have learned to appreciate vegetables in their freshest state seasoned with little more than olive oil, salt and pepper. I have eaten more dark leafy greens than I ever imagined.
During this time, too, I have allowed more than one bunch of radishes to shrivel up and rot, a kohlrabi bulb or two to desiccate, and a few bags of okra to mold over. It is painful — shameful — to see these foods spoil. Today, not a morsel of my CSA goes to waste.
Below, I have compiled some things I have learned these past six years that help me utilize my CSA to its fullest potential. If you subscribe to a CSA, I hope these tips might help you in some way. If you are thinking about subscribing, I hope these tips might encourage you to follow through. And finally, if you have anything to add, I hope you'll leave a note below.
Also, if you are unfamiliar with CSAs, read more about them here.
This is the same batch of produce pictured above, but here I've divvied it up (roughly) into side-dish sized portions. Doing this helps me assess the content and allows me to visualize how many meals we should be able to get out of our produce share.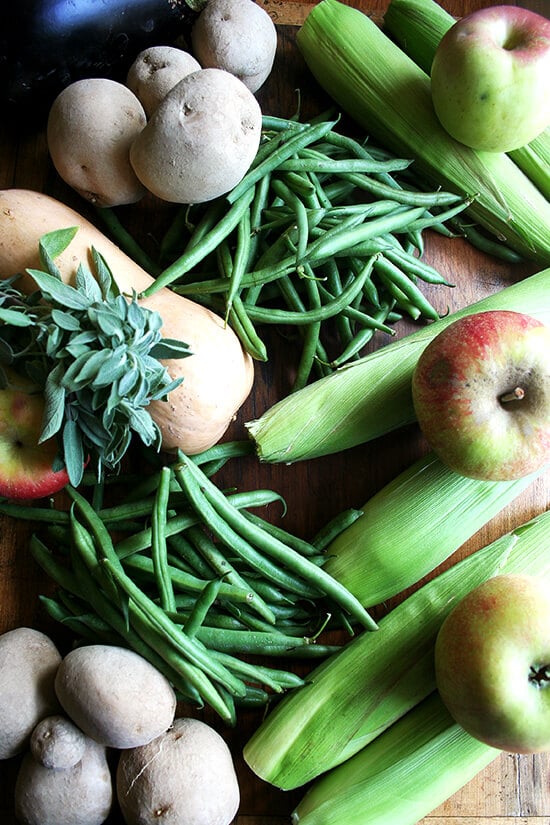 After I divvy up the vegetables, I make a rough schedule for the week and clip it to the fridge. I rarely stick to the schedule and usually prioritize the order by circling one or two of the days.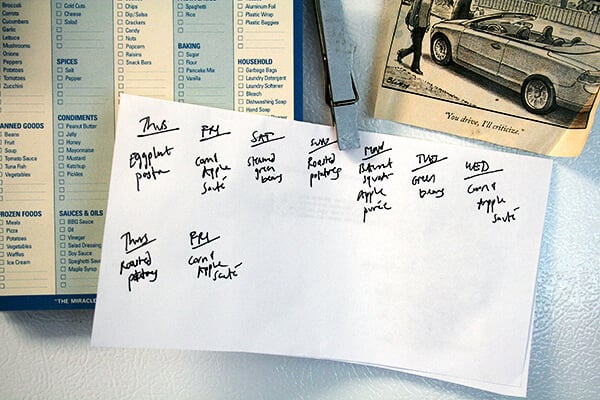 Tips for Using your CSA:
1. Strategize. Some vegetables tire more quickly than others, so it's important to use those first to prevent waste later in the week. This is the process I go through every other Thursday, when I pick up my CSA:
• Lay the vegetables out on a table to assess the content.
• Roughly divvy them up into side-dish sized portions.
• Make a rough schedule of meals and stick it to the fridge.
• Circle the days that take priority.
• Before storing vegetables, remove all rubber bands.
• Before storing vegetables, clip greens from radishes, beets, carrots, etc., and save the greens when appropriate (beets, radishes, etc.).
Vegetables that tire quickly:
radishes
carrots
okra
some greens
turnips
eggplant (sometimes)
cucumbers (sometimes)
Vegetables that keep well:
potatoes
sweet potatoes
butternut squash
corn
zucchini/squash
acorn squash
kohlrabi
cauliflower
broccoli
cabbage
garlic scapes
beets (sometimes)
rutabaga
Note: Do not wash your greens ahead of time. I know this is kind of a bummer for some of you, but washed greens, unless they are dried really well, don't do well in the fridge.
2. Raw vs. Cooked. My favorite family of vegetables from my CSA is the dark leafy green family. Most of these dark leafy greens can be eaten raw — kale, mustard greens, arugula, to name a few. How do you know which ones can be eaten raw? Taste one. If it tastes good raw, eat it raw. I love steamed greens with olive oil and lemon, but a huge batch of greens — one that could potentially feed four people — can wither down to almost a single serving when steamed or sautéed for a long time.
So, when you can, try to eat your greens raw — you'll get more mileage out of your CSA greens. With this in mind, it helps to know how to make a good salad dressing. I've compiled all of my favorite dressings on this page: Salad Dressings & Vinaigrettes. Hearty greens like kale can take a heavier dressing like a caesar; more delicate greens (arugula) do better with something lighter, such as a lemon vinaigrette. Both of these dressings are on the salad dressings & vinaigrettes page.
When you can't eat your greens raw, however, a quick sauté over high heat does a nice job of not wilting your greens entirely down to nothing. Certain greens, Swiss chard and watercress, for example, taste better (to me at least), when cooked just briefly. Here's a good little recipe to know:
Wash your chard and leave to drain in a colander. A little water left on the green's surface is OK — it will provide some welcomed steam. Mince some garlic. Have some red chile flakes nearby. Heat a large sauté pan over high heat. Add some olive oil — a thin layer (maybe a tablespoon or two). Add the greens — careful here, the water from the chard will make it splatter a bit — then add a pinch of kosher salt, the garlic and the crushed red pepper flakes. Let cook for about a minute, then with tongs, start rearranging the greens so they cook evenly. Remove from heat after another minute. The chard will continue cooking as it rests.
3. Equipment. If you've ever considered getting a mandoline, now's the time. A mandoline will turn three small potatoes into a sheet-pan's worth of thinly sliced coins that will comfortably feed two people. Also, when you season these coins with olive oil, salt and pepper and roast them at 450º for 15 minutes, you might discover your new favorite way to cook/eat potatoes. CSA potatoes, by the way, are unlike any potato you will find at a grocery store. They are so good.
A mandoline comes in handy, too, for slicing up radishes and kohlrabi for salads.
A few other essential tools (for any kitchen, really):
• a few large jelly roll pans for roasting vegetables
• a large cutting board and a good chef's knife
• a bench scraper — use this to scrape food you've chopped up into prep bowls; use this to scrape scraps into a "trash" bowl (which saves time making trips to the trash can); use it to cut dough… the possibilities are endless
• a steamer basket and a large pot to put it in — both of these are handy for steaming green beans, broccoli, corn, etc.
• a few large stainless steel bowls for tossing vegetables with olive oil, for mixing doughs, for mixing pasta or grain salads, etc.
• a large wooden salad bowl — I suppose this one is more of a taste thing… not really essential at all. I just love a large wooden salad bowl, particularly this shape. I visited this shop many years ago and picked up a "defective" one for a fraction of the prices I am seeing online today. These are definitely expensive, but so pretty and handy.
• Many people would say a salad spinner is a superfluous kitchen tool — arguing for paper towels instead — but I love my salad spinner.
4. Supplementing your CSA. If you can make your CSA work without buying any other produce, then keep on doing it (and please email me to tell me your secrets). I find I nearly always have to supplement not only with some additional produce — I cannot get my CSA to stretch the full two weeks — but also with the staples: onions, garlic, shallots and lemons. Ginger is nice to have on hand, too, and herbs are a must: rosemary and thyme this time of year, and chives, tarragon, basil, and cilantro in the spring and summer.
5. Reviving Tired Greens. Sometimes, despite all of your strategical efforts, a bunch of chard might shrivel up in your vegetable drawer. Don't despair, this trick works wonders: Place your greens in a large bowl and fill it with enough cold water to submerge the greens. Add about a tablespoon of vinegar. Let sit for at least 30 minutes. If after the 30 minutes some of the leaves have not revived, they probably are beyond repair.
6. Whole Grains, Beans, Pasta. If you have on hand some good whole grains (especially convenient are the quick-cooking ones such as quinoa and semi-pearled farro), pasta, or some dried beans (which require some planning), you can turn a couple of carrots, an onion and a few big leaves of mustard greens into a hearty side dish. Add to the mix some cheese or diced, crisped pancetta or a poached egg or some shredded roasted chicken and you have a complete meal. This recipe, made with semi-pearled farro, comes together very quickly and can be adapted to your liking.
7. When In Doubt, Roast. Almost everything can be roasted — radishes, cabbage, kohlrabi, etc. This is what I do: Preheat oven to 450º. Spread vegetables out in a single layer on a jelly roll pan. Season all over with kosher salt and pepper. Drizzle with olive oil and toss to coat. Spread vegetables back out into a single layer. Roast for about 20 minutes, stirring halfway through if you remember.
8. Pickling. Pickling will not help you get mileage out of your CSA in the present moment, but it's a good thing to know how to do, especially when you find yourself with vegetables you might not be so fond of. I hate to admit it, but I am not the biggest kohlrabi or okra fan. I recently discovered pickle okra, however, which is delicious, and while I haven't tried pickling kohlrabi yet, I suspect it will work well. With the recent discovery of pickled okra, for the first time ever, I am looking forward to receiving a kohlrabi bulb in my CSA.
9. How To Make a Meal Out of a Bunch of Radishes? I love radishes, but when I see them in my CSA, I find myself saying, "Awesome," in a less than awesome tone. It's just hard to make a substantial side dish, even with a mandoline, out of a bunch of radishes. So, when I am organized, I make some bread — this one or this one — break out the good butter and salt, and slice up those radishes on my mandoline. Yes, I am giving you the most unoriginal idea for how to use up those radishes, but there is a reason why good bread, butter, radishes and salt is so widely adored. If you haven't given this one a go, now's the time. This is a meal, too, to open up a few tins of sardines, set out a block of cheese, and just nibble away.
10. A Few Staple Recipes.
Pizza. Homemade pizza is such a treat, and it's a great vessel for sautéed greens, roasted eggplant, raw shaved zucchini, thinly sliced potatoes, etc. With pizza as the main course, a light salad or a few roasted vegetables makes for a nice simple side dish.
Quiche, Crustless or Not. After discovering Tartine's recipe, quiche (most often crustless these days) has become a staple in our house. This recipe taught me that it is OK to add uncooked greens to the custard. I tend to load our quiches up with chopped raw kale or chard or whatever I have on hand. Quiche is a great high-protein vegetarian entrée, and it is incredibly delicious.
Whole Grain Salads. As mentioned above, having whole grains and dried beans and pasta on hand are really helpful for turning your vegetables into main courses or heartier side dishes. I love semi-pearled farro and make some variation of a farro salad at least twice a week. Here are two ideas for you, but adjust the recipes based on your preferences and the produce you have on hand: Farro Salad with Mustard Greens, Pine Nuts, Roasted Onions & Currants; Farro Salad with Roasted Corn, Red Onion, Red Pepper and Cilantro.
Potatoes. It helps to know a few food potato recipes. When I don't slice potatoes on my mandoline into coins and roast them, I cook them this way: with a ton of salt, some herbs and a few cloves of garlic in a pot of water brought just to a boil. Find the full method/recipe here: Fingerling Potatoes with Rosemary & Thyme, Crispy or Not.
I also adore this roasted potato salad.
And I have been meaning to post about this Cooking Light "veggie fry" recipe for a long time — it is so good. The picture below features potatoes only — the recipe calls for both potatoes and carrots, which are also delicious — and I suspect parsnips would do well under the same treatment.
Print
Veggie Fries
---
Total Time:

33 minutes

Yield:

4-6 servings
---
2 tablespoons

yellow cornmeal

1/2 ounce

Parmigiano-Reggiano cheese, finely grated (about

2 tablespoons

)

1

pound Yukon gold potato, cut into wedges

1 1/2

pounds baby carrots with tops, peeled and trimmed

2 tablespoons

olive oil

1/4 teaspoon

kosher salt

1/4 teaspoon

freshly ground black pepper
---
Instructions
Place a large baking sheet in oven. Preheat oven to 450°.
To prepare veggies, combine the cornmeal and cheese in a small bowl, stirring well. Place potato and carrots in a large bowl. Drizzle vegetables with 2 tablespoons oil. Sprinkle vegetables with 1/4 teaspoon salt and 1/4 teaspoon pepper; toss. Sprinkle the cornmeal mixture over vegetables; toss. Arrange vegetables in a single layer on preheated baking sheet; bake at 450° for 15 minutes. Turn vegetables over; bake an additional 8 minutes or until golden and tender.
Prep Time:

10 minutes

Cook Time:

23 minutes
---
Print
Roasted Potato "Chips"
---
Total Time:

20 minutes

Yield:

2 servings
3

small potatoes (or however many you like)
olive oil
kosher salt
freshly ground pepper
---
Instructions
Preheat the oven to 450º. Slice potatoes thinly on a mandoline (1/8- to 1/4-inches thick). Lay the slices on a sheetpan. Drizzle with olive oil. Season all over with salt and pepper. Toss, then lay potatoes back into a single layer. Place in the oven and cook for about 15 minutes, checking after 10. If they are browning unevenly after 10 minutes, turn the oven down to 400º.
Prep Time:

5 minutes

Cook Time:

15 minutes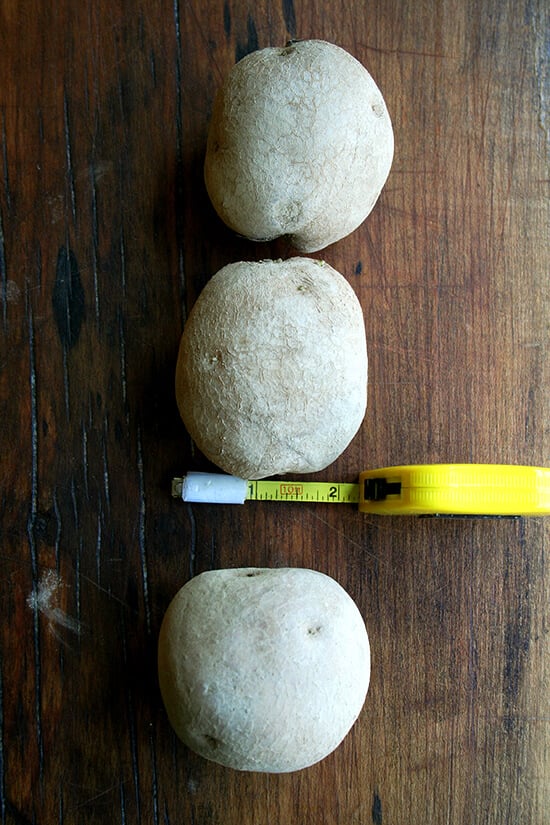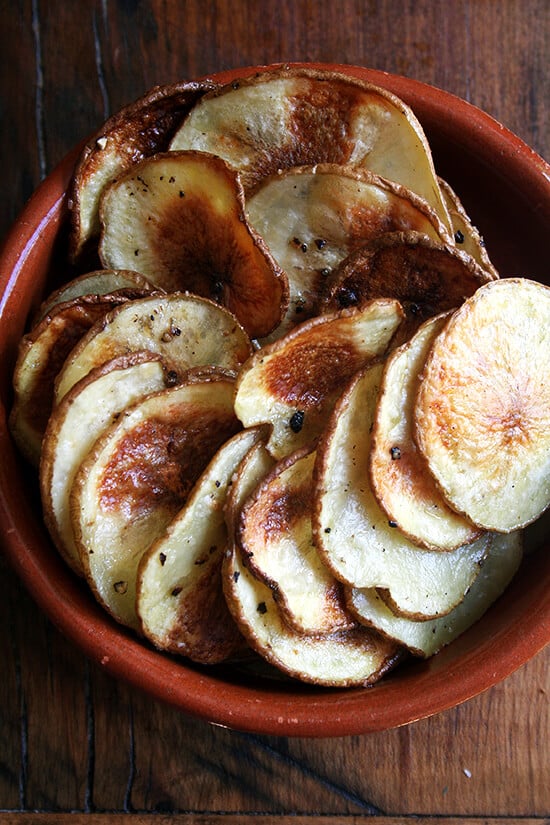 This post may contain affiliate links. Please read my disclosure policy.