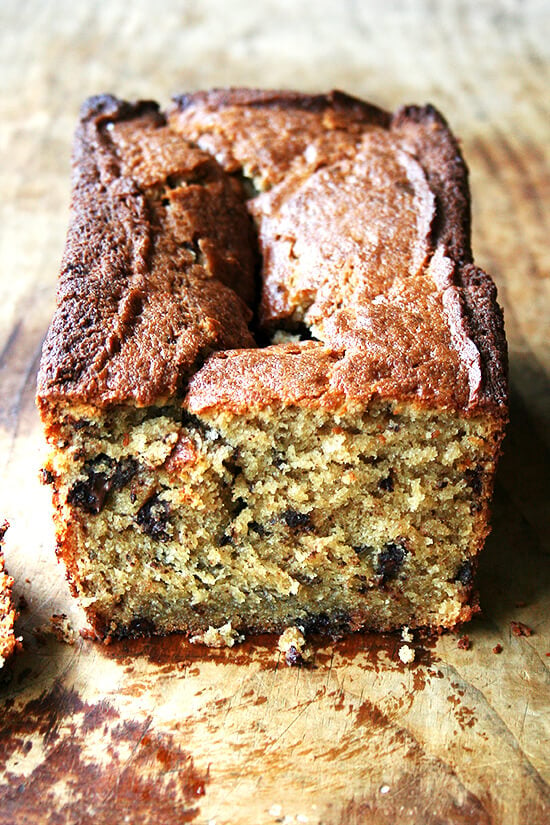 It took 32 years for me to start listening to my mother. I'm only just beginning to understand how annoying this must have been, only just appreciating how many gray hairs I may have caused, only just accepting how many wrinkles I may have induced.
The other day I asked Ella (my four-year old) to help me pick up a mess she created, and she said: "Um, you can just do it all by yourself." I've read enough self-help parenting books to know that freaking out is not the appropriate reaction to this response, but that doesn't mean I didn't want to strangle her.
I have it in for me. Every time Ella yells: "No Mom, I'm telling you a question!" I think of my poor mother and all the times she offered advice only to receive pushback.
Why was it so hard for me to just say, "Yes! Of course! That's a great idea!" every time my mother told me to "Enunciate!" or to "Eat [my] greens!" or to "Put [my] shoulders back!"?
Why couldn't I have just said, "You're right," when she told me the best chickens come from her kosher market, the best lamb from Australia?
Why couldn't I have just smiled when she told me not to frown?
Because she is right. She is ALWAYS right.
And for this, I have started to listen: I now save all of my receipts. I keep a journal. I floss. I salvage the juices from that roasted kosher chicken, and I cook potatoes in those juices on subsequent nights. They are the best potatoes in the world.
And it seems her granddaughter is listening, too: Yesterday, Ella dropped a box of toothpicks all over the floor and asked for help picking it up because she was too tired to do it all by herself. As I knelt on the ground next to her, she looked at me and said, "Many hands make light work." Yes they do, Ella. Yes they do. My mother would be so proud.
**********
This year, Mother's Day and World Fair Trade Day fall during the same weekend, and the Fair Trade theme this year is: "Moms Make a World of Difference." One of the founding principles of Fair Trade is Women's empowerment. In addition to freedom from harassment, Fair Trade certification ensures that women have a voice, a vote, and a leadership role in the community. You can read a few inspiring stories here.
Many of you know what Fair Trade means, but to review:
• Fair Trade helps farmers (more than 1.2 million worldwide) in developing countries build sustainable businesses that positively influence their communities.
• Products that bear the Fair Trade logo come from farmers and workers who are justly compensated.
• Fair Trade ensures that farmers follow internationally monitored environmental standards and also provides financial incentives and resources for organic conversion, reforestation, water conservation and environmental education.
• Fair Trade empowers women to play an active role in their families and in their co-ops by starting businesses with guaranteed access to health care, certain job rights and freedom from harassment.
• Fair Trade supports education with revenues set aside to build schools and maintain enrollment.
**********
A Giveaway:
UPDATE 6-11: Thank you all for sharing such words of wisdom from your mothers. I truly enjoyed reading every single comment, and maybe by next year, I will compile everything recorded here in one post. Anyway, the winner is Lindsay Frucci. I have emailed you.
Fair Trade is generously giving away a box of goodies to one of you. The Fair Trade treats include: BarkThins (addictive), Allegro Coffee (truly addictive), Guittard semi-sweet chocolate (love shaving this bar for chocolate chip cookies), Nutivia Virgin coconut oil (the best I've tasted — seriously so good), prAna Vanessa Scarf (so beautiful!), sweetriot chocolate (so yummy), Numi Organic Tea (love the chocolate rooibos), Frontier cinnamon (so fragrant), Choice Tea (love adding a spoonful of honey to my Moroccan Mint), India Tree Brown Muscovado Sugar (use as you would brown sugar), Honest Tea (perfectly sweet).
To enter the giveaway, please recount any advice (comical or otherwise) you cherish from your mother or any mother-like figure in your life.
Giveaway goodies. Please note that for this photo I substituted Fair Trade coffee/chocolate from my Co-Op for the Allegro Coffee and SweetRiot chocolate…I drank/ate those before snapping a picture: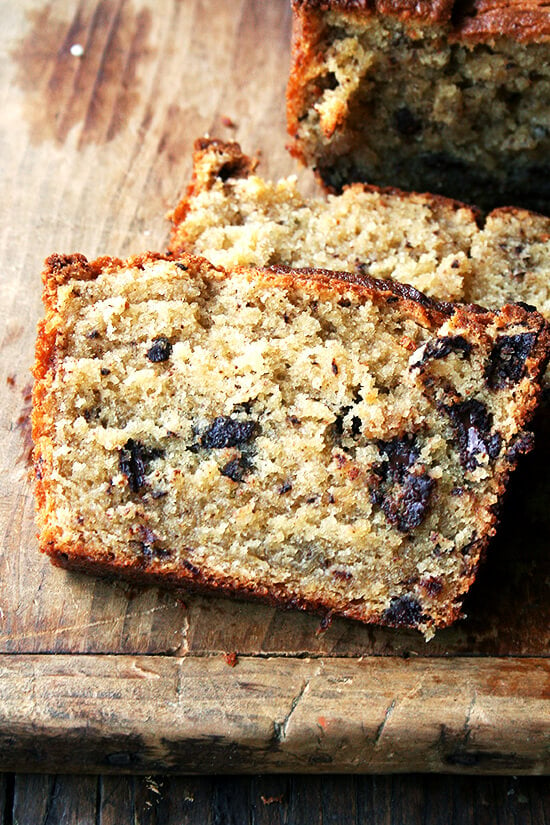 You can make this with chocolate chips…: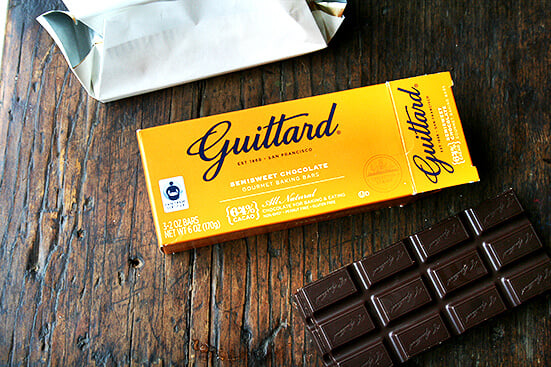 …or chopped chocolate. This Guittard chocolate is delicious: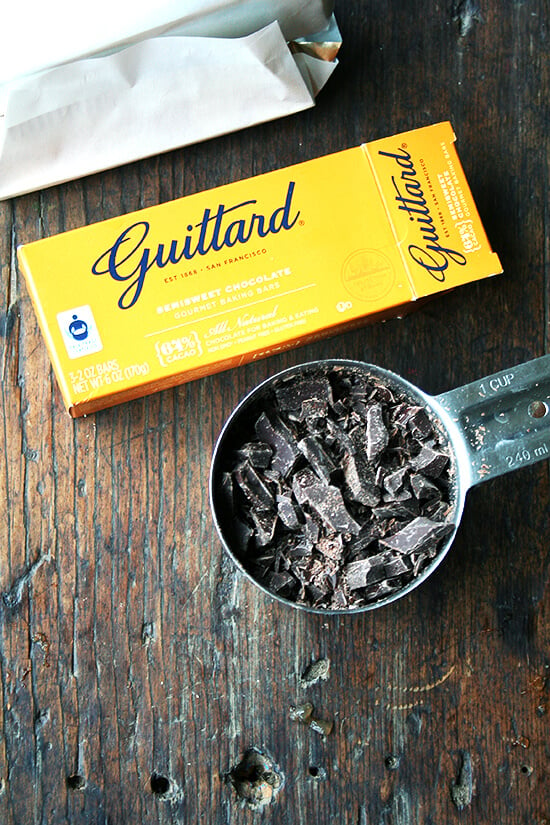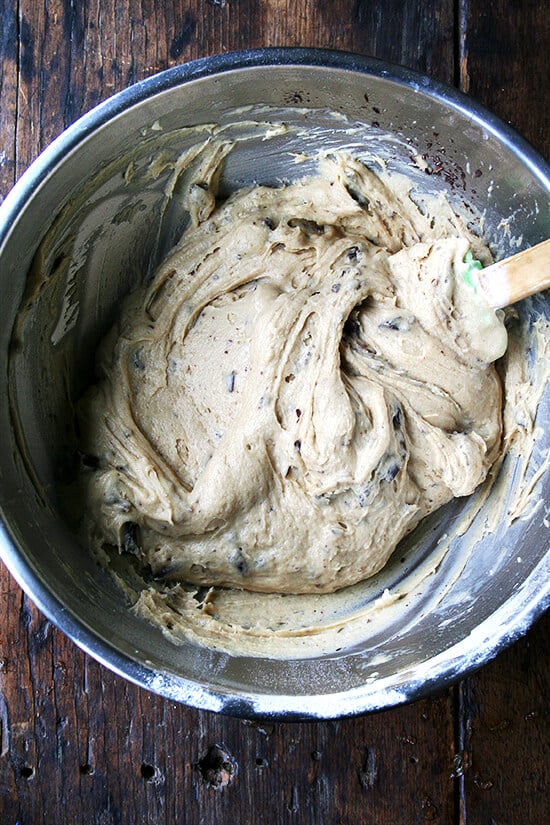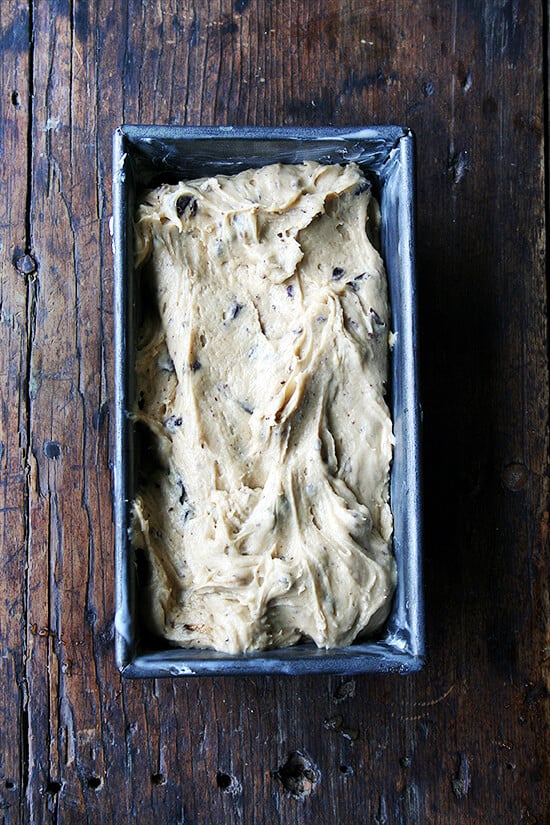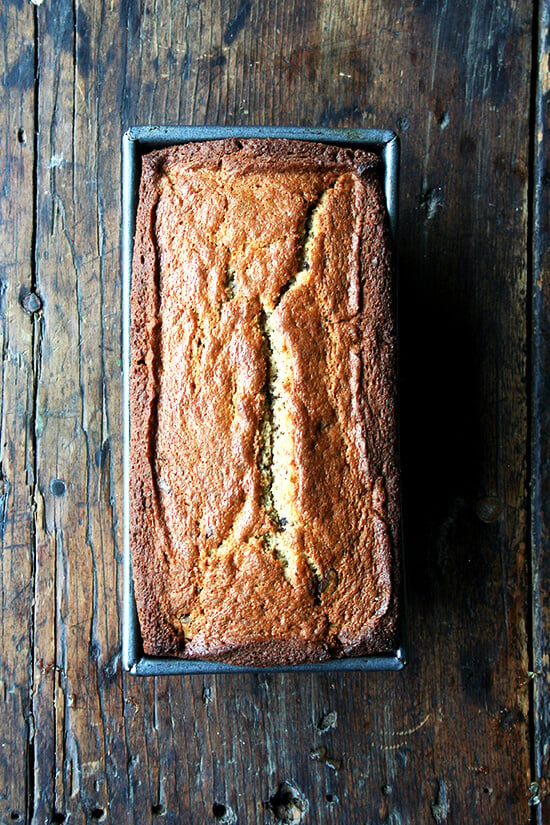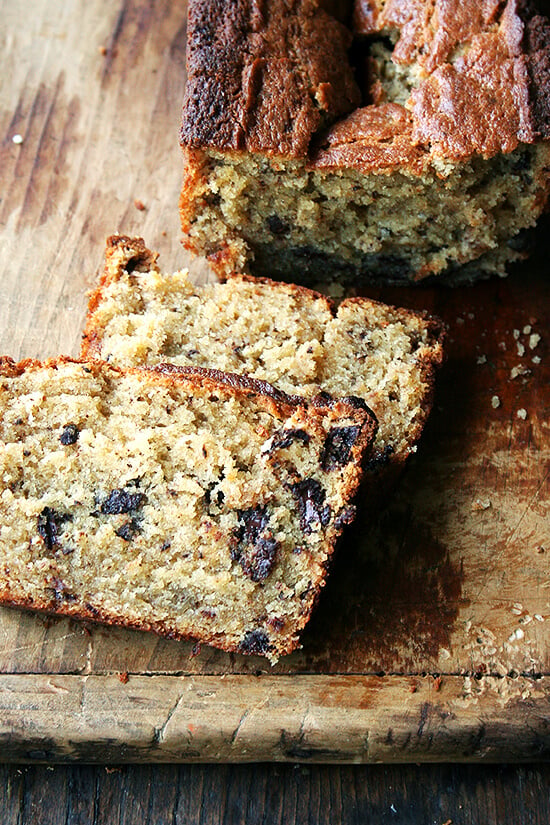 Attention Pinners: In the spirit of Mother's Day, Fair Trade invited food bloggers to bring a dish to a virtual brunch party on Pinterest. Vote for your favorite dish by repinning its photo between May 1st and May 11th. This Sour Cream Coffee Cake with Orange and Chocolate, inspired by a recipe from More from Macrina, is my contribution to the party.
Sour Cream Coffee Cake with Orange, Chocolate & Coconut Oil
Yield 1-2 loaves (see notes) or 1 bundt cake
Inspired by a recipe in More From Macrina
Notes: The original recipe calls for an orange syrup, a chocolate glaze, almonds, butter, and a number of other ingredients/changes, so please check out the original if you are looking for the Macrina version.
I absolutely love this cake — the texture is super moist, and the orange zest and juice offer the nicest complement to the chocolate. The coconut oil, too, imparts such a nice flavor and smells heavenly while baking. I have now baked this three ways: 1.) In a bundt pan. 2.) In a single loaf pan (pictured here) 3.) And divided among two loaf pans. The original recipe calls for baking the cake in two loaf pans, and that's probably the ideal. Cramming the batter into one pan (as pictured here) causes some issues during the baking — one, the batter almost spills out; two the cake takes a lot longer to bake and might still be underdone in the center, which I don't mind, but which I know isn't ideal. The reason I tried baking the batter in a single pan was because I find the two loaves to be on the small side, which is fine, but I just kind of like a bigger loaf. And I felt the same way about the bundt pan — it makes a pretty wimpy bundt cake in my opinion. I am dying to make a 1.5x batch of batter and divide it among two loaf pans or one bundt pan. I will report back as soon as I do.
Ingredients
1¾ (224 g) cups unbleached all-purpose flour
1/2 (114 g) cup sugar
1/2 (116 g) cup light brown sugar
1½ teaspoons baking powder
1 teaspoon baking soda
½ teaspoon kosher salt
Zest of 1 orange
1 tablespoon freshly squeezed (or not) orange juice
2 teaspoons pure vanilla extract
2 large eggs
1 cup sour cream
1 cup virgin coconut oil, melted
a scant cup semisweet chocolate chips or chopped chocolate from a bar
Instructions
Position a rack in the center of the oven and preheat to 325˚F. Grease two 4½-by-8-inch loaf pans or a bundt pan with coconut oil or butter and set aside. (I've had issues with sticking when using coconut oil, so I recommend butter or nonstick spray or whatever you are comfortable using.)
Whisk together the flour, sugars, baking powder, baking soda, and salt in a medium bowl. Mix in the orange zest with your fingers until evenly distributed. Set aside.
Whisk together the orange juice, vanilla, eggs, and sour cream in a separate medium bowl until thoroughly combined.
Whisk wet and dry ingredients together. Pour in melted coconut oil and stir to combine — it will seem as though the oil will never incorporate, but just keep going. It will. Fold in chocolate chips or chopped chocolate.
Divide the batter between the two loaf pans, filling them about two-thirds full. Bake for 40 to 45 minutes, or until the cakes are golden brown on top and a skewer inserted into the center comes out clean. Cool the cakes in the pan for 20 minutes, then turn them out onto a plate.
Did you make a recipe?
Tag @alexandracooks on Instagram and hashtag it #alexandracooks.