Sour Cream Coffee Cake with Orange & Chocolate
This post may contain affiliate links. Please read my disclosure policy.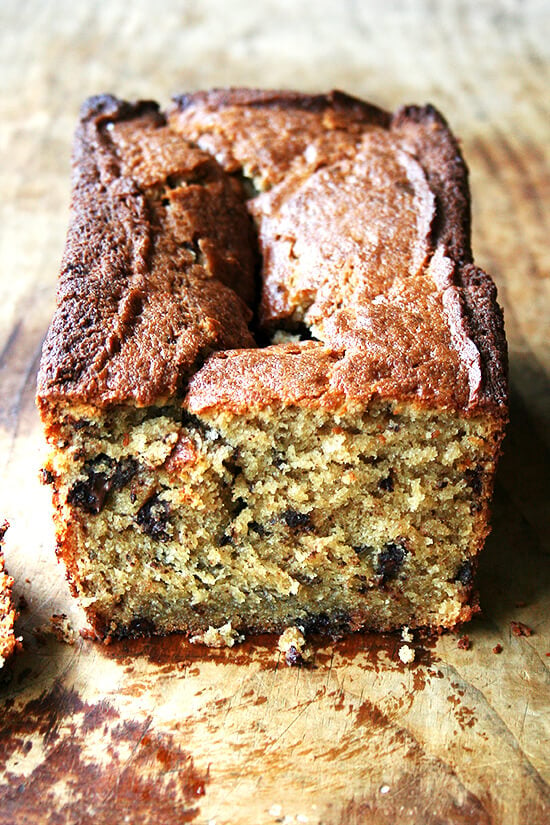 It took 32 years for me to start listening to my mother. I'm only just beginning to understand how annoying this must have been, only just appreciating how many gray hairs I may have caused, only just accepting how many wrinkles I may have induced.
The other day I asked Ella (my four-year old) to help me pick up a mess she created, and she said: "Um, you can just do it all by yourself." I've read enough self-help parenting books to know that freaking out is not the appropriate reaction to this response, but that doesn't mean I didn't want to strangle her.
I have it in for me. Every time Ella yells: "No Mom, I'm telling you a question!" I think of my poor mother and all the times she offered advice only to receive pushback.
Why was it so hard for me to just say, "Yes! Of course! That's a great idea!" every time my mother told me to "Enunciate!" or to "Eat [my] greens!" or to "Put [my] shoulders back!"?
Why couldn't I have just said, "You're right," when she told me the best chickens come from her kosher market, the best lamb from Australia?
Why couldn't I have just smiled when she told me not to frown?
Because she is right. She is ALWAYS right.
And for this, I have started to listen: I now save all of my receipts. I keep a journal. I floss. I salvage the juices from that roasted kosher chicken, and I cook potatoes in those juices on subsequent nights. They are the best potatoes in the world.
And it seems her granddaughter is listening, too: Yesterday, Ella dropped a box of toothpicks all over the floor and asked for help picking it up because she was too tired to do it all by herself. As I knelt on the ground next to her, she looked at me and said, "Many hands make light work." Yes they do, Ella. Yes they do. My mother would be so proud.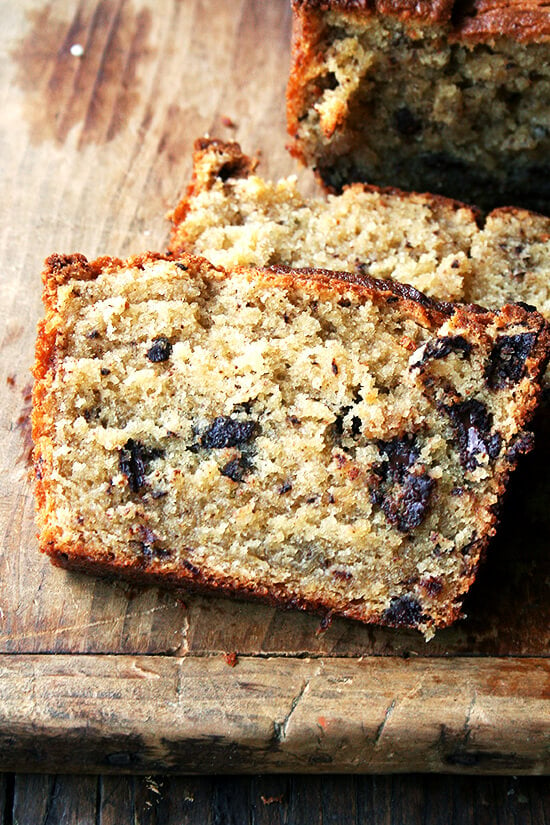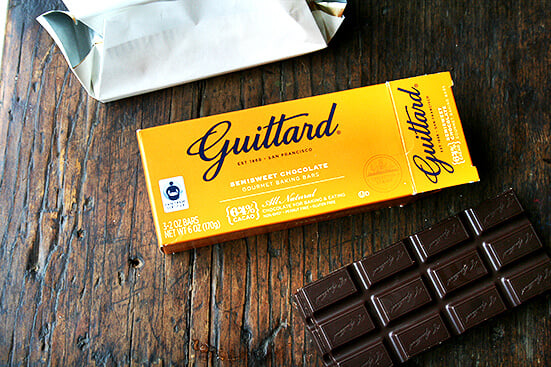 …or chopped chocolate. This Guittard chocolate is delicious: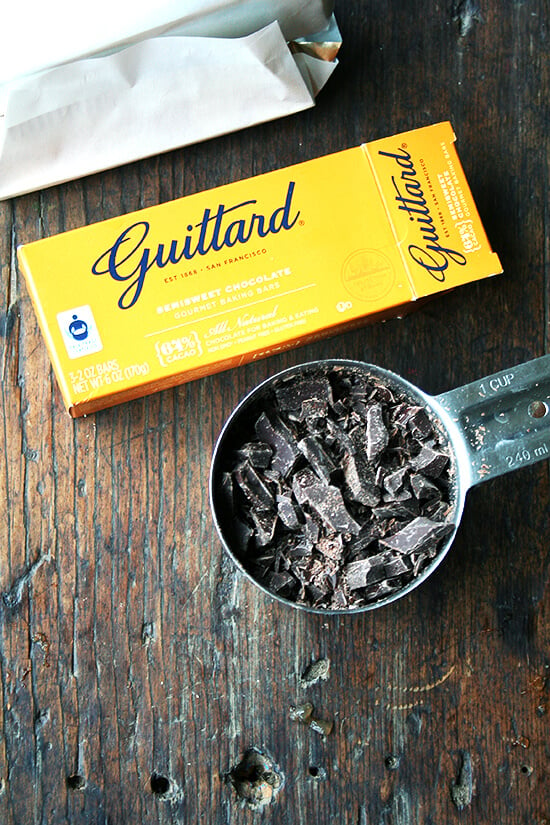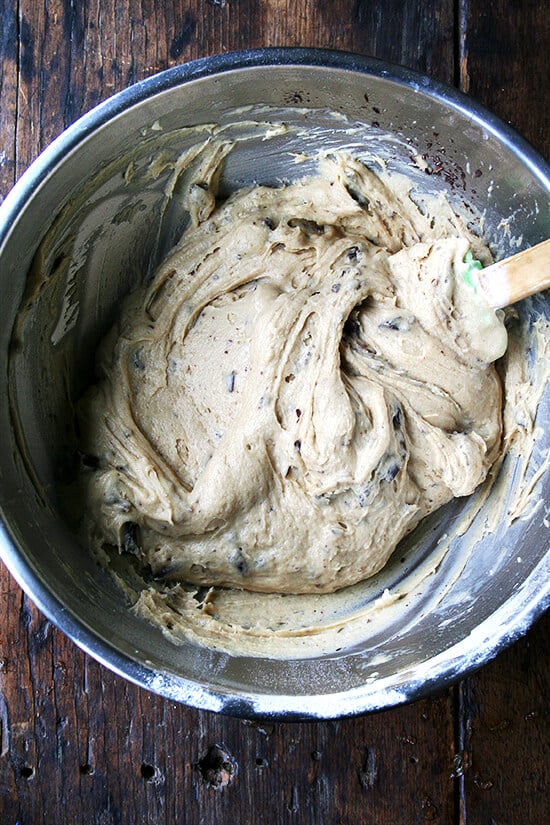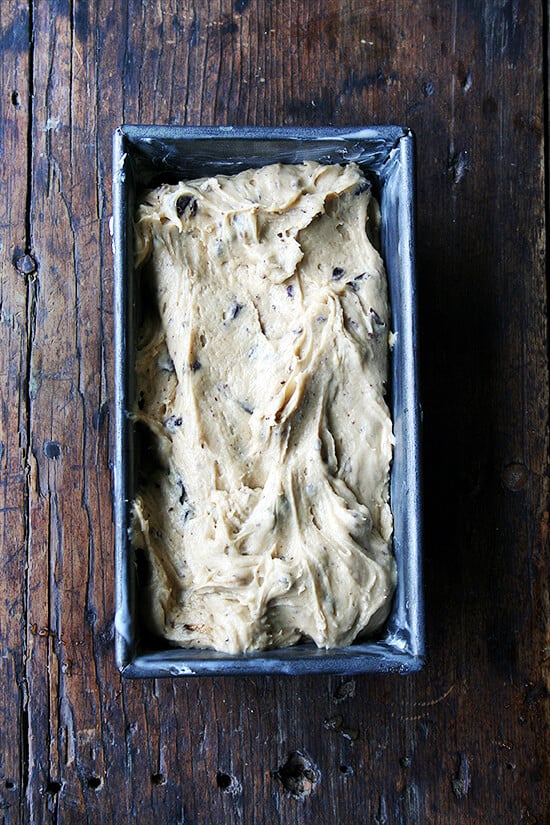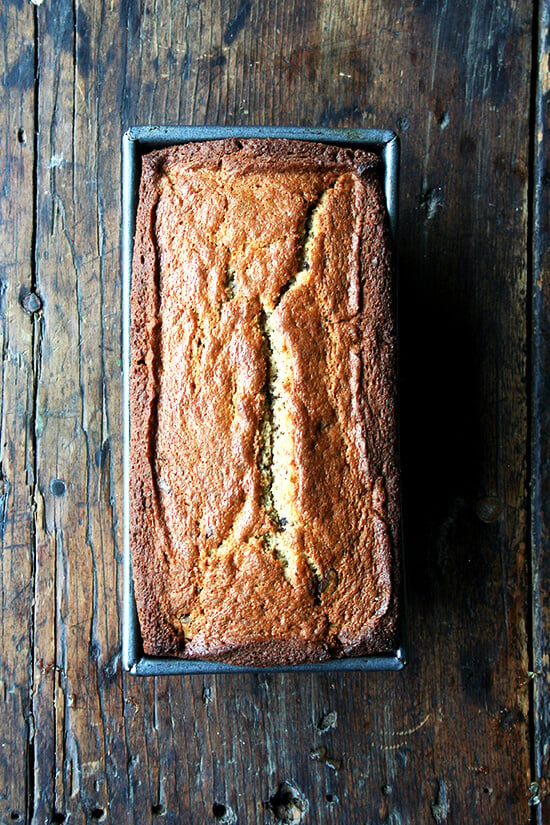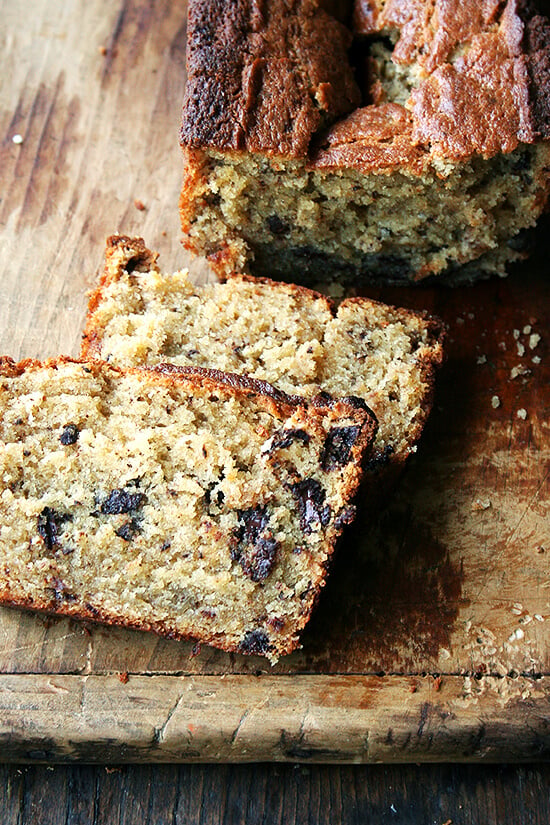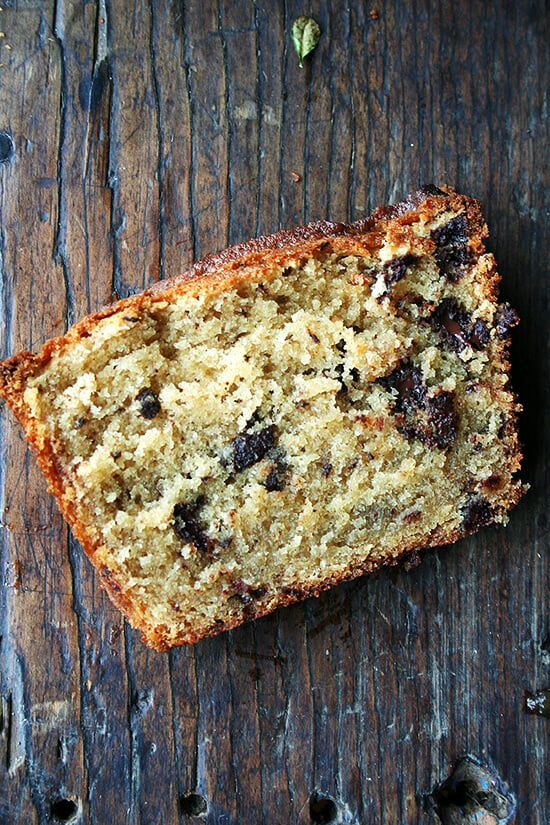 Print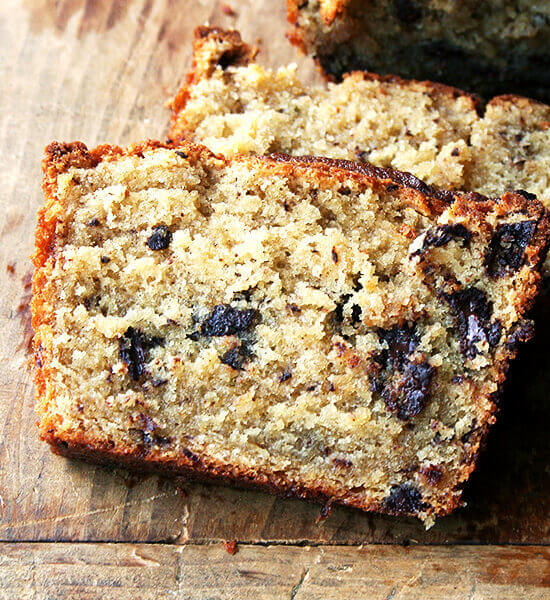 Sour Cream Coffee Cake with Orange & Chocolate
---
Description
Inspired by a recipe in More From Macrina
Notes: The original recipe calls for an orange syrup, a chocolate glaze, almonds, and a number of other ingredients/changes, so please check out the original if you are looking for the Macrina version.
I absolutely love this cake — the texture is super moist, and the orange zest and juice offer the nicest complement to the chocolate. 
---
1¾

(224 g) cups unbleached all-purpose flour

1/2

(114 g) cup sugar

1/2

(116 g) cup light brown sugar

1½ teaspoons

baking powder

1 teaspoon

baking soda

1 teaspoon

kosher salt
Zest of

1

orange

1 tablespoon

freshly squeezed (or not) orange juice

2 teaspoons

pure vanilla extract

3

large eggs

1 cup

sour cream

1 cup

butter, melted
a scant cup semisweet chocolate chips or chopped chocolate from a bar
---
Instructions
Position a rack in the center of the oven and preheat to 325˚F. Grease two 8.5 x 4.5-inch loaf pans or a bundt pan with butter or nonstick spray.
Whisk together the flour, sugars, baking powder, baking soda, and salt in a medium bowl. Mix in the orange zest with your fingers until evenly distributed. Set aside.
Whisk together the orange juice, vanilla, eggs, and sour cream in a separate medium bowl until thoroughly combined.
Whisk wet and dry ingredients together. Pour in melted butter and stir to combine. Fold in chocolate chips or chopped chocolate.
Pour the batter into the prepared pans. Bake for 45 minutes to an hour, or until the cake is golden brown on top and a skewer inserted into the center comes out clean. If you have an instant-read thermometer, it should register 200ºF. Cool the cake in the pan for 20 minutes, then turn out onto a plate.
Prep Time:

10 minutes

Cook Time:

45 – 60 minutes

Category:

Quick Bread

Method:

Oven

Cuisine:

American
Keywords: sour, cream, coffee, cake, orange, chocolate
This post may contain affiliate links. Please read my disclosure policy.