Better Than Classic Pound Cake (One Bowl, Hand Mixed)
This post may contain affiliate links. Please read my disclosure policy.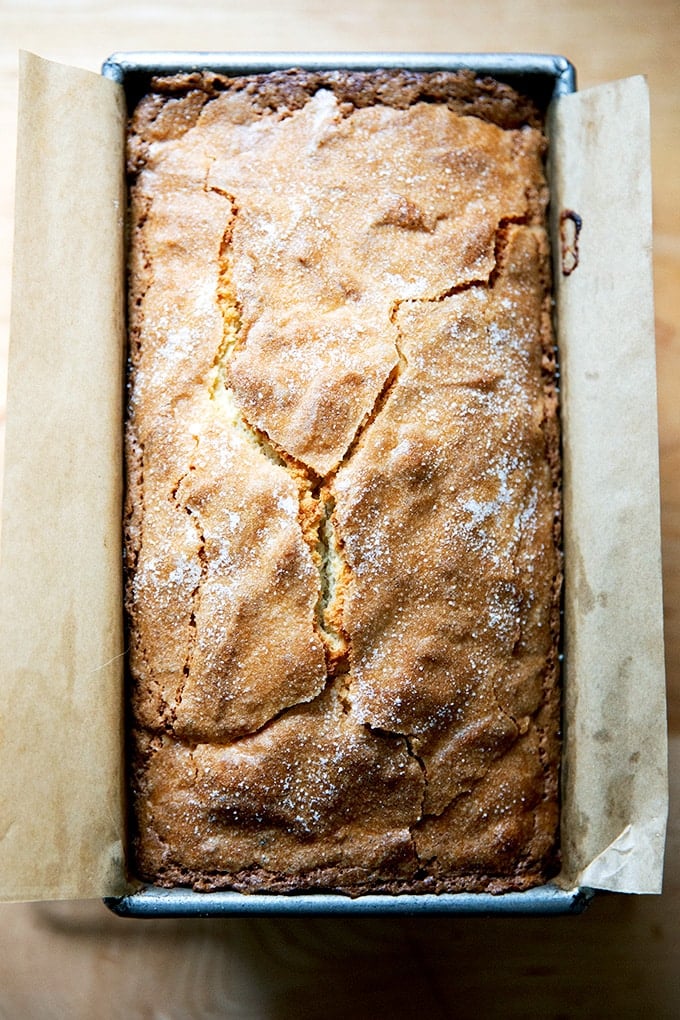 Friends, where to begin?
I spent last Sunday's rainy drive home from my sister's house poring over new cookbooks, namely Deb Perelman's latest: Smitten Kitchen Keepers: New Classics For Your Forever Files.
Immediately upon returning home, I made a recipe from the book, broccoli rabe with broken burrata, which hit the spot, not only because I was craving vegetables after a few days of feasting on pie and punch, but also because it was so delicious, perfectly garlicky and a little spicy, the bitterness of the greens all rounded out by the dollops of creamy burrata melting into every bite.
I could eat those greens every night for dinner, and I thought for sure that would be the recipe from the book I would share with you all, because I went on to make it several more times throughout the week, but then I made the simple black bean chili, which we all loved.
I loved the method, too, which calls for broiling peppers, onions, and garlic, coarsely puréeing them, sautéing them briefly, then adding the remaining ingredients. It came together in no time but tasted far more complex than a simple weeknight chili.
I know you all would love it, but then, my friends, I made the better-than-classic pound cake.
My son was at the table doing math homework when the loaf was cool enough to slice into and upon taking a bite, he threw his head back, eyes closed, and slumped in his chair. Completely overwhelmed by the deliciousness, he finally uttered: It's so good, Mom.
When the girls heard the mmmms coming from the kitchen, they emerged from their various corners to partake in the action and quickly concluded it was the best cake they had ever tasted. In the intro to the recipe, Deb says she wants this to be "the last pound cake recipe you'll ever need." She succeeded.
But Friends! Can I tell you the best part? It's made in one bowl! The recipe calls for melted butter and although you may be tempted to beat the butter with the sugar until it's light and fluffy, Deb strongly discourages that move, which will result in a much less rich crumb. We don't want that.
What we do want is a cake that gets better by the day, which this one does, or, I should say, allegedly does — the cake has never lasted more than one day in our house, so I can't speak to its keeping abilities, but Deb likes it even better on days two and three, so don't be afraid to make it ahead of time if you're expecting company this holiday season.
Smitten Kitchen Keepers: Such a good one. In addition to the dishes I mentioned above, I also made the charred salt and vinegar cabbage, which Ben and I loved. I'm still getting together a gift guide for the holidays, but in the meantime, I don't think anyone would be sad about receiving Deb's latest book, which is proving to be filled with treasures, from the writing to the recipes. If you are a fan of Deb's, you've likely already added this one to your library, but if you haven't: What are you waiting for?! Treat yourself.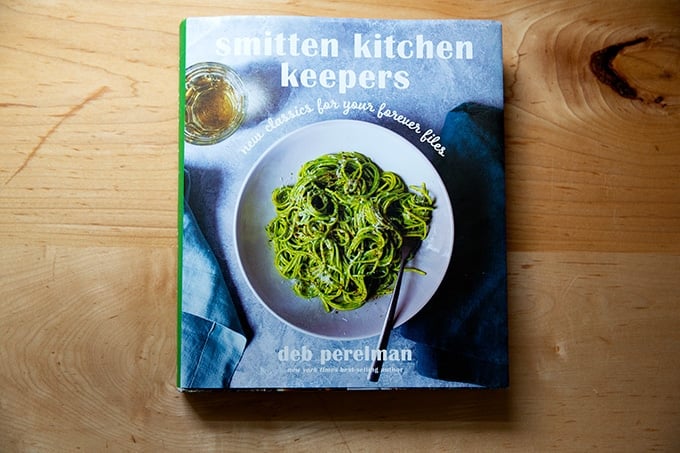 How to Make Pound Cake, Step by Step
First, gather your ingredients: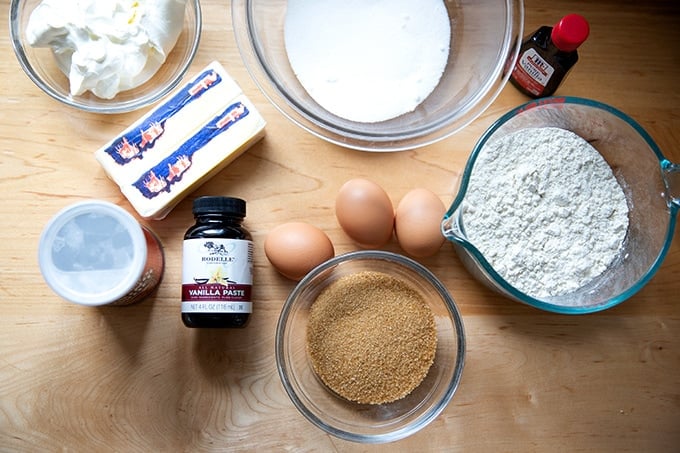 Whisk together the melted butter, sugars (granulated and turbinado), and salt.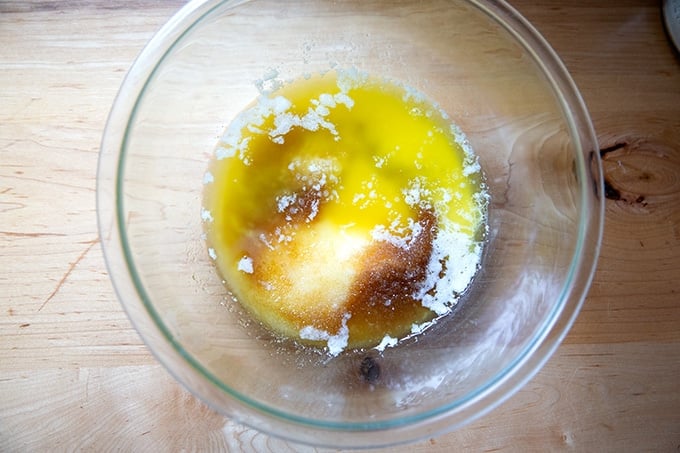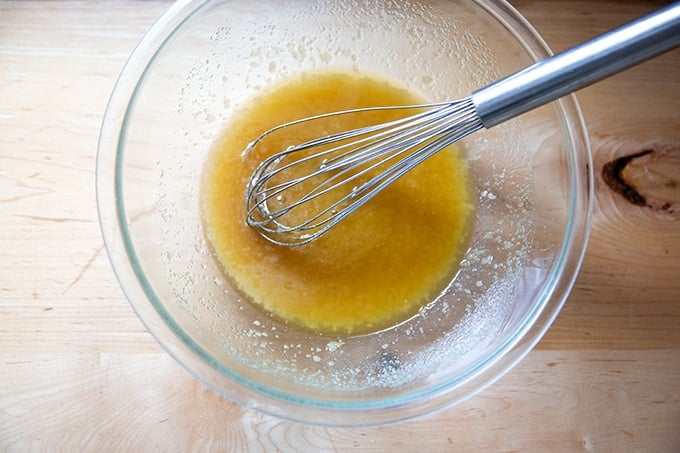 Then add the three eggs, one by one.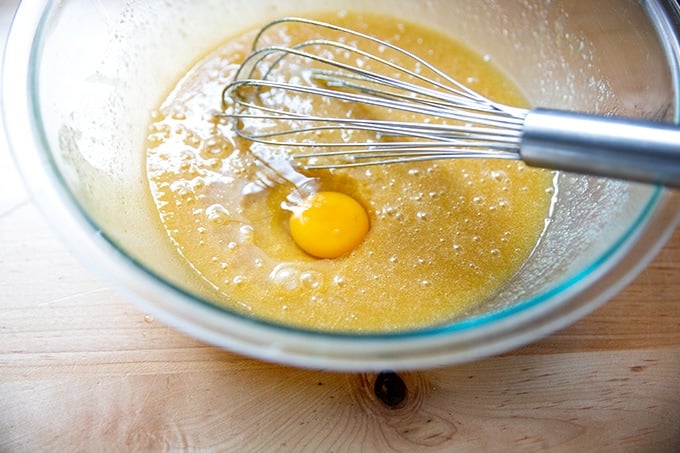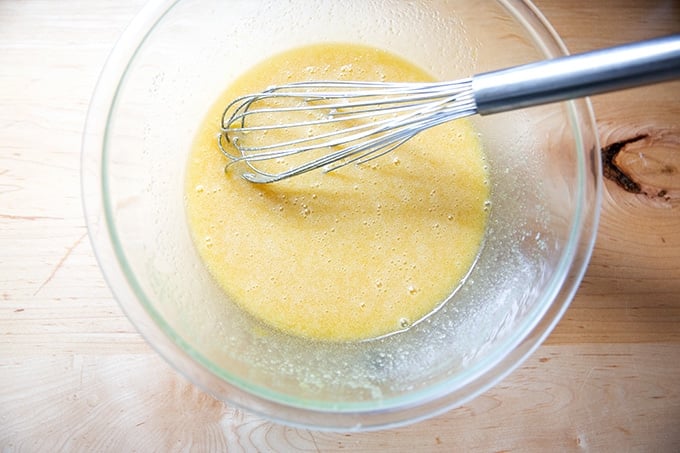 Next add sour cream, vanilla extract, and vanilla bean paste (or more vanilla extract if you're not using the paste).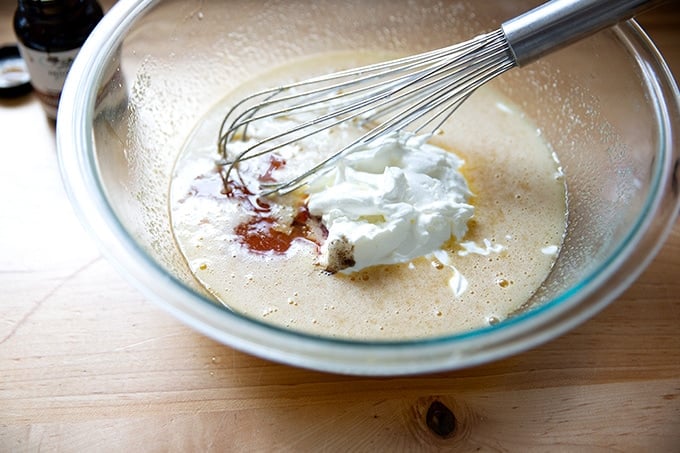 Whisk in the baking powder.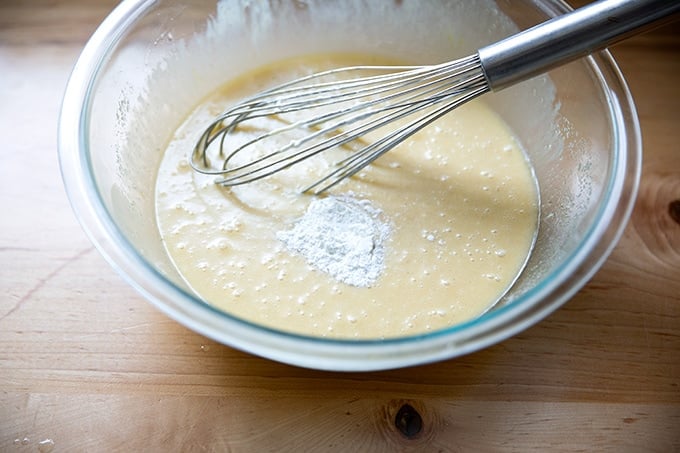 Finally, stir in the flour just until it is absorbed.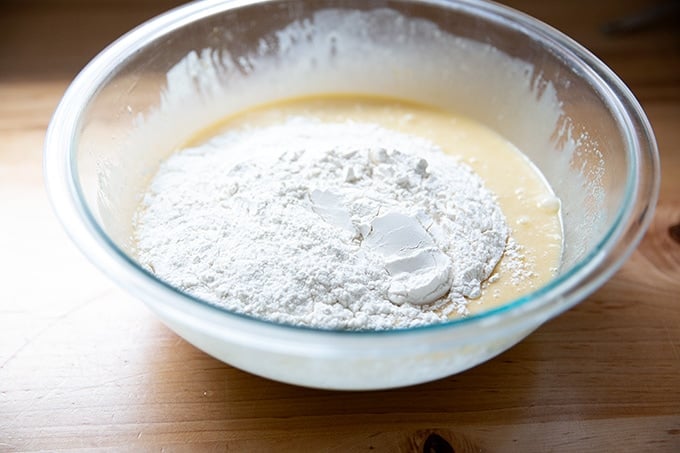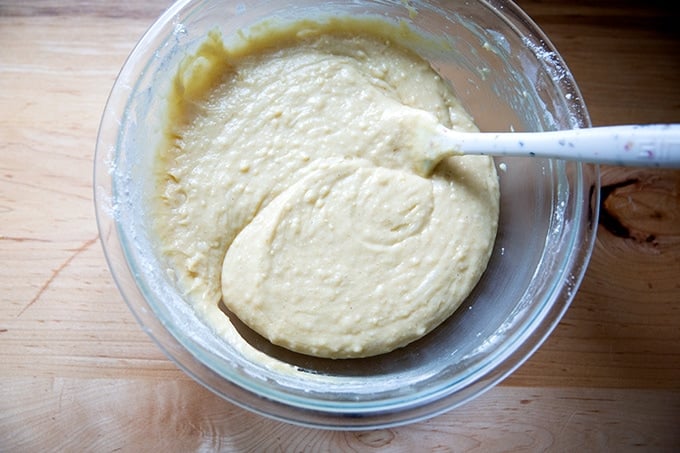 Transfer the batter to a loaf pan and sprinkle it with granulated sugar.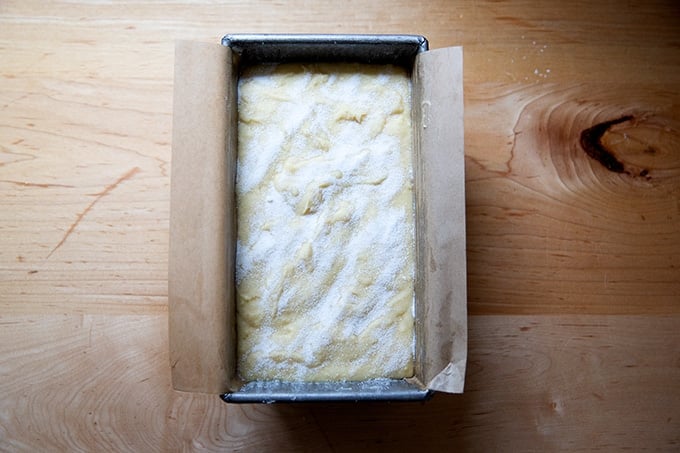 You could also bake the batter in mini loaf pans. See the recipe box for details.
Because the recipe calls for turbinado sugar (or brown sugar), I couldn't help but experiment with using turbinado sugar on top (as opposed to granulated sugar), but …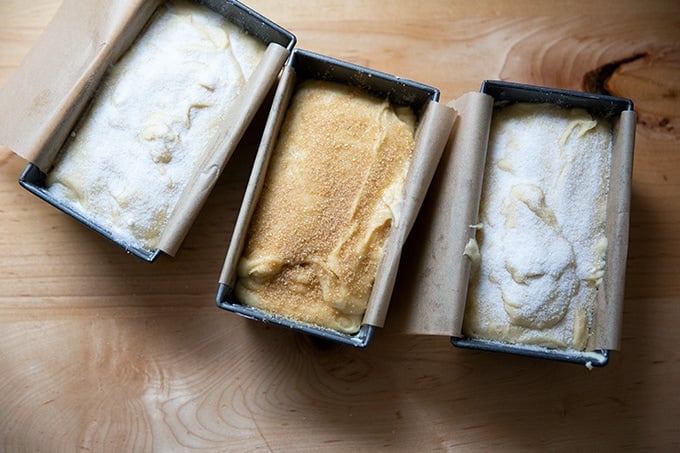 … in the end, I much prefer the look of the granulated sugar on top. The turbinado sugar-topped cake is in the upper left-hand corner in the photo below: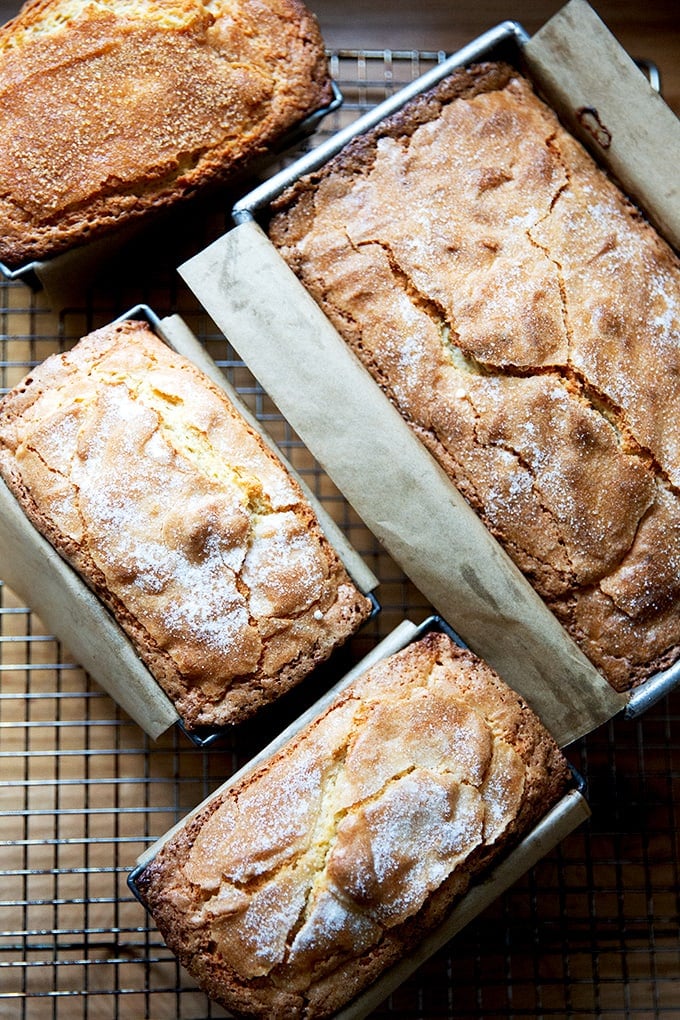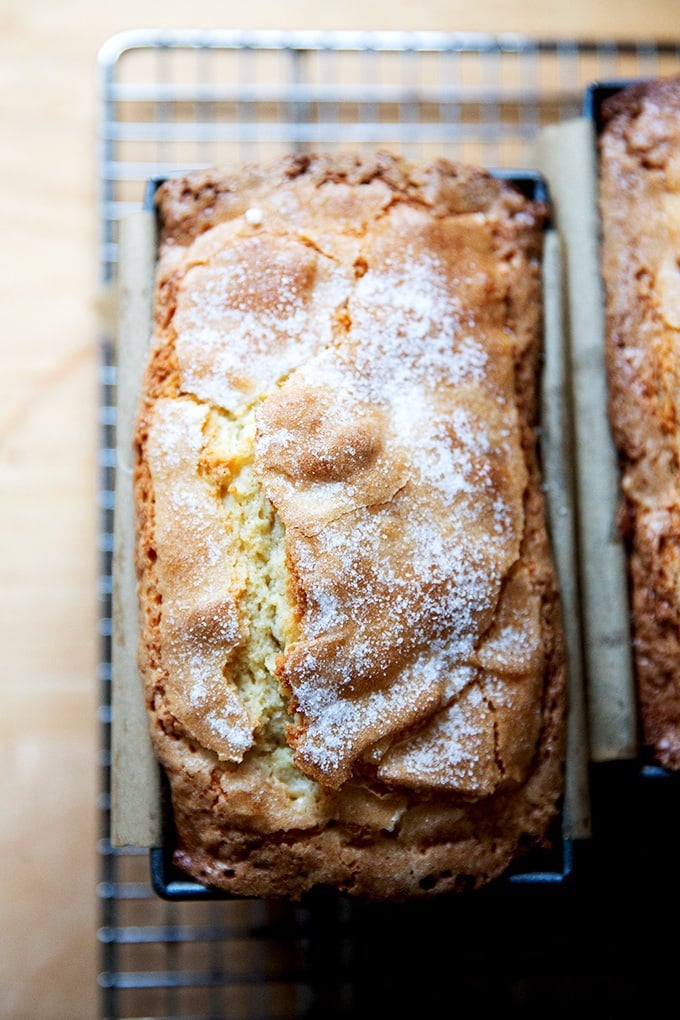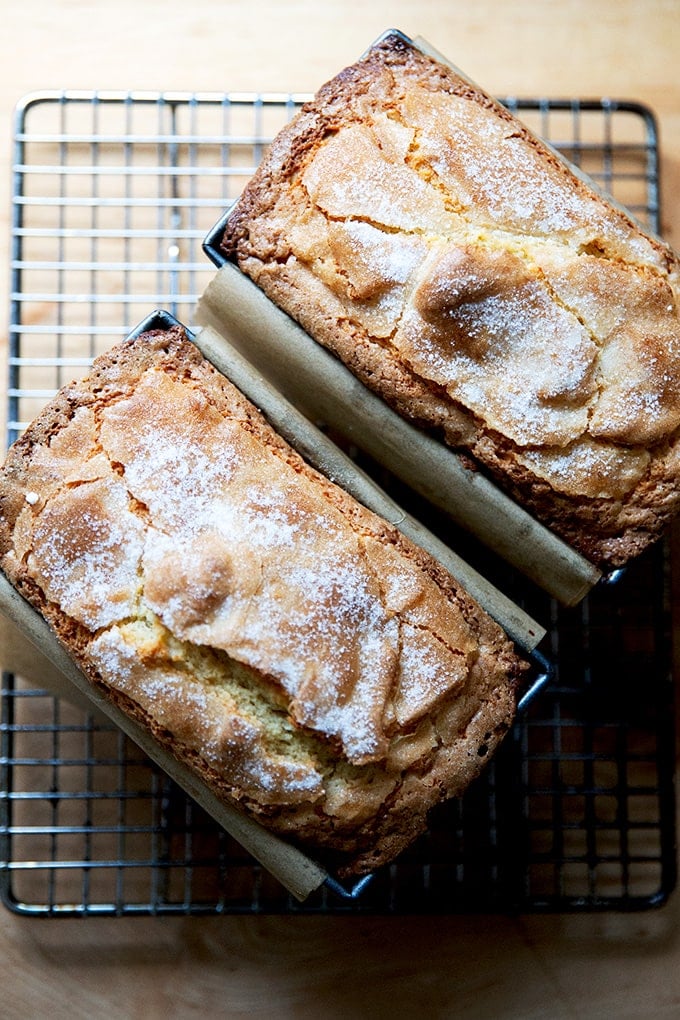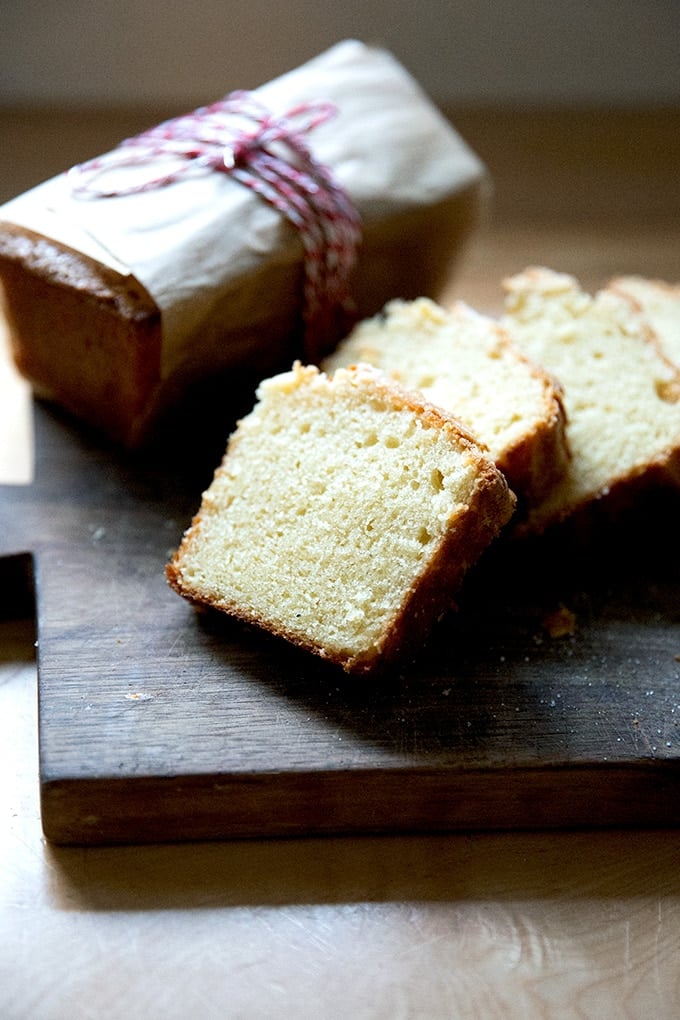 I repeat, no one would be disappointed to receive a copy of Smitten Kitchen Keepers this holiday season. A mini loaf of better-than-classic pound cake on the side would be, well, icing on the cake.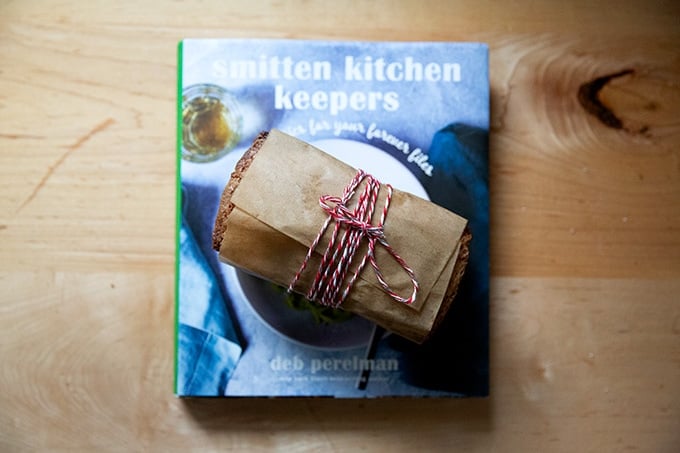 Print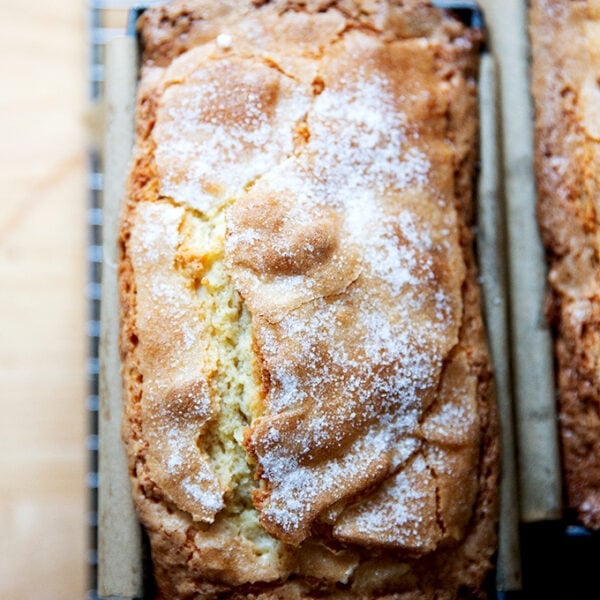 Better Than Classic Pound Cake (One Bowl, Hand Mixed)
---
Total Time:

1 hour 25 minutes

Yield:

1 loaf
Description
From Deb Perelman's latest book, Smitten Kitchen Keepers
Notes:
You need a 6-cup loaf pan for this. I use this 9×5-inch USA Loaf Pan (1.25 lb), which works beautifully, but if you are using a smaller one, you may want to not use all the batter. Deb suggests scooping out some of the batter and baking a mini cake muffin or two. 
You can also bake the batter in mini loaf pans. I used three of these, but depending on the size of your mini pans (which come in many different sizes), you may need more or less. 
You could also use disposable pans such as these, which also come in various sizes, so do measure before ordering.  
Because the recipe calls for turbinado sugar in addition to granulated sugar, I tried sprinkling it over the surface of one of the mini cakes I baked, but in the end, I preferred the look of the cake topped with granulated sugar. 
---
1 cup

(

225 g

) unsalted butter, melted and cooled slightly

1 cup

(

200 g

) plus

1 tablespoon

(

15 g

) sugar

1/2 cup

(

110 g

) turbinado or packed light-brown sugar

2 teaspoons

(

6 g

) kosher salt

3

large eggs

1 cup

(

240 g

) sour cream

1 1/2

to

2

teaspoons vanilla extract (use the smaller amount if you're using vanilla bean paste, too)

1/2 teaspoon

vanilla bean paste, optional

2 teaspoons

baking powder

2 cups

(

260 g

) all-purpose flour
---
Instructions
Heat the oven to 350ºF (175ºC). Coat a 6-cup (see notes above) loaf pan well with nonstick spray or butter, and line with a sling of parchment paper that extends up the two long sides. 
In a large bowl, whisk together the melted butter, 1 cup granulated sugar, all of the turbinado sugar, and the salt. Add the eggs one at a time, whisking after each addition. Add the sour cream, vanilla extract, and vanilla bean paste, if using, and whisk until smooth. Sprinkle the baking powder over the surface of the batter, and whisk many more times than are needed to make it disappear (to ensure it is very well dispersed through the batter). Add the flour, and stir with a spatula until just combined. 
Scrape the batter into the loaf pan, and drop the pan on the counter a couple of times to release any trapped air. Smooth the top, and sprinkle with the remaining 1 tablespoon granulated sugar (see notes above). 
Bake for 1 hour and 10 to 15 minutes, until a skewer inserted all over comes out batter free. If you are baking in mini loaf pans, start checking after 30 minutes. Depending on the size of your pan, it will take more or less time after that. My three minis were done in about 42 minutes total. Let it cool in the pan. Run a knife along the short sides of the cake, and use the parchment sling to remove the cake for slicing. 
Store the cake at room temperature for 5 days. Deb stores it in its loaf pan with the top uncovered so that it stays crisp. She presses a piece of foil against the cut side of the loaf only.
Prep Time:

15 minutes

Cook Time:

70 minutes

Category:

Dessert

Method:

Oven

Cuisine:

Amerian
Keywords: sour cream, vanilla, one bowl, pound, cake
This post may contain affiliate links. Please read my disclosure policy.