Cauliflower, Broccoli & Pepita Salad
This post may contain affiliate links. Please read my disclosure policy.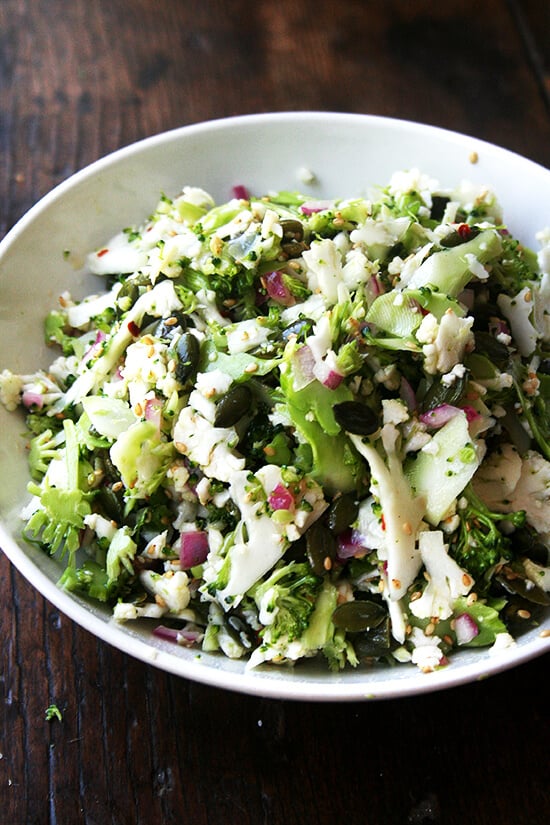 I've heard that trying to please everyone, as a general life strategy, may at best lead to disappointment and, at worst, failure. Eek.
But what if, say, without even trying, you just happen to please everyone? Hmm.
I thought about this on Sunday night as I sat at Pizza Buono, our favorite neighborhood spot not only for its delectable pizza and fresh-squeezed juices but also for its dining room, which is equipped with a well-stocked play kitchen for the kids.
Ben and I had grabbed a salad, a pre-made sort-of slaw, to tide us over while our pizzas cooked. We ate it straight from its clamshell packaging, passing it back and forth every few bites. Lightly dressed, the raw shavings of cauliflower and broccoli tasted fresh and crisp, and with every bite, I kept thinking how this combination would make the perfect side dish for a summer bbq, the ideal salad to take camping.
And as I inspected the ingredients, I realized I had encountered a gold mine. It's raw. It's vegan. It's gluten- and nut-free. And it happens to be delicious. Who would suspect that raw, shaved broccoli and cauliflower would pair so nicely with sesame seeds and pepitas?
When I made the salad the next day at home, I added a few things I always add to these sorts of salads: a little heat (jalapeño and red pepper flakes), sliced scallions, red onion, and a little dried fruit (dates) for a touch of sweetness. For the first time ever, I used the slicer attachment to my Cuisinart and discovered that one head of broccoli and cauliflower yields an enormous salad, more than enough for one dinner and lunch the following two days. Bold statement: no salad in the history of the world better stands the test of time than this one. A no-mayo dressing, too, means it will be safe on that buffet table for hours.
Look, I'm not trying to foster any people-pleasing tendencies you might be wrestling with, but this salad might just be your ticket to bbq bliss all summer long.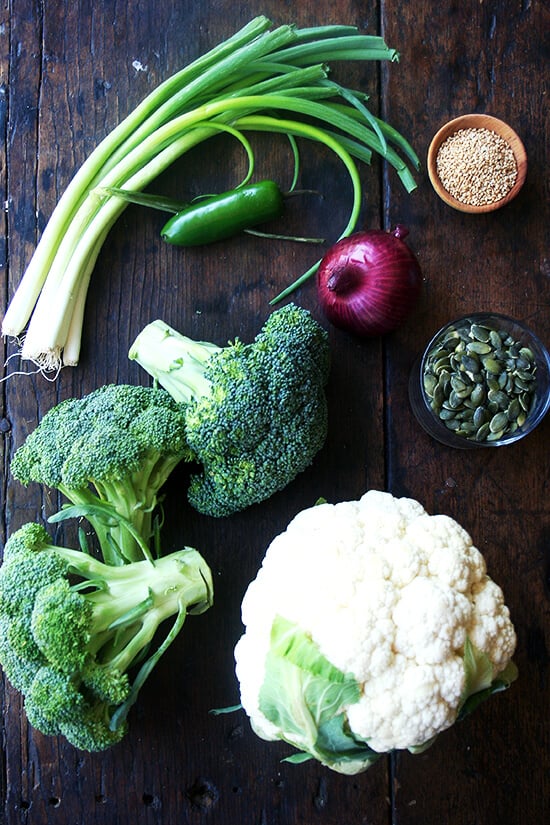 Slicer attachment to food processor: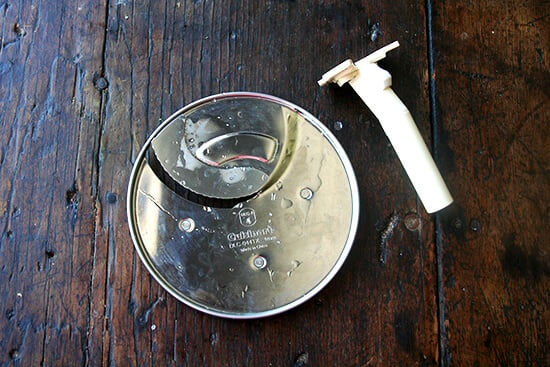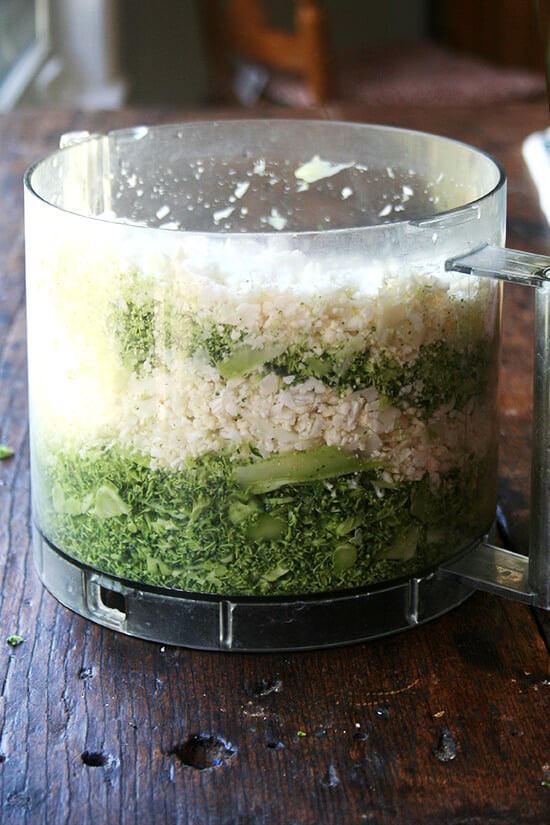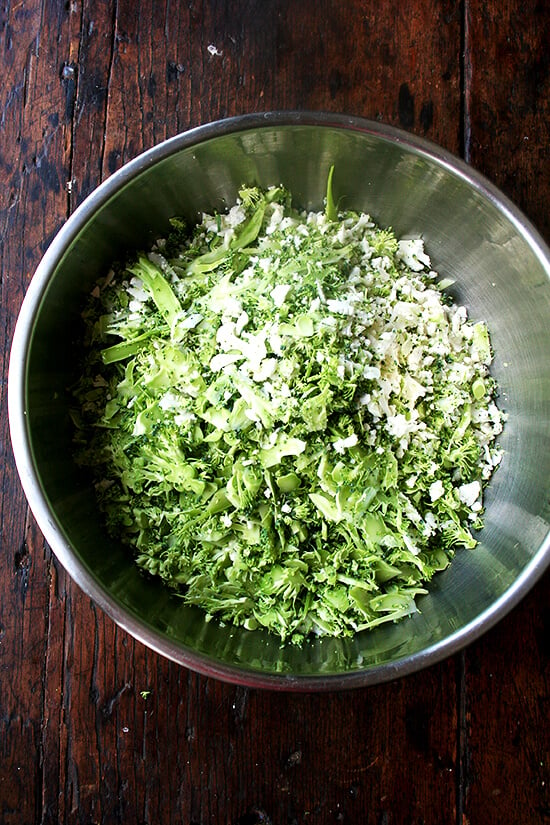 This is a great way to start any grain or raw vegetable salad: diced red onions macerated with a few tablespoons of vinegar and a pinch of salt: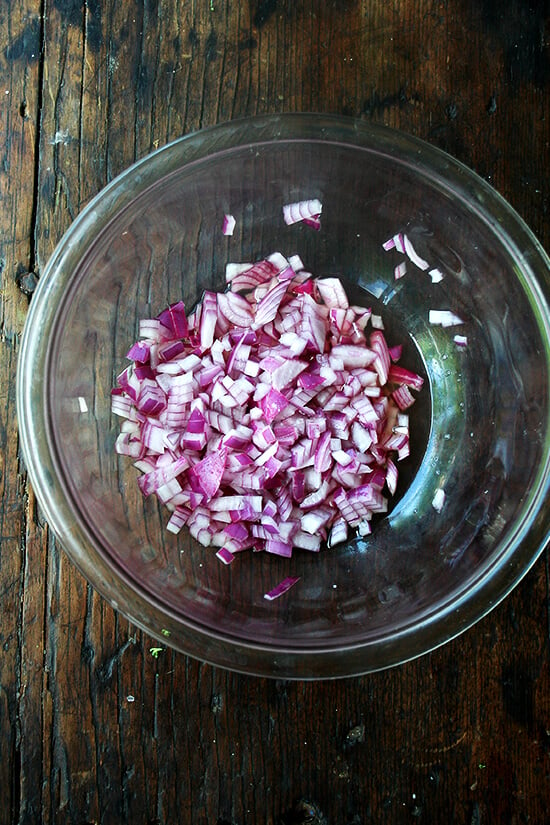 Pepitas, ready for the oven: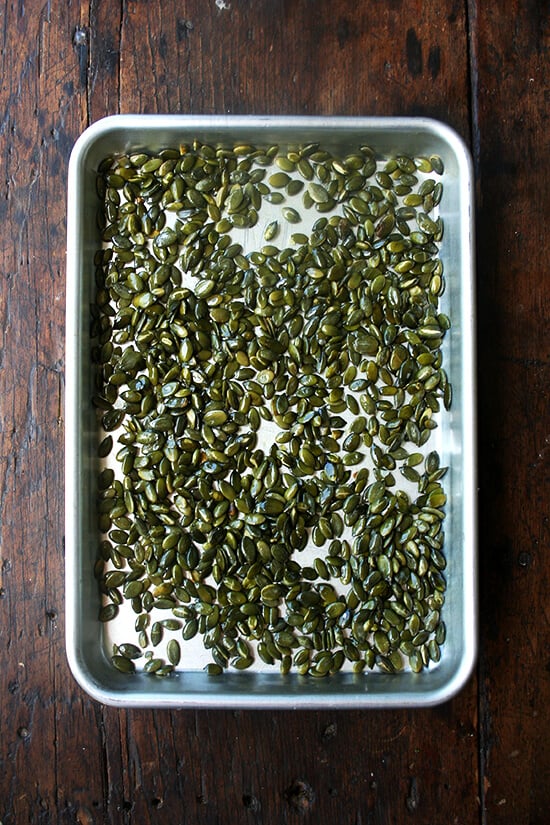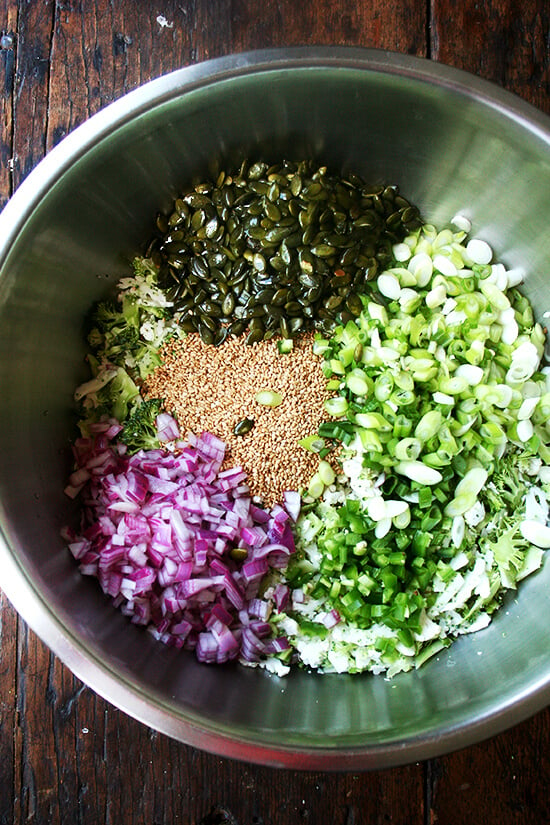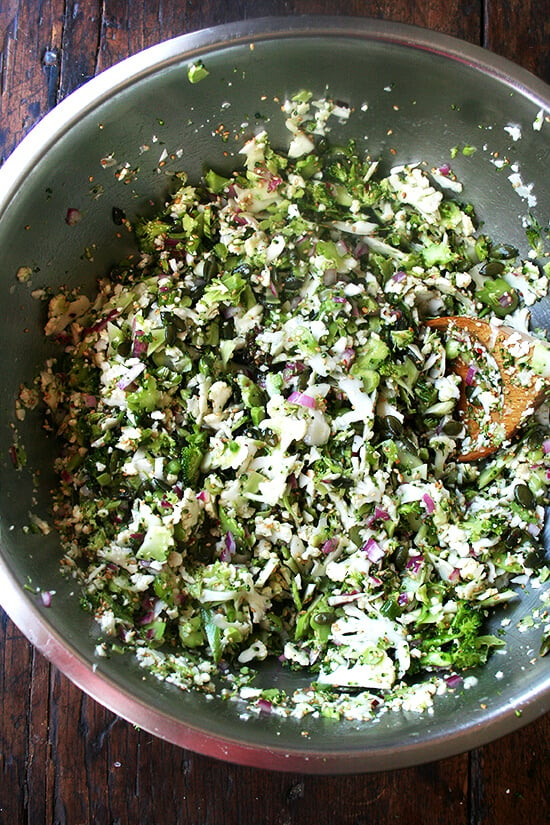 This salad packs so nicely: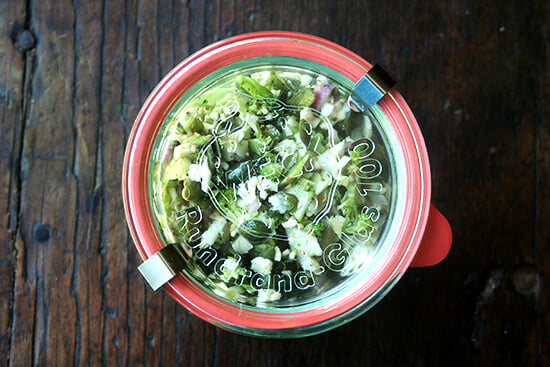 On day two, veggies are just as crisp, salad just as delicious: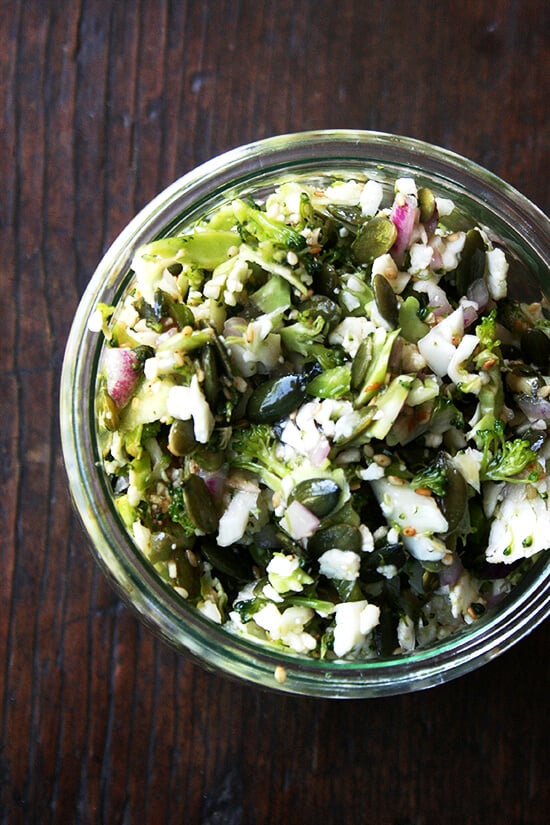 Print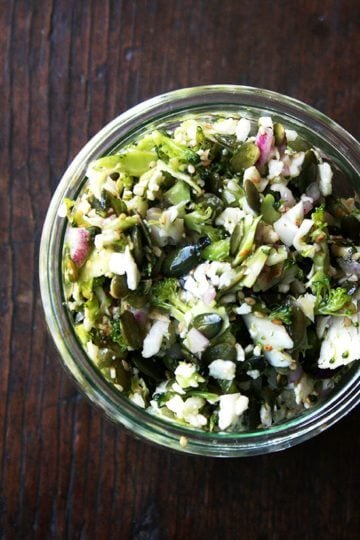 Cauliflower, Broccoli & Pepita Salad
---
Description
Inspired by a salad offered at a local restaurant, Pizza Buono.
Because the pepitas are toasted, this salad isn't probably technically raw, so feel free to leave them raw if you are sticking to that sort of diet. And because sesame seeds can trigger allergic reactions, please check before serving this salad to those with nut allergies.
This salad keeps very well. Can be made a day in advance. Unfortunately, I can't think of a great alternative to the slicer attachment of the food processor. A blender will likely turn the vegetables to mush; a mandoline (or a sharp knife) will work but will take forever.
---
1 cup

raw pepitas

1 tablespoon

olive oil
kosher salt or sea salt

1

small red onion or a couple of shallots

3

to

4

tablespoons white balsamic vinegar

1

head cauliflower

1

head broccoli

1

bunch (about

6

stalks) scallions

1/4 cup

sesame seeds, toasted or not

1

jalapeño or other hot chili, minced

2

to

3

Medjool dates, finely diced, or other dried fruit (golden raisins, dried cranberries)

1/3 cup

extra virgin olive oil, plus a few more tablespoons to taste

1/2

to

1

teaspoon kosher salt
red pepper flakes to taste (optional)
---
Instructions
Preheat the oven to 375ºF. Spread pepitas on a sheetpan, toss with 1 tablespoon (you could probably get away with using less) olive oil and a pinch of salt. Spread out and toast for 7 to 10 minutes or until you hear them starting to pop. Remove from oven and set aside to cool.
Meanwhile, dice the onions or shallots and place in a small bowl. Cover with three tablespoons of vinegar and a pinch of salt. Set aside.
Using the slicer attachment to your food processor, slice up the cauliflower and broccoli. I used almost the entire head each of cauliflower and broccoli and stopped forcing florets down the shoot once my food processor was loosely filled. The final yield was about 8 loosely packed cups.
Place sliced cauliflower and broccoli in a large bowl. Thinly slice the scallions (white and light green parts) and add to the bowl. Add sesame seeds, minced jalapeño and diced dates to bowl. Add cooled pepitas and macerated onions (with the vinegar) to the bowl. Add olive oil to bowl. Season with 1/2 teaspoon salt and toss well. Taste. If the jalapeño has provided enough heat, omit the red pepper flakes; if not, add pepper flakes to taste. Add more salt if necessary. Add more olive oil and vinegar as necessary: I added two more tablespoons olive oil and one more tablespoon vinegar. I used a whole teaspoon of salt. Toss again and taste.
Prep Time:

15 minutes

Cook Time:

10 minutes

Category:

Salad

Method:

Toss

Cuisine:

American
Keywords: broccoli, cauliflower, dates, pepitas, sesame, raw, vegan, gluten-free, dairy-free
This post may contain affiliate links. Please read my disclosure policy.