Cucumber Salad with Tahini-Yogurt Sauce
This post may contain affiliate links. Please read my disclosure policy.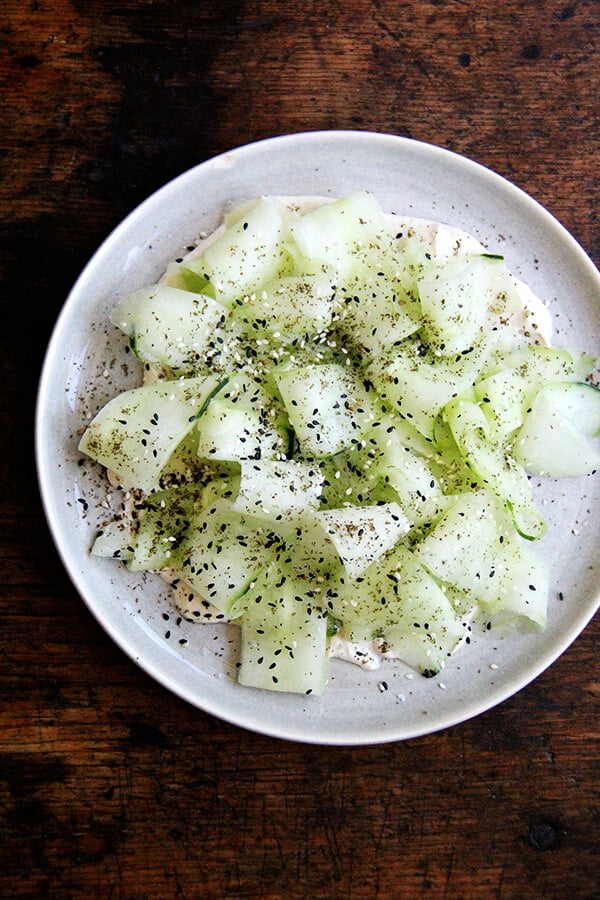 At some point during the spring, Ben and I watched Cooked, Michael Pollan's documentary on the history and evolution of food preparation. In each of the four episodes — Fire, Water, Air, Earth — Pollan explores various cooking techniques, tackling classic recipes along the way. After watching Air, an episode devoted mostly to bread that prominently features Richard Bourdon of Berkshire Mountain Bakery, I added "day-trip to the Berkshires" to our summer bucket list.
And last Sunday, we checked that box, taking the scenic route home from my parents' house in Guilford, CT, making a stop in Great Barrington, MA for bread. Having watched Cooked but also knowing Bourdon's influence — Chad Robertson's bread journey began at BMB — we had high hopes for the naturally leavened sourdough loaves made from flour milled on the premises.
And while the bread more than lived up to its reputation, the trip turned out to be so much more than a check off a bucket list. No sooner had we walked through the bakery door than Bourdon himself appeared. Tools in hand, he was on his way to fix a floor, but we stopped him to say hello and to tell him how much we loved Cooked, which led to a discussion about grains, flour, digestion, fermentation, fire, water, time — I could have listened all day.
We picked up two take-and-bake pizzas along with a potato-rosemary boule and two loaves of ciabatta, which we tore into on the way home and snacked on all week. For breakfast on Wednesday, remembering a recent comment on the roasted vegetables with tahini and za'atar post, I toasted a few slices of ciabatta, spread them with a yogurt-tahini sauce (leftover from a Swiss Chard Ottolenghi recipe), and topped it all with slices of salted cucumber. I loved it so much, I made it again for dinner, serving broiled slices of ciabatta aside a ribbony cucumber salad atop a smear of yogurt-tahini sauce.
Apart from broiling the bread, this essentially is a no-cook meal, a refreshing salad to make good use of those cool summer cucs, which might just be arriving in droves.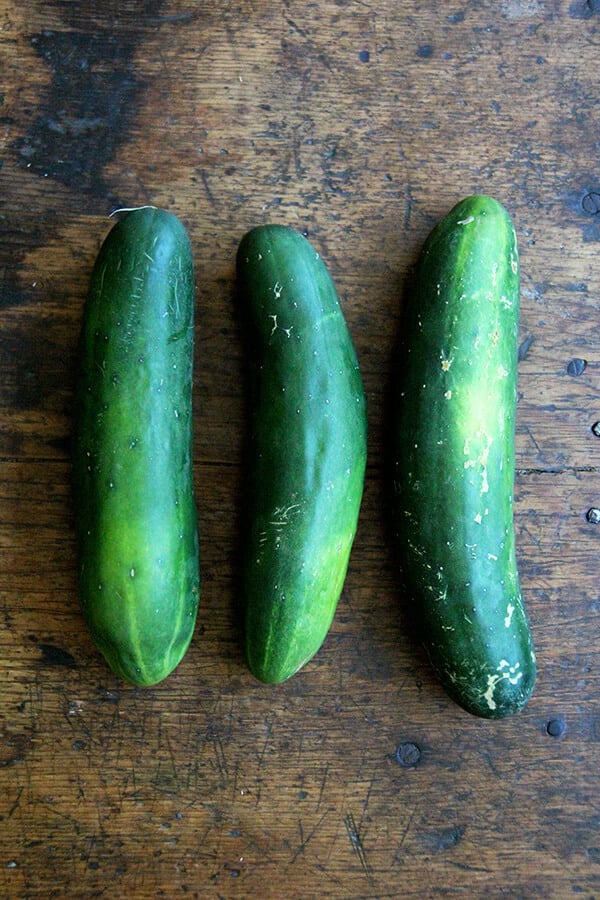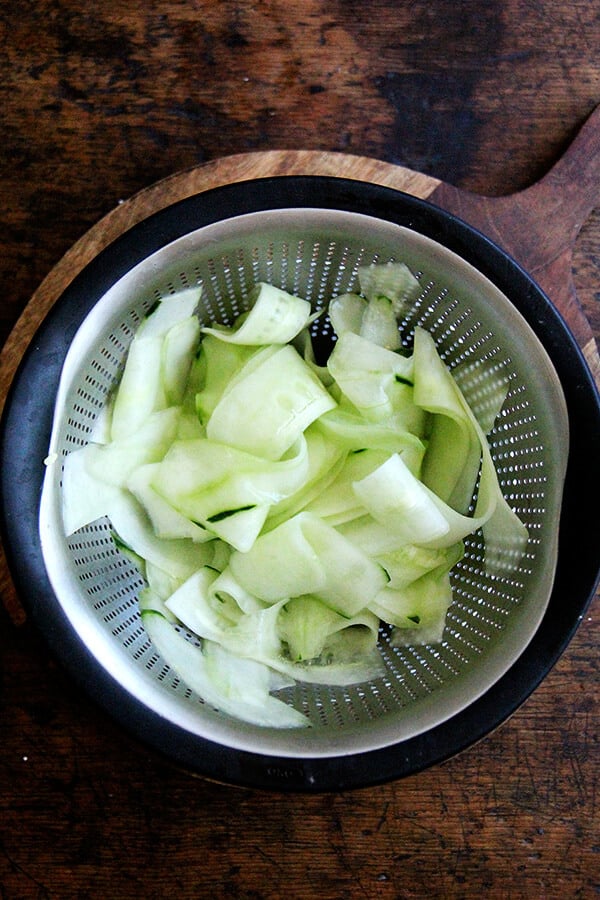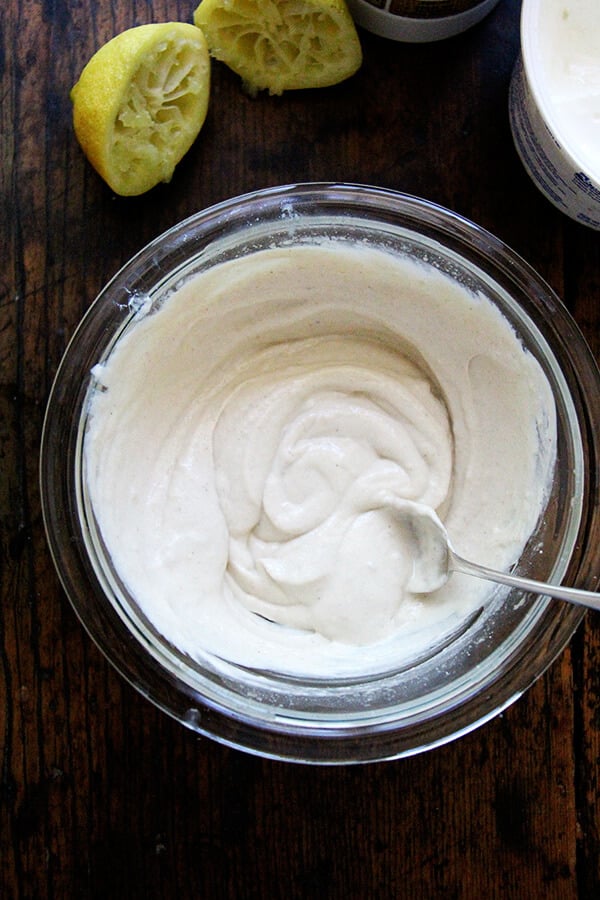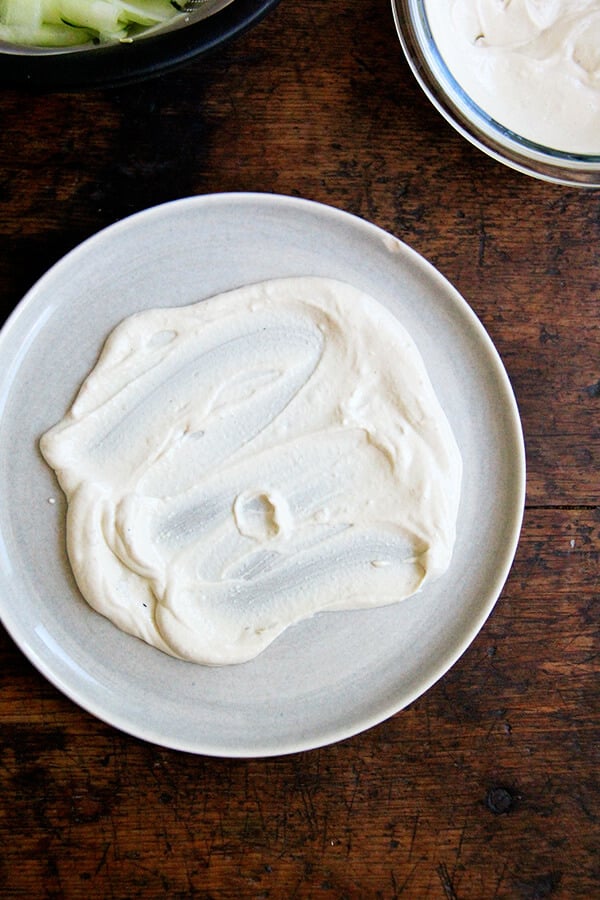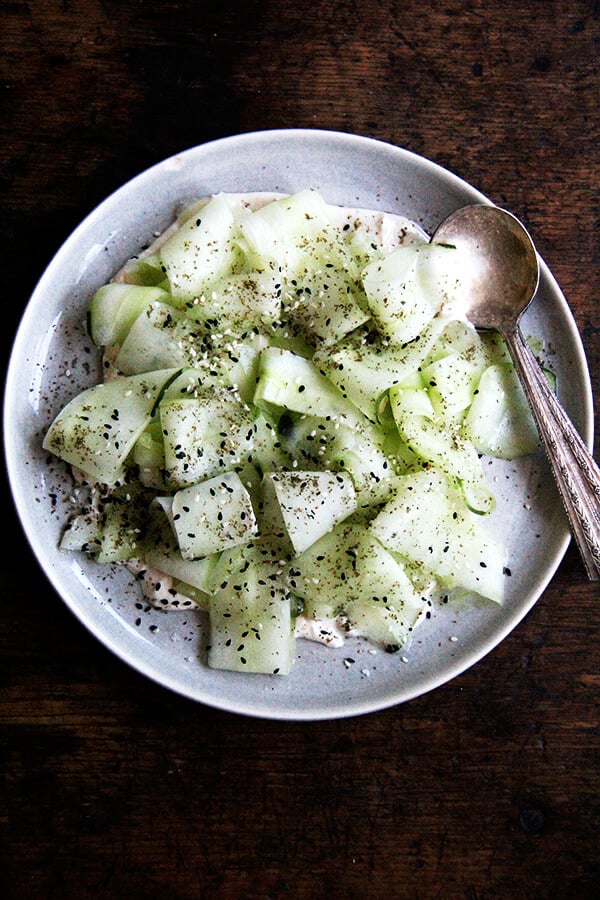 Berkshire Mountain Bakery ciabatta: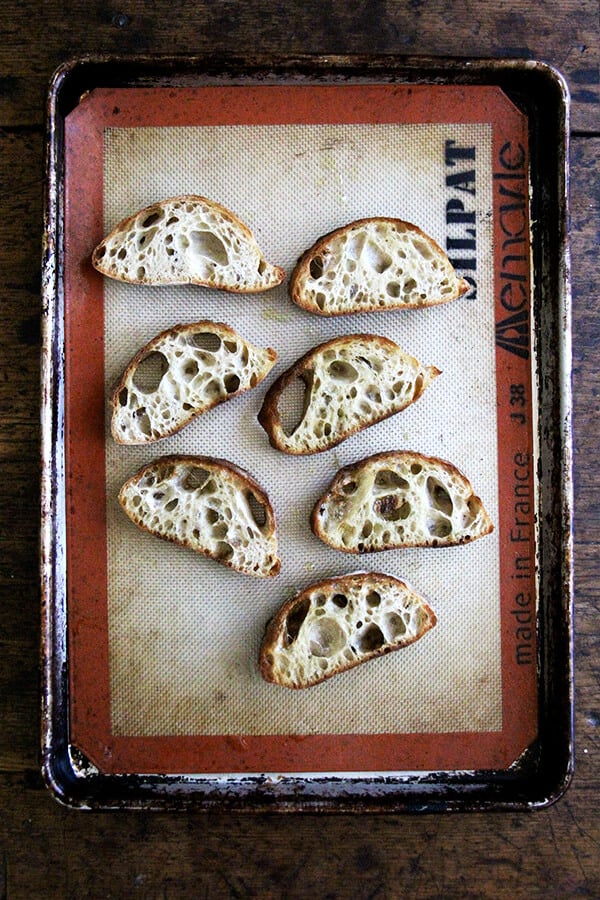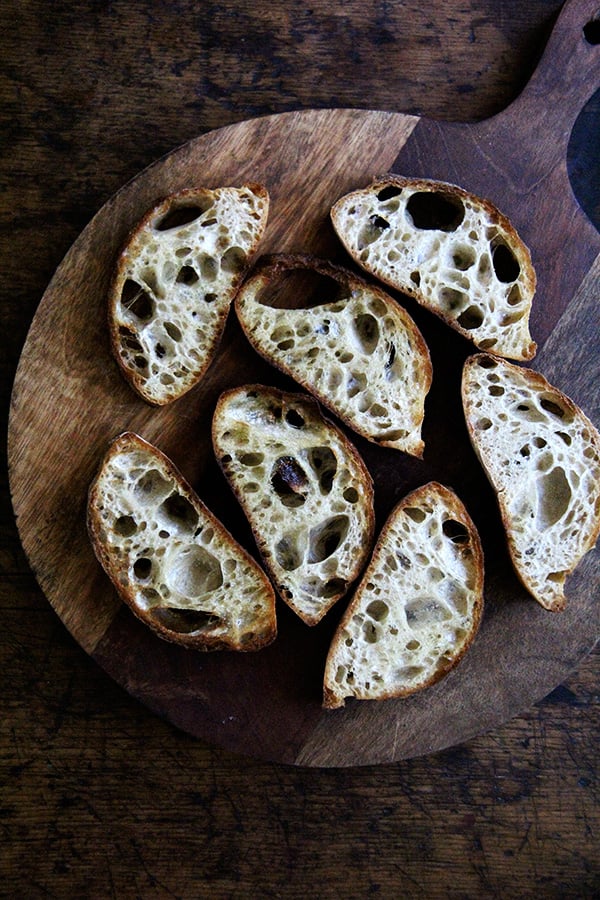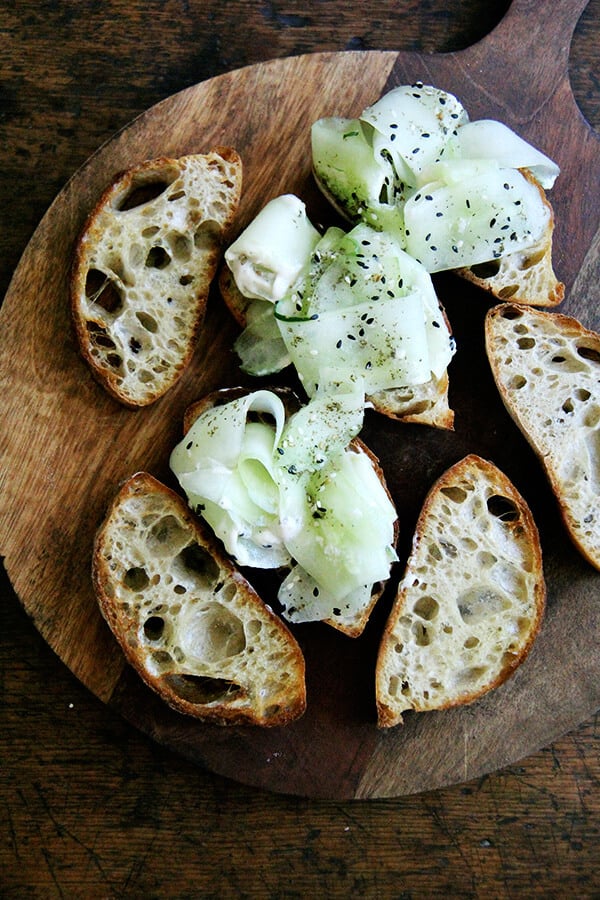 Print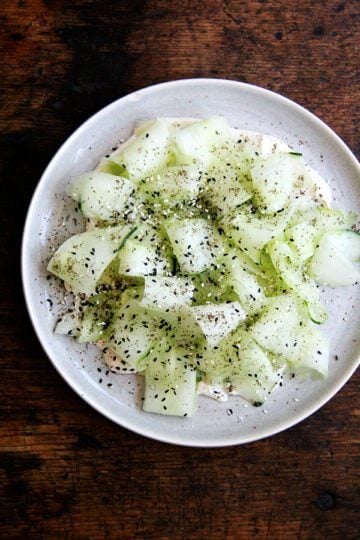 Cucumber Salad with Tahini-Yogurt Sauce
---
Author:

Alexandra

Total Time:

20 minutes

Yield:

2 to 4 servings
Description
A super simple salad: ribbons of cucumber salted and left to drain until they soften + a smear of yogurt-tahini sauce, a recipe adapted from the Ottolenghi's Jerusalem. You can turn this into an appetizer or dinner by broiling some bread drizzled with olive oil. Serve the bread aside the salad or assemble little tartines: smear the bread with the yogurt sauce, top with the cucumber salad. Serve more yogurt sauce on the side. Note: My husband found this a little bland — offensive! — so, I would sprinkle the cucs with some olive oil and vinegar if you do, too. I personally like it as it is or with more yogurt sauce, but I can imagine a little oil and vinegar being nice, too.
---
2

to

3

cucumbers, peeled

3/4 teaspoon

kosher salt, divided, plus more to taste

1/4 cup

stirred tahini paste

1/4 cup

+

1 tablespoon

Greek yogurt

2 tablespoons

freshly squeezed lemon juice

1 teaspoon

maple syrup

2 tablespoons

water
za'atar or sesame seeds or nice sea salt for sprinkling
---
Instructions
Thinly slice the cucumbers lengthwise into ribbons. I use my mandoline for this, and I stop when I get to the seeds. (To not be wasteful, I slice up the leftover seedy rectangle, salt it, and eat it as a snack.) You can also use a peeler if you press down hard enough. Or simply slice with a knife as thinly as possible — once you salt them, they will soften.
Place the ribbons in a colander, sprinkle with 1/2 teaspoon kosher salt, and leave to drain over a plate or in the sink for about 15 minutes—you just want them to soften/relax a bit. Toss every five minutes or so.
Meanwhile, make the yogurt sauce: stir together the tahini, yogurt, lemon, maple syrup, water, and remaining 1/4 teaspoon salt. Taste. Add more salt if necessary.
Smear a plate with 1/4 cup of the sauce (or more—see photo for reference). Top with the wilted, ribbony cucumber slices. Season as you wish with za'atar, sesame seeds, sea salt, or all three.
This post may contain affiliate links. Please read my disclosure policy.