Toasted Orecchiette with Zucchini & Corn
This post may contain affiliate links. Please read my disclosure policy.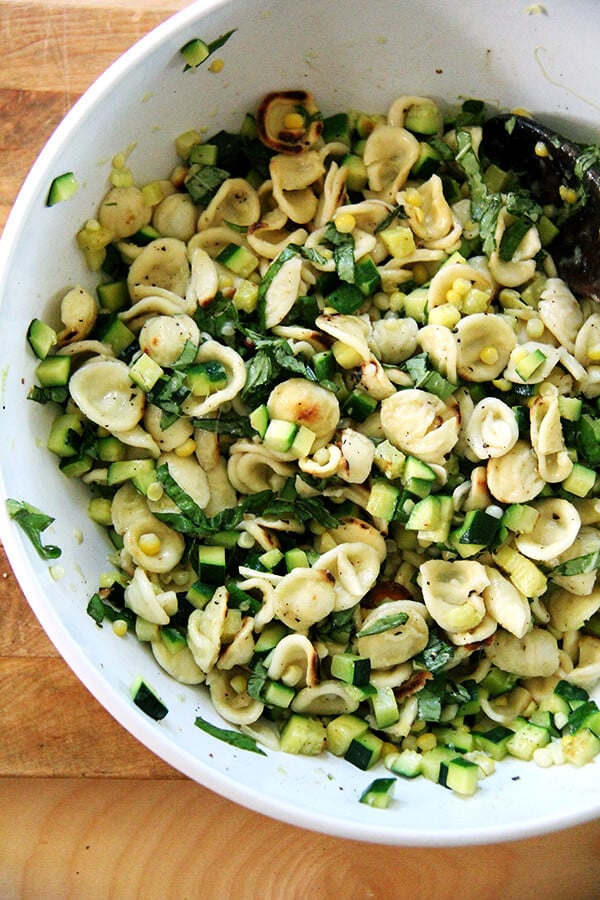 I just returned from CT, where I spent a week at my parents' house with the kids: mine, my sister's, a neighborhood girl … I think that's it. The children (some of them at least) spent their mornings at Lego camp, afternoons in the pool, and evenings on the porch eating BLTs, Greek salad, and my mother's homemade vanilla ice cream, which is so, so good — she's been using Julia Moskin's recipe: Easiest Vanilla Ice Cream.
Two nights in a row, too, we ate this zucchini and corn pasta, a recipe adapted from Chez Panisse Vegetables combined with a technique featured in the RSVP section of the January Bon Appetit, which calls for toasting cooked orecchiette in a hot skillet in a little bit of olive oil. It's a simple step, but one that provides the dish with a little more texture, color, and flavor.
Hope your week is off to a good start!
PS: More corn and zucchini recipes here.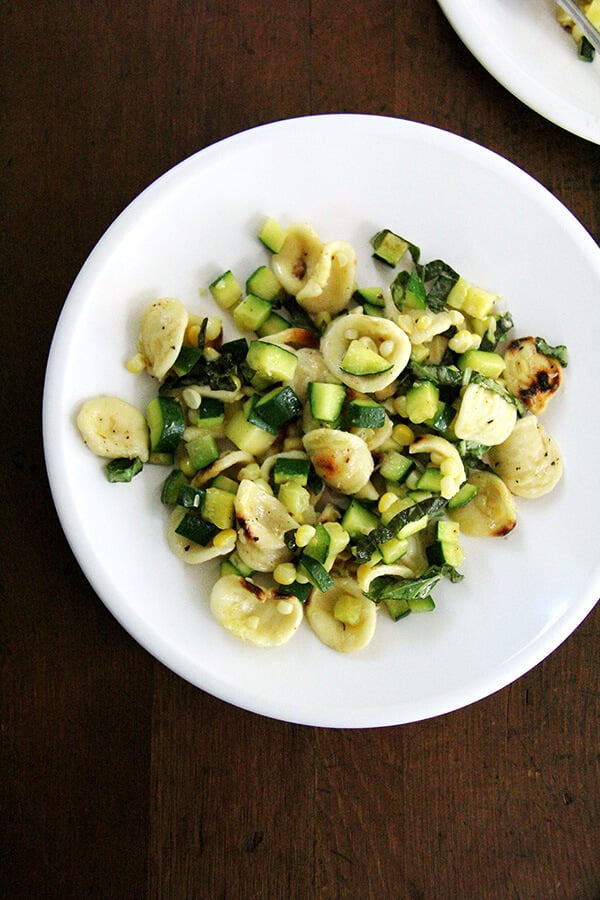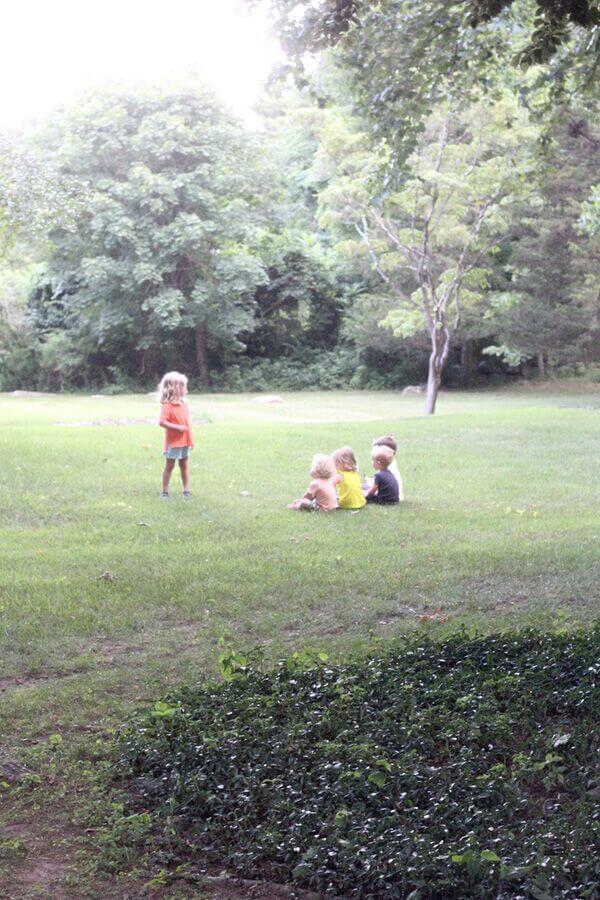 My mother's BLTs: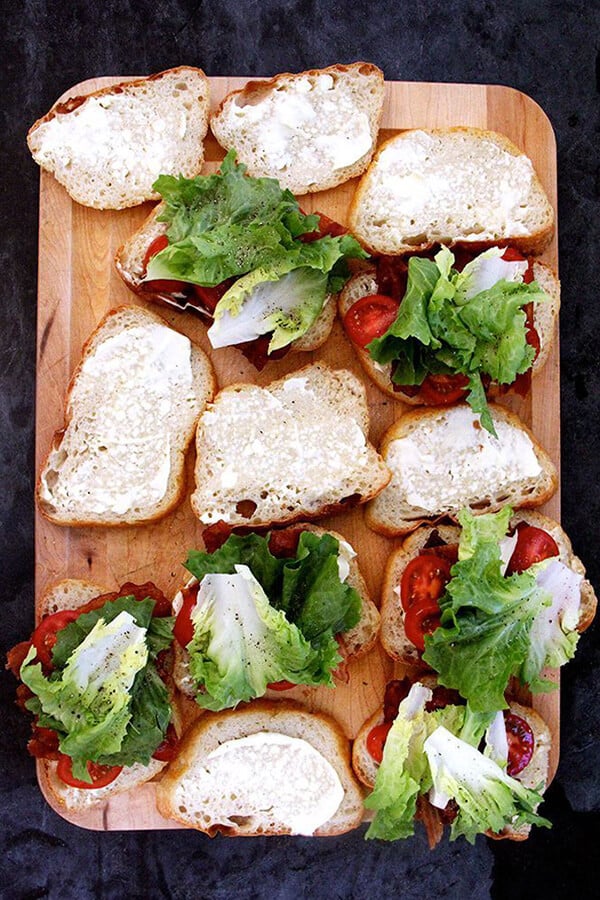 Print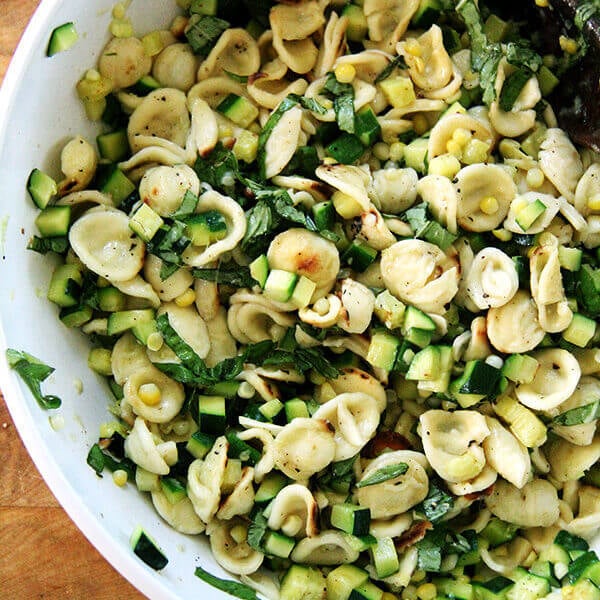 Toasted Orecchiette with Zucchini & Corn
---
Description
Adapted from Chez Panisse Vegetables, this squash and corn pasta recipe is a summer favorite. I've altered it very slightly, using crème fraîche in place of butter and basil in place of the cilantro, and omitting the jalapeño. I've also been making it with orecchiette, which I toast in olive oil, a trick I read about in a recent Bon Appétit, which creates crispy, golden edges. This step is optional, but it adds nice texture and color and is just kind of fun. The key with this recipe is to cook the vegetables for no more than 3 minutes or they turn to mush by the end. Toasted pine nuts would be a nice addition here.
---
1

tablespoon kosher salt plus more to taste


12

ounces orecchiette


5

tablespoons extra-virgin olive oil, divided


4

to 5 small zucchini, small diced to yield 4 cups


2

ears of corn, shucked, kernels removed


2

cloves garlic, finely sliced


1/4

cup crème fraiche


1/2

cup basil, finely sliced

Freshly cracked pepper to taste


Lemon for serving, optional
---
Instructions
Bring a large pot of water to a boil over high heat. Add 1 tablespoon kosher salt. Cook pasta al dente, reserve 1/2 cup of the cooking liquid (or even more if you want some on hand for reheating), drain pasta, transfer it to a large bowl, and toss with 1 tablespoon of the olive oil.
Meanwhile, place 2 tablespoons of the olive oil in a large sauté pan over high heat. When it shimmers, add the zucchini, corn, and garlic. Immediately reduce the heat to medium, season lightly with salt, and cook for 2 minutes undisturbed. Stir, and cook for one minute more, then transfer to a large serving bowl—zucchini may taste underdone, but it will continue to cook as it sits.
Add 2 more tablespoons of the olive oil to the pan. When it shimmers, add the pasta and let it cook undisturbed for 1 minute. Stir, and let it cook for another minute. The edges should be starting to brown. Repeat this process for 2 more minutes, or until the pasta is browned to your liking, then transfer it to the bowl with the vegetables. Add the reserved pasta cooking liquid and the crème fraiche to the sauté pan and stir until emulsified, then transfer to the bowl of pasta. Add the basil, and toss everything together. Taste. Season with pepper to taste and more salt if necessary.
Serve pasta with lemon wedges on the side, if desired.
Prep Time:

10 minutes

Cook Time:

30 minutes

Category:

Pasta

Method:

Stovetop

Cuisine:

American
Keywords: pasta, summer, squash, zucchini, corn, orecchiette
This post may contain affiliate links. Please read my disclosure policy.