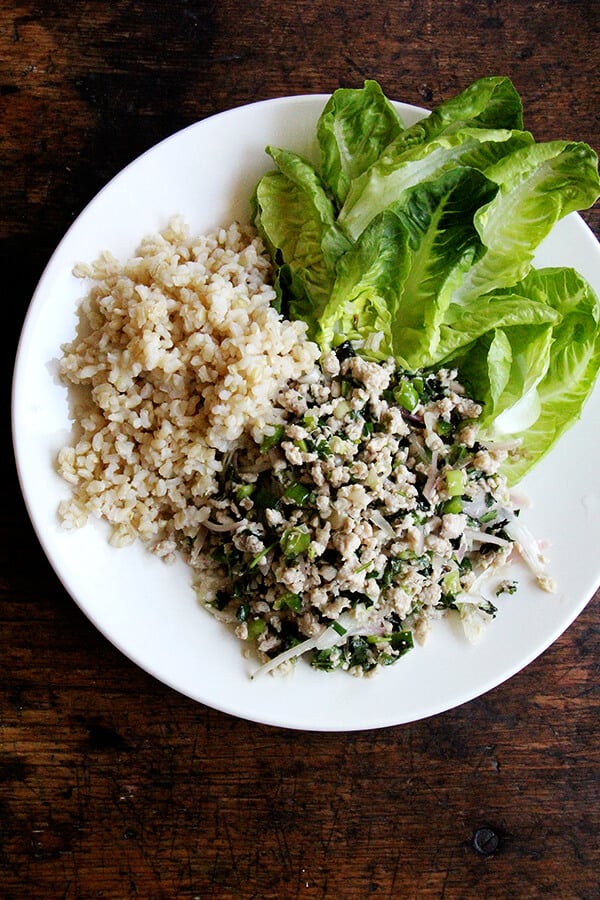 Earlier this year I spent a few weeks with my mom in Oakland. We spent most of our days in a studio in Emeryville observing a photographer and stylist work their magic, but also looking forward to lunch: tacos, curries, and the larb gai from Summer Summer.
Before this trip, I hadn't had larb, the meat-based Thai salad loaded with fresh herbs, shallots, and chilies, in years, and I had forgotten how good it can be — at once refreshing, spicy, and satisfying. As soon as I got home, I made a simplified version of an old Bon Appetit recipe, and posted it over on Food52.
Making larb feels unfamiliar, to me at least, calling for cooking ground meat in water (or stock) just until cooked through (not brown), then tossing it liberally with a dressing made from fresh lime juice, fish sauce, and sugar. But it's so good and fun, too — spooning the rice into the crisp lettuce leaves, topping it all with the spicy, bright salad — and has been a favorite this summer especially on super hot evenings.
I have yet to make this salad with the ground toasted rice, the traditional seasoning that imparts a subtle nuttiness while also thickening and binding the dressing, but I find it just as tasty without it. Here's the recipe: Larb Gai
Hope you all are well!