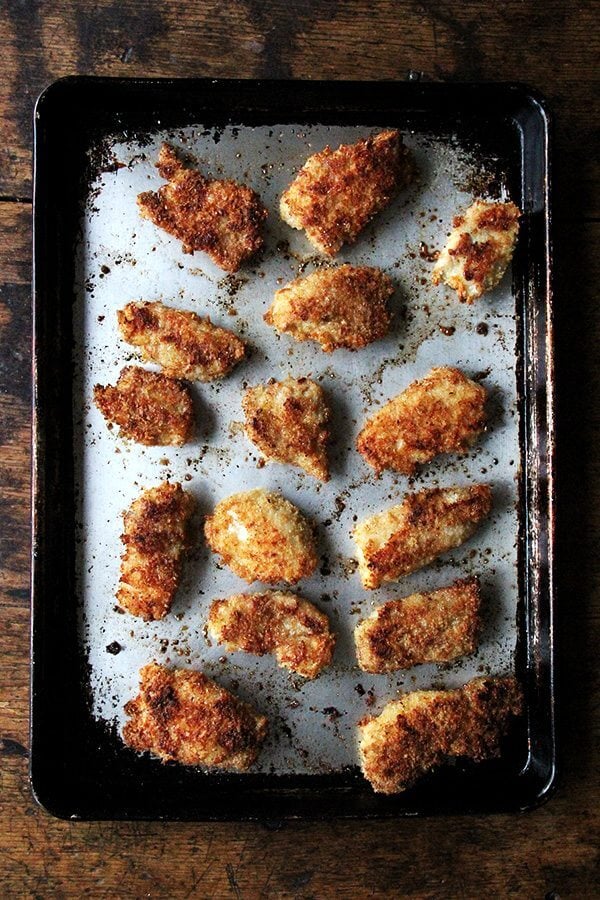 My least favorite part about making breaded cutlets is standing at the stovetop frying them. Even with two large pans going, I can never get away with cooking all of the pieces at once. Stovetop frying demands monitoring — adjusting the temperature here and there, replenishing oil as needed.
This is why I love the chicken fingers recipe in A New Way to Dinner, the latest cookbook from Food52's Amanda Hesser and Merrill Stubbs. The breaded strips of chicken bake on briefly preheated sheet pans. After 20 minutes (with a flip at the 10 minute mark), they're done — there's no monitoring, no oil replenishing. Why have I never done this?!
In the recipe notes, Amanda describes these as "the best chicken fingers on earth," crediting the use of thighs (as opposed to breasts) for more flavor and the inclusion of both parmesan and oregano in the seasoning.
I have to confess I've yet to use the oregano — the little people in my house might protest — but even without it, these chicken fingers are utterly delicious. The crust gets incredibly crispy thanks to both panko and parmesan, which browns so nicely, and the meat remains juicy.
I've been making a "special sauce," A&M's suggested condiment if you intend to make sandwiches — for the adults and squirting ketchup out for the littles, who would be happy if I never made them anything else for the rest of their lives. Winner winner chicken finger dinner!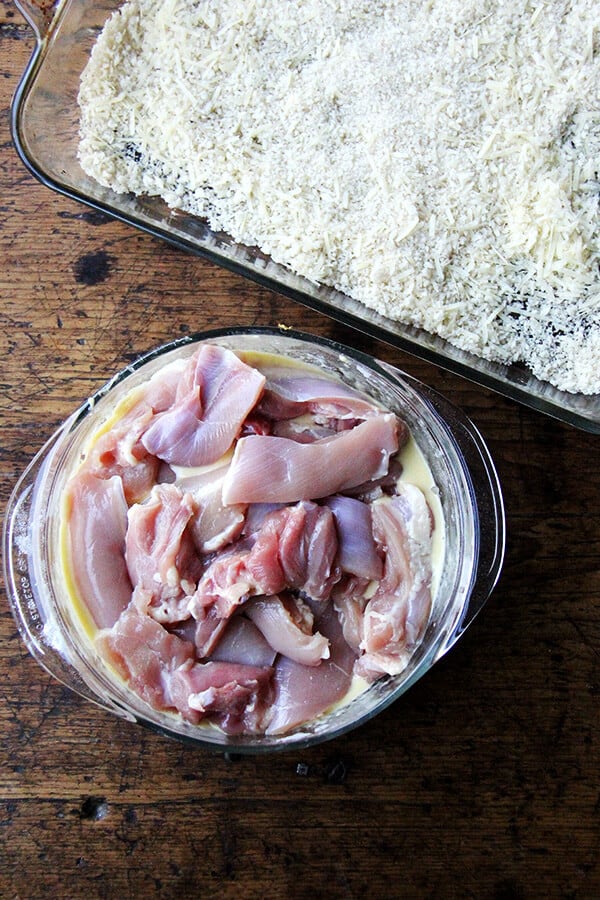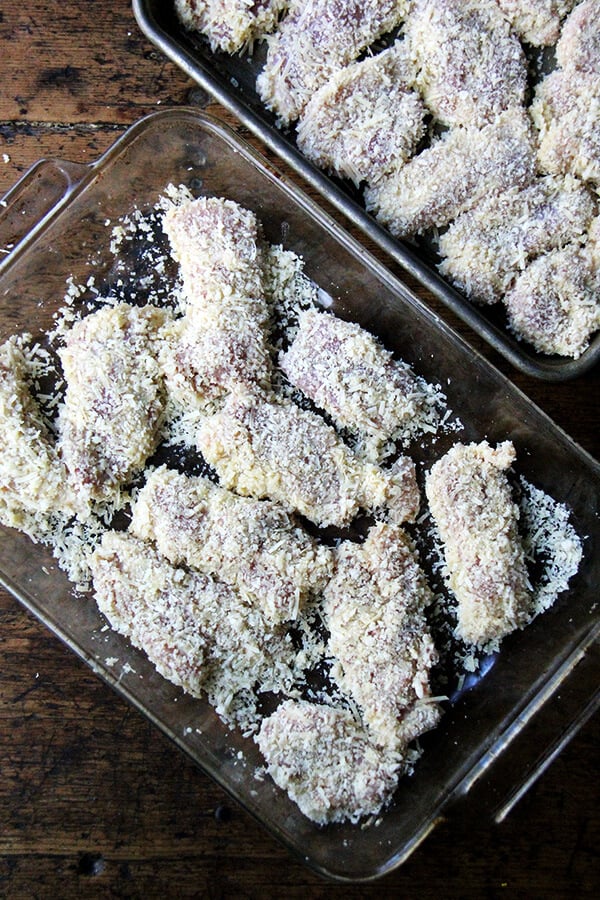 Special sauce: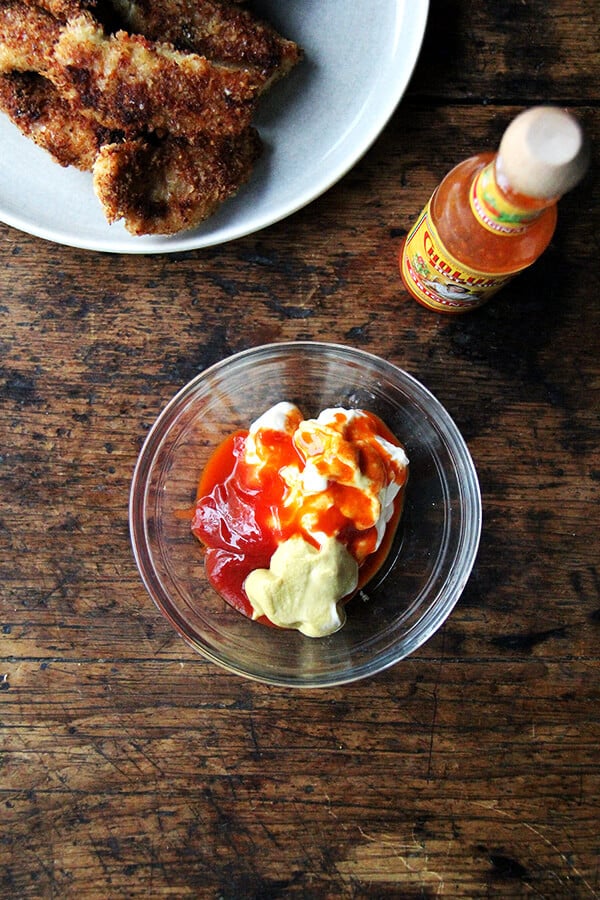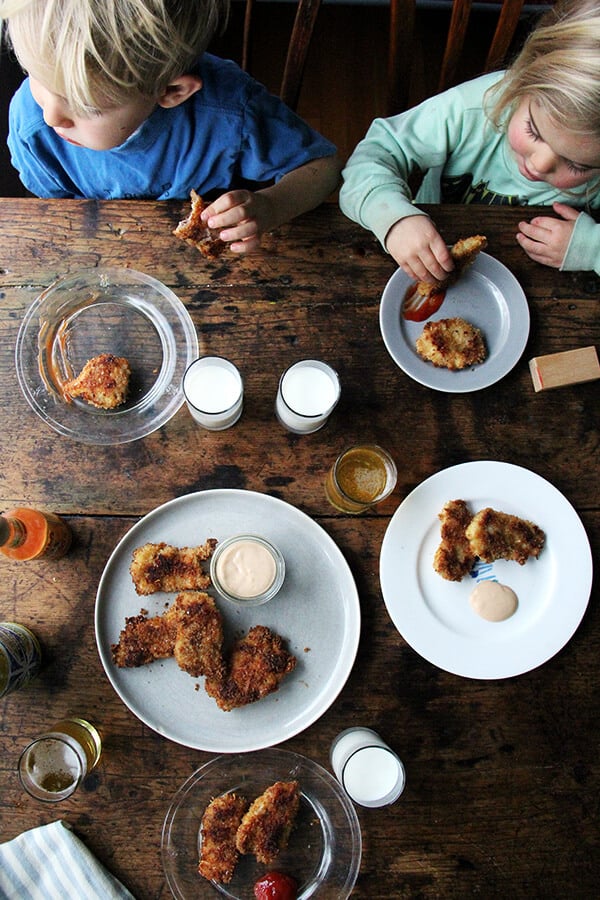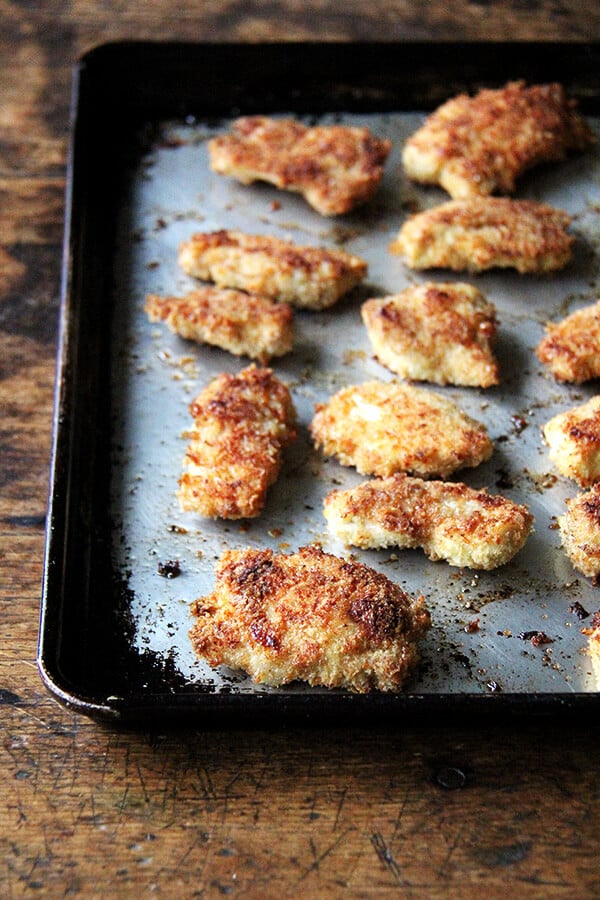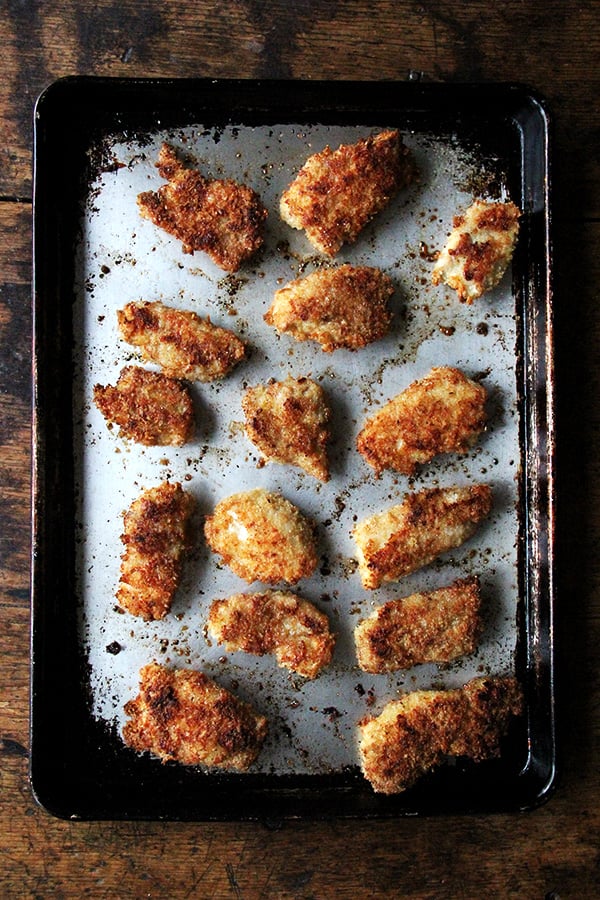 Print
Merrill's Chicken Fingers
---
Author:

Alexandra Stafford

Prep Time:

15 minutes

Cook Time:

20 minutes

Total Time:

35 minutes

Yield:

6
Description
Adapted from Food52's latest cookbook A New Way to Dinner, which has already being put to great use: I've made the shaved Brussels sprouts salad with anchovy dressing, Tad's roasted potatoes (seriously irresistible), spicy roasted cauliflower, and I have the ricotta gnocchi shaped and ready to be boiled then browned with Brussels sprouts, sage, and pine nuts. I'll keep you posted!
Note: The original recipe calls for the traditional flour-egg-breadcrumb assembly, but I've combined the flour and the eggs with a little water — my friend Holly taught me this trick, and I use it often when breading to save time. I've also adjusted the quantities of panko and parmesan to account for using 2 lbs. of chicken thighs, but know that you can't really go wrong here. If you want to follow the recipe exactly, it's here on Food52.
Also, if you want to make the chicken fingers ahead of time, you can. Store them in the fridge, then reheat on a baking sheet at 300ºF uncovered until heated through. This book, if you are unfamiliar, is all about preparing ahead — making lots of things over the weekend to use in various meals throughout the week — so it's filled with lots of good information in this regard. One of the suggested uses for these chicken fingers are a sandwich with pickles and a special sauce, which sounds incredibly delicious.
---
Ingredients
2

eggs

1/4 cup

flour

2 tablespoon

s water

2 cup

s panko

3/4 cup

grated parmesan

2

lbs. boneless, skinless chicken thighs, cut lengthwise into

1

-inch strips
kosher salt and pepper to taste
neutral oil

2 tablespoon

s unsalted butterfor the special sauce:

⅓ cup

mayonnaise

1 tablespoon

Dijon mustard

1 tablespoon

ketchup
few dashes favorite hot sauce, I've been using Cholula
---
Instructions
Set your oven to 450ºF. Whisk together the eggs, flour and water in a large bowl. Season generously with salt and pepper. Toss the panko and parmesan together in a 9×13-inch or other large vessel. Have ready another sheet pan or large vessel for placing the coated chicken pieces.
Drop the chicken strips into the bowl with the egg mixture. Toss to coat, then transfer a few at a time to the panko-parmesan pan. Coat in the crumbs, pressing them to adhere, then transfer to the clean sheet pan. At this point, the breaded strips of chicken can be refrigerated for up to a day (maybe longer).
Coat a rimmed baking sheet with neutral oil (a teaspoon or so). Add the 2 tablespoons of butter. Place the baking sheet in the oven for 3 to 4 minutes or until the butter has finished foaming and just starts to brown. Remove pan from oven, and gently lay the chicken strips on the baking sheets. Cook for 10 minutes, until the bottoms are golden brown and crispy. Use tongs to turn them over and cook for another 10 minutes, or until both sides are evenly browned and the chicken is cooked through. Let cool briefly then serve with special sauce: In a small mixing bowl, combine the mayo, mustard, ketchup, and hot sauce to taste
---
Category:

Chicken

Method:

Baked

Cuisine:

American
Keywords: baked, chicken, fingers, best, easy, parmesan, panko