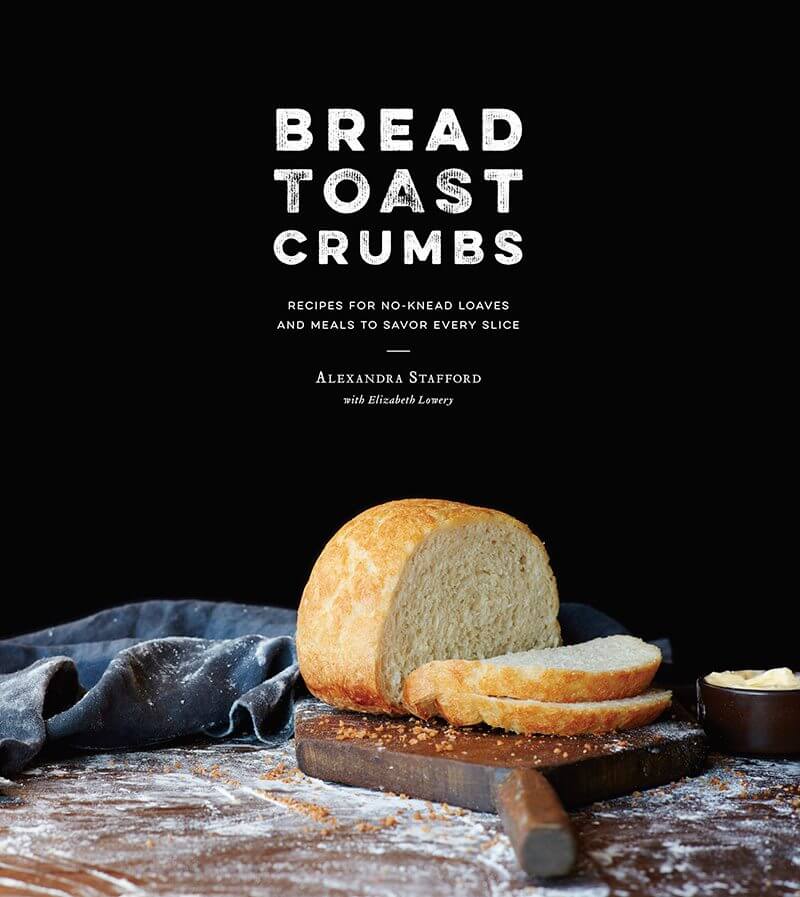 Friends! Bread Toast Crumbs is nearly here! Here's the cover, photographed by Eva Kolenko and styled by Jeffrey Larsen.
If you're new here, Bread Toast Crumbs is a "nose-to-tail" bread-baking book whose story begins in 2012, when my mother allowed me to share her treasured peasant bread recipe right here on the blog. The recipe immediately inspired many who deemed bread baking an impossibility to give it a try, and their resulting loaves exceeded expectations. Four years later, people are still discovering how simple making bread can be. Just yesterday someone wrote in:
I have never made any kind of bread before. It's always been intimidating and seemingly complicated, but this recipe gave me a new confidence. It was simple, uncomplicated, and best of all, delicious! We're using the remainder for grilled cheeses tomorrow."
Over the years, many people have left comments (over 2,700 now), and many have asked questions: Can the bread be baked in other vessels? Can other flours be used? Can nuts, cheese, herbs, and fruit be incorporated into the dough? Can you freeze the bread? Can you use the dough to make rolls? Sandwich bread? Pizza?
Yes. Yes. Yes. Bread Toast Crumbs, which will be published this spring by Clarkson Potter, will answer all of these questions. There will be a guide for making your own variations of the master recipe, tips for making the dough ahead of time, and suggestions for preserving the many loaves you bake. One-third of the recipes are for breads, two-thirds are for cooking with the bread (your homemade loaves or otherwise).
The first chapter, Bread, includes 40 variations of the master recipe, a mix of boules, buns, pullman loaves, pull-apart breads, pizza, rolls, and focaccia. The second chapter, Toast, includes recipes for sandwiches, panini, tartines, and stratas, and the third chapter, Crumbs, highlights the endless uses for bread crumbs: as a crispy garnish, as a breading for meat, fish, vegetables, and cheese, as a topping for bean, vegetable, and pasta gratins, and as a thickener in soups and sauces.
Included below is a recipe (two actually) from the crumbs chapter: Stuffing Two Ways. If you've yet to finalize your Thanksgiving menu, I recommend either (or both!), and if I don't hear from you before next Thursday, I'm wishing you all a very Happy Thanksgiving.
PS: A few more details and photographs can be found here: Cookbook: News & Notes.
Where to Pre-order: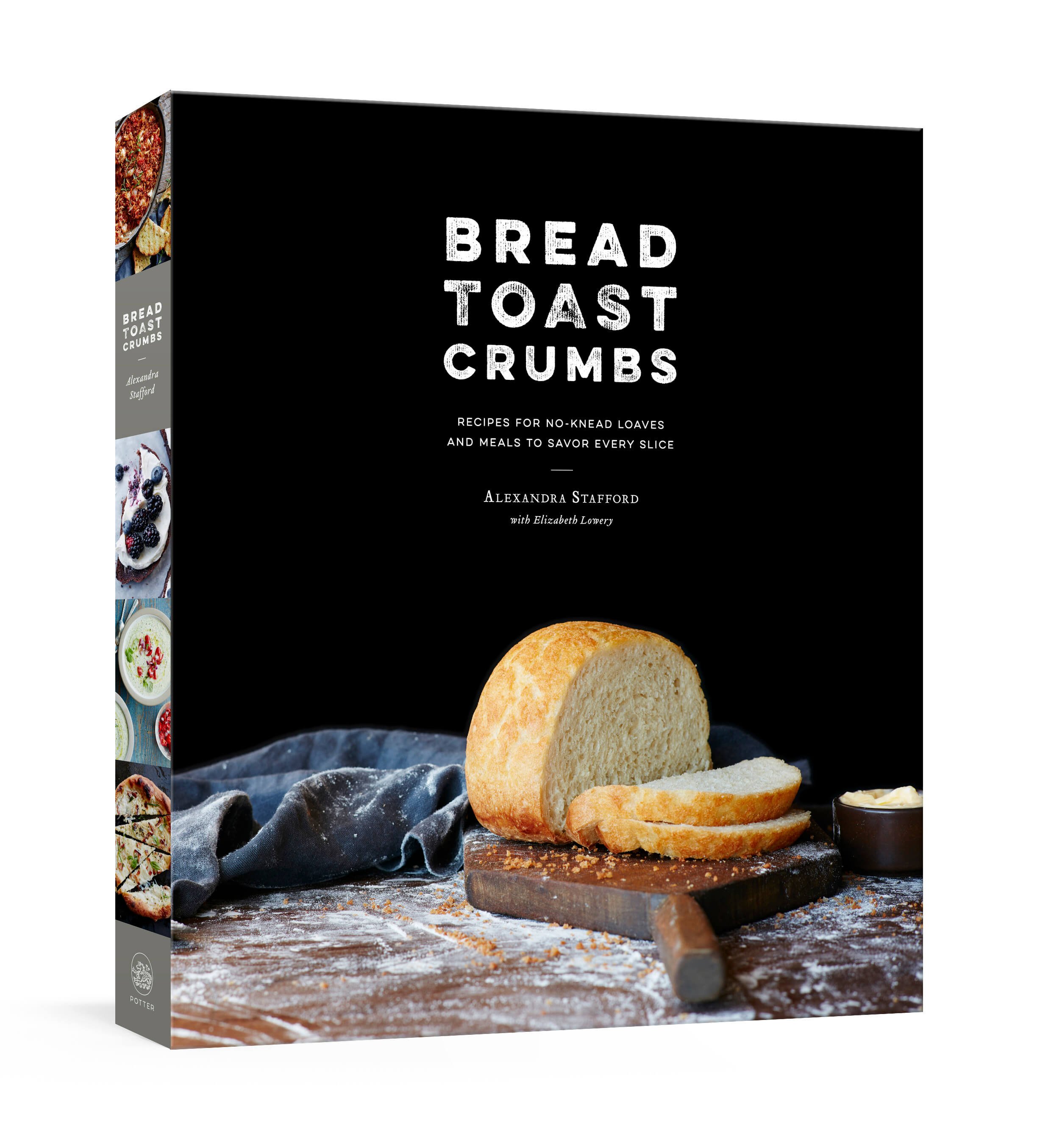 Stuffing with Kale, Cranberries, and Chestnuts: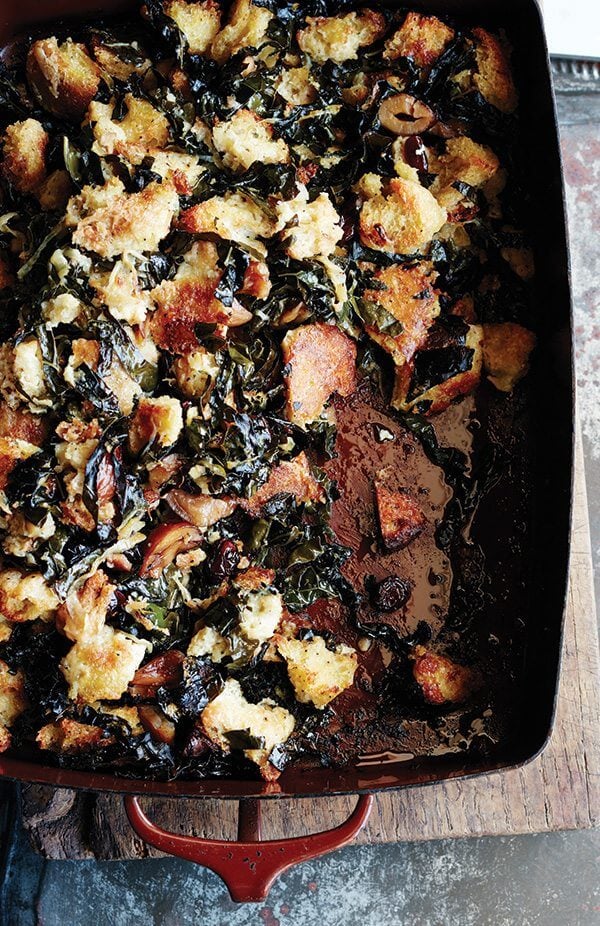 Stuffing Two Ways
Sometimes all you want is a no-frills stuffing: bread tossed with Bell's Seasoning, mixed with copious amounts of butter, onions, and celery, a stuffing that won't compete with the cranberry sauce, Aunt Phyllis's yams, and Alice Waters's potato gratin. But sometimes you want a stuffing, as Nigella Lawson says, "jumping around in a ra-ra skirt showing off its own." A stuffing studded with dried cranberries and chestnuts, laced with sweet onions (also sautéed in copious amounts of butter), strewn with kale that crisps up like chips as irresistible as the crusty cubes it surrounds. You can have both.
Print
Stuffing with Kale, Cranberries, and Chestnuts
---
Author:

Alexandra

Prep Time:

20 minutes

Cook Time:

45 minutes

Total Time:

1 hours 5 minutes

Yield:

8 to 10
Description
From Bread Toast Crumbs Note: Cooked and peeled chestnuts can be found online or in specialty stores. Or you can cook them yourself: With a sharp knife, cut an X on both sides of each chestnut. Bring a small saucepan of water, filled halfway, to a boil over high heat. Add 8 ounces of chestnuts, reduce the heat to a simmer, and cook for 20 minutes, or until soft. Remove the pan from the heat. Using a slotted spoon, remove a few chestnuts at a time and run them under cold water. Peel and place the chestnuts in a small bowl. You may need to use a paring knife to remove the skin. You should have about 1 cup.
---
Ingredients
1

pound peasant bread, crusts removed, torn into 1- to 2-inch pieces (8 to

10 cup

s)

½ cup

extra-virgin olive oil
Kosher salt
Freshly cracked black pepper

4 tablespoon

s (

½

stick) unsalted butter

2 cup

s sliced onions (

1

to

2

onions)

8 ounce

s kale, rough stems discarded, leaves sliced into

½

-inch ribbons

⅓ cup

dried cranberries

1 cup

cooked chestnuts (optional) (see Note above)

1½ cup

s homemade chicken stock or store-bought

1

egg
Softened unsalted butter, for greasing
---
Instructions
Preheat the oven to 400°F. In a large bowl, toss the bread with ¼ cup of the oil; the bread will feel saturated. Season with salt and pepper to taste. Spread onto a sheet pan in a single layer, reserving the bowl. Transfer to the oven and toast for 15 to 17 minutes, until golden. Set aside to cool briefly.
Meanwhile, in a large sauté pan, melt the butter with the remaining ¼ cup oil over medium heat. Add the onions, season with a pinch of salt, and cook, stirring, for 10 minutes, or until soft and beginning to color.
Place the kale in the reserved bowl and, when the onions have finished cooking, scrape them into the bowl over the kale. Add the dried cranberries, chestnuts, and bread, and toss. Add 1 cup of the chicken stock, ½ teaspoon salt, and ½ teaspoon pepper, and toss. Taste and adjust seasoning, adding another ½ teaspoon salt and pepper to taste as needed. In a small bowl, whisk the remaining ½ cup chicken stock with the egg and add to the bowl. Toss to combine.
Grease a 9 × 13-inch baking pan with the softened butter and spread the mixture into it. Cover the pan with foil, transfer it to the oven, and bake the stuffing for 30 minutes. Uncover the pan and bake the stuffing for 15 to 20 minutes more, until the bread is golden and the kale is beginning to crisp. Remove the pan from the oven and let the stuffing stand for 10 minutes before serving it.
---