Friends, first, thank you all so much for your comments and emails this past week — your kind words and enthusiasm have meant so much to my mother and me. Truly, thank you.
In case you missed it, Kristen Miglore of Food52's Genius Recipes featured the peasant bread in her column last Wednesday, and Food52's Sarah Jampel featured five variations including one of my favorites, cinnamon-swirl bread. Last Thursday, too, I made the cinnamon-swirl bread with Sarah on Facebook Live.
Today I'm sharing the Bread Toast Crumbs Trailer Part II: Toast along with a toast recipe from the book: Endive and Fava Salad Tartines with Herbed Ricotta. If you have the book, you know by now the Toast chapter is not filled strictly with toast-as-we-know-it recipes: bread + topping. It's filled rather with recipes that use day old bread in sliced form: sandwiches, tartines, panini, soup, strata, etc. The tartine below (also featured in the video above) is inspired by one my aunt and I shared at Burlington's South End Kitchen several years ago now. It's one of my favorites this time of year, when I start craving fresh, crisp, cool vegetables but pickings are still quite slim.
If fresh favas are hard to come by or if their season for you is still months away, know that shelled edamame work just as well. A good, fresh ricotta makes all the difference here, and if you don't have a good source for one, know that you can make it yourself—it's easy, promise! Recipe and Facebook Live video are below for the homemade ricotta if you need any guidance.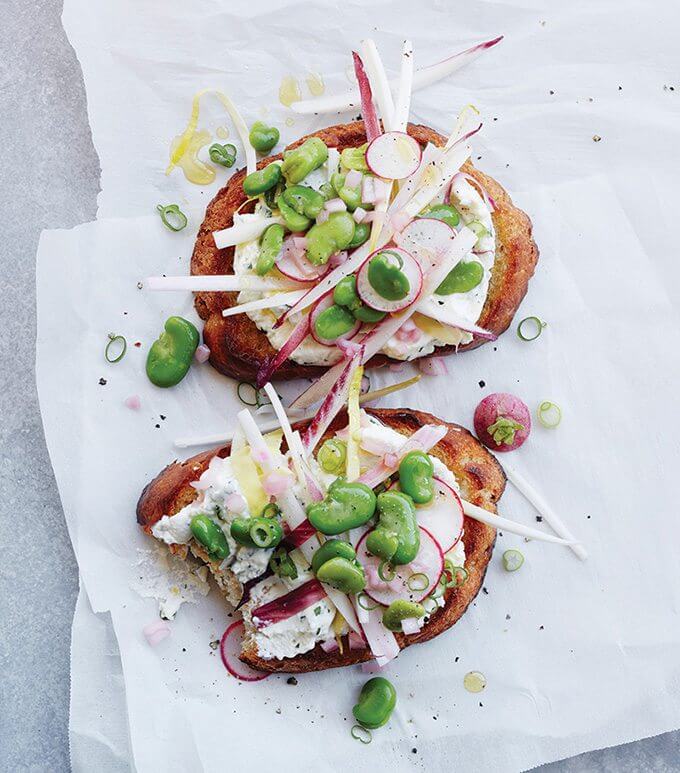 Endive & Fava Tartine with Herbed Ricotta
One March day several years ago, my aunt and I stopped into Burlington, Vermont's South End Kitchen, an adorable café serving simple, local fare. Bundled in our warmest gear for the outing, braving the snowy roads hugging a frozen-solid Lake Champlain, we relished the tartine we ordered that afternoon—ricotta, pea shoots, radishes, and herbs—each spring-filled bite assuring us we could endure a few more weeks of winter. This is the tartine to make when you've had your fill of comfort foods—of soups and stews and roasts and braises—and you long for something fresh and bright. Favas are a laborious treat but can be hard to find; frozen edamame work just as well.
Homemade Ricotta, Facebook Live: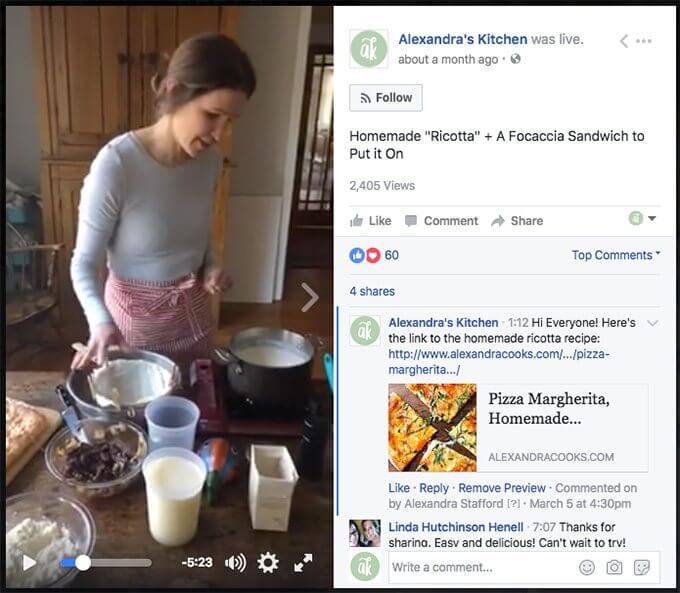 Save the whey! And make bread: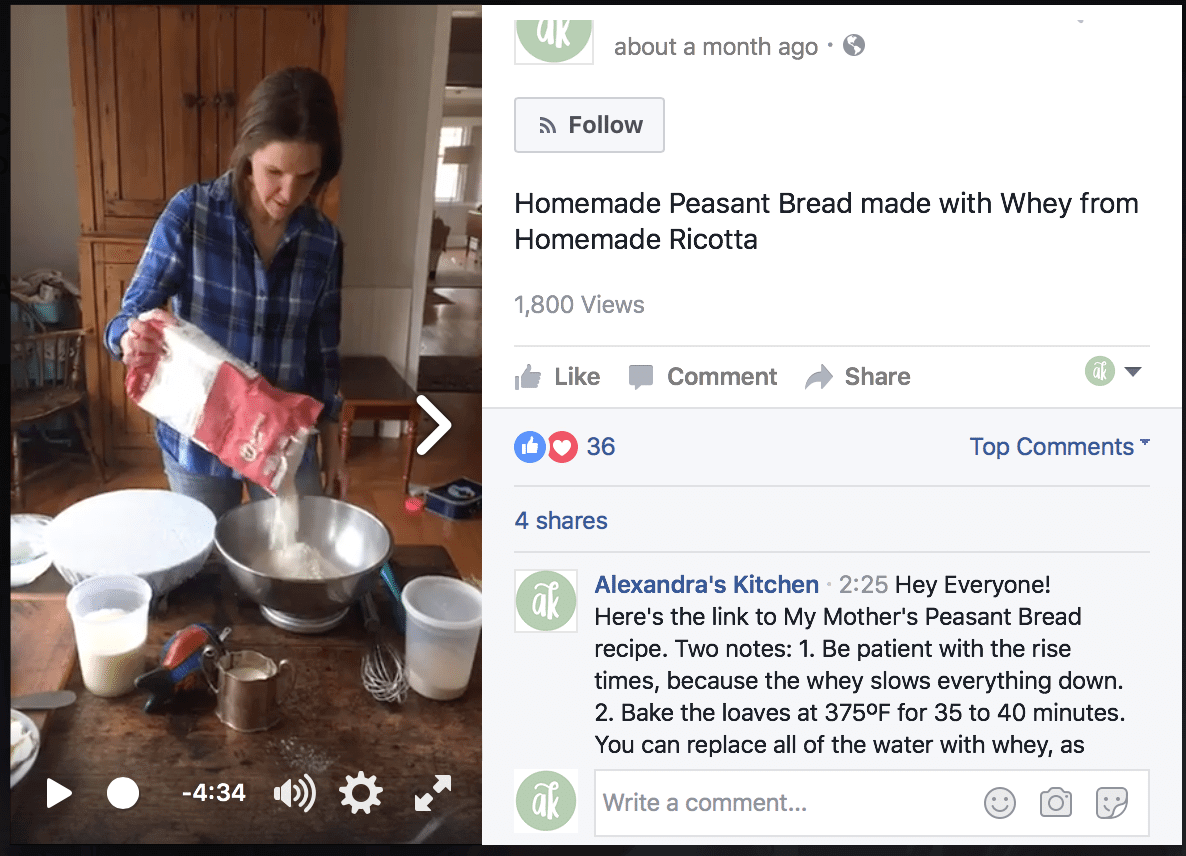 Cinnamon-Swirl Bread: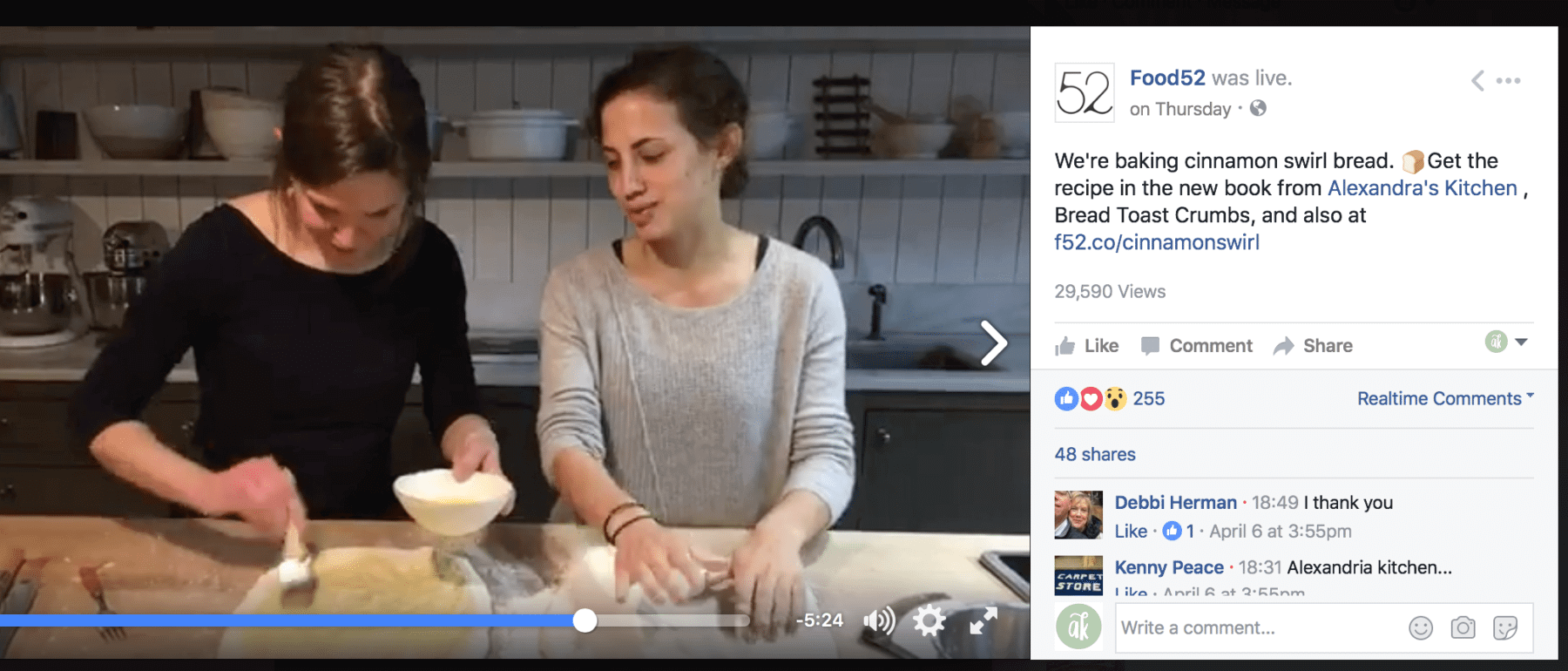 Print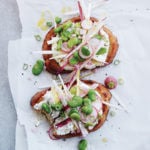 Endive & Fava Salad Tartines with Herbed Ricotta
---
---
Ingredients
2 tablespoons

minced shallots
Kosher salt
Pinch of sugar

2 tablespoons

white balsamic vinegar

1

pound fava beans, or a heaping ½ cup shelled edamame

2

heads endive (

3 ounces

each), julienned

2

scallions, white and green parts thinly sliced to yield about

2 tablespoons

6

radishes, thinly sliced

⅓ cup

extra-virgin olive oil, plus more for drizzling

½ cup

fresh basil leaves

1 cup

fresh ricotta, see recipe below

½ cup

finely chopped mixed fresh herbs, such as dill, chives, and fresh parsley
Zest of

1

lemon
Freshly cracked black pepper to taste

6

slices peasant bread, ¾ inch thick
---
Instructions
In a small bowl, season the shallots with a pinch each of salt and sugar. Cover with vinegar and let sit for 10 minutes.
Meanwhile, bring a large pot of water to a boil over high heat. Shell the fava beans, then drop them in the water and cook for 1 minute. Drain and plunge them into an ice bath. Peel the favas and set aside. If you're using edamame, boil for 1 minute, then plunge into the ice bath.
In a large bowl combine the endive, scallions, radishes, and favas. Whisk ¹⁄³ cup oil into the vinegar mixture, pour it over the vegetables, and toss to coat. Taste and adjust the seasoning with salt, as needed. If you have small, tender basil leaves, add them to the bowl whole; otherwise, roughly chop the leaves, add them to the bowl, and toss to coat.
In a small bowl, stir together the ricotta, mixed herbs, and lemon zest. Season with salt and pepper to taste.
Preheat the broiler to high. Arrange the bread on a sheet pan and drizzle with oil. Turn the slices over and drizzle with more oil. Transfer to the oven and broil for about 2 minutes, until golden, keeping an eye on them to prevent burning. Flip and broil the other side until golden, 1 to 2 minutes more. Transfer the bread to a serving board or platter.
Spread each slice of bread with ricotta and mound the endive salad on top. Serve immediately.
---
Print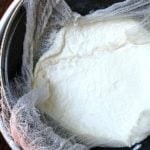 Homemade Ricotta
---
Author:

Alexandra Stafford

Prep Time:

2 minutes

Cook Time:

25 minutes

Total Time:

27 minutes

Yield:

2 cups
Description
---
Ingredients
4 cups

whole milk

2 cups

heavy cream

1 teaspoon

kosher salt

3 tablespoons

good white wine vinegar
---
Instructions
Set a large fine-mesh sieve over a deep bowl. Dampen (or don't) 2 layers of cheesecloth with water and line the sieve with the cheesecloth.
Pour the milk and cream into a stainless steel or enameled pot. Stir in the salt. Bring to a full boil over medium heat, stirring occasionally. Turn off the heat and stir in the vinegar. Allow the mixture to stand for 1 minute until it curdles. It will separate into thick parts (the curds) and milky parts (the whey).
Pour the mixture into a cheesecloth-lined sieve and allow it to drain into the bowl at room temperature for 20 to 25 minutes, occasionally discarding the liquid that collects in the bowl. The longer you let the mixture drain, the thicker the ricotta. Transfer the ricotta to a bowl, discarding the cheesecloth. Save the whey — you can make bread with it. Use the ricotta immediately or cover with plastic wrap and refrigerate. The ricotta will keep refrigerated for 4 to 5 days.
---
Category:

Cheese

Method:

Stovetop

Cuisine:

American/Italian
Keywords: homemade, ricotta