Adaptable Chutney Recipe with Apples, Ginger & Lemon
This post may contain affiliate links. Please read my disclosure policy.
This chutney recipe is irresistible — it's got that expected sweet-tart balance lent by the sugar and vinegar, but there's also a bit of heat from the crushed red pepper flakes and freshly grated ginger. It's delicious smeared over crackers and topped with Cheddar, and it's excellent in a grilled cheese!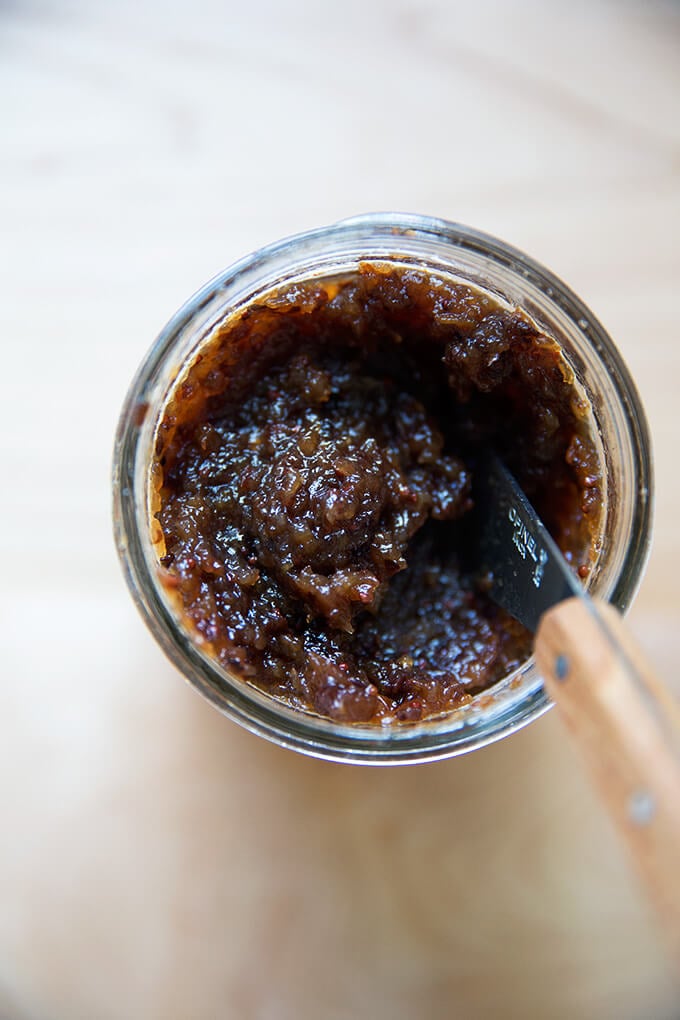 Marisa McClellan, author of three books on canning and creator of the website, Food in Jars, just published her fourth book: The Food in Jars Kitchen.
Unlike her previous books, which focused on canning, this book includes recipes to help you use up your many jars of jams, chutneys, and pickles. She created the recipes —  think: jam-laquered chicken wings, oatmeal muffins with fruit butter, bean and rice casserole with tomato salsa — with your pantry in mind; there's no need to start from scratch.
BUT. If you're up for it, I think maybe you should.
At the end of the book, Marisa includes a few "essential preserves" recipes, ten of her favorites, including this "adaptable chutney recipe," which I've made with apples, but which Marisa says will work with apricots, cherries, nectarines, peaches, pears or plums. It takes about an hour to cook, during which time the apples completely break down, transforming into a dark, jammy mass.
I find this chutney recipe irresistible — it's got that expected sweet-tart balance lent by the sugar and vinegar, but there's also a bit of heat from the crushed red pepper flakes and freshly grated ginger. The apple flavor is nearly indiscernible — the apples are merely a vehicle to carry the many other flavors. When I eat it, in fact, my brain thinks fig, which makes me understand why so many different fruits could work here.
I've been smearing the chutney over crackers and topping it with slices of sharp Cheddar cheese, and I imagine it would pair well with so many cheeses from minerally blues to chalky goats to creamy triple crèmes, making it an excellent addition to any cheese board.
For lunch yesterday, I spread the chutney over bread, topped it with grated Gruyère, and made a grilled cheese sandwich, which was overwhelmingly delicious. (More on this soon.)
In the book, Marisa suggests using the chutney variously: in compound butters, cheese rolls, pork tenderloin with pan sauce, and blank slate white bean spread, which I made and ate with endive spears and carrots — the chutney is such an easy and surprising way to liven up a bean-based dip, giving it both texture and depth of flavor.
I haven't been processing this chutney in a water bath, but come next fall, I absolutely will. Wouldn't it be fun to gift mini jars of this chutney paired with a wedge of cheese? All nicely bundled together with baker's twine? And a festive gift tag?
It's never too late to start preparing for the holidays…
(I kid, I kid. Let's not think about the holidays just yet.)
What is Chutney?
Chutney is a thick, jam-like condiment, originating from India. It can be made with countless fruits and vegetables, but often includes a combination of both fruits and vegetables, sugar, vinegar, and spices. Chutneys often cook for long periods of time to develop flavor, and thanks to the vinegar and sugar, typically have a sweet-tart flavor profile. Chutneys can be mild or hot.
---
One More Thing
When Marisa's last book came out, Naturally Sweet Food in Jars, I had intended to post her recipe for apple-date butter, which I had made and loved. I'm three years late but the recipe is finally up: Cinnamon-Spiced Apple-Date Butter.
Both of these apple recipes would be better suited to post in the fall, but I'm worried if I wait, Marisa might write another book and set me back three more years. So without further ado, I'm posting a few unseasonal but delicious Marisa McClellan recipes on this fine spring day:
Adaptable Apple Chutney (below)
Here's the play-by-play: Gather your ingredients.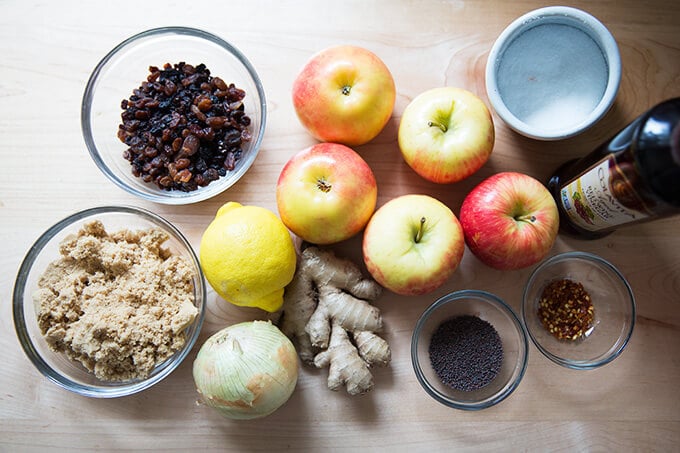 Peel and chop the apples and onion.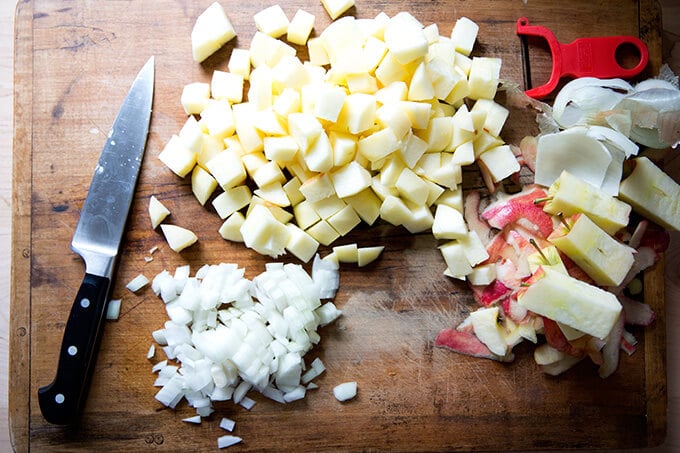 Dump everything into a pot all at once. How nice?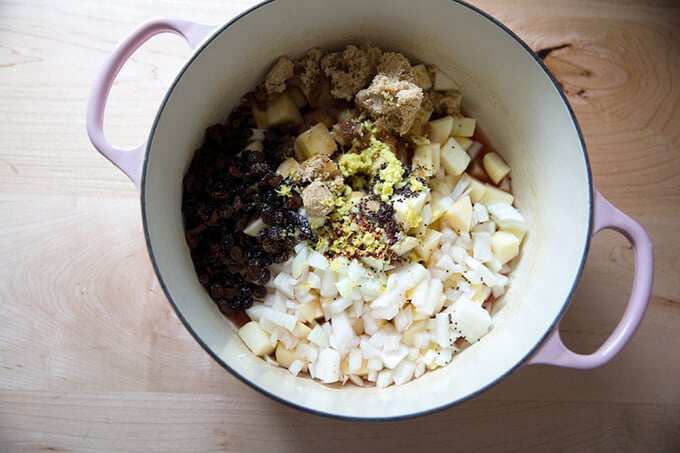 Simmer.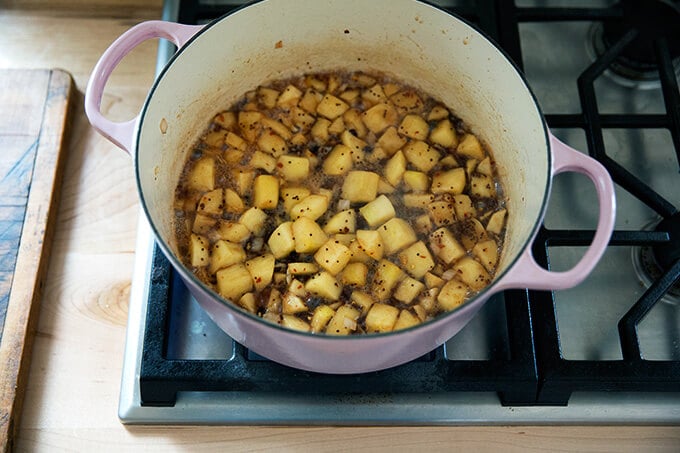 When it looks like this, it's done.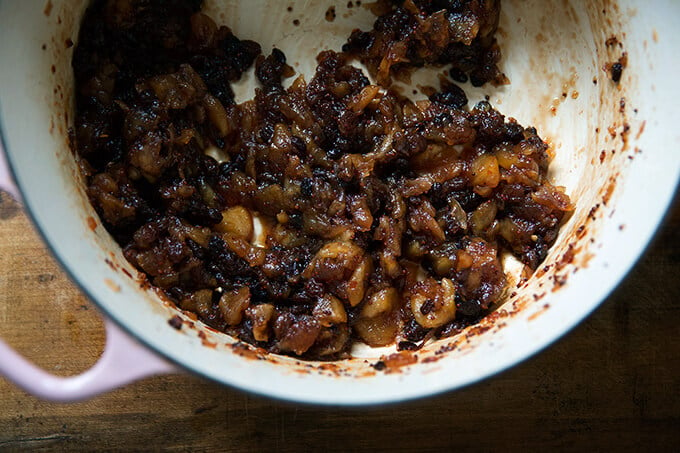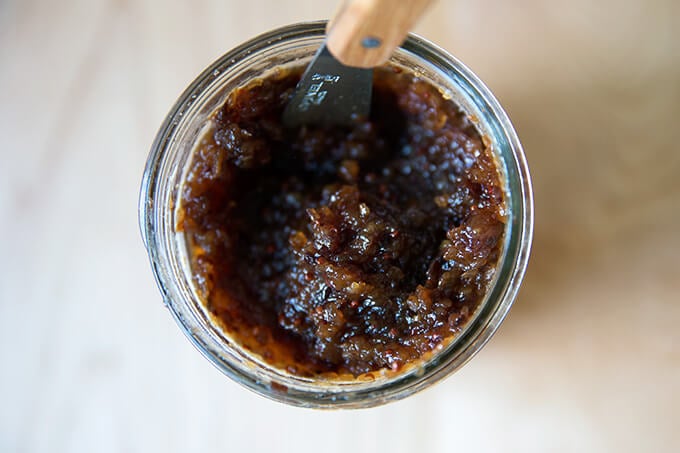 Eat it with cheese and crackers, stir it into hummus or a white bean dip, or make a grilled cheese. (More on this soon. The grilled cheese looked so incredibly delicious I didn't have the patience to take a photo. Will add photo soon.)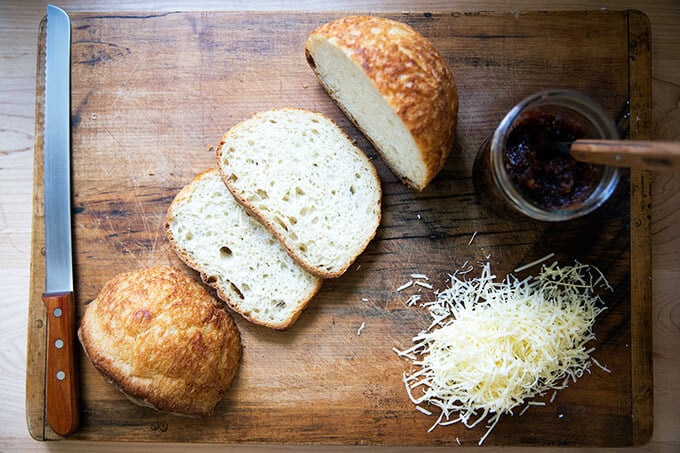 Marisa McClellan's The Food in Jars Kitchen: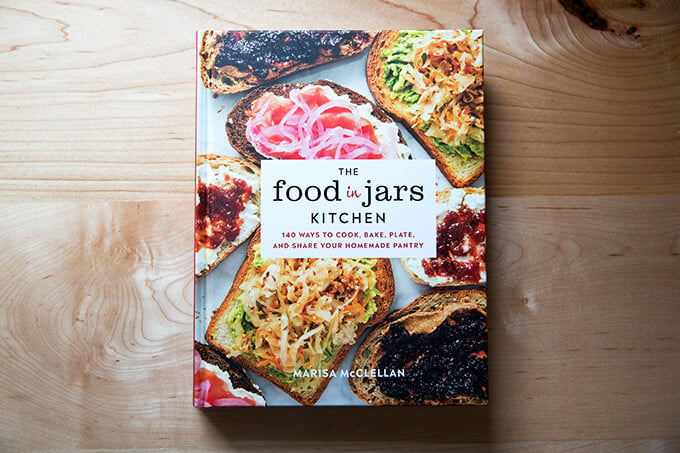 Print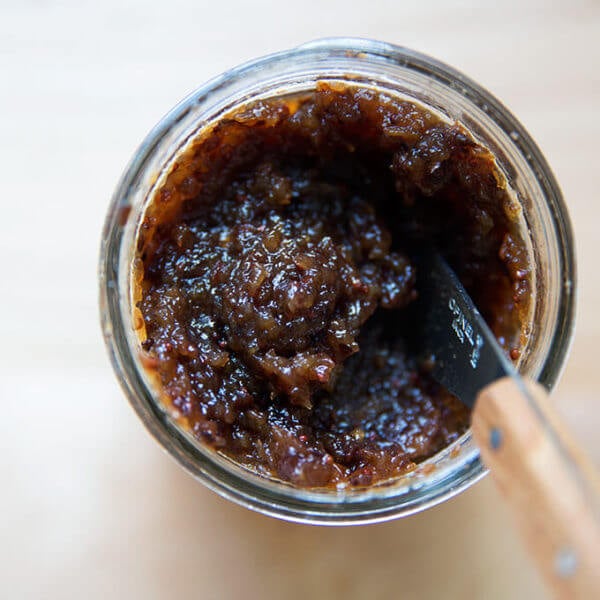 Simple Apple Chutney Recipe
---
Description
Adapted from Marisa McClellan's The Food in Jars Kitchen, this chutney recipe will work with apples, apricots, cherries, nectarines, peaches, pears or plums. This is a half recipe, so scale up as needed.
If you'd like more details on sterilizing jars and preparing a water bath for canning, view this post on Food in Jars.
---
2

lbs. apples (

5

to 6), peeled and diced small-ish

1

medium yellow onion, finely diced (about a cup)

3/4 cup

golden raisins

3/4 cup

red wine vinegar

1 cup

packed light brown sugar

1 tablespoon

mustard seeds, any color is fine

1.5 teaspoons

freshly grated ginger

3/4 teaspoon

kosher salt, plus more to taste

1/4

–

1/2

teaspoon crushed red pepper flakes
grated zest and juice of 1 lemon
---
Instructions
Combine all the ingredients in a large, nonreactive pot. Bring to a boil over high heat and then turn heat to low and cover the pot. Cook for 20 minutes. Uncover and raise the heat to medium, adjusting the heat as necessary to allow the mixture to stay at a constant simmer. Simmer, stirring often, for 20-40 minutes more or until the chutney thickens, darkens and the flavors start to marry. I liked to purée the chutney in my food processor to a coarse thickness — I have weird textural issues with cooked raisins and puréeing the chutney solves the issue for me … no need to do this if you have no trouble with cooked raisins.
Transfer chutney to a jar and store in fridge for one to two weeks.
Alternatively, process the chutney: prepare a boiling water bath, and sterilize three half-pint jars. Spoon the chutney into the prepared jars, leaving 1/2 inch (1.5 cm) of headspace. Wipe the rims, apply the lids and rings, and process in a boiling water bath for 15 minutes.
When the time is up, remove the jars and set them on a folded kitchen towel to cool. When the jars have cooled enough that you can comfortably handle them, check the seals. Sealed jars can be stored at room temperature for for up to 1 year. Any unsealed jars should be refrigerated and used promptly.
Prep Time:

20 minutes

Cook Time:

45 minutes

Category:

Condiment

Method:

Stovetop

Cuisine:

American/Indian
Keywords: chutney, apples, ginger, onion, mustard seed, sugar, vinegar
This post may contain affiliate links. Please read my disclosure policy.