Braised Leeks with Pappardelle & Parmesan
This post may contain affiliate links. Please read my disclosure policy.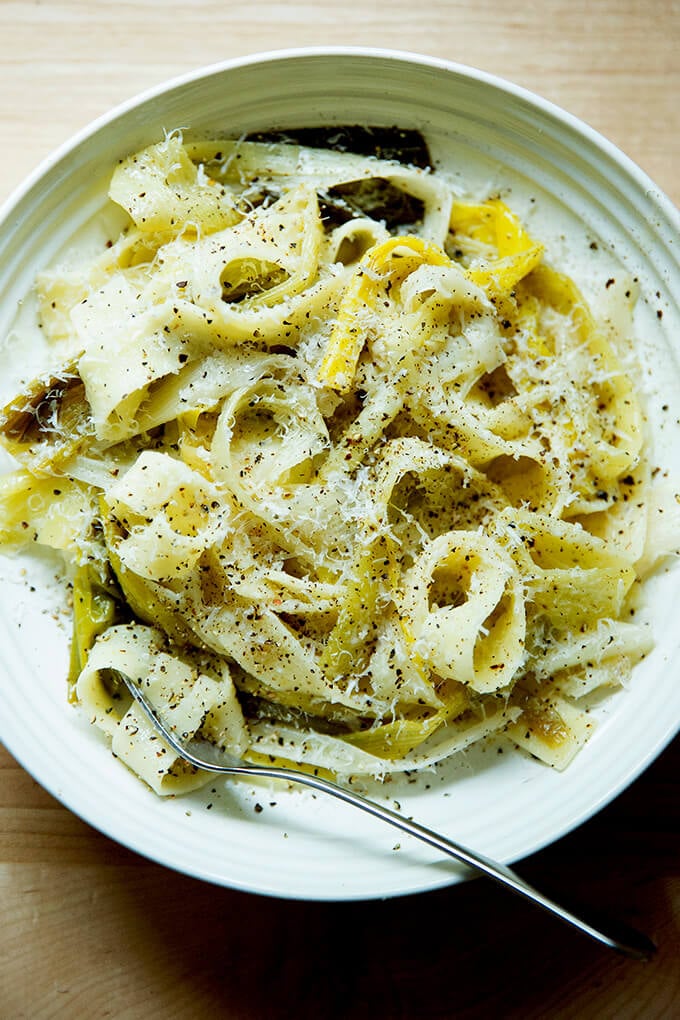 When braised, leeks release a ton of water, which causes them to shrink and become meltingly tender. When braised with white wine, olive oil, a little butter, and thyme, they emerge swimming in an especially fragrant broth, which can be used as a base for soup, as a sauce for pasta, or a side dish to roast chicken (or any number of meats).
Ronna Welsh, author of The Nimble Cook, where I discovered this recipe, has other ideas, too: chop them up and stuff them into a quiche, layer them on a sandwich, toss them with shaved cabbage for a salad, use them as a flavoring in pork meatballs. I'm eager to try spreading them atop pizza or focaccia.
This is the spirit of The Nimble Cook, which emphasizes ingredients and techniques more than recipes (though there are plenty of recipes to guide you along). Ronna's goal is to give you building blocks, which when you have on hand, allow you to be nimble in the kitchen. Throughout the book, she offers lots of tips on how to prep foods so they are easier to cook when you are pressed for time. She also tells you how best to store the foods as well as how long the foods will last in that state. So helpful.
Highlights From The Nimble Cook:
Ronna's dedication to using every part of everything. This woman does not like waste. For this recipe for instance, she offers a recipe for blanched leek greens, which you can then use to make dill-and-leek-greens pesto or creamed leek greens or leek greens cream cheese. She also has a recipe for cucumber-peel kimchi, and one for white watermelon-rind gazpacho.
Simple preparations that transform ingredients. When the book first arrived, I made her shaved collard salad every day for a week: In short, it calls for tossing (but not massaging!) thinly sliced collard greens with a little salt and sugar (interesting, right?), letting them sit for 10 minutes, then tossing them with a sharp vinaigrette. When I think collards, I think: braised for hours with bacon and vinegar. This preparation was so refreshing.
Interesting techniques. In her recipe for the pasta with braised leeks, she calls for adding savory ricotta custard, which is a recipe she developed to double the shelf life of fresh ricotta, which is highly perishable. In short, you mix the ricotta with eggs and pecorino, and bake it. Once cooled, it can be sliced and used on sandwiches, crumbled into pasta, served on a cheese plate, or served as a dessert with compote. Cool, right?
Braised Leeks with Pasta: A Few Tips
You can use any long noodle here — spaghetti, linguine, bucatini — but if you can find pappardelle, use it! It's such a fun shape for this dish because the shape of the leeks mimic the shape of the noodle, and the two tangle so nicely together. I found this Culinary Tours brand at the Nisky Co-op, and I really liked it, and when I went back the next day, they were out! So stock up.
Be sure to use only the whites and very light green parts of the leeks. The green parts, even after 50 minutes in the oven, are very hard to chew.
If you are making the braised leeks to serve as a side dish, trim off only the very end of the root so that the leeks still stay intact once quartered. When prepping the leeks to be used for the pasta, trim off the root completely, so that the leeks do not stay intact — it helps them tangle with the noodles more easily.
Start to finish, I would say this takes about an hour, but it's a meal in itself — no side dish necessary — and it tastes like spring.
That's it! Braise some leeks! Boil some noodles! Toss them together! Call dinner done.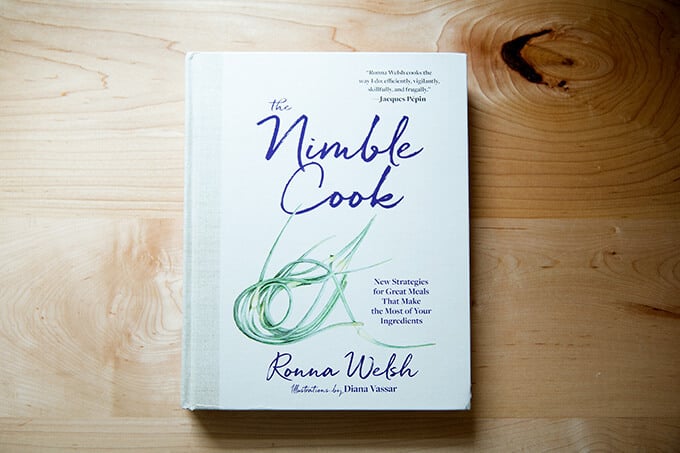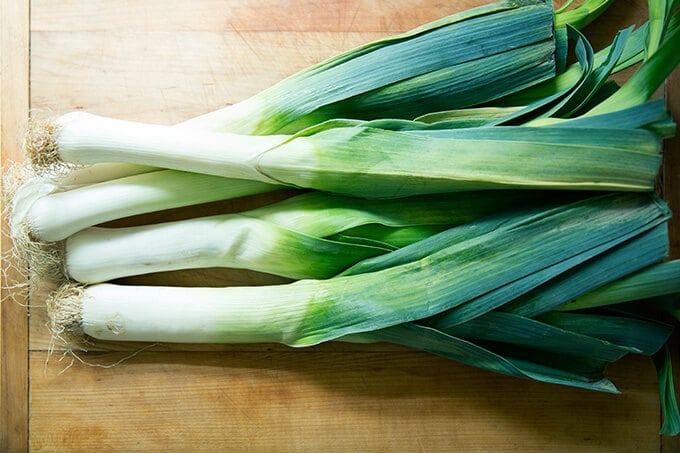 If you have the space, I can't recommend enough this 20-qt bowl. For soaking greens and other produce from the farm share, the little bowls just don't do the job.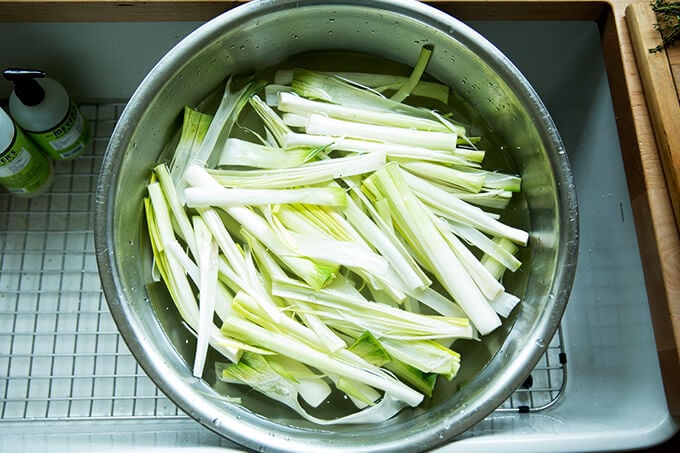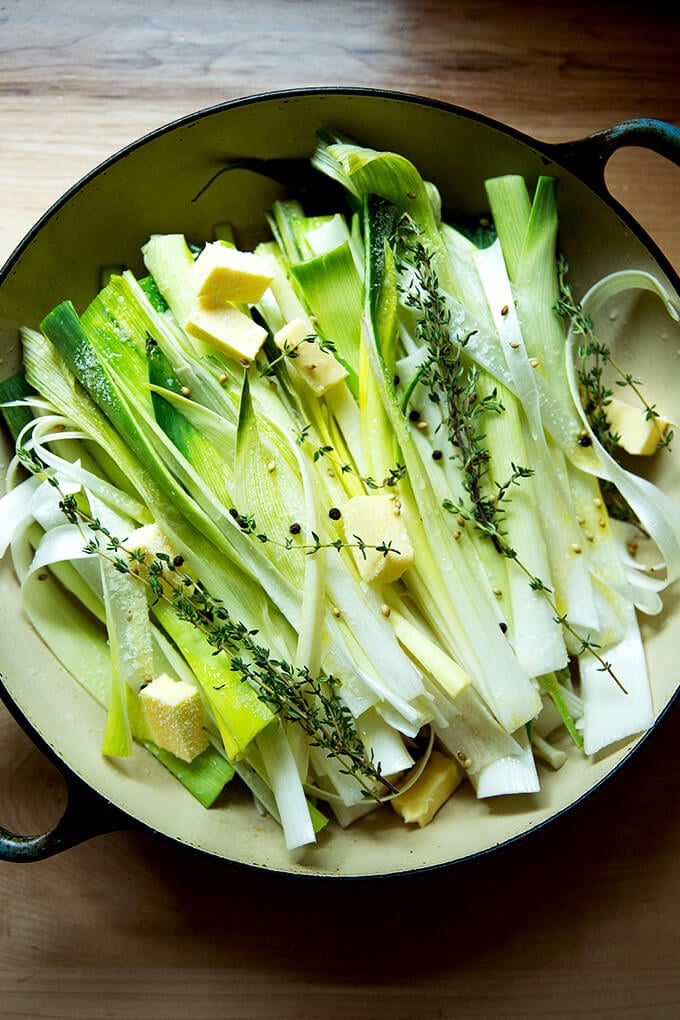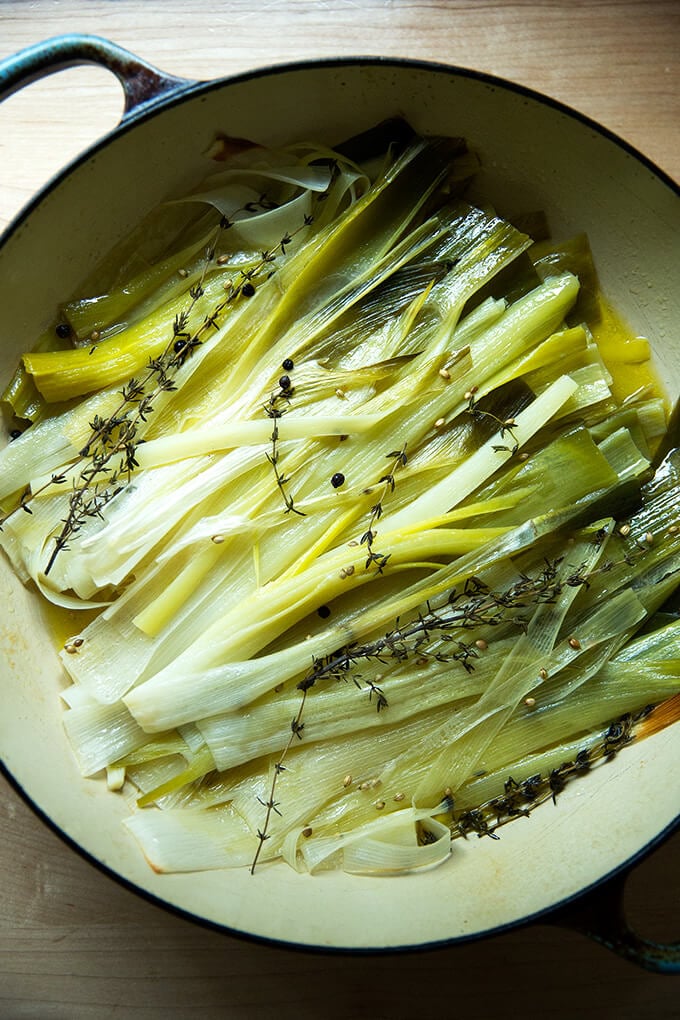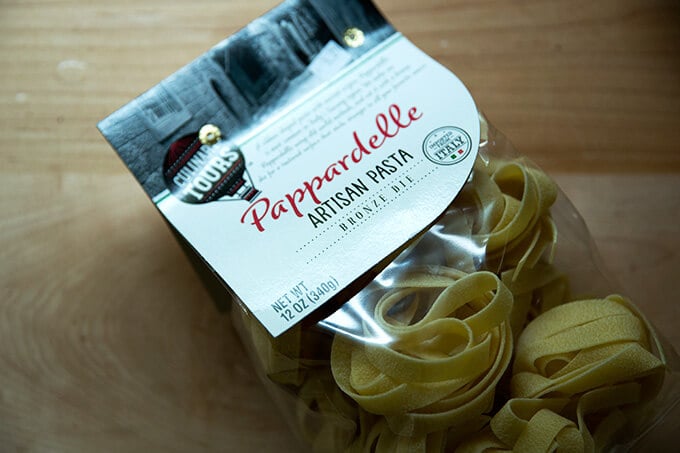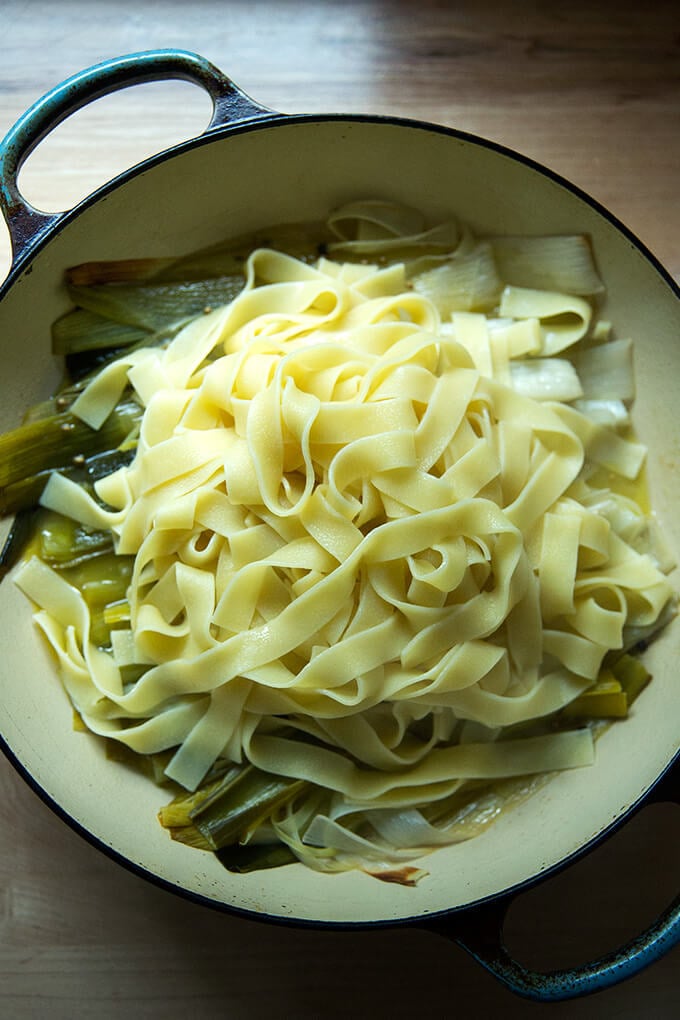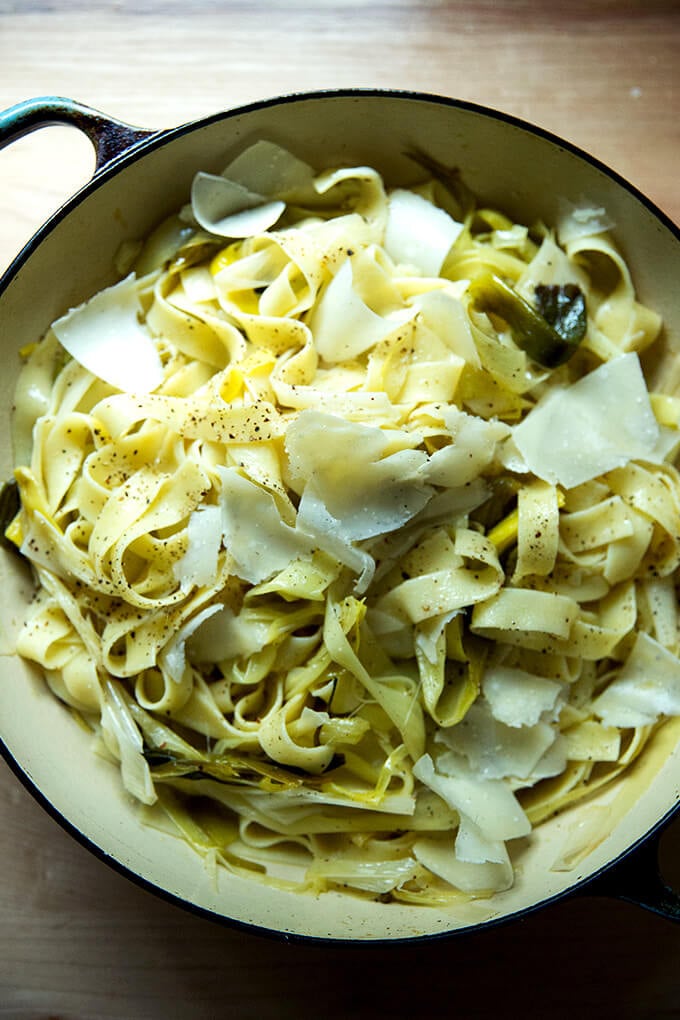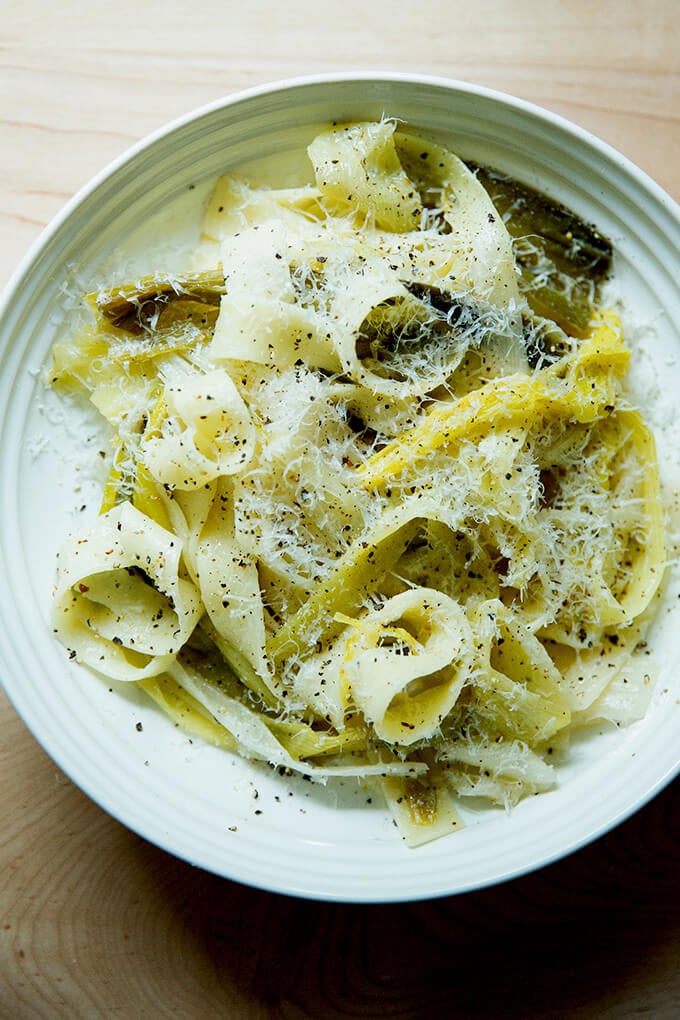 Print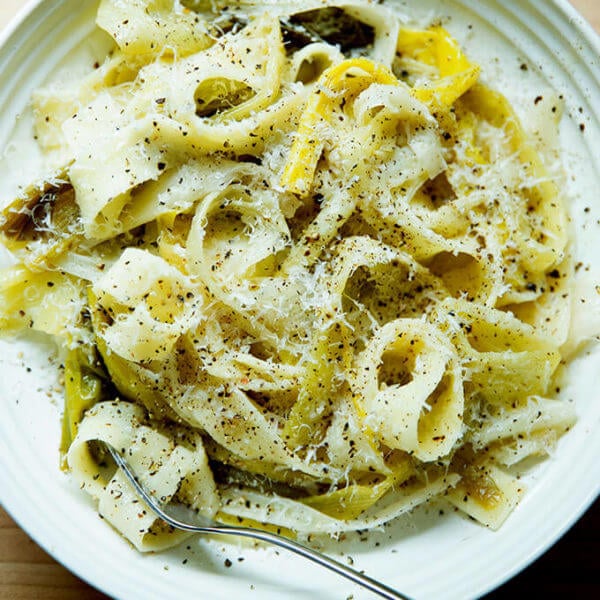 Braised Leeks with Pappardelle & Parmesan
---
Description
From Ronna Welsh's The Nimble Cook
A few notes:
Be sure to use only the whites and very light green parts of the leeks. If you don't the leeks are just a little harder to chew — not impossible, though it might require a knife-and-fork treatment.
If you are making the braised leeks to serve as a side dish, trim the root so that the leeks will still stay intact once quartered. Having made this a few times now, I think, when prepping the leeks for pasta, it's best to trim the root off of the leeks completely, so that the leeks do not stay intact — it helps them tangle with the noodles more easily.
---
For the braised leeks:
4

to

5

large leeks, white and light green parts only

3 tablespoons

extra-virgin olive oil

3 tablespoons

water

1/3 cup

crisp white wine

4 tablespoons

butter, cut into bits
a few sprigs thyme

2 teaspoons

kosher salt

5

peppercorns, optional

10

coriander seeds, optional
For the pasta:
12

-oz pasta, such as pappardelle
shaved Parmigiano Reggiano to taste
freshly cracked black pepper to taste
optional herbs: finely chopped parsley or chives, to taste (this is mostly for color)
flaky sea salt, such as Maldon, to taste
---
Instructions
Heat oven to 325ºF. Trim the leeks of any roots. Slice each leek lengthwise through the bulb, then once more to make quarters — if you are only making the braised leeks, it's OK to keep the leek end intact; if you are making the pasta, cut enough of the root off so that the leek does not stay intact (see notes above). Fill a large bowl with water and submerge the leeks in it. Swish them around and carefully bend the pieces, using your fingers to release any dirt trapped between the layer of the bulbs.
Once clean, lift out the leeks, drain, and place in a snugly fitting roasting pan or Dutch oven — ideally something that can go on both the stovetop and oven if you plan on making the pasta — no more than two layers deep. If your leeks are extra long, cut them to fit.
Add the remaining ingredients. Cover and place in the oven. Braise until the leeks have dulled in color and are quite tender to a knife, and bend and flex effortlessly, about 45 – 50 minutes. Taste for salt. Cool to room temperature before storing. Store in the fridge for up to 1 week or in the freezer for 3 months.
Meanwhile, if making the pasta, bring a large pot of water to a boil. Add 2 tablespoons kosher salt. Cook pasta al dente (times will vary according to package). Reserve at least a cup of pasta cooking liquid — I like to transfer the noodles from the pot using my spider or tongs, thereby reserving all of the cooking liquid. The extra pasta cooking liquid is so nice to have on hand for heating up day-old pasta.
Place the pan of braised leeks on the stovetop over low heat. Transfer the cooked noodles to the pan with the leeks and toss with tongs to combine. Add pasta cooking liquid as needed — I've been adding at least 1/2 cup. Shave parmesan to taste over top and season with fresh cracked pepper to taste as well. If you seasoned your pasta cooking liquid as directed, you should barely need any salt here, but taste, and adjust seasonings as desired.
If using herbs, add them, and toss to coat. Serve, shaving more parmesan and cracking more pepper over each serving if desired.
Prep Time:

15 minutes

Cook Time:

45 minutes

Category:

Pasta

Method:

Stovetop

Cuisine:

French, Italian
Keywords: braised, leeks, pasta, pappardelle, spring
This post may contain affiliate links. Please read my disclosure policy.