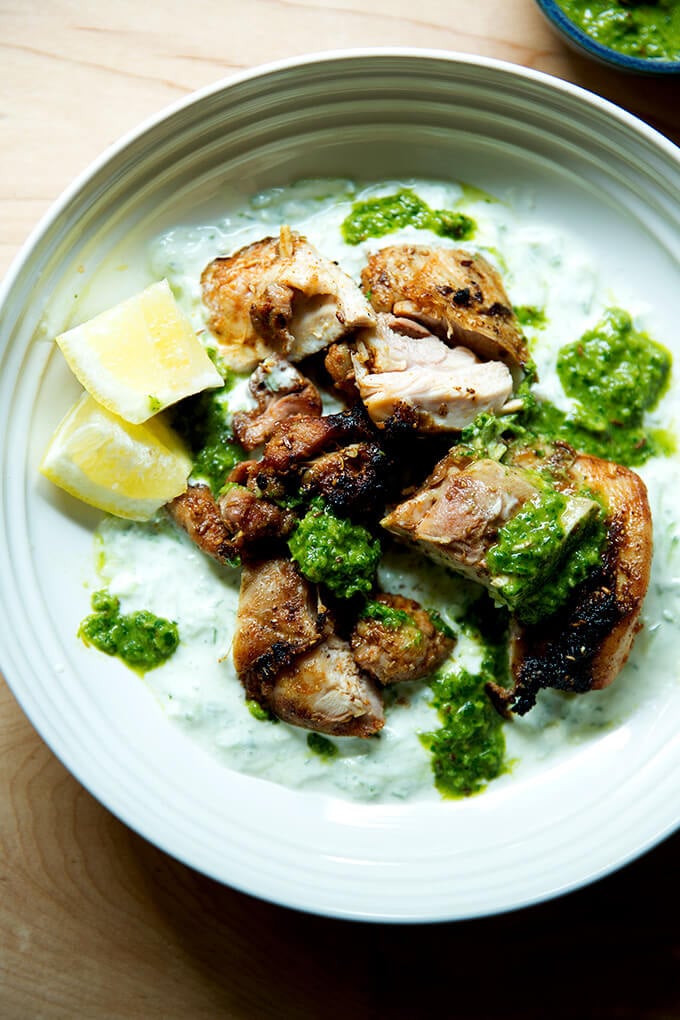 Here's a really fun, delicious meal to kick off grilling season: smoky grilled chicken thighs with cucumber-yogurt sauce.
In essence, this meal reminds me very much of how my mother makes and serves chicken souvlaki: she grills garlic- and basil-marinated chicken and serves it with tzatziki, pita or flatbread, lemon wedges, and often a cucumber salad on the side.
Here, the spices and sauces look farther east: the chicken marinates with cumin, coriander, and smoked paprika, the cucumber-yogurt sauce is inspired by an Indian recipe, and the spiced green sauce, skhug, is a condiment often used in Yemeni and Israeli cooking.
Note: You don't have to make the skhug — the chicken + cucumber yogurt sauce + bread is a fine meal on its own — but if you haven't yet made skhug, I encourage you to give it a go. Once you make skhug once, you will want to put it on everything.
Components of Smoky Grilled Chicken Platter
Chicken Thighs (or Breasts) marinated with garlic, cumin, coriander, and smoked paprika. If you're up for it, toast whole spices and grind them — they're just a little bit more fragrant and flavorful.
Yogurt Sauce: Inspired by the yogurt sauce in this Bon Appetit recipe, this one includes grated cucumber, fresh lemon and garlic. (Note: this is a sauce that is equally delicious with grilled eggplant, roasted red peppers, grilled fish … it's just a really nice, fresh, tangy sauce.)
Flat Bread: Homemade naan is delicious here, but if you are pressed for time, buy the bread! I love the Stonefire Naan brand. It's soft, pliable, and so delicious, a perfect accompaniment to this meal.
Skhug, (pronounced skoog), is a Middle Eastern (often used in Yemeni and Israeli cooking) blend of herbs, chilies, and toasted spices: here there's parsley, cilantro, cumin, coriander as well as a heap (1/2 cup) of hot chilies. Because the chilies are seeded, the sauce is not terribly spicy.
Optional: Harissa: I made this meal last summer at a cooking class at the Hillsdale General Store and we served it with homemade harissa, which is another really nice condiment for this meal. If you're feeling ambitious, make both the skhug and the harissa.
Wishing you all a lovely long weekend.
PS: Marinating and Grilling 101
PPS: ALL the Recipe for Memorial Day Weekend
Here's the play-by-play: Rub chicken thighs with garlic, smoked paprika, toasted and ground cumin and coriander, salt, and pepper.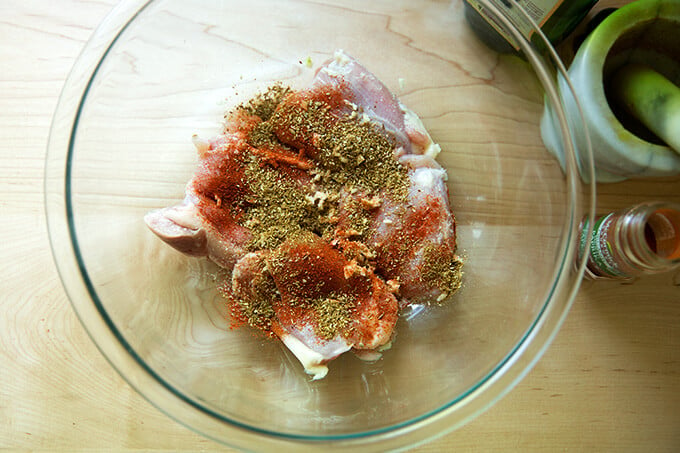 Drizzle in a few tablespoons of oil and rub to coat. Marinate for at least 1 and up to 12 hours.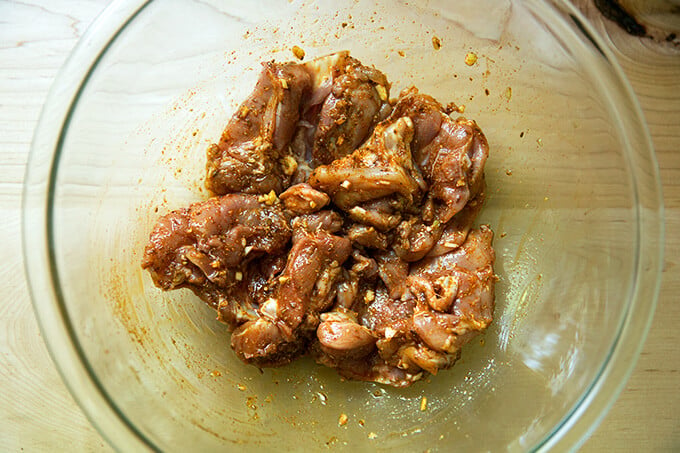 Light the coals. I like using chimney starters for this. More grilling tips here: Grilling 101.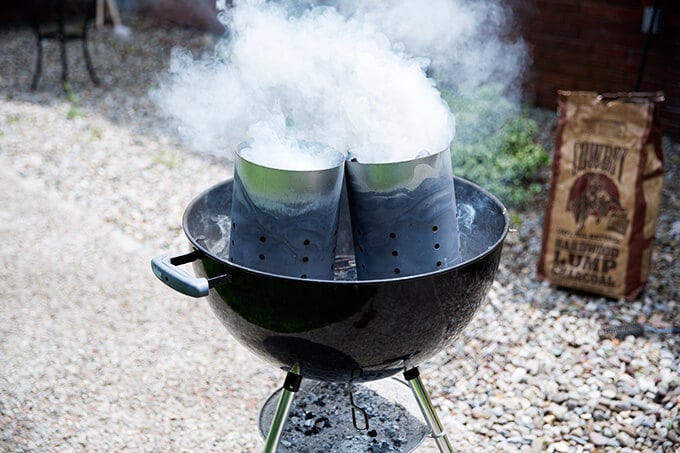 When the coals turn white, dump them into the grill, pushing them to one side to allow some of the grill to remain cool-ish.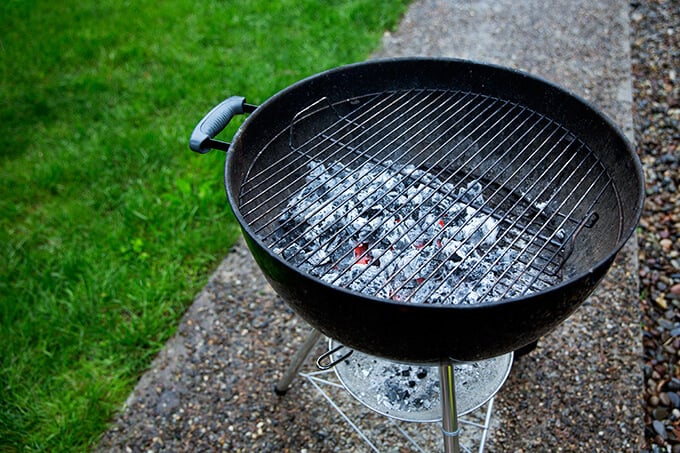 Grilling in the rain. Yes. You. Can.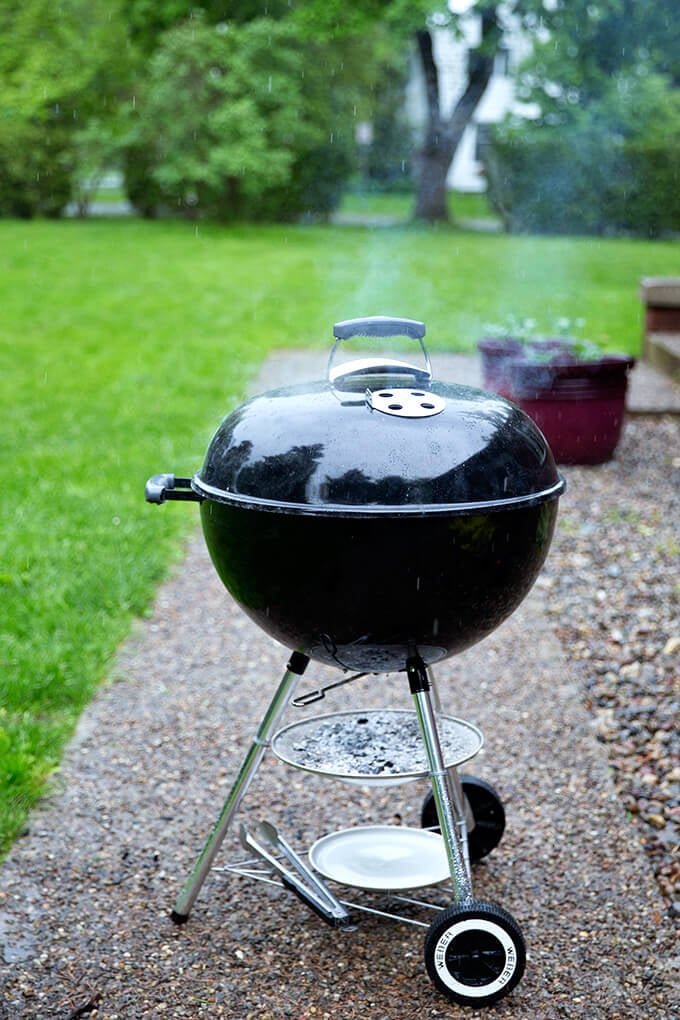 These chicken thighs cook for about 3 minutes a side over super hot coals.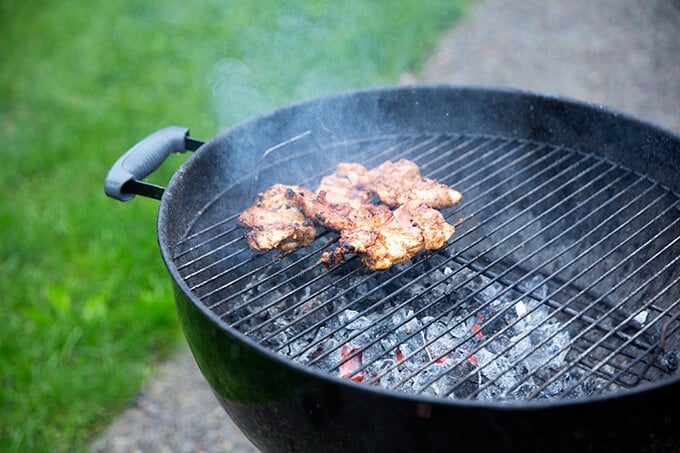 Transfer meat to a platter and let rest for at least 10 minutes.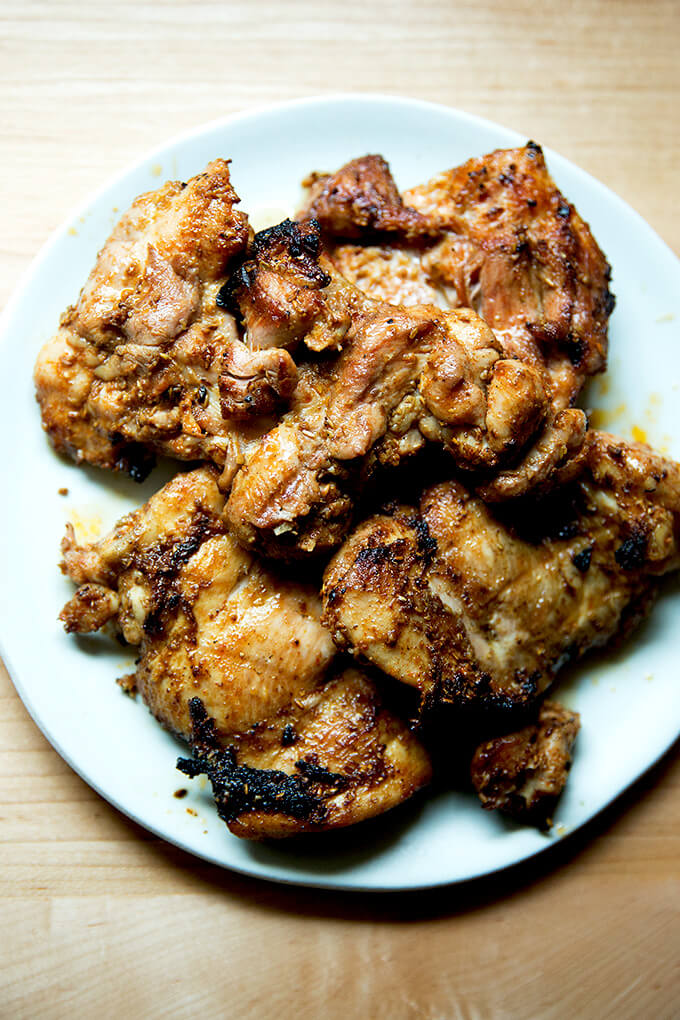 Meanwhile: Make a cucumber-yogurt sauce with grated cucumber, garlic, Greek yogurt, lemon, and salt.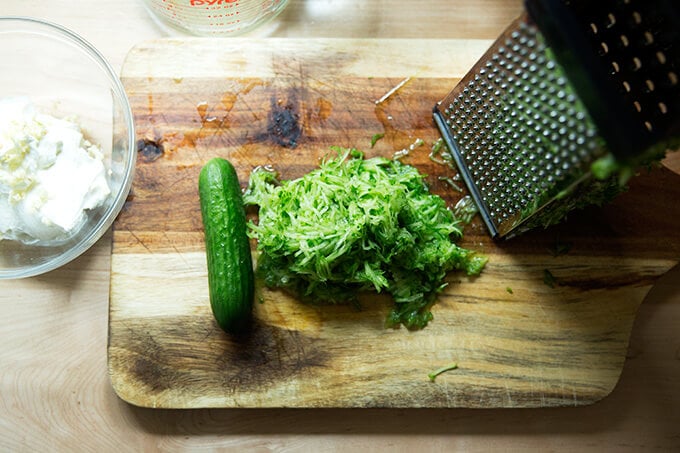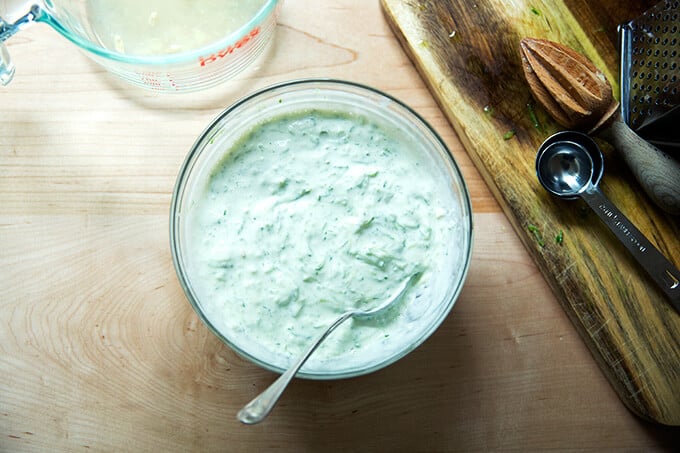 If you wish, make some skhug (a favorite), too. Recipe is below; more in-depth how-to here.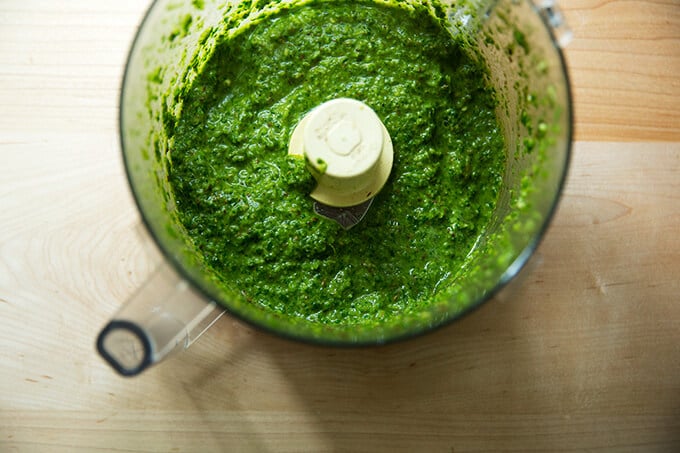 To serve, smear the cucumber-yogurt sauce on a plate, top with grilled chicken, drizzle with skhug, and serve with lemon wedges.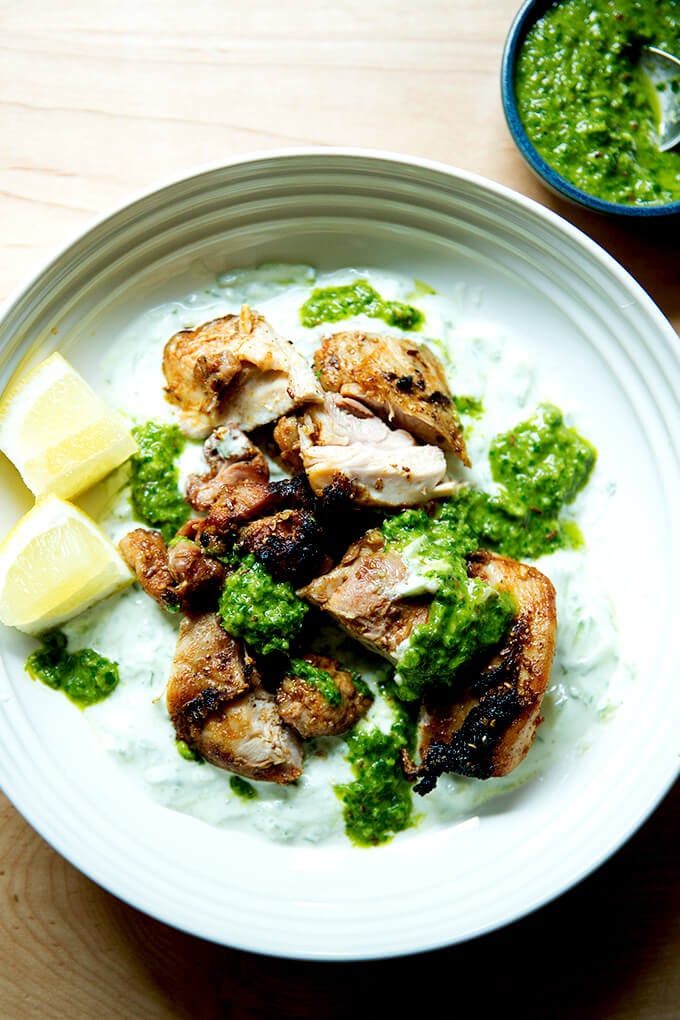 Also: bread! Homemade naan is delicious here, but I love this store-bought brand: Stonefire naan.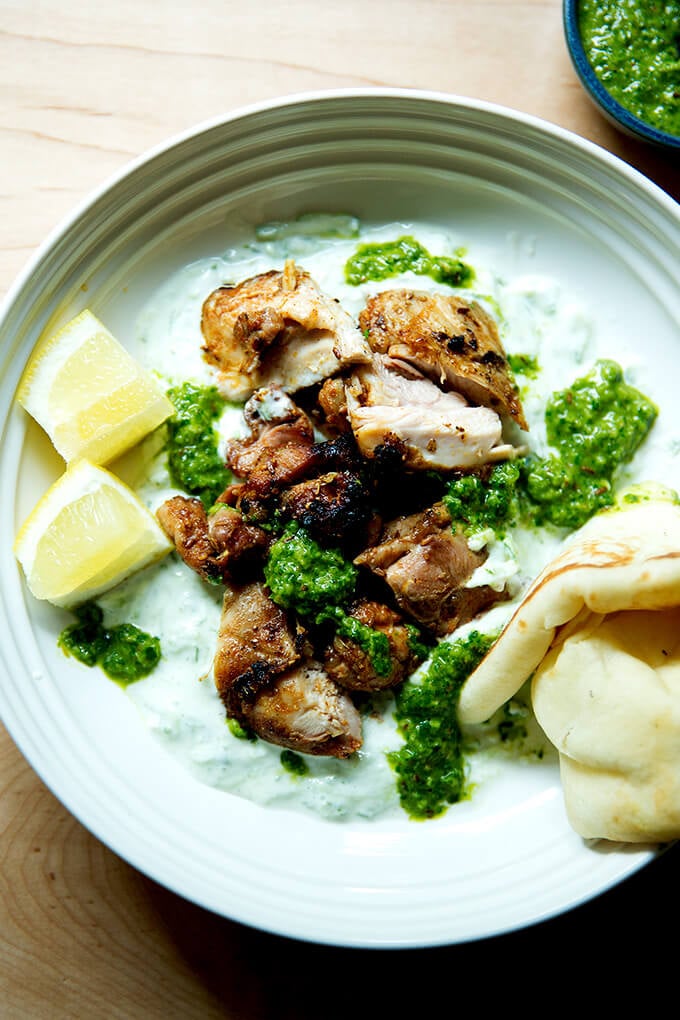 Print
Smoky Grilled Chicken with Cucumber-Yogurt Sauce
---
Author:

Alexandra Stafford

Prep Time:

20 minutes

Cook Time:

10 minutes

Total Time:

30 minutes

Yield:

serves 2
Description
Notes:
As always, you can use boneless, skinless chicken breasts in place of the thighs. If you do, I suggest you pound them lightly, so each breast is an even thickness. This could be 3/4-1-inch thick (or thicker or thinner). You will likely need to grill for less time, so keep an eye on them.
Scale this recipe up as needed. A good rule of thumb: Use 1 teaspoon kosher salt per pound of meat. Diamond Crystal kosher salt (red box) is what I use.
I like toasting whole cumin and coriander seeds and grinding them in my mortar and pestle, but you can substitute ground spices in place of the whole. If you do, use less — 1/2 to 3/4 teaspoon of each.
Another nice condiment to serve here: Homemade Harissa.
---
Ingredients
For the chicken:
1 teaspoon

cumin seeds, see notes above

1 teaspoon

coriander seeds, see notes above

1 teaspoon

smoked paprika

1

to

1.5

lbs. boneless, skinless chicken thighs (

3

to 4)
kosher salt and fresh cracked black pepper

3

cloves of garlic, peeled and finely minced
a few tablespoons grapeseed oil
For the Cucumber-Yogurt Sauce:
1 large or 3 small c

ucumbers (about 8 oz)


1

cup plain Greek yogurt, I like the Fage 5%


1

clove garlic, minced


1.5 tablespoons

fresh-squeeze lemon juice (from about

1/2

a lemon)

1/2 teaspoon

kosher salt
For serving:
naan or pita bread, I like the Stonefire naan brand
lemon wedges
skhug (recipe follow)
---
Instructions
Place a small, dry skillet over medium heat and toast the coriander and cumin seeds until they begin to darken and smell fragrant. Transfer them to a mortar and use a pestle to grind to a powder. Add the smoked paprika and stir to combine.
Place the chicken thighs in a large bowl or in a large ziplock bag. Season all over with salt (about 1 teaspoon per pound) and pepper to taste. Rub with the minced garlic. Add the spice blend and oil and mix with your hands to evenly coat the chicken in the oil and spices. Place chicken in fridge. Marinate for at least one hour and up to 12. If possible, bring chicken to room temperature before grilling (about an hour or so beforehand.)
Meanwhile, make the cucumber-yogurt sauce: Grate the cucumber coarsely on a box grater. In a medium bowl, stir the cucumber into the yogurt, along with the garlic, and lemon. Season with the salt, starting with 1/4 teaspoon kosher salt, adding an additional 1/4 teaspoon if necessary.
When ready to grill: preheat a gas grill to high or prepare coals for high heat. For charcoal grilling, fill two chimney starters  with coals and let them burn for about 30 minutes. Then, dump the coals into the grill (piling them on one side to allow one half or one third of the grill to be a cooler zone), replace the grate, and let it heat for at least 5 minutes. Scrape the grates.
When grill is hot, transfer the chicken uncovered to the grates. Grill, without touching, for about 3 minutes. Flip. And grill for another 2 to 3 minutes or until a thermometer registers 165ºF (or a little bit less to account for carryover cooking). Transfer meat to a platter or cutting board to rest for at least 10 minutes.
While the chicken rests, warm the pita or naan — you can do this right on the grill or in the toaster. Gather all of the remaining condiments: cucumber-yogurt sauce, skhug (if making), and lemon wedges. Cut chicken into smallish (1- to 2-inch) pieces.
To serve: I liked to smear the cucumber-yogurt sauce on a platter, pile the chicken on top, and drizzle some of the skhug over as well. But you could also serve each component separately, letting the eaters assemble as they wish. I like serving the bread on the side and using it as a vehicle to scoop or to make mini sandwiches, but you could also make larger pita-pocket sandwiches.
---
Category:

Dinner

Method:

Grill

Cuisine:

American
Keywords: chicken, thighs, smoky, cumin, coriander, smoked, paprika, garlic, lemon yogurt, skhug, zhoug
Print
Schug (Zhug) Sauce
---
Description
Adapted from Joshua McFadden's Six Seasons
Schug (pronounced skoog, sometimes spelled zhug) is a Middle Eastern (often used in Yemeni/Israeli cooking) blend of herbs, chilies, and toasted spices: there's cumin and coriander as well as hot chilies. Because the chilies are seeded, the sauce is not impossibly spicy—it's, in fact, bright with lemon, and it has a bit of texture thanks to the mass of chilies, garlic, and herbs. Once you make schug once, you will want to put it on everything.
Note: You'll see in the video I only used 1 chili — it was all I had on hand that day! — and I didn't add lemon zest…I forgot. All of this is to say the recipe is very forgiving. As long as you include some toasted spices and something that provides a little heat, and as long as you get the balance of lemon to olive oil right, you'll be good to go. 
---
Ingredients
1 teaspoon

coriander seeds

1 teaspoon

cumin seeds

1/2 cup

(or less! see notes above) seeded and roughly chopped fresh hot green chilies, such as serrano (

2

to 4)

2

to

3

garlic cloves, smashed and peeled

2 cups

lightly packed cilantro leaves and stems

2 cups

lightly packed flat-leaf parsley leaves and stems (rough stems removed)
zest from

one

lemon
juice from

one

lemon, about

3 tablespoons

salt and freshly cracked black pepper

1/2 cup

extra-virgin olive oil
---
Instructions
In a small skillet, toast the cumin and coriander seeds until they smell fragrant and have turned a shade darker in color. Transfer to a spice grinder or crush with a mortar and pestle.
Put the chilies and garlic in a food processor and pulse a few times until they are fairly fine. Add the cilantro, parsley, lemon zest, reserved toasted spiced, 1 tablespoon of lemon juice, 1/2 teaspoon kosher salt, and a few twists of black pepper. Pulse until all is finely chopped into a rough purée. With the motor running, drizzle in the olive oil. Stop the processor before the sauce is completely blended and smooth—you want some texture. Taste the sauce and adjust the seasoning with another 1/2 teaspoon salt (I always do), and pepper and lemon to taste.
Category:

Condiment

Method:

Food Processor

Cuisine:

Middle Eastern
Keywords: schug, zhug, zhoug, cilantro, parsley, cumin, coriander, lemon, olive oil