Roasted Mushroom Polenta Bake
This post may contain affiliate links. Please read my disclosure policy.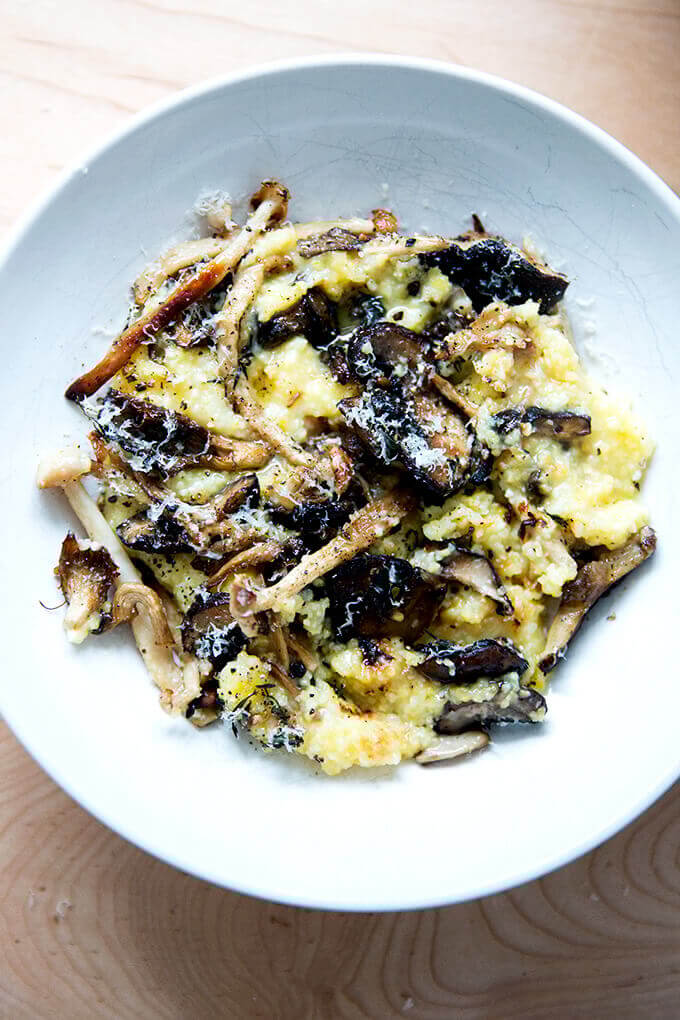 Lukas Volger, author of Bowl and Veggie Burgers Every Which Way, has a new book out: Start Simple. It's filled with "the types of recipes and tools that will help to make everyday cooking a habit."
The subtitle sums it up best: "Eleven Everyday Ingredients for Countless Weeknight Meals."
Included among the eleven everyday ingredients are beans (canned and dried), a stack of tortillas, a head of cabbage, essential hearty greens, crowns of cauliflower and broccoli, a block of tofu, and …
… friends! Can you feel my heart racing exploding? It's ALL of my favorite foods.
I felt very distracted flipping through the book the first time around because I wanted to make every recipe I came across. And when I landed on the "pile of mushrooms" chapter, I thought I might lose my mind. I dogeared nearly every recipe — shiitake lettuce cups, skillet mushroom strata, mushroom and radicchio pasta with nutty gremolata, to name a few.
But I kicked off the experiments with this roasted mushroom polenta bake, and I'm so happy I did.
This is exactly the kind of meal I crave this time of year: when I'm done with winter, but when I still need warming, comforting food. When I feel I just. can't. roast. another. root. (Though I definitely will. Tomorrow.) When I want something hearty, but don't feel like chopping all day. This, I think, is when mushrooms, meaty and earthy, never pull their weight more.
With minimal prep and chopping, this dish comes together quickly. You don't even, in fact, have to chop the mushrooms — you simply tear them into irregular shapes. How nice? Then, you dress them with both olive oil and vinegar, and roast them for about 20 minutes.
During this time, the polenta materializes stovetop. When the mushrooms finish roasting, they unite with the polenta along with a sprinkling of fresh thyme and grated parmesan. The pan then returns to the oven, where the roasted mushrooms toast up even more as they simultaneously melt into the polenta, which thickens up further and crisps at the edges. It's ready when the whole sphere of polenta and mushrooms gently undulates, as though, if given enough time, it might lift up out of the pan all together.
I like drizzling the finished dish with a little more olive oil and cracking lots of pepper over top, and while I think it is delicious as is, I can't help think about where else it could go? Showered with toasted walnuts? Topped with poached eggs? Loaded with sautéed greens? The possibilities are endless with this perfect simple start.
PS: Oven-baked polenta (a miracle) with poached eggs.
Here's the play-by-play: Roast about a pound of mushrooms, dressed with olive oil, vinegar, salt and pepper, for 15 to 20 minutes or until …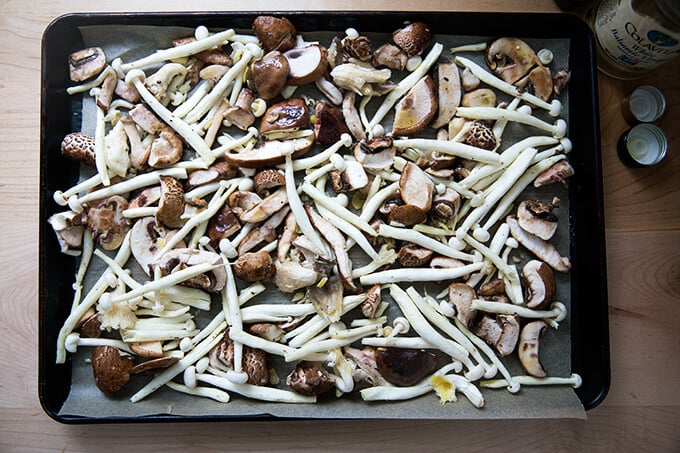 golden and tender.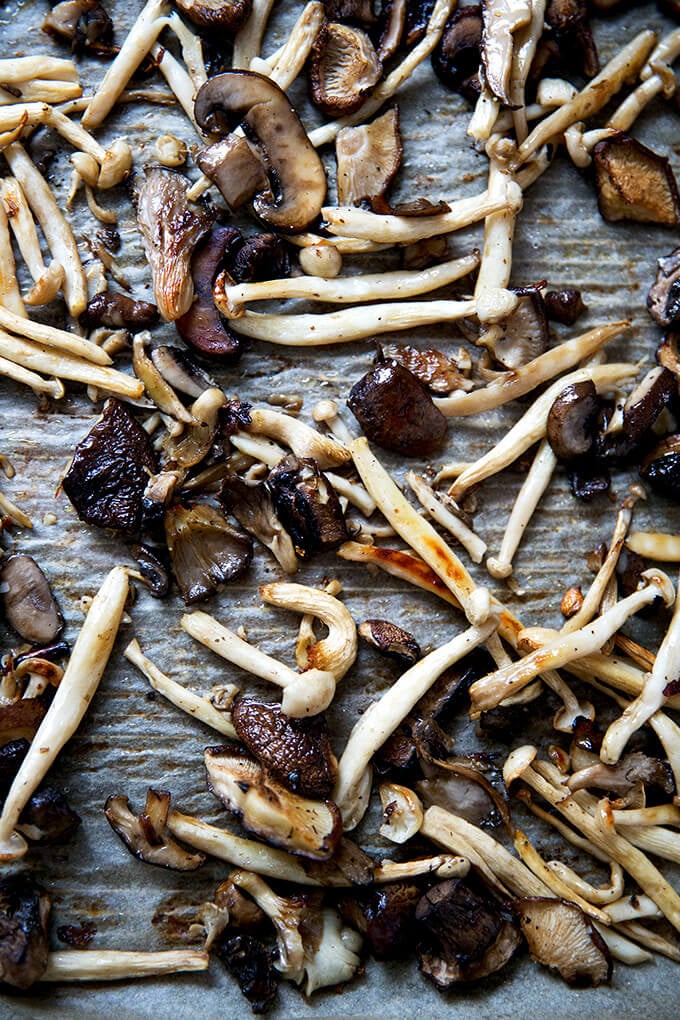 Meanwhile, pour a cup of polenta into …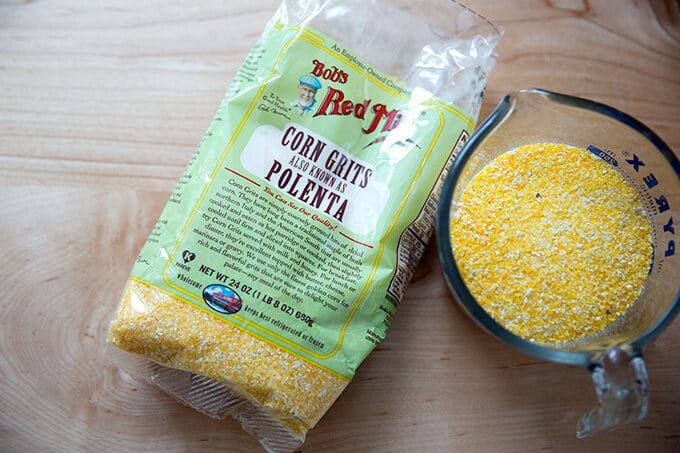 … 5 cups of water and bring to a simmer.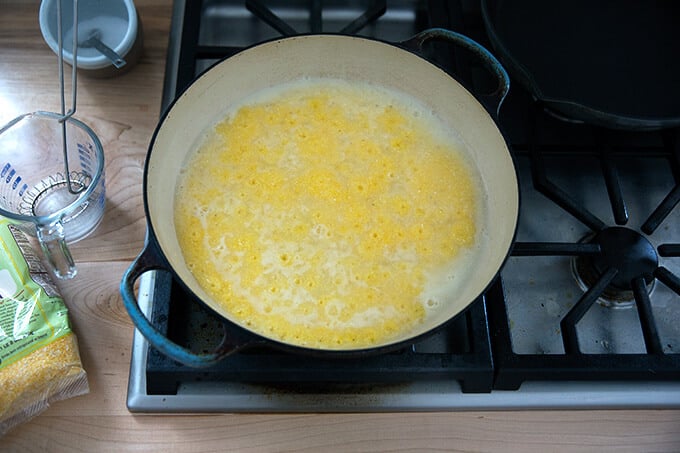 In 20 minutes or so, it should be thick and bubbling. Add 2 tablespoons of olive oil. Season with salt and pepper to taste.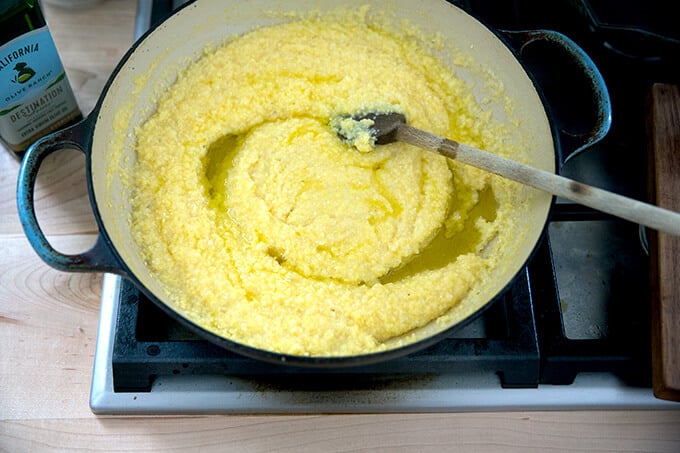 Chop up some thyme.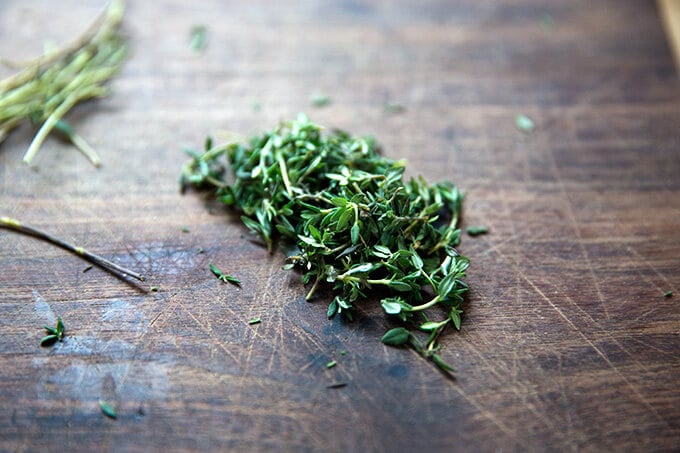 Sprinkle the roasted mushrooms and thyme over the polenta.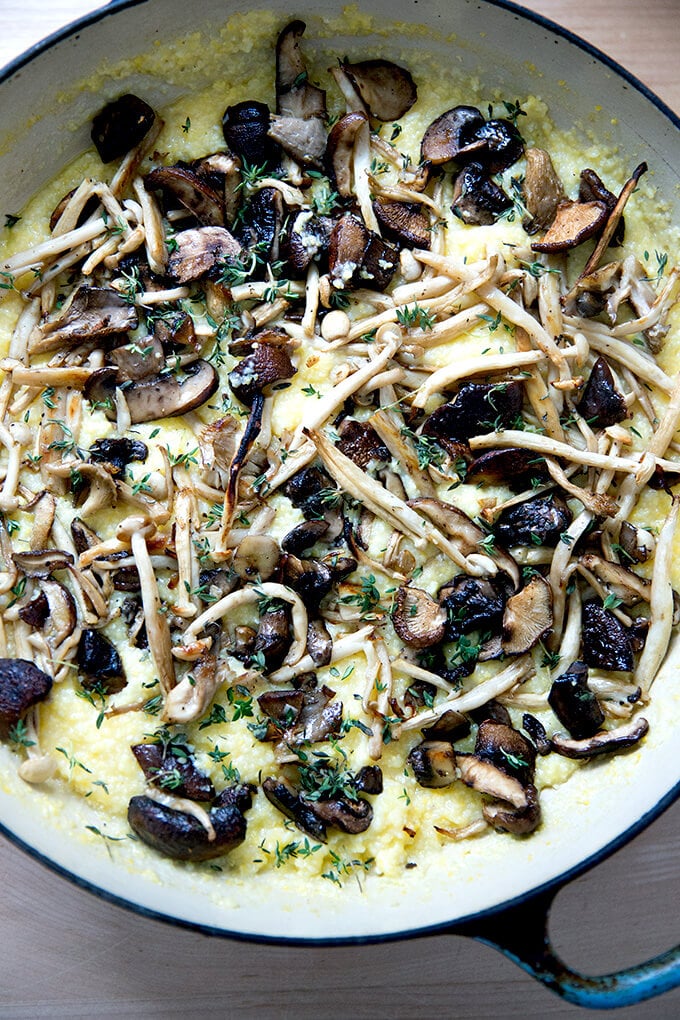 Grate some parmesan over top if you wish.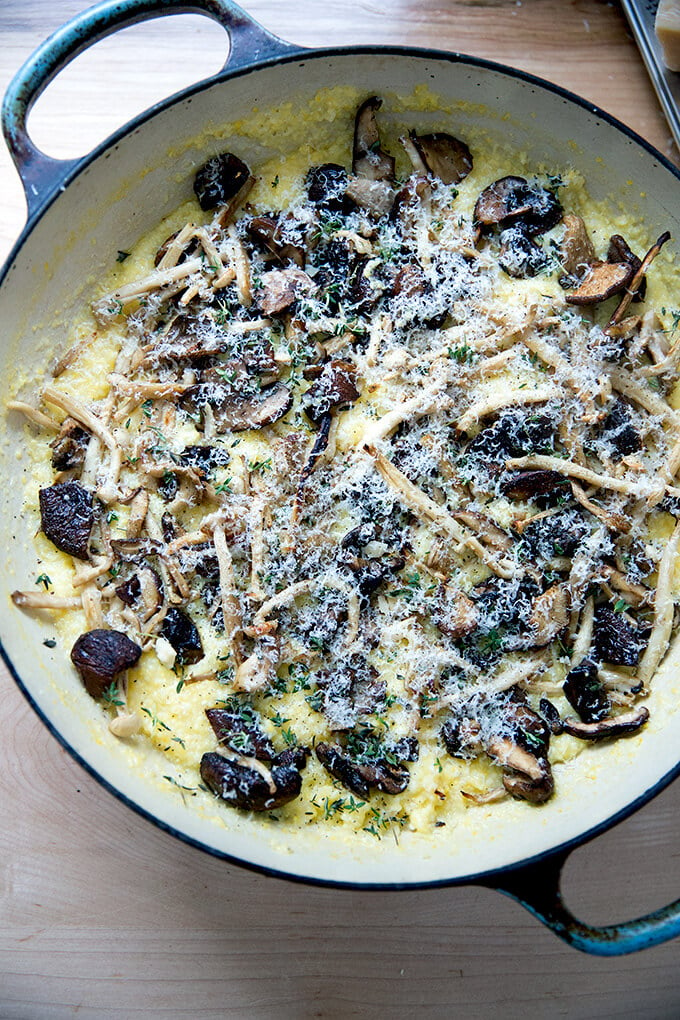 Return pan to the oven for another 15 minutes.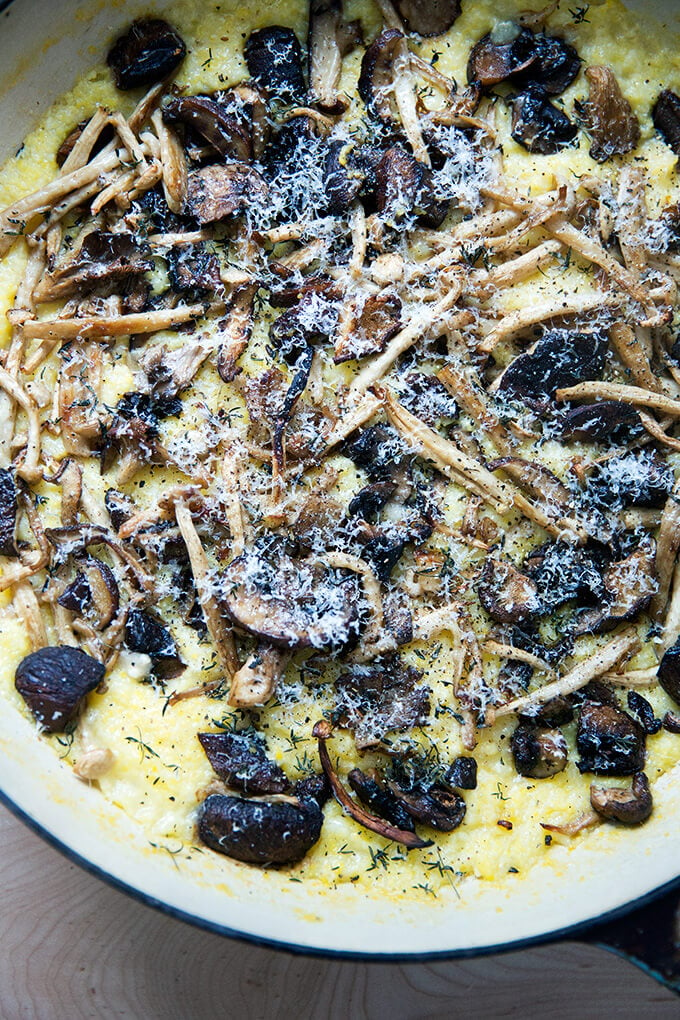 Serve immediately, passing more parmesan and pepper on the side. A drizzle more of olive oil is nice, too.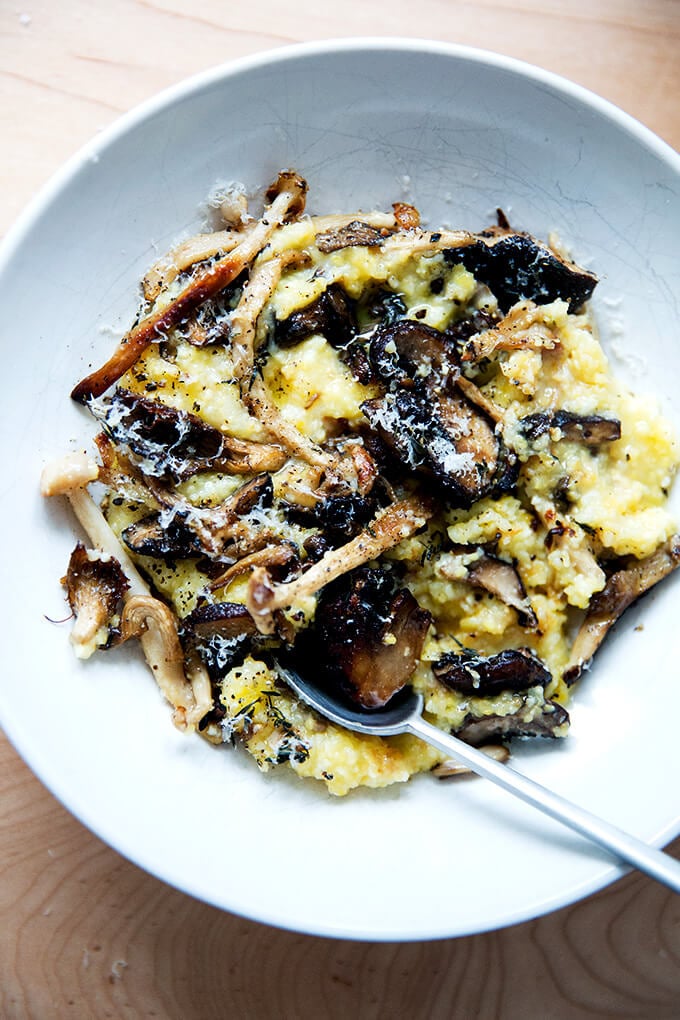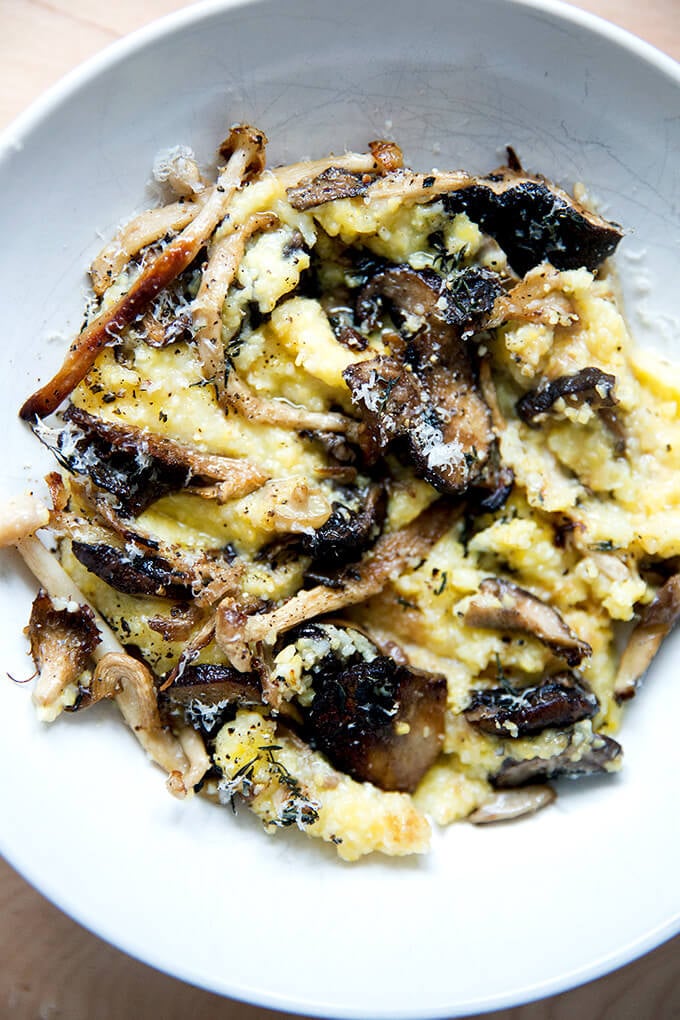 Lukas Volger's Start Simple, such a good one: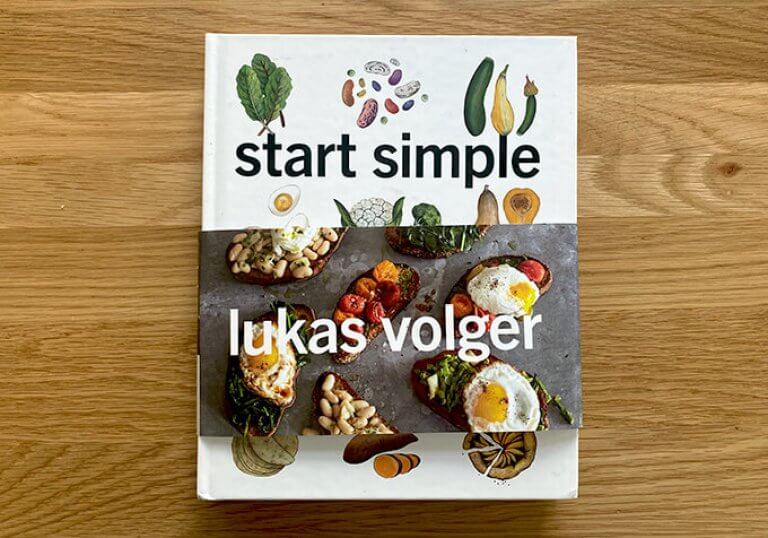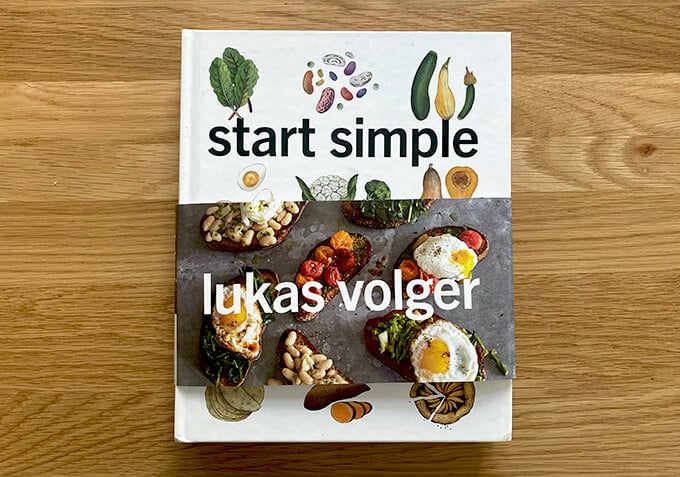 Print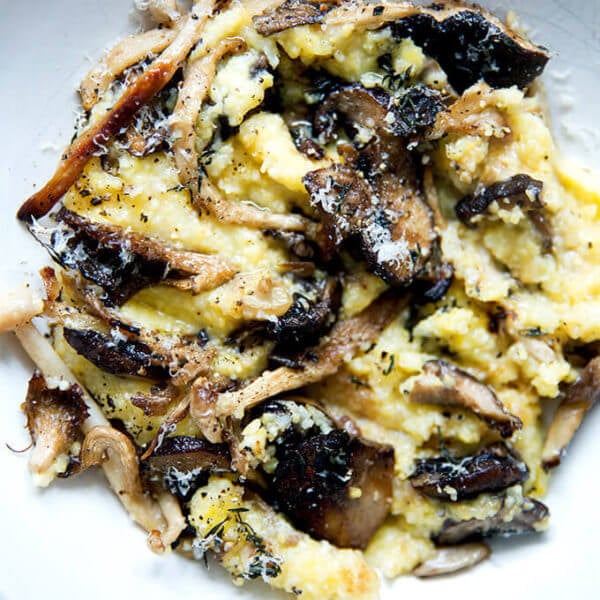 Roasted Mushroom Polenta Bake
---
Description
From Lukas Volger's Start Simple
Notes:
Mushrooms: I've been using a mix of mushrooms, some from the Asian market, and some pre-sliced "wilds" and creminis (also called "Baby Bellas") from the grocery store.  The few times I've made this I've used more like 1.25 lbs. of mushrooms, so know that you can use a little more if you have them on hand.
Vinegar: Use anything such as white, red, apple cider, or white balsamic, which is what I most often use. 
Parmigiano Reggiano: The original recipe calls for drizzling the dish with 2 tablespoons heavy cream right before baking it, which sounds delicious, and should I have some on hand the next time I make this, I will give it a go. I've been using parmesan in its place because I always have it on hand, and I mean, mushrooms + polenta + parmesan is hard to beat. 
Non-Dairy Substitute: If you are avoiding dairy, you can simply leave out both the cream and the cheese. Lukas suggests drizzling the assembled polenta bake with a bit more olive oil before transferring to the oven.
Other thoughts: I think toasted walnuts or hazelnuts would be a nice addition here, and if you're looking to add protein, a poached or fried egg would be perfect. 
---
For the mushrooms:
1

to

1.25

lbs. mushrooms, any variety or a combination, see notes above

2 tablespoons

olive oil

2 teaspoons

vinegar, see notes above
kosher salt
freshly cracked black pepper
For the polenta bake:
1 cup

polenta

2 tablespoons

olive oil
the roasted mushrooms

2 teaspoons

fresh thyme leaves
grated Parmigiano Reggiano, to taste, or heavy cream, see notes above
---
Instructions
Heat the oven to 400ºF.
Trim off and discard any tough stems from the mushrooms (such as those from shiitakes). Cut or tear the caps into roughly 1-inch pieces. Arrange the mushrooms on a baking sheet (parchment-lined for easy clean-up). Drizzle with the 2 tablespoons olive oil, vinegar, and salt and pepper to taste. (I use a teaspoon of Diamond Crystal kosher salt for a pound of mushrooms.) Toss to combine, then spread into an even layer. Transfer pan to the oven and cook for 15 to 20 minutes or until done to your liking. Remove pan from the oven and lower the oven temperature to 375ºF.
Meanwhile, prepare the polenta: In a large, wide, shallow oven-safe skillet, bring 5 cups of water to a simmer. While whisking constantly, slowly pour the polenta into the water in a steady stream. Whisk for a couple of minutes or until the polenta is incorporated. Turn the heat to the lowest setting. Add a teaspoon of kosher salt. (I use 2 teaspoons of kosher salt, but I love salt, so add to taste.) Simmer for 15 to 20 minutes or until the polenta is thick and the grains are tender. Stir in the 2 tablespoons of olive oil. Taste, being careful to let the polenta cool before you do so. Adjust with more salt and pepper to taste. (I add a sprinkling of sea salt at this point.)
Remove the polenta from the heat. Spread the mushrooms in an even layer over the polenta. Sprinkle the thyme over top. Season with pepper to taste. At this point, if you wish, you can sprinkle the parmesan over top. (See notes above if you wish to use cream instead or omit the cheese altogether.)
Transfer pan to the oven and bake for 15 minutes or until bubbling at the edges. Shave more parmesan over top if you wish. Serve immediately, passing salt, pepper, and more parmesan on the side. I like drizzling my bowl with a little bit more olive oil, too. 
Prep Time:

15 minutes

Cook Time:

40 minutes

Category:

Dinner

Method:

Oven, Stovetop

Cuisine:

American, Vegetarian
Keywords: roasted, mushrooms, polenta, bake, vegetarian, entrée
This post may contain affiliate links. Please read my disclosure policy.