Vegetarian Broccoli-Cheddar Soup
This post may contain affiliate links. Please read my disclosure policy.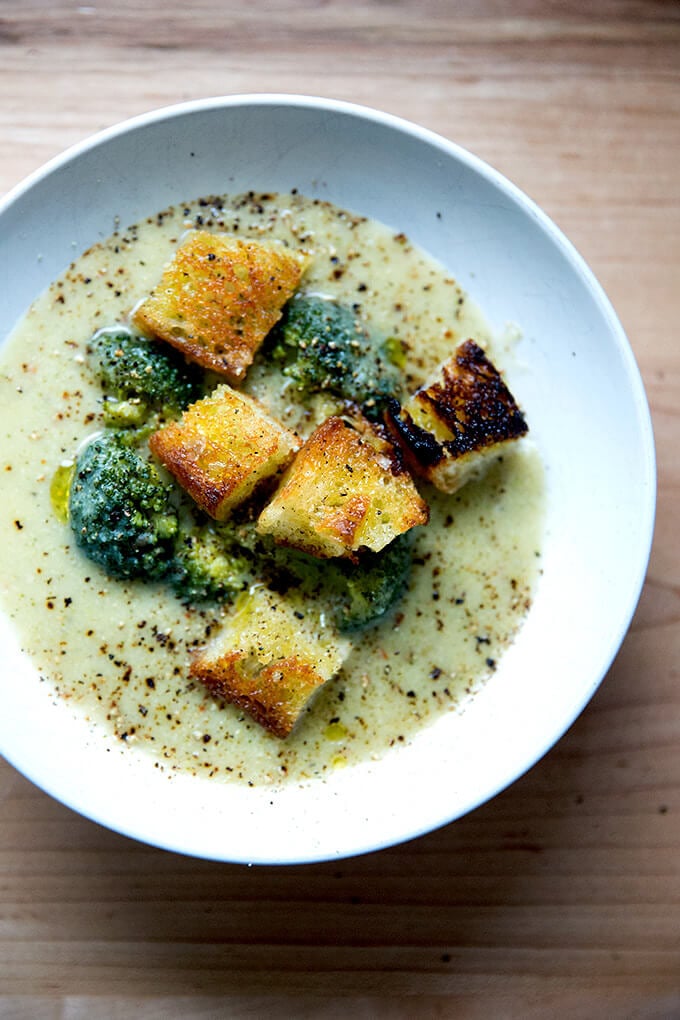 Broccoli-Cheddar soup is something I always want to make but never do. With heaps of cheese, half and half, butter, and sometimes bacon, recipes, at a glance, often more resemble Super Bowl queso than soup.
So when I saw this recipe on Bon Appetit, I was intrigued. For one, it calls for water, as opposed to stock or milk. How nice? Two, it's thickened by both puréed broccoli stalks and potato, as opposed to a roux. Love it. Three, it's finished with a small amount of Greek yogurt. Interesting, right?
As I made it, I discovered another plus: It's a one-pot, prep-as-you-go job: while you sweat the onions and garlic, you chop the broccoli and potato; as you simmer the broccoli and potato; you grate the cheese. It all comes together in about an hour, but it's a very efficient hour.
It's relaxed, too, a period of time during which you can both prep and clean in between steps. When the soup is ready to serve, your kitchen will be neat as a pin. You may even find time to toast up some cubes of day-old bread with olive oil and sea salt, something I highly recommend you do.
Can you tell how much I love this recipe? The soup tastes like — wait for it — vegetables! But it's not so austere: there's a richness and a heartiness to it thanks to a good amount of Cheddar cheese as well as the puréed potato-broccoli base. It has some nice heat, too, thanks to crushed red pepper flakes and as much freshly cracked black pepper as you wish.
This soup may have you heading back to the pot for thirds and fourths, which may leave you wondering if one bowl of queso might have been better? No chance.
PS: 5 Favorite Soups:
PPS: ALL the Soups.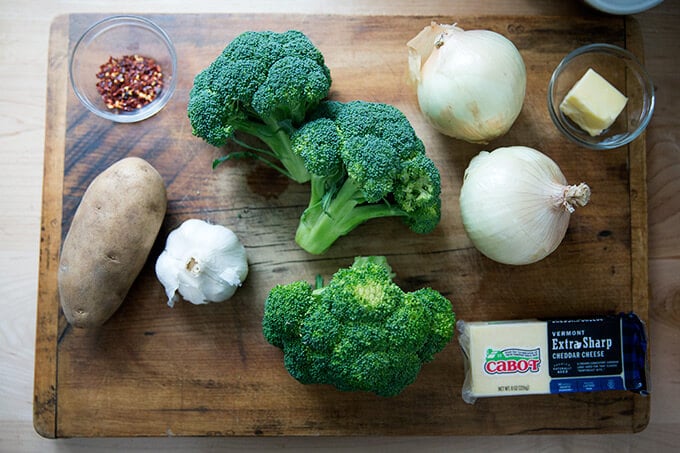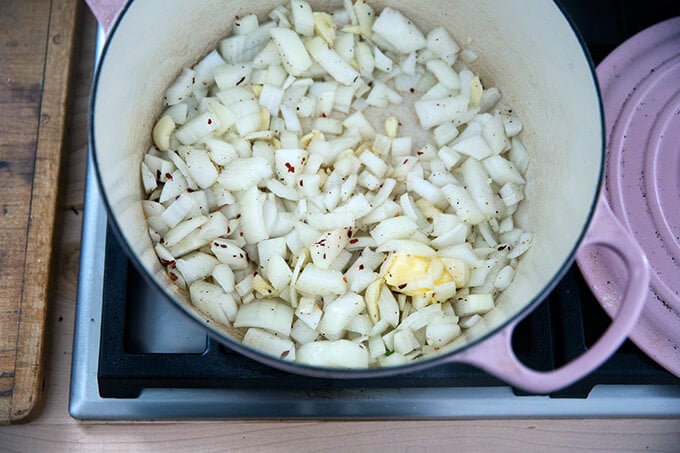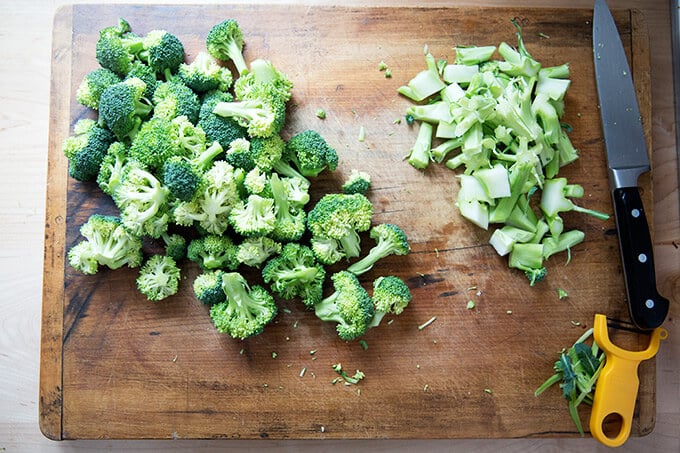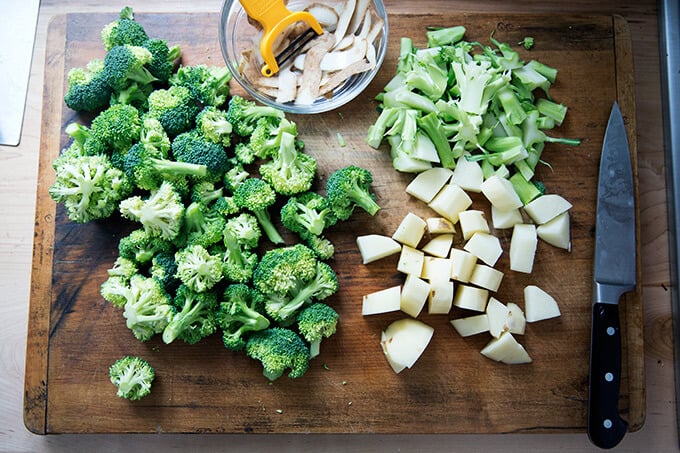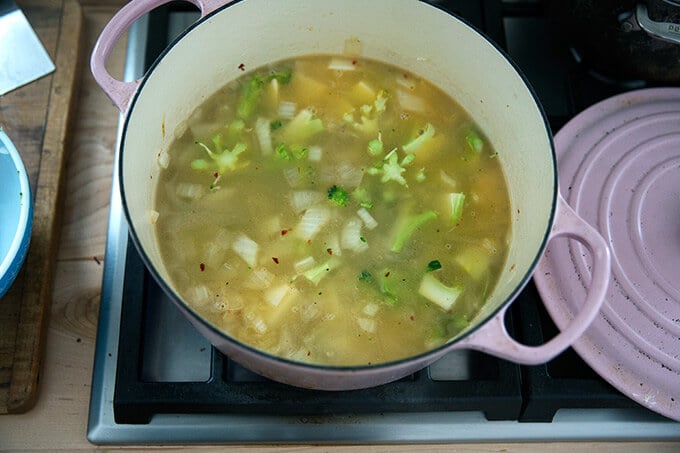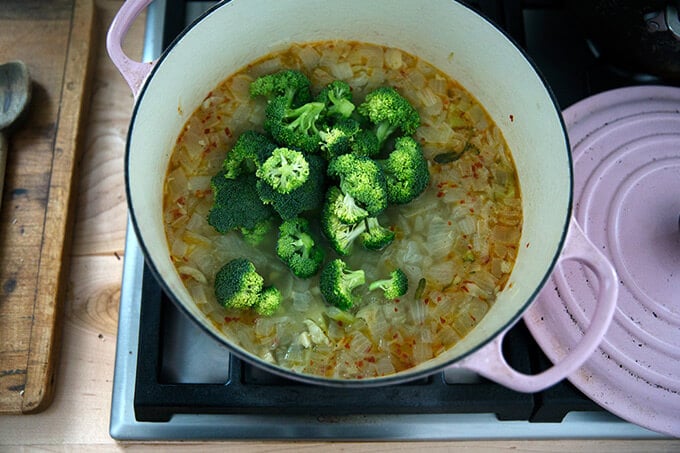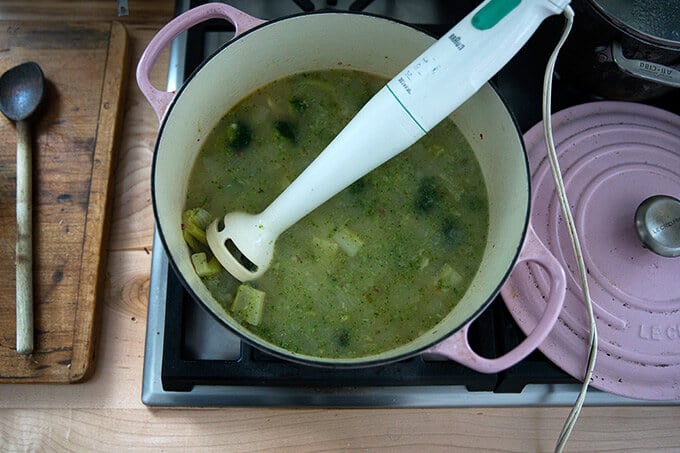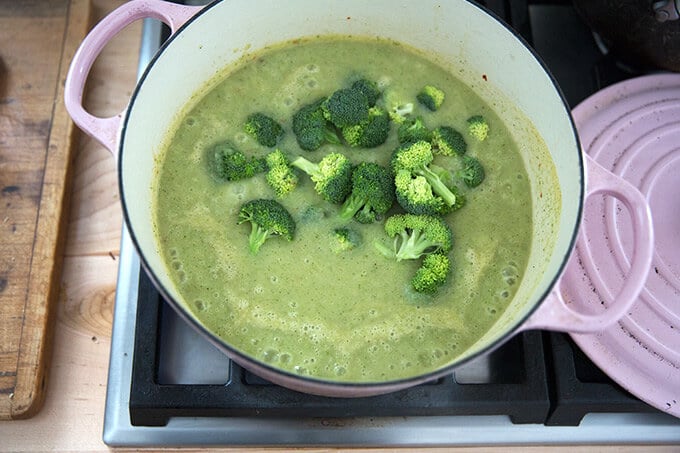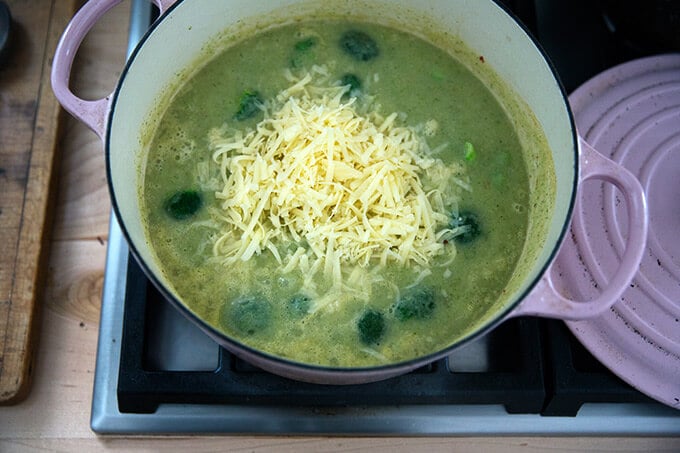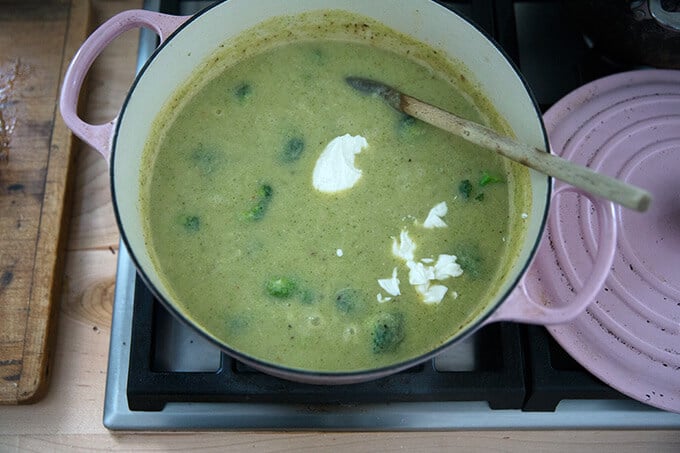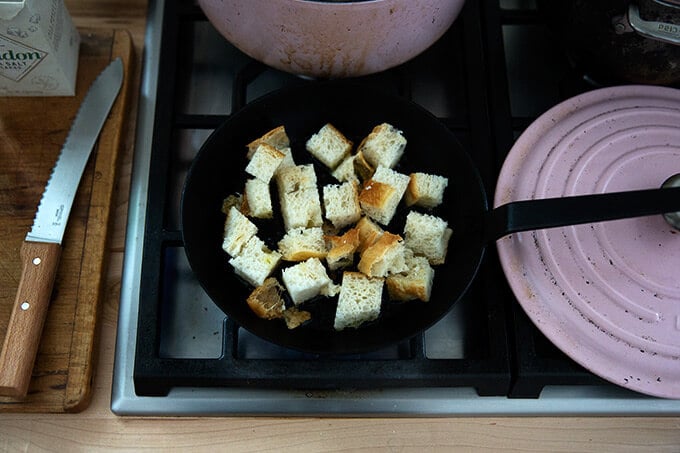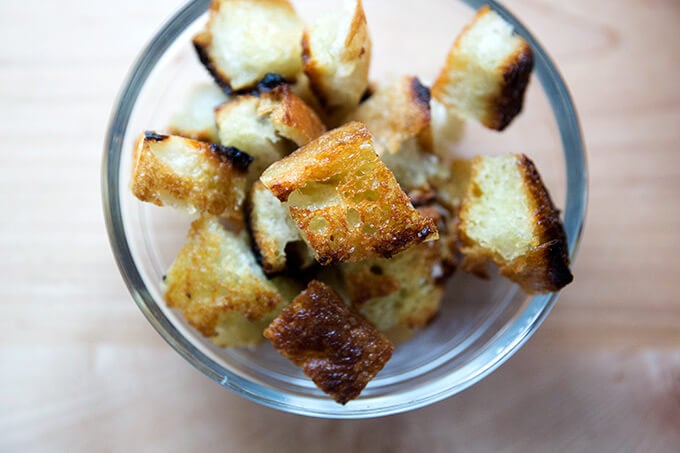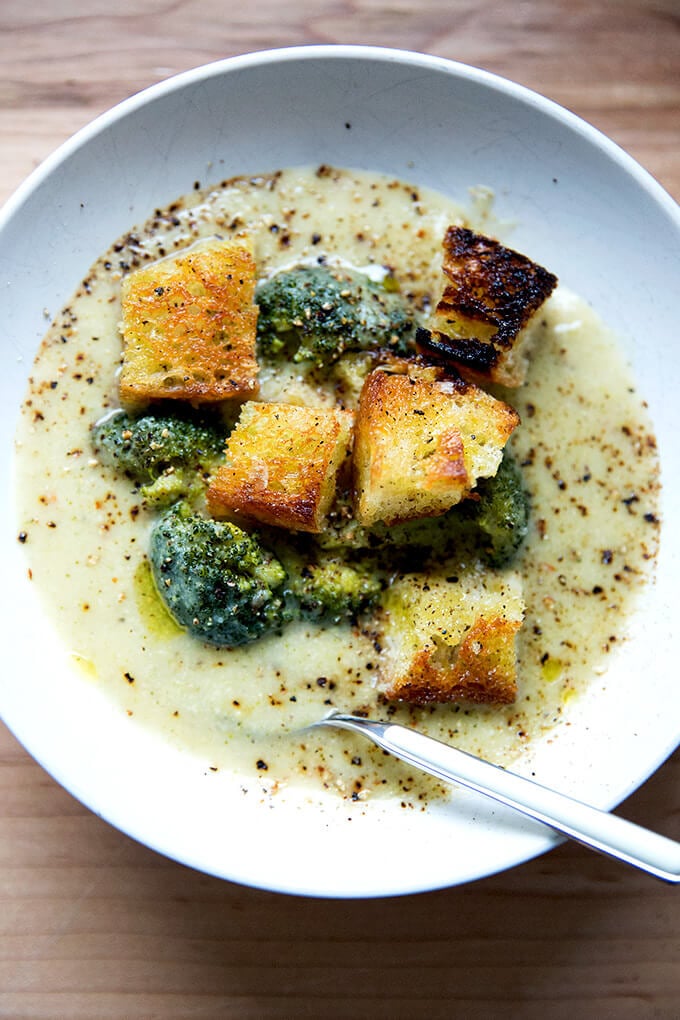 Print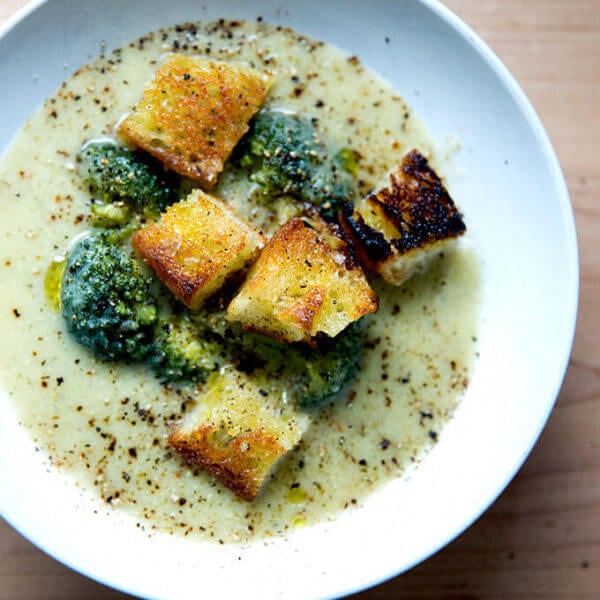 Vegetarian Broccoli-Cheddar Soup
---
Description
Recipe by Sarah Jampel of Bon Appetit
As with so many soups, this one tastes better by the day, so don't be afraid to make it ahead of time. 
The original recipe calls for making cheesy toasts, which you cut up and add to the soup, which look and sound delicious. For simplicity, I've stuck with my favorite soup topper: cubes of olive oil-toasted, day-old bread. They are irresistible on their own, but especially good in soup. I also find I can keep my children more interested in their soup with a bowl of these croutons on the table. 
With that in mind, if you are making this for children, omit the crushed red pepper flakes or cut it back to 1/4 teaspoon. 
---
For the soup:
3 tablespoons

butter, salted or unsalted is fine

2

onions, roughly chopped (to yield about

4 cups

)

4

garlic cloves, smashed and roughly chopped

½ teaspoon

crushed red pepper flakes, see notes above

Kosher salt

Freshly ground black pepper

1½

pounds broccoli (2-3 heads, roughly)

1

medium russet potato (9-11 ounces, roughly)

6 ounces

sharp cheddar cheese, grated to yield about

2 cups

½ cup

plain Greek yogurt
For the croutons:
day-old bread

olive oil

flaky sea salt, such as Maldon
---
Instructions
Melt the butter in a large pot over medium-low heat. Add the onion, garlic, and crushed red pepper flakes (or less or none at all if serving to children). Season with a pinch of salt and pepper. Stir to combine, then cover pot and cook, stirring occasionally, until softened and just starting to take on color, 15 minutes.

Meanwhile, trim the bottoms of the broccoli stalks. If stalks are thick, peel the outer layer. Using a knife, separate the hefty stalks from the florets (the thin, little stalks attached to broccoli tops are fine to leave intact). Set aside florets. Coarsely chop the stalks. 

Peel the potato, and coarsely chop it.

Add broccoli stalks and potato to pot and stir to combine. Pour in 5 cups water, add 1 tablespoon kosher salt, and bring to a boil over high heat. Reduce heat to medium-low and keep at a simmer. Cover pot and cook until broccoli stalks and potatoes are completely tender (test with a paring knife), 20 to 25 minutes.

Meanwhile, chop reserved florets into small pieces. Add half of the florets to pot, cover, and cook until bright green, 3–5 minutes. Purée soup with an immersion blender or, if using a traditional blender: transfer soup in small batches to the blender, let cool for 5 minutes, and purée until smooth, taking care to remove the center lid from the cover, and to use a kitchen towel to cover and allow steam to escape (and avoid explosions) while you blend.

Return soup to medium heat and add remaining florets. Cover pot and cook until bright green, another 3–5 minutes. Add 2 cups cheddar cheese and stir until smooth. Reduce heat to low.

Remove soup from heat and stir in ½ cup plain Greek yogurt. Season generously with black pepper; taste for salt.

To make the croutons: In a large skillet over medium-high heat, heat a hefty splash of olive oil (2 to 3 tablespoons). Add the cubed bread and a good pinch of sea salt. Let cook, undisturbed, for one minute. Check one cube. If it's beginning to turn golden, give the cubes a stir or flip each one over with tongs or forks. Cook for 3 to 5 minutes or until cubes are evenly golden and beginning to crisp. Pile into a bowl and serve alongside the soup. 
Prep Time:

10 minutes

Cook Time:

50 minutes

Category:

Soup

Method:

Stovetop

Cuisine:

American
Keywords: broccoli, cheddar, soup, healthy, better, lighter, vegetarian
This post may contain affiliate links. Please read my disclosure policy.