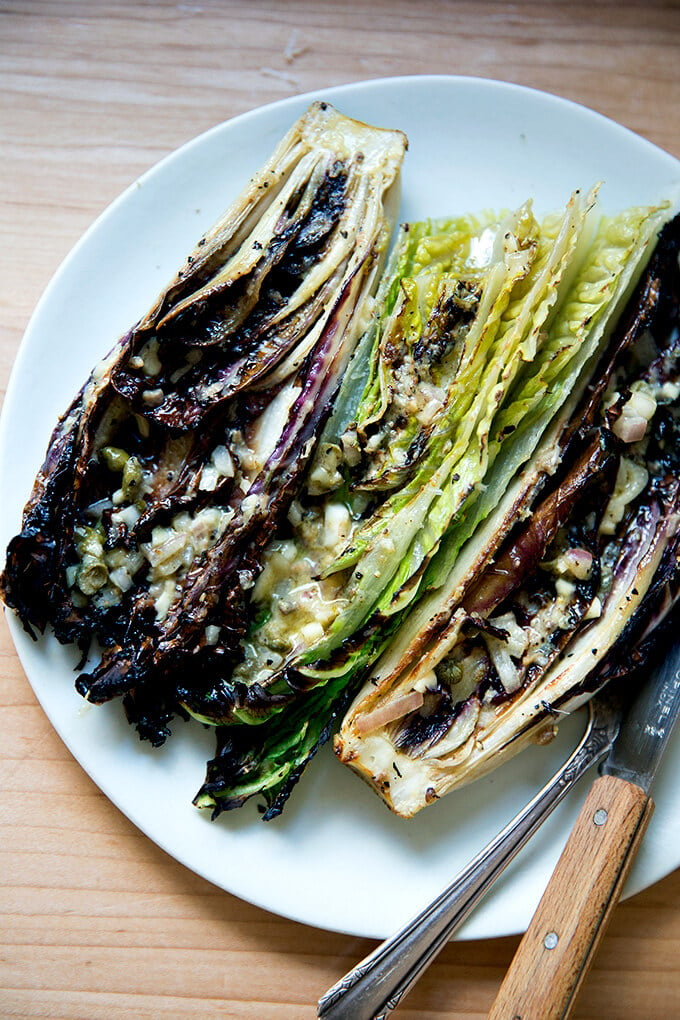 Susan Spungen, renowned food stylist, original Martha Stewart editor, and wildly creative cookie crafter, has a new book out: Open Kitchen: Inspired Food for Casual Gatherings.
In addition to offering elegant but simple recipes, it's all about Susan's "get-ahead" and "stress-free" cooking philosophy. To this end, each recipe includes a "timing tips" box with bulleted action items, steps you can do in advance. How nice?
I was immediately struck by this recipe, and Susan's description: "A big platter of various halved and grilled heads of slightly bitter greens is a sight to behold and a cinch to prepare."
And while this statement could, perhaps, describe many a dish, after making this one several times now, I don't think it has ever felt more fitting than here. Friends: where to begin?
Have you ever grilled Romaine? No? Me neither. I have seen, over the years, countless recipes encouraging me to do so, but alas, come grilling season, lettuces never manage to grace the grates.
But I love the idea. I love a good, charred vegetable.
And you know what I love even more? A good charred vegetable without lighting a grill. When I read Susan's note — "If it's not grilling season, or you don't have an easy-to-fire-up gas grill, you can do this under the broiler instead." — my heart leapt.
Under the broiler, in four minutes total, halved heads of Romaine and radicchio transform: their edges caramelize, their bodies warm through, buckling slightly, releasing juices that bead at the surface.
Out of the broiler, they're hit with, forgive me, an umami-bomb of a dressing, a whirl of anchovies, garlic, shallots, mustard, capers, lemon, and olive oil. It's like the best Caesar dressing you've ever tasted, but one with texture and body, one that gets trapped in the labyrinth of crevices of the broiled lettuces.
As I eat this salad, I find myself thinking: How is this Romaine? Romaine?! Perhaps unfairly, I've never given Romaine much thought; it's always been the ever-present, reliable lettuce I'll chop up for summer salads or tuck into a wrap or a sandwich.
But broiled (or grilled!) Romaine — this is something I would serve to company; this is something, in fact, that makes me want to have people over, to design a whole menu around this one gorgeous dish.
Truly, as Susan notes, it's a cinch to prepare: halving the heads of lettuce takes about a minute. The dressing takes a little bit longer, calling for minced anchovies, garlic, and a shallot, but all in all, it's a ten-minute job that can be done ahead of time. (If you hate chopping, you could do this in the food processor).
In the summer, Susan tops the grilled lettuces with chopped tomatoes, which sounds fabulous. As tomatoes are out of season, I've used olive oil toasted bread crumbs (heaven), toasted pepitas (delicious), and soft-boiled eggs, which so nicely complement the flavors of the dressing and make it more of a meal.
Friends, I have a really hard time stopping once I start eating this salad, and while I want to tell you you can leave out the anchovies if you don't like them, I think it's the anchovies that cause me to lose all control. I can't wait for you to give this one a go.
A Few Notes:
Parmesan! Did I fail to mention the heads of lettuce broil with a dusting of shaved parmesan? Which melts and crisps and tastes delicious? Sorry. It's true. They do. If you are avoiding dairy, just leave it out.
Lettuce! In addition to the Romaine, the recipe calls for dandelion greens, which I could not find, and radicchio or Treviso, which I did find, but which I forbid you to go on a wild goose chase for: just use Romaine. It's so good. That said, if you can find the other suggested lettuces, they do provide some visual appeal, and they are tasty, too.
Anchovies! Of course, if you are vegetarian, leave out the anchovies. But if you are someone who thinks you don't like anchovies, consider leaving them in. They impart such flavor and they mostly disappear.
Here's the play-by-play: Gather your ingredients: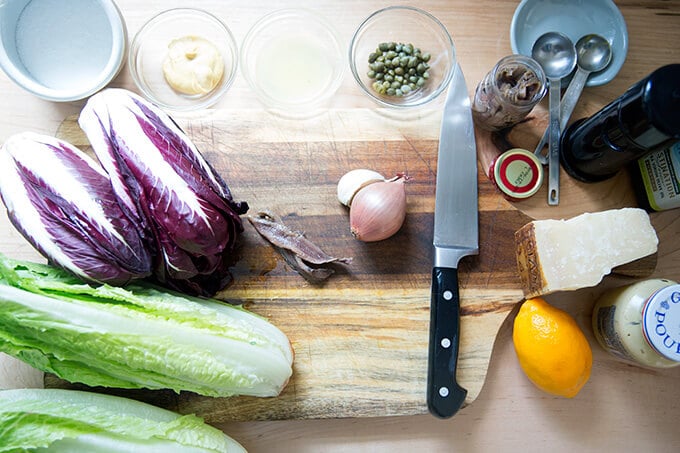 Make the dressing: Mince a clove of garlic and a few anchovies. I like to mince them together.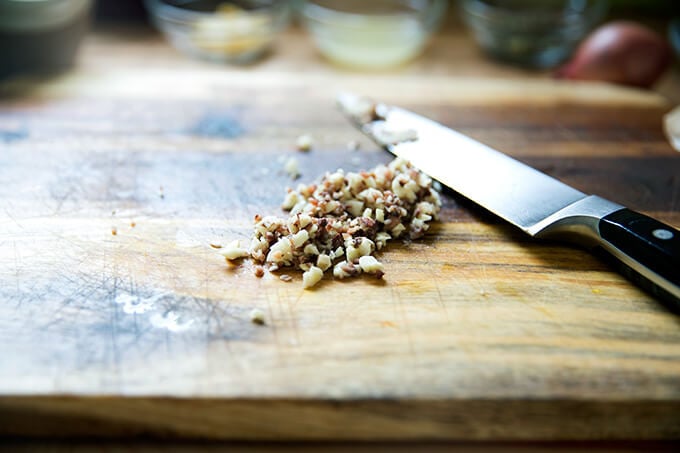 Mince half a shallot. You need about a tablespoon.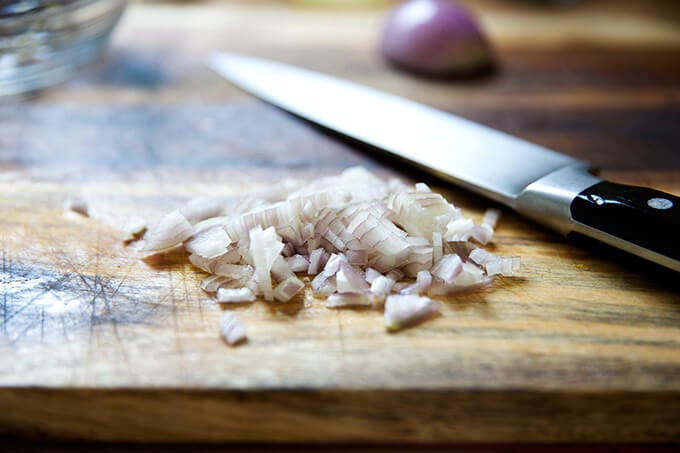 Combine the minced shallots, garlic, and anchovies with lemon, mustard, chopped capers, and olive oil.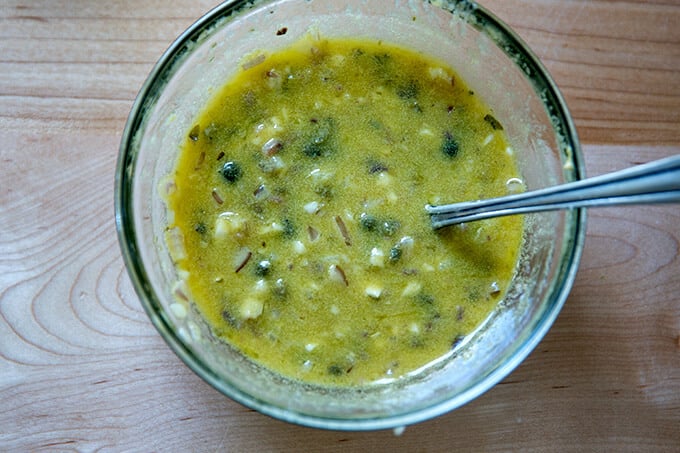 Halve your lettuce head. Heat your broiler.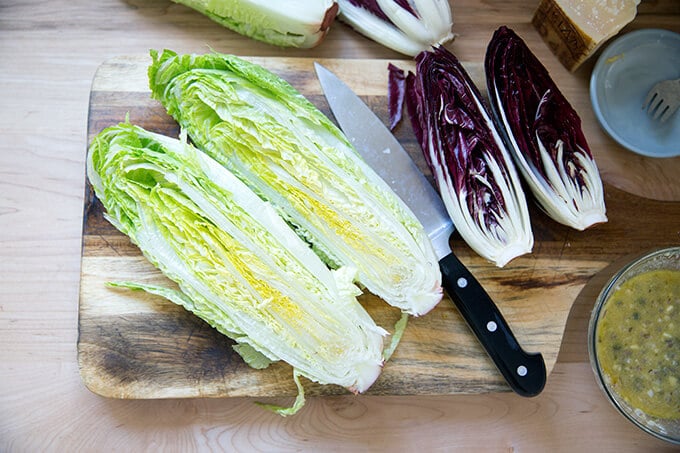 Lightly oil a foil-lined baking sheet. Place the halved heads cut-side down. Season with salt and pepper.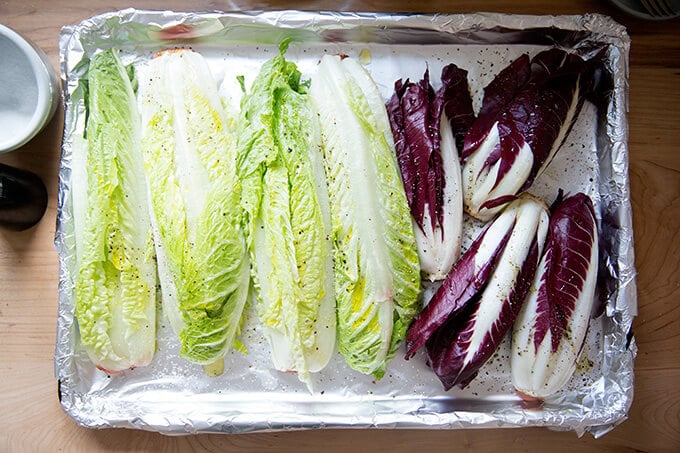 Broil for 2 minutes, keeping a close watch.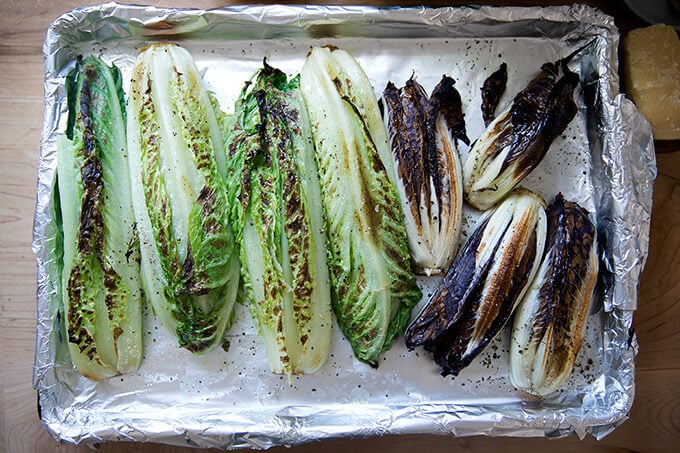 Flip. Drizzle with more oil. Shave parmesan over top. Season with salt and pepper.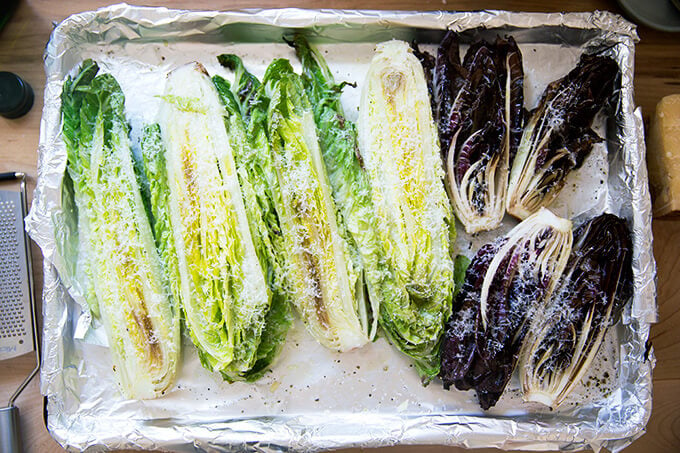 Broil 2 more minutes or until charred to your liking.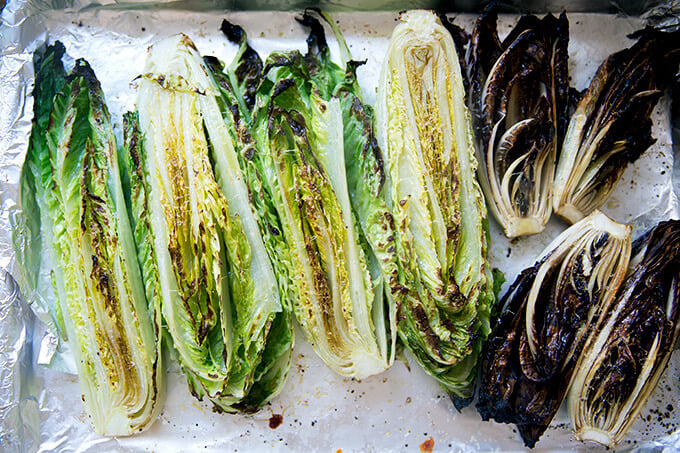 Transfer broiled lettuces to a plater.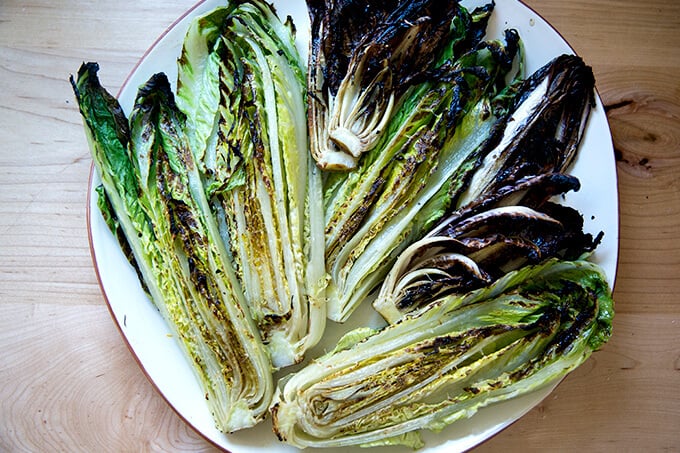 Spoon dressing over top. Grate more parmesan over top if you wish. Season with salt and pepper to taste.
Top with soft-boiled eggs, if you wish.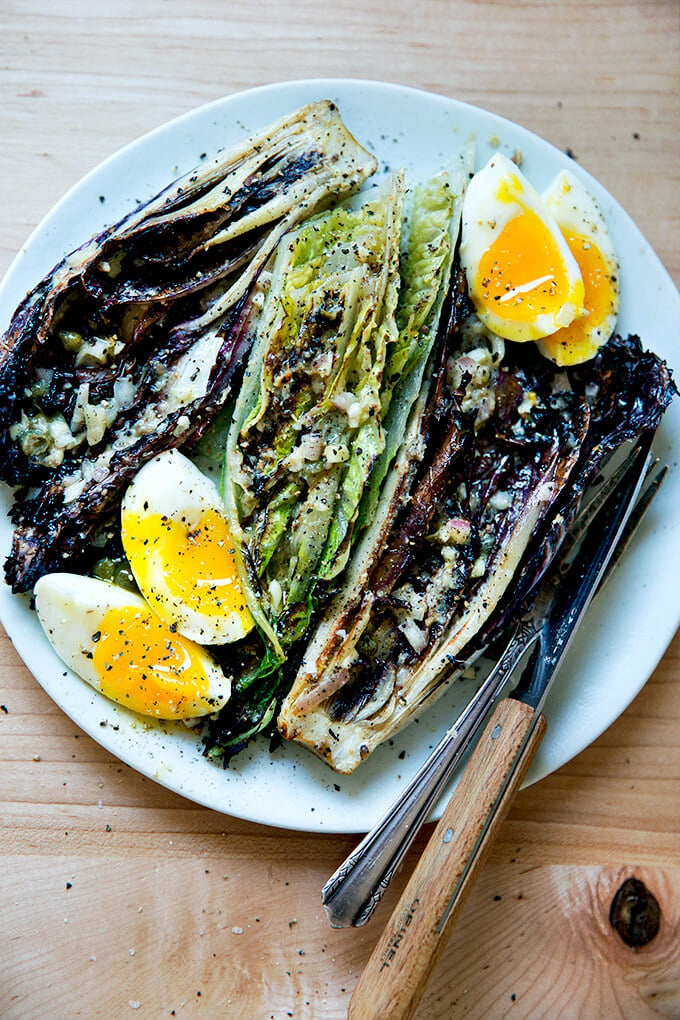 Susan Spungen's Open Kitchen: Inspired Food for Casual Gatherings. So good.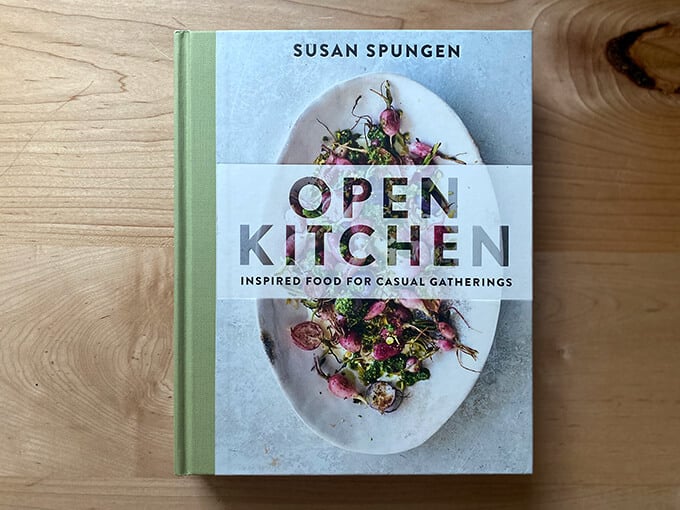 Print
"Grilled" Romaine Caesar Salad
---
Author:

Alexandra Stafford

Prep Time:

15 minutes

Cook Time:

5 minutes

Total Time:

20 minutes

Yield:

Serves 4 to 6 as a side
Description
From Susan Spungen's Open Kitchen  
Notes:
In the summer, use the grill, and top with chopped tomatoes. 
If you are vegetarian, leave out the anchovies. If you are not vegetarian, but think you don't like anchovies, consider giving them a go. They disappear in the dressing, yet provide a ton of flavor.
Do not go on a wild goose chase for Treviso or radicchio or other chicories: Romaine on its own is delicious. 
As noted in the post, I love serving this with soft-boiled eggs. You can use your Instant Pot or your stovetop. For stovetop: bring a small (or large depending on how many eggs you are cooking) pot of water to a boil. Prepare an ice bath. Carefully lower the eggs into the pot of boiling water. Adjust heat so water is gently simmering. Cook 7 minutes. Transfer eggs to ice bath.
---
Ingredients
For the dressing:
1

garlic clove, minced finely or grated on microplane

1/2

small shallot, finely minced (about a tablespoon)

2

–

4

anchovies, finely minced (about a tablespoon)

1 tablespoon

capers, chopped

1 tablespoon

Dijon mustard

1 1/2 tablespoon

s fresh lemon juice
pinch salt
freshly ground black pepper

1/4 cup

olive oil
For the salad:
2

heads radicchio or Treviso, see notes above

1

to

2

heads Romaine or Little Gem lettuce

1

bunch dandelion greens, if you can find it
olive oil
salt and pepper to taste

2 ounce

s Parmigiano-Reggiano cheese, thinly shaved

8 ounce

s juicy tomatoes, chopped, if in season
---
Instructions
Heat the broiler. (Or heat a grill to high.)
Make the dressing: Combine the garlic, shallot, minced anchovy, capers, mustard, lemon juice, salt, and pepper to taste in a small bowl; whisk to combine. Slowly whisk in the oil until emulsified. Set aside.
Prepare the greens. Halve the Romaine and radicchio (or Treviso) heads, leaving the cores intact. Line a sheet pan with foil. Rub it lightly with oil. (If grilling, toss the greens lightly with oil, salt, and pepper in a large bowl.) Place the halved heads of lettuces cut side down on the sheet pan. Drizzle with olive oil. Season with salt and pepper to taste. Transfer pan to the oven and broil for 2 minutes, or until lightly charred. (If grilling, grill cut-side down for 2 minutes.).
Carefully turn the heads. Drizzle with more olive oil. Season lightly with salt and pepper to taste. Scatter the cheese over top or, if you haven't shaved it yet, grate it over top. Return pan to the oven, and broil for another 2 minutes, checking after a minute and a half. (If grilling, grill for 2 more minutes.)
Transfer heads to a large platter. Spoon dressing over top to taste. You may not need all of it. Top with tomatoes if using. Grate more parmesan over top, if you wish. Crack more pepper over top, too, if you wish. Top with eggs, if using. Pass extra dressing on the side along with some flaky sea salt, such as Maldon, if you have it.
---