Quick Vegetable & Tofu Curry
This post may contain affiliate links. Please read my disclosure policy.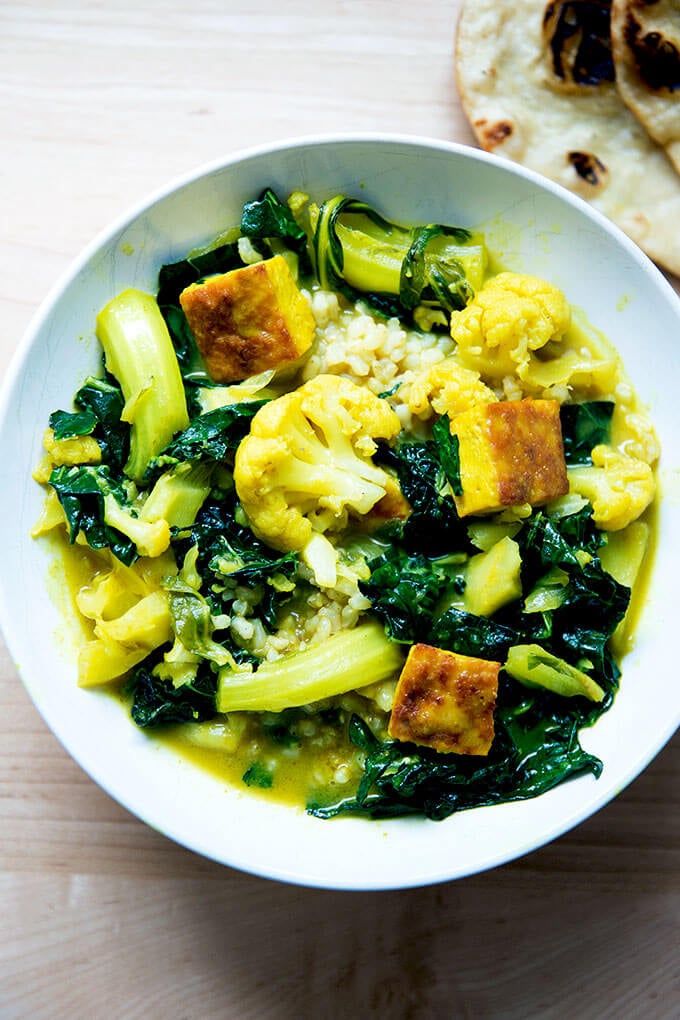 My naan experiments earlier this month sent me on a curry bender. I started with this favorite lentil + kale dal, then made this chickpea + cauliflower number, then sort of combined the two, leaving out the legumes, adding tofu in their place.
The result is a veggie-loaded, super flavorful, Thai-spiced "curry", a stewy, comforting not-quite-one-pot wonder of a dish. Here, the curry materializes stovetop, while tofu cubes bake briefly in the oven, just long enough to lightly crisp the edges, a measure that ensures the cubes won't dissolve while simmering, but not so long to render them tough, incapable of absorbing the sauce.
Inspired by this one-pot chicken curry, a dish I learned from Thien Ngo at Fork, this dish is flavored with Thai curry paste, curry powder, turmeric, and coconut milk. I love serving it with rice — this (no-rinse!) Instant Pot brown rice is a favorite — and, of course, naan.
If you've made any of the curries mentioned above, the process here will feel familiar. This is the formula:
Sweat onions (and/or garlic, ginger).
Stir in spices + Thai curry paste.
Pour in coconut milk + water.
Add the substance (lentils, chickpeas, vegetables, tofu, chicken)
Simmer till substance is cooked and sauce is flavorful.
Fold in greens — spinach, kale, Swiss chard — at the very end.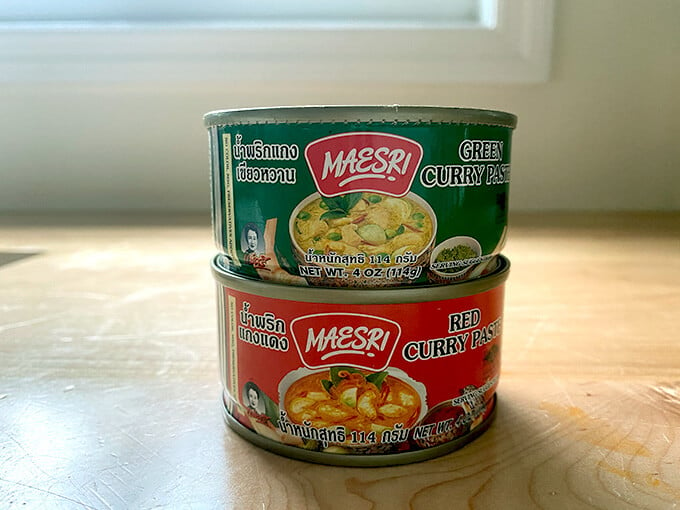 Vegetable Curry Notes
Thai Curry Paste:
Using a ready-made curry paste is a serious time saver. It's a concentrated mix of aromatics, often shallots, garlic, ginger, and lemongrass, along with spices such as coriander, cumin, and cardamom. Using a few tablespoons of such a paste almost renders additional aromatics (such as onions as here) or spices (such as turmeric and curry powder as here) unnecessary (though I do find their inclusion here worthwhile).
Maesri was Thien's favorite brand. My Asian market carries it, but I also order it online. I've used both red and green curry pastes in this recipe.
Heat Level: Thai curry paste is spicy. Start with a tablespoon if you are sensitive to heat; add more to taste.
Vegetables:
Cauliflower: Look for a head of cauliflower with lots of greens still intact — discard only the tough stem and leaves.
Greens: Folding in something like kale, spinach or Swiss chard at the very end of the cooking process not only gives the curry an extra boost of vegetables, it also provides color and flavor.
Other vegetables: If you are not yet tired of winter squash season, roasted delicata, Kabocha, or butternut squash would work well here. Sweet potatoes would be nice, too.
Here's the play-by-play: Gather your ingredients.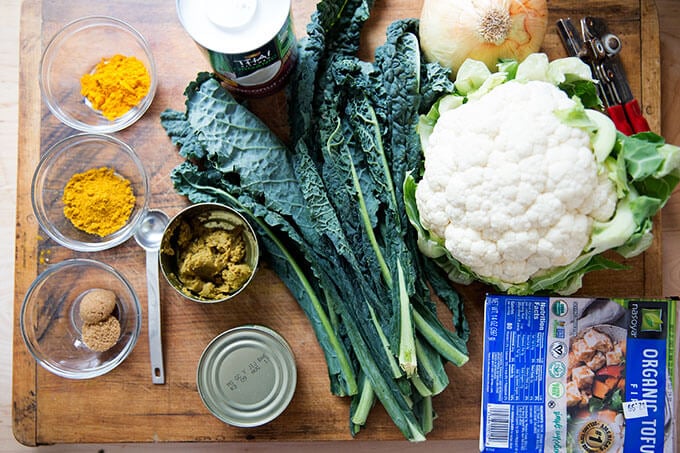 If time permits, drain the tofu. Here's one way to do it (but place the colander in the sink):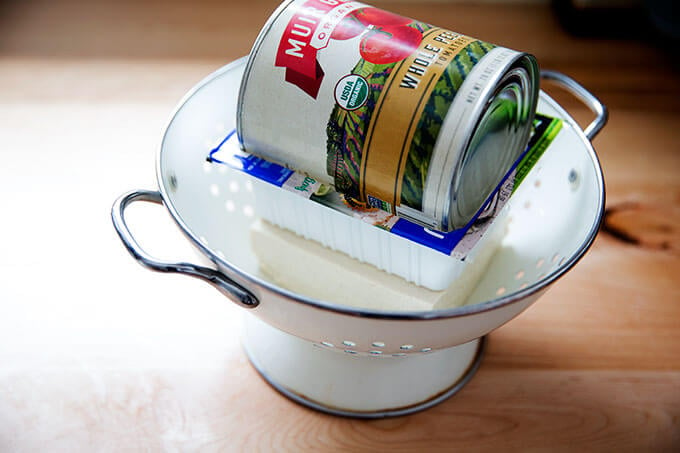 Cut the tofu up into 1-inch cubes, roughly: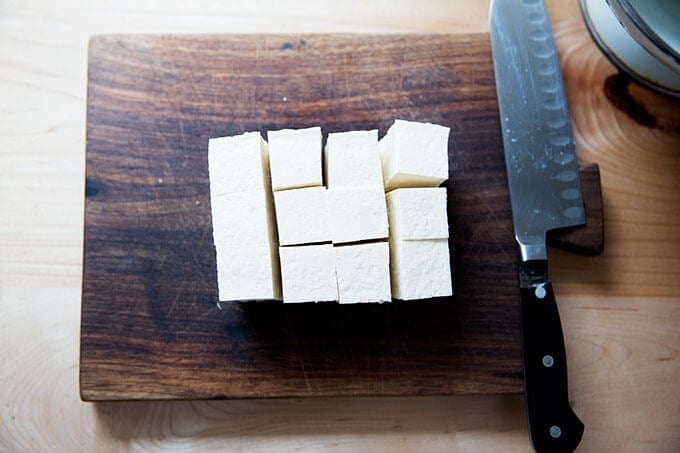 Spread on a baking sheet, drizzle with olive oil, season with salt, and transfer to a 425ºF oven for 10-15 minutes, or until lightly golden.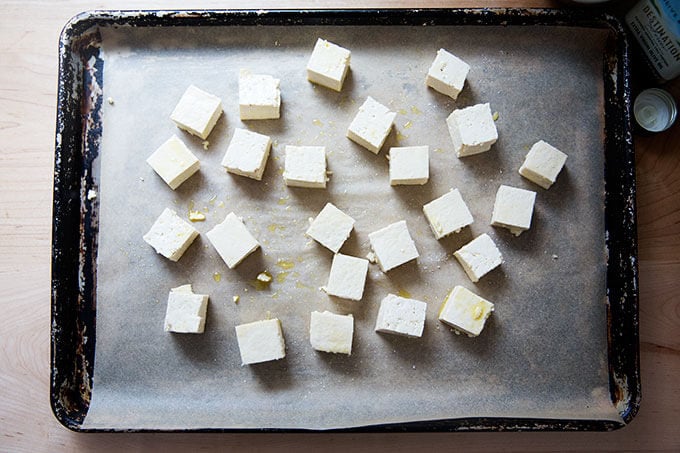 Meanwhile, slice up an onion.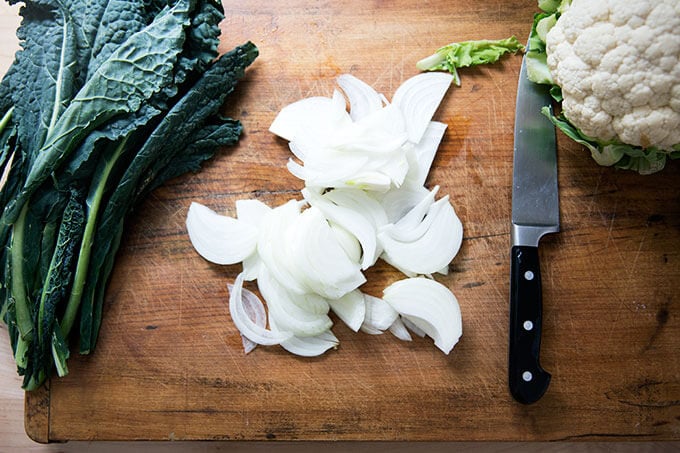 Then, cook it covered over low heat with a tablespoon of olive oil and a pinch of salt.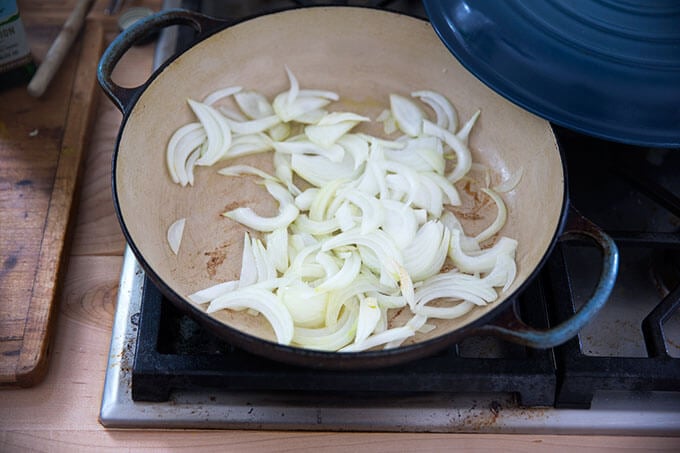 Add spices: turmeric, curry powder, and curry paste (see recipe for notes.)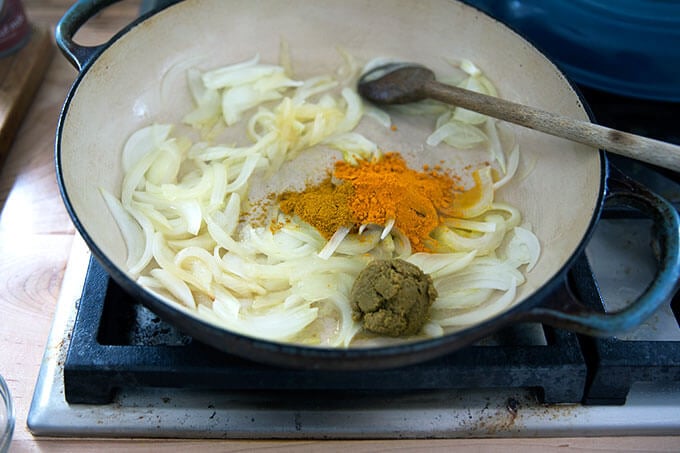 Cook for a minute or two or until the onions are nicely coated and the spices are beginning to toast and stick to the pan.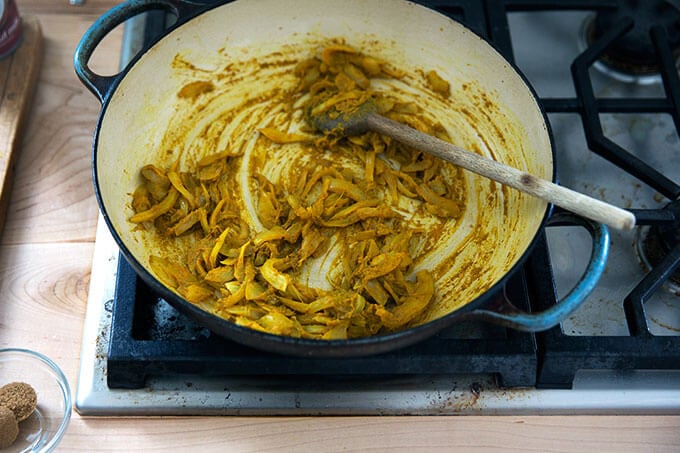 Add a can of coconut milk and some water to the pan, and bring to a simmer.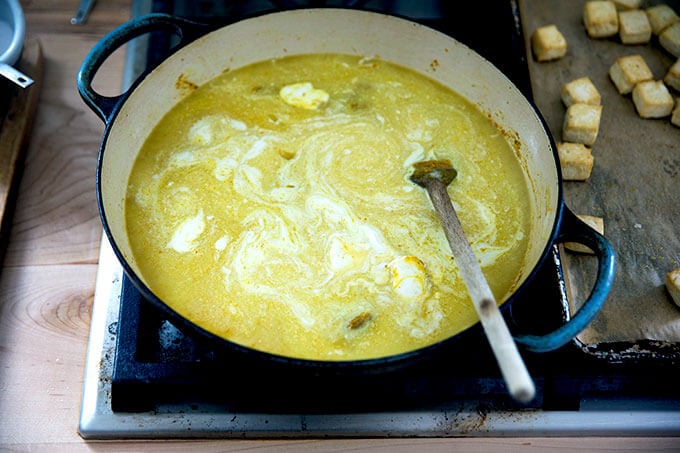 Meanwhile, chop up a head of cauliflower. Much of the greens can be used — remove the tough stem and the tough outer leaves; use everything else.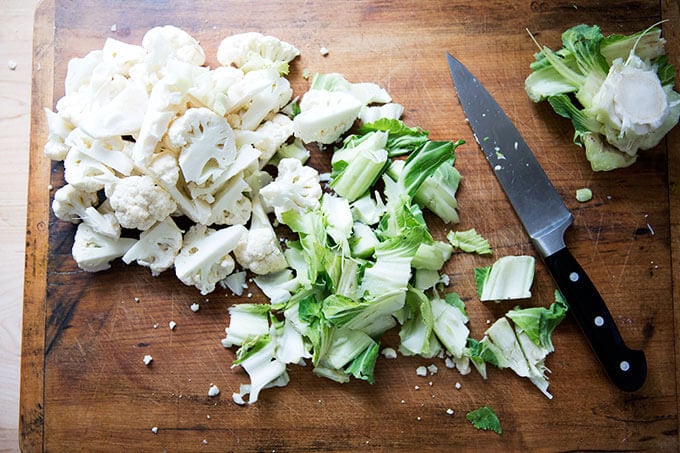 Add the cauliflower to the pot along with the tofu, and simmer for about 10 minutes or until the cauliflower is knife tender.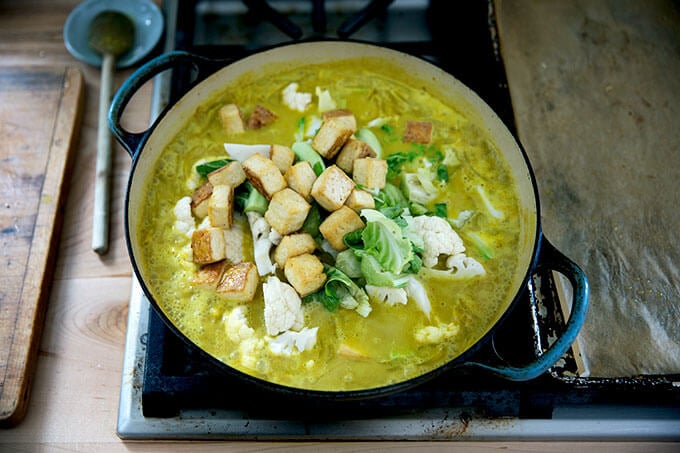 Meanwhile, chop up some kale (spinach or Swiss chard is fine here, too).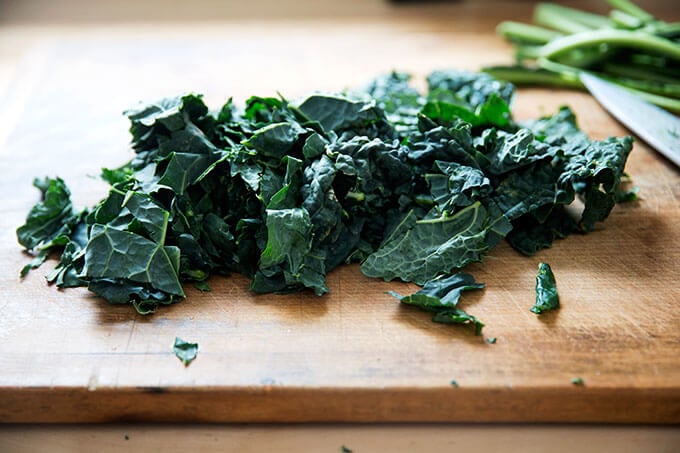 Add to the pan and stir gently to incorporate. Cook for another 5 minutes.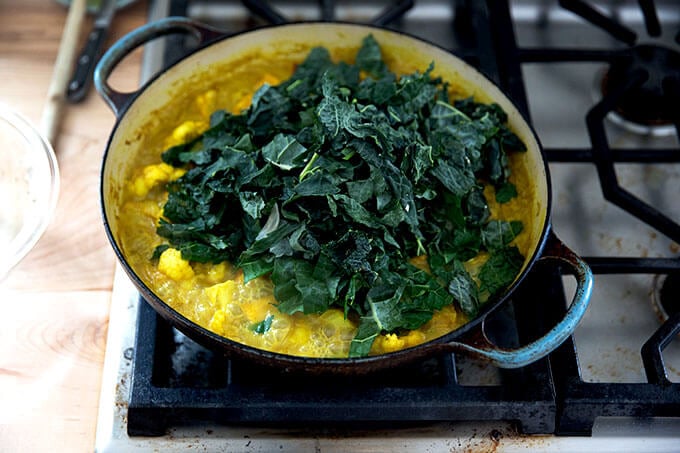 Serve with rice — I love this Instant Pot brown rice (no rinsing necessary!) — and/or naan.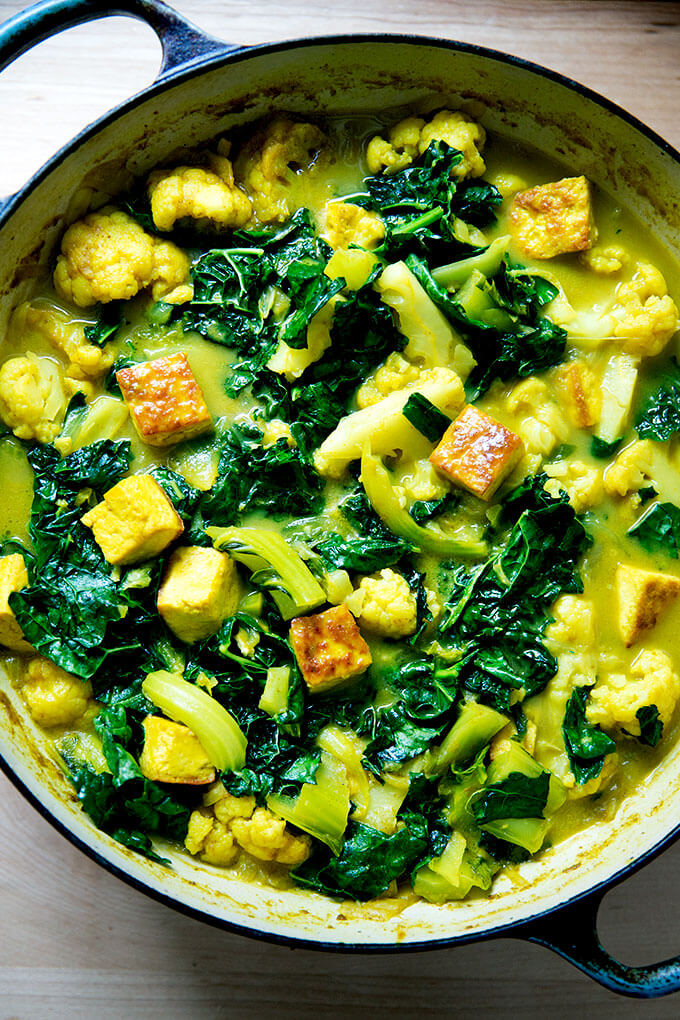 Print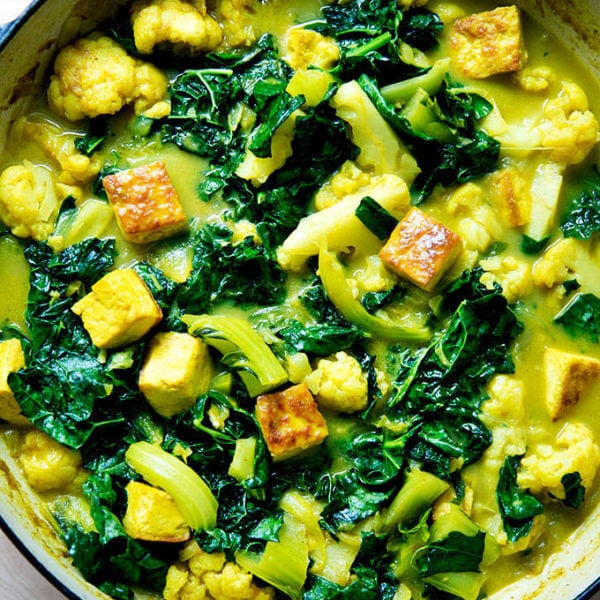 Quick Vegetable & Tofu Curry
---
Description
This recipe can be seen as a guide. I have made many variations of it over the years: 
A few notes:
Spices: To keep things simple, I'm using turmeric and Madras curry powder here. You can, of course, make the effort to toast and crush whole spices such as (such as cumin, coriander, and mustard seeds as here) but if you aren't up for it, the combination of curry powder, turmeric and Thai curry paste will be plenty flavorful. 
Curry paste. Maesri is the brand of Thai curry paste I buy at the Asian market. You can buy it online, too: I most often use the green for this recipe, but the red is great, too. Both are spicy. If you are sensitive to heat, start with a tablespoon and adjust the sauce with more at the end.
Coconut Milk. I've gotten in the habit of ordering it online because I love this brand, and I can't always find it. Plus it's cheaper.
---
a

14

-oz block of firm tofu

1 tablespoon

olive oil + more for drizzling

1

large onion, thinly sliced
kosher salt

1

–

3

tablespoons red or green Thai curry paste, see notes above

2 teaspoons

curry powder, such as Madras

2 teaspoons

turmeric

13.5 oz

can unsweetened coconut milk

2 teaspoons

brown sugar

1

large head cauliflower

2

to

4

ounces kale
lime for serving, optional
---
Instructions
Drain the tofu. If time permits, drain the tofu. This is what I like to do: Remove tofu from its packaging. Place tofu in colander. Place the tub it arrived in on top. (If it didn't arrive in a tub, simply fold a tea towel around it, and place it in the colander.) Place something heavy, such as 28-oz can plum tomatoes, inside the tub (or on top of the towel). Place colander in sink to drain for 10-15 minutes. See photo above for reference. Heat oven to 425ºF. 
Cut tofu into cubes, roughly 1-inch. Spread onto a parchment-lined sheet pan. Drizzle with a little bit of olive oil, season with salt. Toss gently. Spread out. Transfer pan to the oven and cook for about 15 minutes. You're not trying to get these super crispy, just lightly golden (so they don't turn to mush in the curry). 
Meanwhile, get going on the curry. In a large skillet over high heat, add the oil, then the onions. Season with a big pinch of salt. Stir. Cover pan and immediately turn heat down to low. Cook for 10 to 15 minutes or until onions begin to take on some color.
Prep the veg. Cut off tough bottom stem of cauliflower. Remove only the very tough outer leaves. Cut the remaining leaves roughly, and cut the cauliflower into florets. Remove the leaves from the kale stems. Chop the leaves roughly. 
When the onions are ready, open the lid, allowing the water to drip back into the pan. Add the curry paste and spices and cook for a minute or two, or until the onion is evenly coated in the spices, and the spices are beginning to toast.
Add the coconut milk. Fill the empty can with water, and add it to the pan. Fill it again halfway and add to the pan — you need about 2 3/4 cup water. (Note: If you like a brothier curry, add  2 cans full of water (3 cups); if you like a thicker curry, use 2.75 cups water.)  Bring to a simmer. Add the brown sugar and a teaspoon of kosher salt. Add the cauliflower and the tofu and simmer at a good pace — turn the heat up if necessary — for about 10 minutes or until the cauliflower is tender. Check with a paring knife. (Note: Cauliflower quickly goes from being uncooked/tough to knife tender. Keep in mind the texture of the finished dish ultimately is on the mushy side … there are no crispy elements here. On subsequent days, the texture of the vegetables gets even softer, but I find the flavor gets even better.)
Add the kale, and stir to combine. Taste the broth. Add more salt if necessary. Add a squeeze of lime if necessary, too. (Note: Depending on the size/shape of the pan you are using, the broth may evaporate more (or less) quickly. If you find you need more liquid, simply add water by the quarter cup; if it's too liquidy, simmer it until it thickens slightly and the flavors concentrate.)
Serve with rice or naan, if you wish. 
Prep Time:

20 minutes

Cook Time:

30 minutes

Category:

Dinner

Method:

Stovetop

Cuisine:

Thai
Keywords: quick, vegetable, curry, cauliflower, tofu, kale, onions, vegan
This post may contain affiliate links. Please read my disclosure policy.