Watermelon, Feta, and Mint Salad
This post may contain affiliate links. Please read my disclosure policy.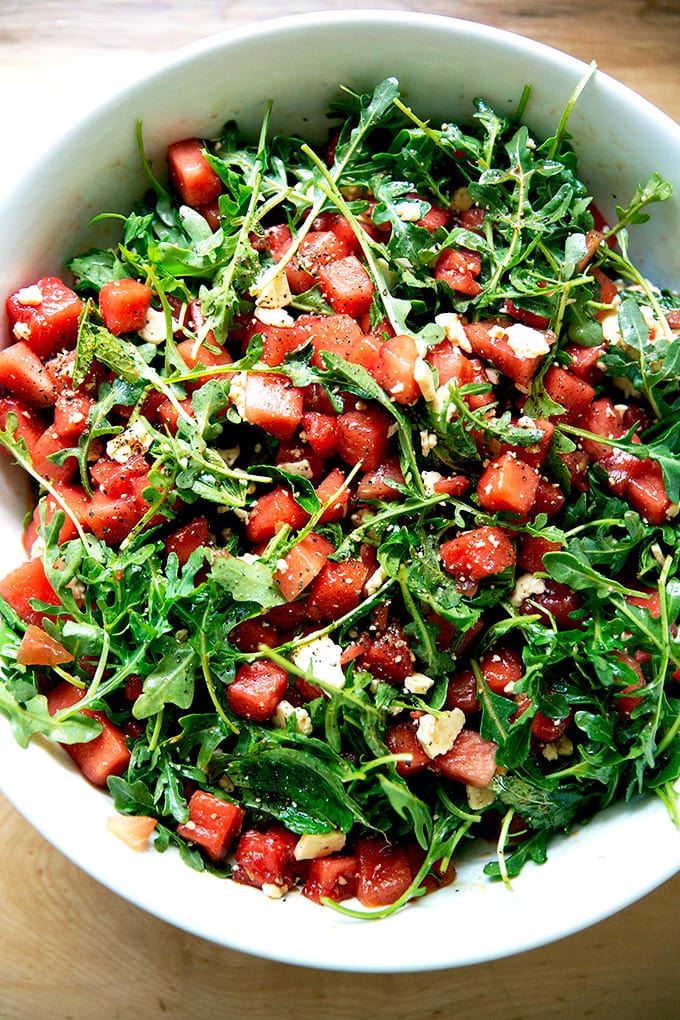 Last Saturday our town's annual "Niska-Day" parade, postponed for two years due to the pandemic, returned in full force with floats, dancers, singers, and more. Due to construction on the main road, a re-routing put my house right on the parade's path, and as a result, I found myself with a front yard full of friends. We ate bagels, sipped mimosas, and watched as what felt like the entire town marched by.
Shortly after the parade began, my friend Jill arrived with a gigantic tray lined with individual cups filled with what I learned to be watermelon, feta, and mint salad. Under the blazing sun, nothing could have tasted more refreshing, and as the morning went on and the cups gradually disappeared, the recipe requests poured in.
I could not, of course, take any credit, and when I finally tracked Jill down to ask her about the salad, she brushed it off very casually, saying something like: Oh I just threw this together five minutes before I arrived. It's the simplest thing in the world.
Jill is one of these intuitive cooks, not someone who follows recipes, but when I pried, I learned that her "recipe" really is quite simple: toss watermelon cubes with olive oil, aged balsamic, and sea salt; add fresh mint, basil, and feta; toss again.
I have made watermelon and feta salad before, but it never tasted as delicious as Jill's. I think her heavy hand with the mint and basil separates hers from others. I've done my best to recreate her recipe, which you will find below. I've added arugula, which I like, but the salad is delicious without it.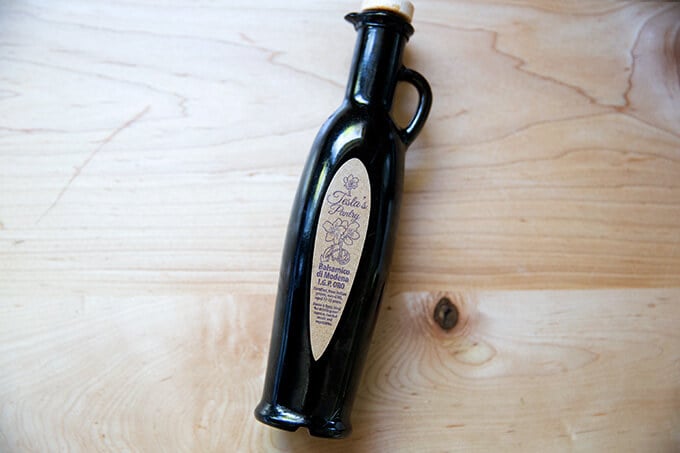 A Few Notes
This salad is best assembled just before serving. You can prep the components of it ahead of time, but once you combine everything, serve it immediately. See recipe box for more details.
For this recipe you'll need aged balsamic, which generally is very pricey. This Testa's Pantry Balsamico di Modeno, which I buy locally at the Niskayuna Co-op but which is available to purchase online, too, is syrupy and delicious, and it sells for $16.99 for a 250 ml bottle. This is a great — a more than great — value. (For some reference, an 8.5 oz (roughly 250 ml) bottle of Villa Manadori typically goes for $49.95. I have not done a side-by-side taste test with Testa's balsamic against other more expensive varieties, but I have no doubt Testa's Pantry would hold its own.
If you don't feel like splurging on balsamic vinegar, you can make your own by simply reducing 1/4 cup of standard balsamic vinegar stovetop until it gets syrupy (see recipe for details). I do this with Ina's Roasted Brussels Sprouts and this roasted asparagus recipe.
Watermelon, Feta, and Melon Salad, Step by Step
First, gather your ingredients: watermelon, feta, olive oil, aged balsamic (such as this one or you can "make it" yourself, see recipe box), sea salt, mint, and basil.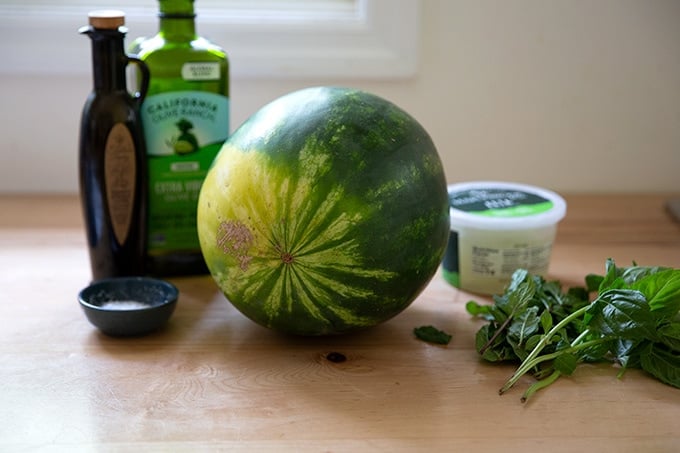 Start by peeling the watermelon: lop off each end; then stand the watermelon up and run a knife down the sides, removing the rind with each stroke.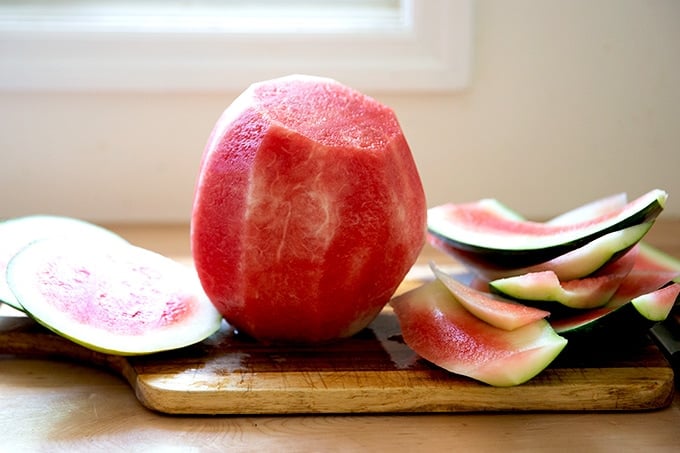 Next, slice the watermelon into slabs.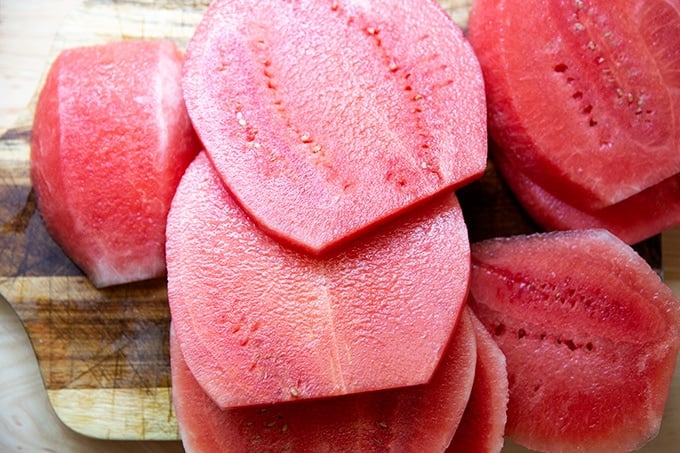 Then stack the slabs, and cut them into cubes.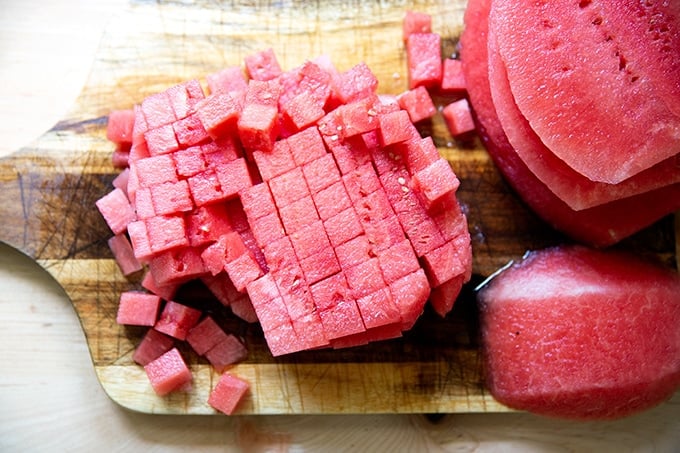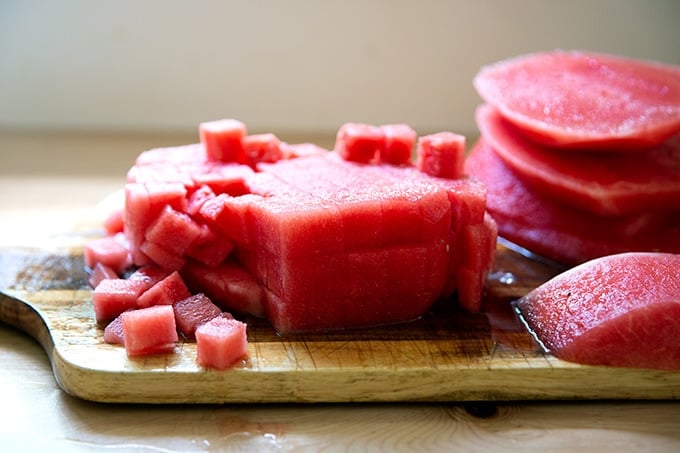 This 9 lb. 10-oz watermelon yielded 4.5 quarts of cubes. You'll need 3 quarts of cubed watermelon for this recipe. Store the remainder in the fridge.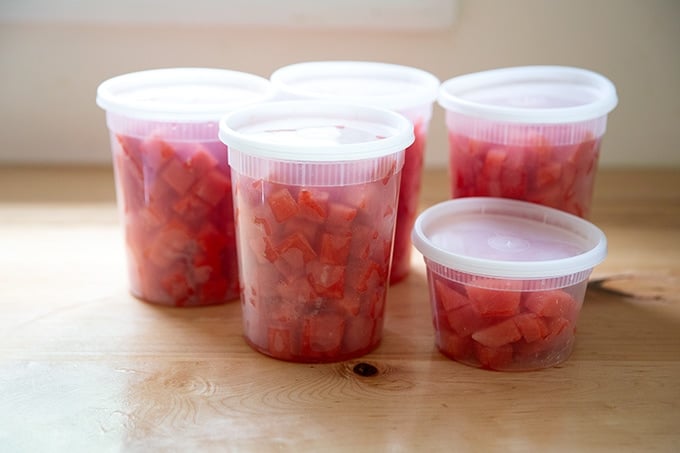 When ready to assemble, toss the cubed watermelon with salt, olive oil, and the aged balsamic vinegar.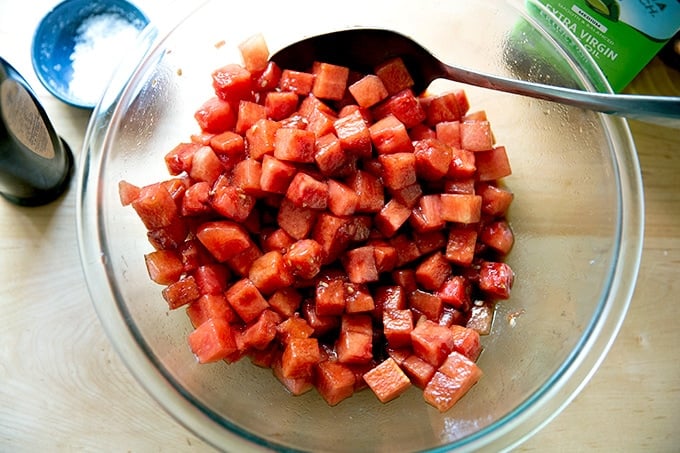 Prep your mint, basil, and feta …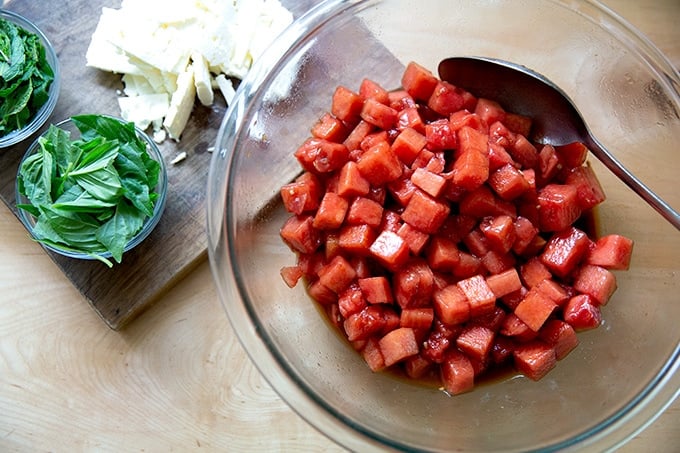 … and add to the watermelon.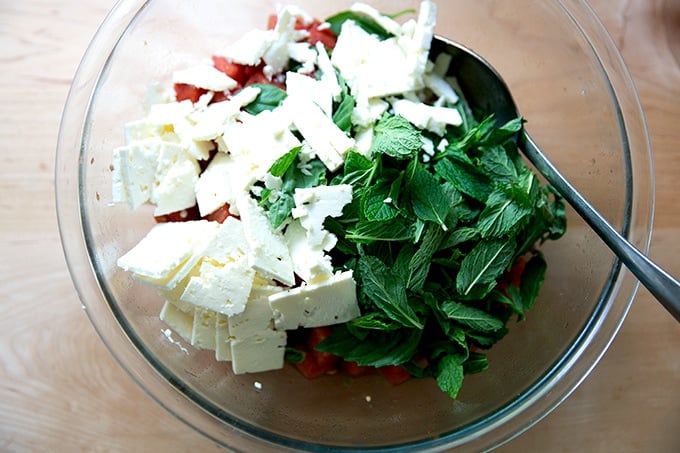 Toss to combine. You can stop here and serve it like this…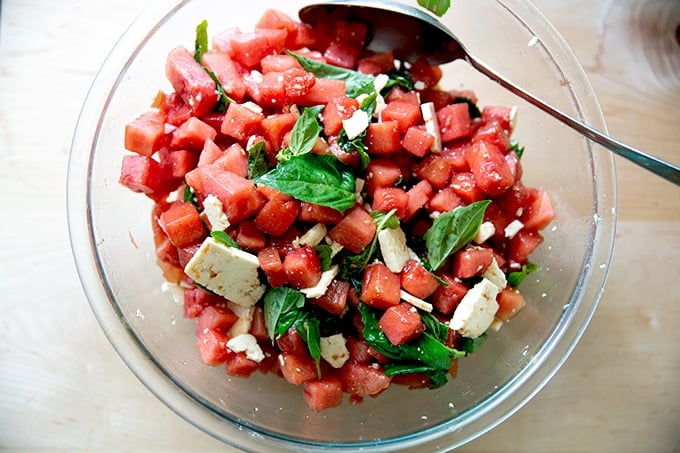 … or fold in some arugula and serve immediately.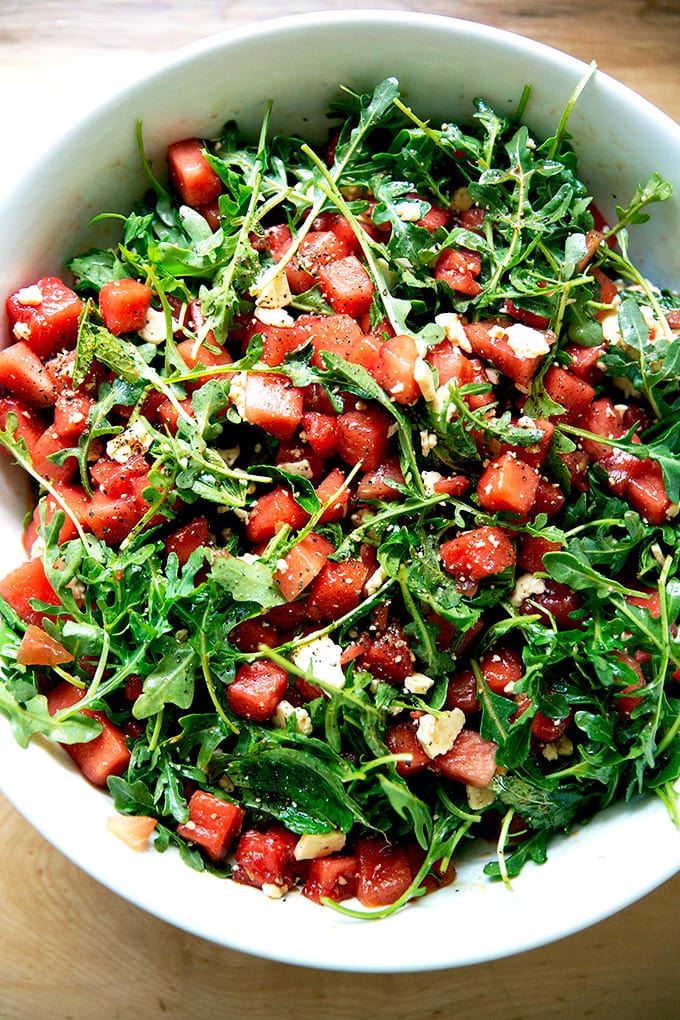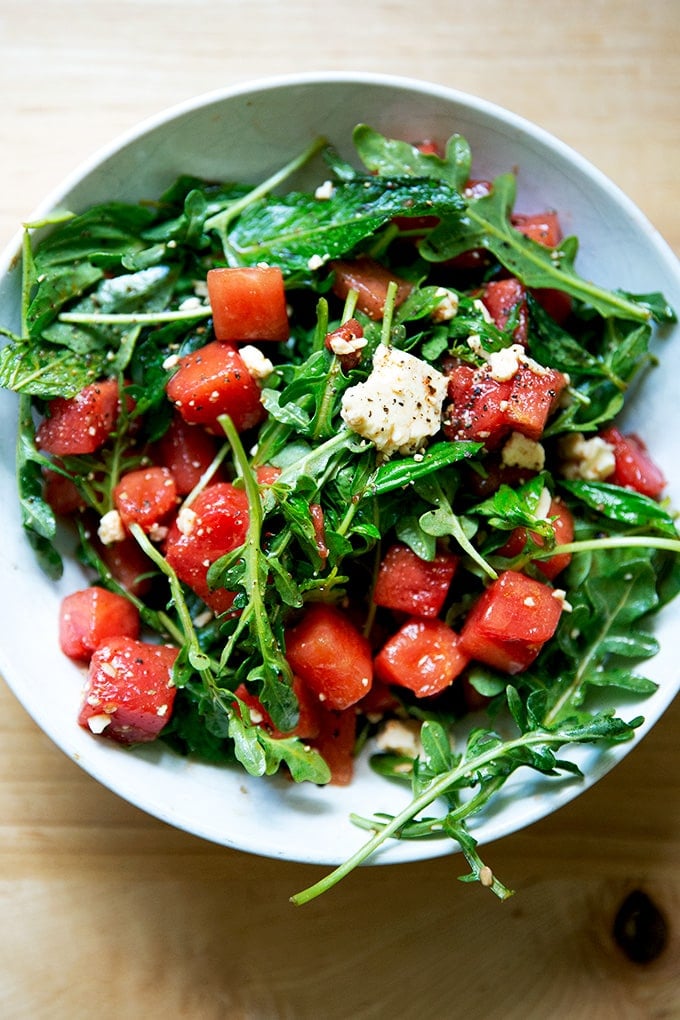 Print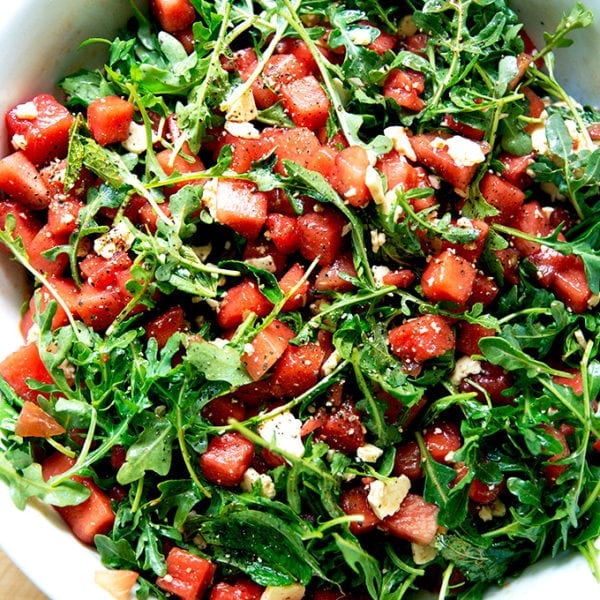 Watermelon, Feta & Mint Salad
---
Description
Watermelon and feta is a classic combination. This version is inspired by a salad my friend Jill brought to a recent gathering. I've folded in some arugula but the salad is delicious without it. 
Notes: 
This is a salad that should be assembled at the last minute and served immediately — when it sits for too long, the herbs and arugula tire. You can, however, prep things ahead of time: cube the watermelon, pick the herbs, slice the feta. While this salad is best served immediately, I do enjoy leftovers the next day … the salad just doesn't look as pretty, and the herbs lose their vibrancy. 
Balsamic: You can buy aged balsamic vinegar that's syrupy or you can simmer balsamic vinegar until it's reduced by half its volume. Simply simmer  1/4 cup vinegar in a small saucepan until it is thick and syrupy. Keep a close watch the entire time, and transfer the balsamic to a small bowl as soon as it starts to thicken because it will continue to reduce as it sits. This will give you 1 to 2 tablespoons of syrupy balsamic vinegar.
Feta: I love the Maplebrook Farms Feta from Vermont, but when I can't get that, I buy any feta in brine. I prefer slicing it into thin slabs, but crumble it if you wish. 
---
1

watermelon, no larger than 9 lbs., or

3 quarts

cubed watermelon
flaky sea salt or kosher salt

2

to

3

tablespoons olive oil

2

to

3

tablespoons aged balsamic, see notes above

1/4 cup

packed mint leaves

1/4 cup

packed basil leaves

7

to

8

ounces feta, see notes above

4 ounces

arugula
freshly cracked black pepper
---
Instructions
Peel and cube the watermelon: Slice off each end of the watermelon, then stand it upright. Run a knife down the sides to remove the rind. Slice the flesh into 3/4-inch (roughly) slabs, then stack the slabs and slice into 3/4-inch strips and then 3/4-inch cubes. Transfer 3 quarts of the cubes to a large bowl. Store the remaining watermelon in the fridge.
Place the cubes in a large bowl. Season with a large pinch of sea salt. Add 2 tablespoons each olive oil and aged balsamic vinegar. Toss gently to combine. Let stand for 5 minutes. The watermelon will begin releasing juices. You may find you have enough dressing with the 2 tablespoons each olive oil and balsamic. Taste a cube. If it needs more salt, olive oil, or balsamic add to taste. 
Gather your herbs. Slice the feta. Add to the bowl and toss to combine.  Finally, fold in the arugula. Crack pepper over the top if you wish. Serve immediately.  
Prep Time:

20 minutes

Category:

Salad

Method:

Toss

Cuisine:

American
Keywords: watermelon, feta, mint, basil, balsamic, olive oil, sea salt
This post may contain affiliate links. Please read my disclosure policy.