Ina Garten's Roasted Balsamic Brussels Sprouts
This post may contain affiliate links. Please read my disclosure policy.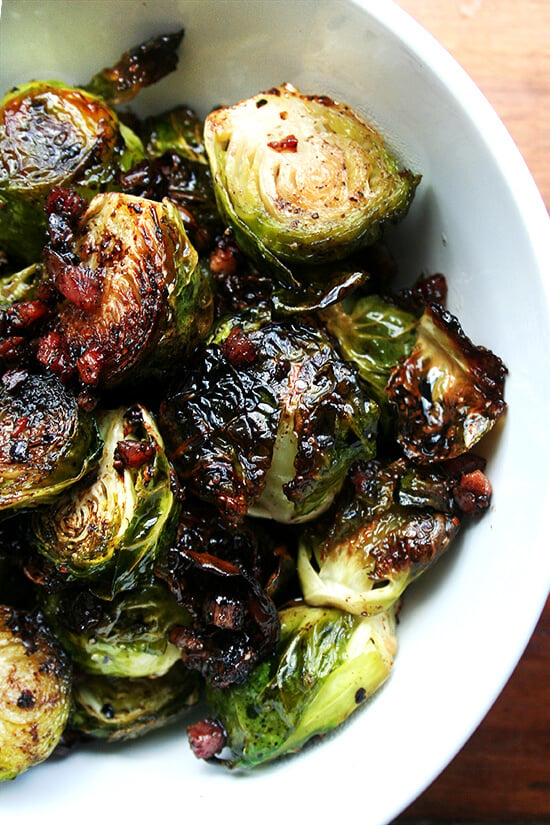 Roasted with olive oil, salt, and pepper, Ina Garten's roasted Brussels sprouts are simple and delicious, guaranteed to turn even the wariest Brussels sprout eaters into devotees.
How? This recipe has a few tricks up its sleeve:
For one: pancetta. Ina roasts the spouts with pancetta. In the oven, the sprouts and the pancetta crisp up in unison, the fat from the pancetta flavoring the sprouts, whose crispy surfaces emerge glistening and caramelized.
Second: balsamic vinegar. Just as the sprouts finish roasting, Ina tosses them with a few tablespoons of syrupy balsamic vinegar, which serves not only to deglaze the pan but also to provide that bite that members of the cabbage family so often need.
When I made these roasted Brussels sprouts most recently for a small dinner party alongside mustard-roasted chicken, our friends, admittedly skeptical about Brussels sprouts, gobbled them up, helped themselves to seconds, and made a point to ask about their preparation.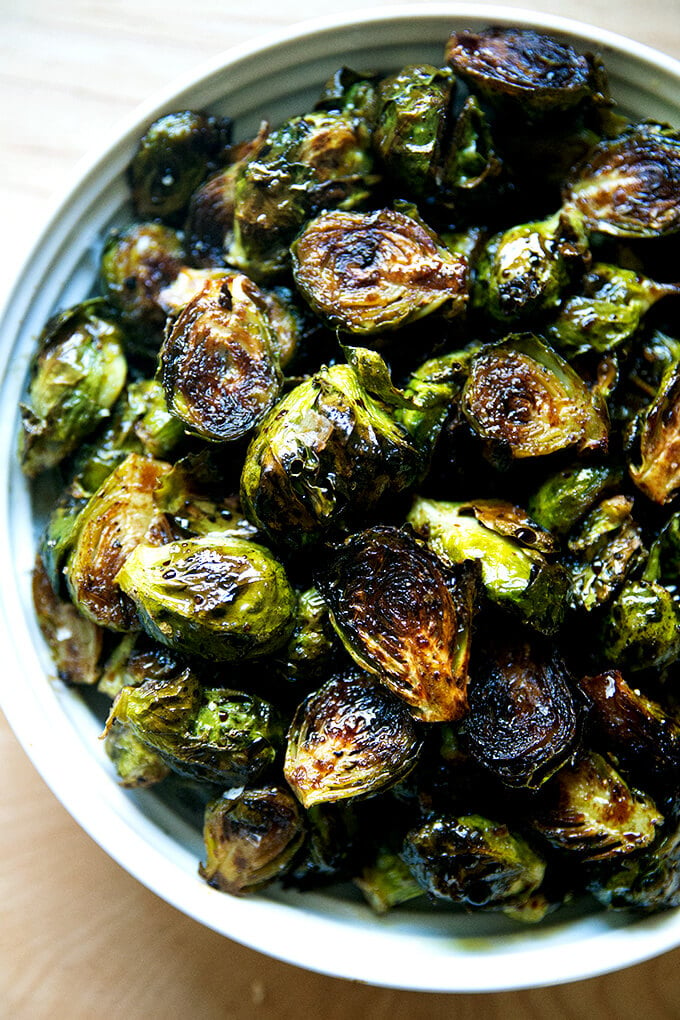 A Few Notes:
Is the pancetta necessary? I find when I make these roasted Brussels sprouts without the pancetta, I don't miss it. But when I make the Brussels sprouts with the pancetta, they are especially delicious.
What if I don't have (expensive) syrupy balsamic vinegar? Make it yourself! Simply place 1/4 to 1/2 cup balsamic vinegar in a small skillet or saucepan. Simmer it until it reduces to a syrupy consistency or coats the back of a spoon. Simple, economical, and delicious!
3 More Favorite Brussels Sprout Recipes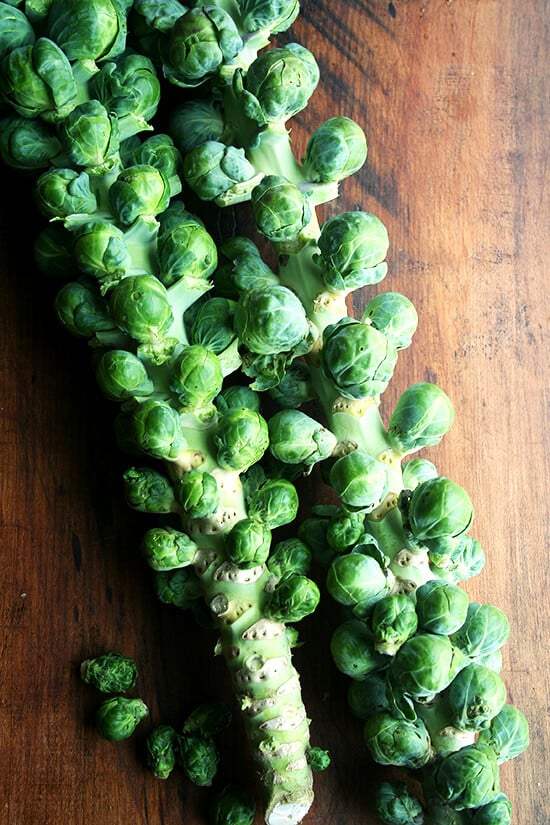 How to Make Roasted Brussels Sprouts
Remove sprouts from stalk and trim off any tough ends.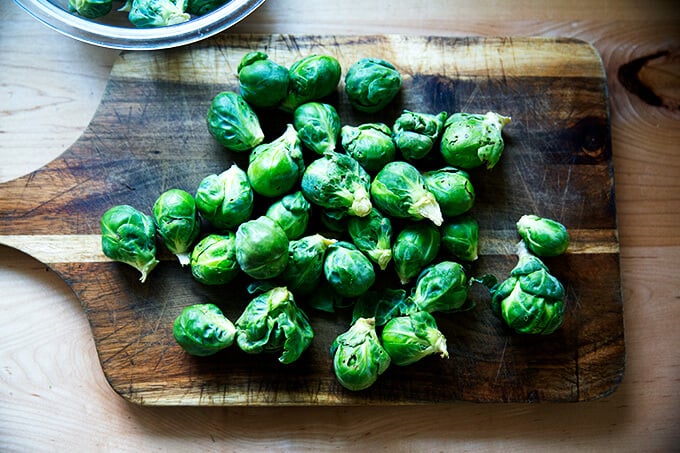 Cut each one in half: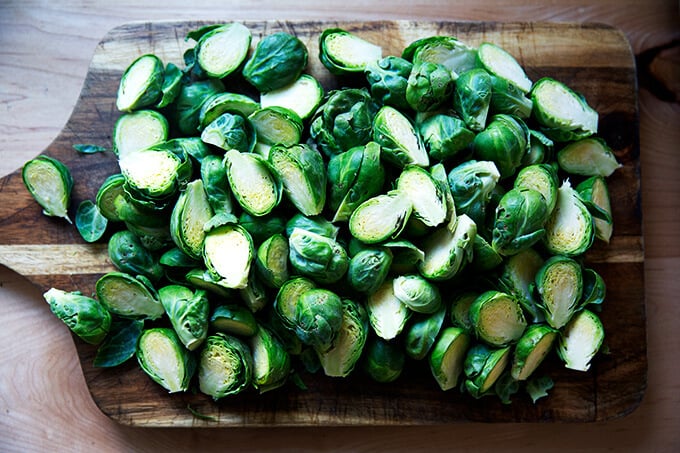 Transfer to a sheet pan and coat with olive oil, salt, and pepper: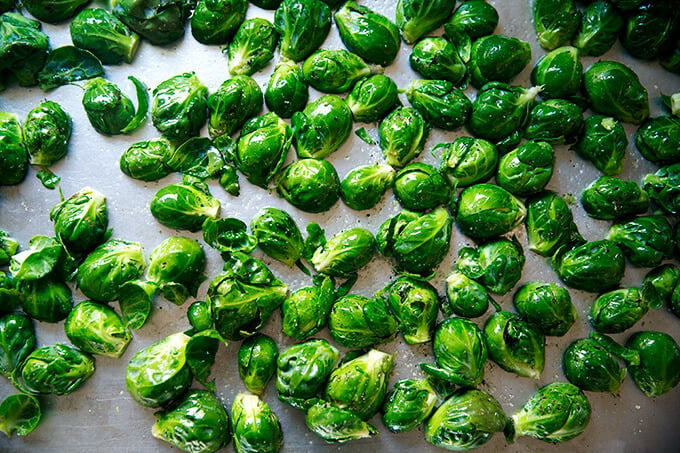 Ina's original recipe calls for tossing the sprouts with pancetta at this step. As I noted above: the pancetta is delicious, but I don't miss it when it's not there: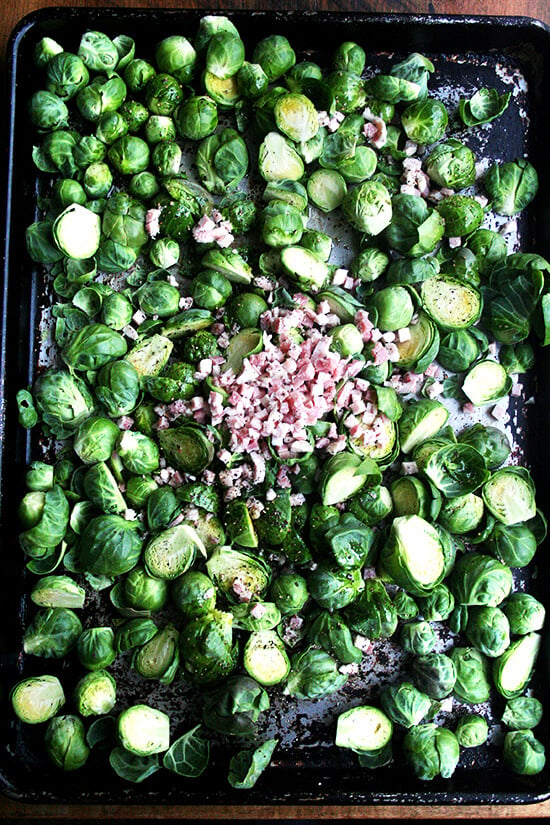 Roast at 400ºF for about 20 minutes; then toss and roast for another 5-10 minutes or until browned to your liking.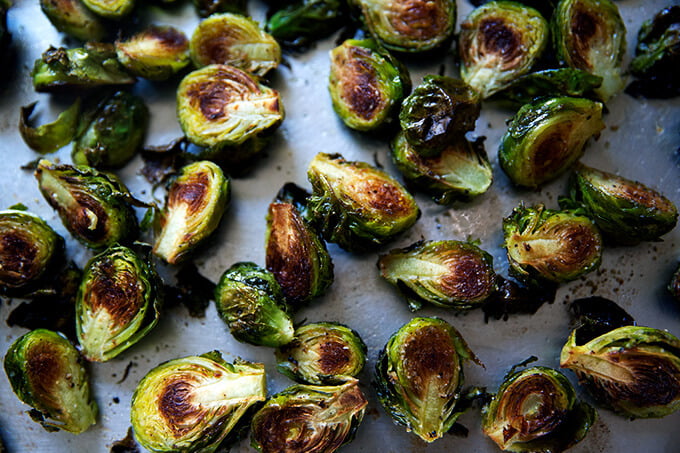 Meanwhile: reduce 1/2 cup of balsamic vinegar in a small skillet or saucepan until thick and syrupy: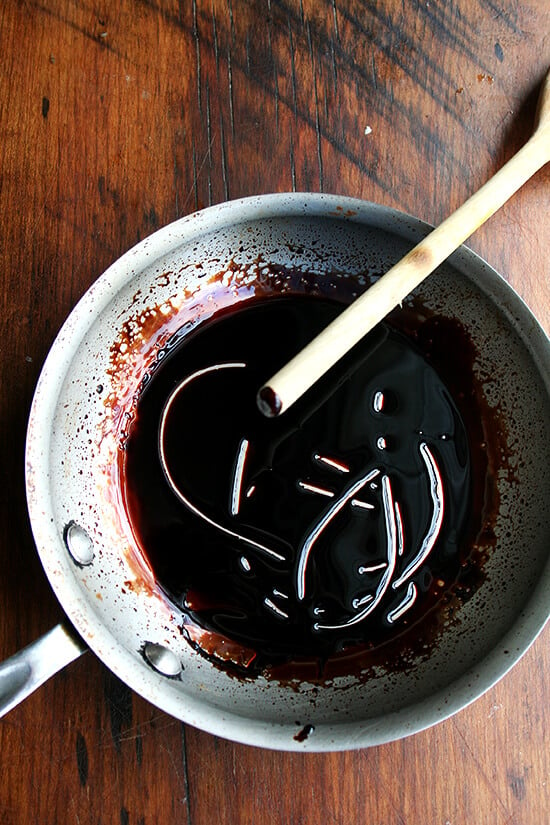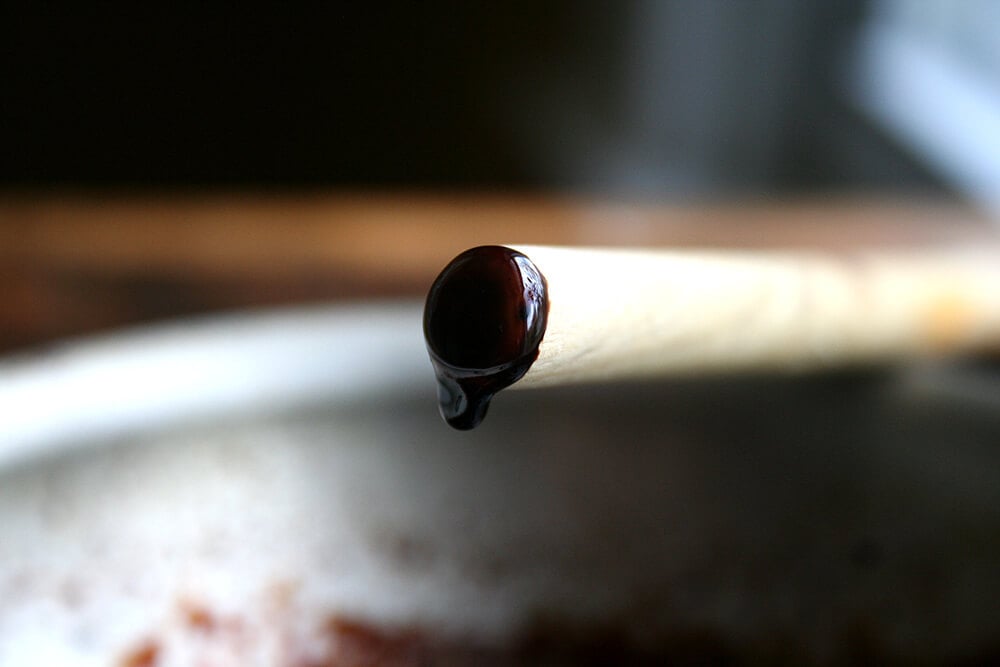 Toss the roasted Brussels sprouts with the reduced balsamic directly on the sheet pan: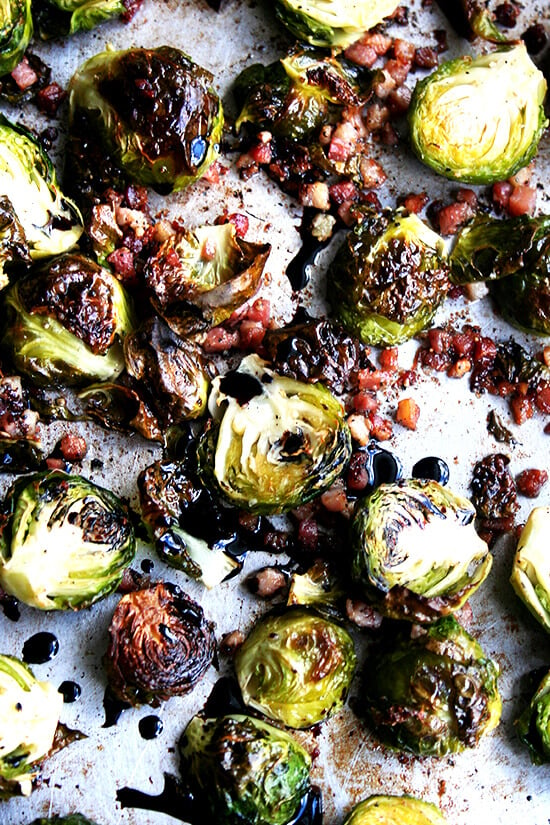 Transfer to a serving bowl: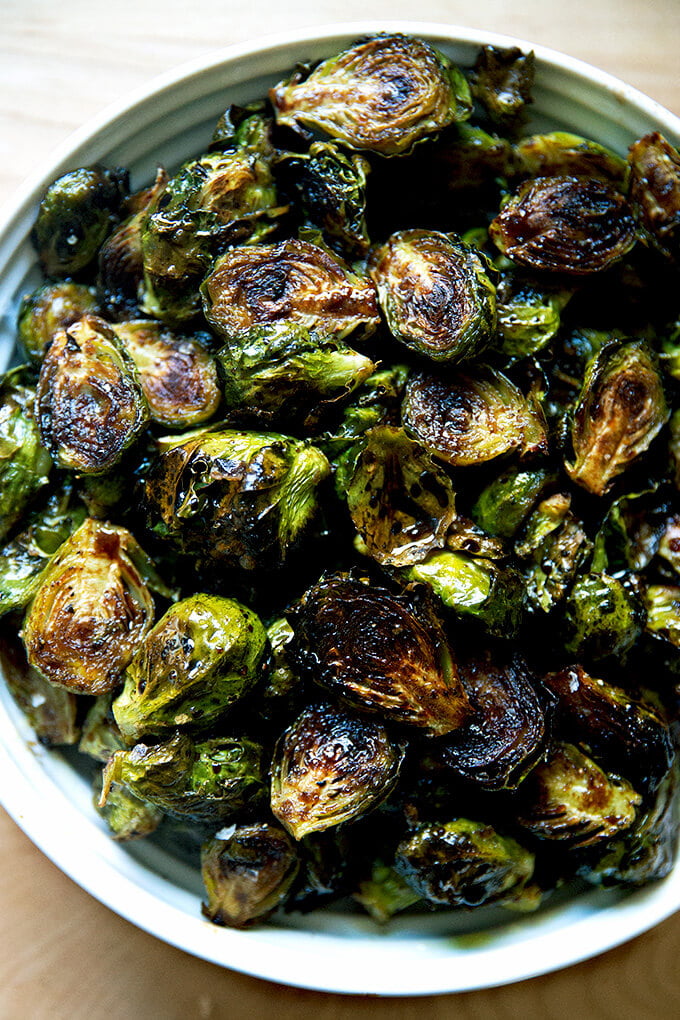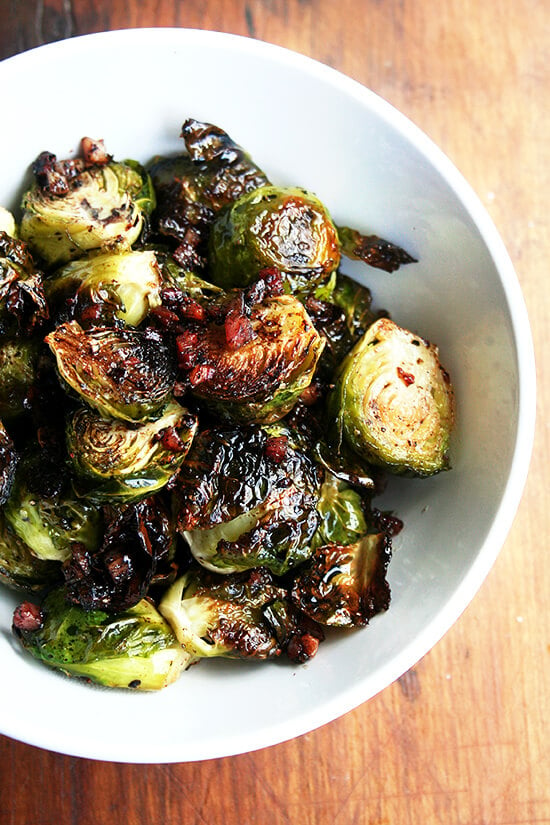 Print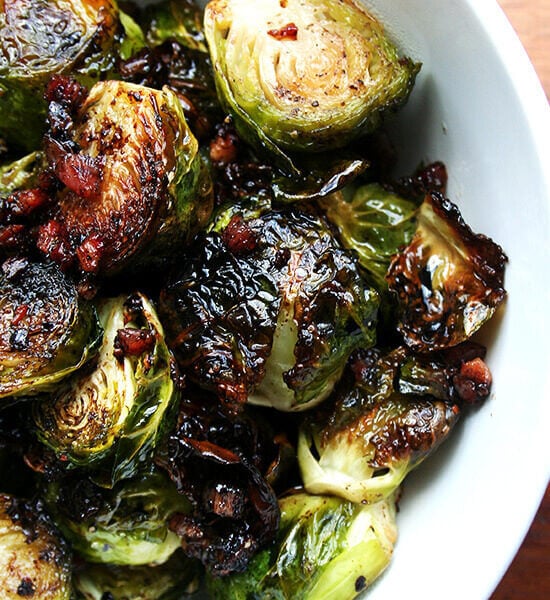 Ina Garten's Roasted Balsamic Brussels Sprouts
---
Description
Adapted from The Barefoot Contessa's Foolproof
Notes: As noted above, I served these Brussels sprouts with the mustard-roasted chicken for a dinner party. The rest of the menu was simple, too: we started with a ball of burrata sprinkled with sea salt served with crackers and peasant bread, and we finished the evening with Balzano apple cake.
Also, I find these to be just as delicious without the pancetta.
Balsamic: You can buy expensive aged balsamic vinegar that's syrupy or you can simmer balsamic vinegar until it's reduced to half its volume. Simply simmer  1/2 cup vinegar in a small saucepan until it is thick and syrupy. This will give you 1/4 cup of syrupy balsamic vinegar. 
---
1 1/2

pounds Brussels sprouts, trimmed and cut in half through the core — leave the teensy ones whole

4 ounces

pancetta, sliced 1/4 inch thick, optional

1/4 cup

olive oil

1 1/2 teaspoons

kosher salt, or more or less to taste

1/2 teaspoon

freshly ground pepper, plus more, to taste

1 tablespoon

syrupy balsamic vinegar or

1/2 cup

standard, store-bought balsamic, see notes above
---
Instructions
Preheat oven to 400°F. (If your oven runs cool, set it to 425ºF .)
Place the Brussels sprouts on a baking sheet, including any of the loose leaves. Cut the pancetta into 1/2-inch dice and add to the pan. Add the olive oil, the 1 1/2 tsp. salt (or less — start with a teaspoon if you are sensitive to salt) and the 1/2 teaspoon pepper and toss with your hands. Spread out the mixture in a single layer.
Roast the Brussels sprouts until they're tender and nicely browned and the pancetta is cooked, 20 to 30 minutes, tossing once at the 20-minute mark.
Meanwhile, if using standard balsamic vinegar, place it in a small saucepan or frying pan and simmer gently until it is reduced by half and looking syrupy — be careful here! Err on the side of under reducing — once the balsamic starts thickening, it can burn quickly. At the first sign of the balsamic getting too thick or dark, transfer it to a small bowl.
Remove pan from the oven, drizzle immediately with the balsamic vinegar and toss again. (I like using the entire quarter cup of reduced balsamic, but add to taste.) Taste and adjust the seasoning with salt and pepper. Serve hot.
Prep Time:

10 minutes

Cook Time:

30 minutes

Category:

Side Dish

Method:

Roasting

Cuisine:

Italian/American
Keywords: Brussels sprouts, pancetta, balsamic, Ina Garten, Barefoot Contessa
This post may contain affiliate links. Please read my disclosure policy.