Ina Garten's Balsamic Brussels Sprouts
This post may contain affiliate links. Please read my disclosure policy.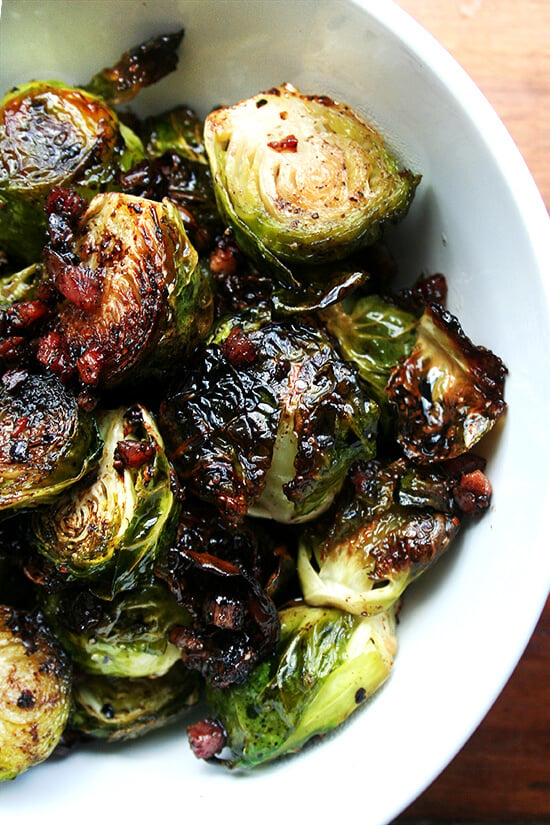 I woke up Sunday morning with one mission in mind: buy a punch bowl.
We had had friends over on Saturday night, and the Fish House Punch had been a wild success, adored by the men and women alike, the unfrozen ice ring inconsequential, the plastic lemonade pitcher excusable but less than ideal.
The punch had been a last-minute addition to the menu, inspired I suppose by the Bon Appetit Thanksgiving Issue I had been reading earlier that day, whose second bit of holiday-survival advice was to "Serve a House Drink." With only four drinkers on deck Saturday night, there was no pressing need to make a punch, but after its reception, I don't think I'll be able to host another party this season — any season? — without serving it. It's just too good, and so simple, too, calling for juicing lemons, dissolving sugar in water, and twisting open bottles: cognac, dark rum, and peach brandy.
Like most punches, this one is high-octane, the kind of stuff that warms the body upon first sip. And it did its job well, starting the evening with a bang, ultimately making the party a smashing success, but not before delivering a successful smashing: we were all drinking water exclusively by the time dinner hit the table. What can I say, it's only November 5th. We're out of practice. I've never been more excited for the holidays. And I've got my punch bowl now to prove it.
An Easy Dinner Party Menu
Incidentally, for this small dinner party, I made the mustard-roasted chicken and served another Ina Garten recipe — Brussels sprouts roasted with pancetta — on the side. Our friends, who admitted to being unsure about Brussels sprouts upon seeing them enter the oven, gobbled them up, helped themselves to seconds, and made a point to ask about their preparation.
Roasted with olive oil, salt and pepper, the sprouts and the pancetta crisp up in unison, the fat from the pancetta flavoring the sprouts, whose crispy surfaces emerge glistening and caramelized. Just as the pan exits the oven, everything gets tossed with a few tablespoons of syrupy balsamic vinegar, which serves not only to deglaze the pan but also to provide that bite that cabbage so often needs.
We ended the evening with Balzano apple cake, still one of my all-time favorite desserts, one I hope you all find time to make at some point this fall.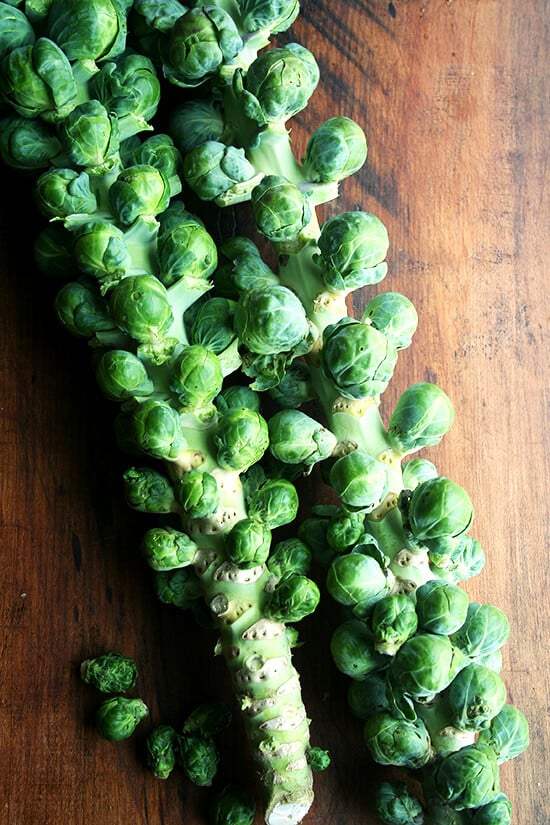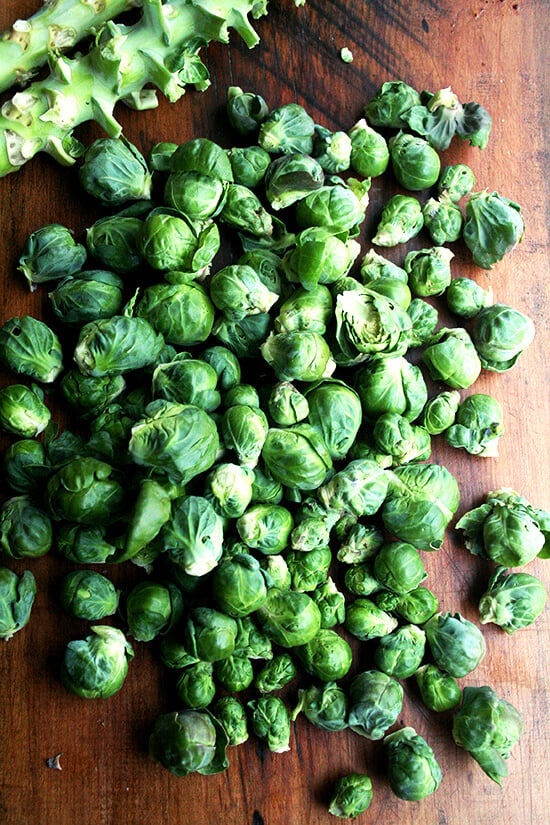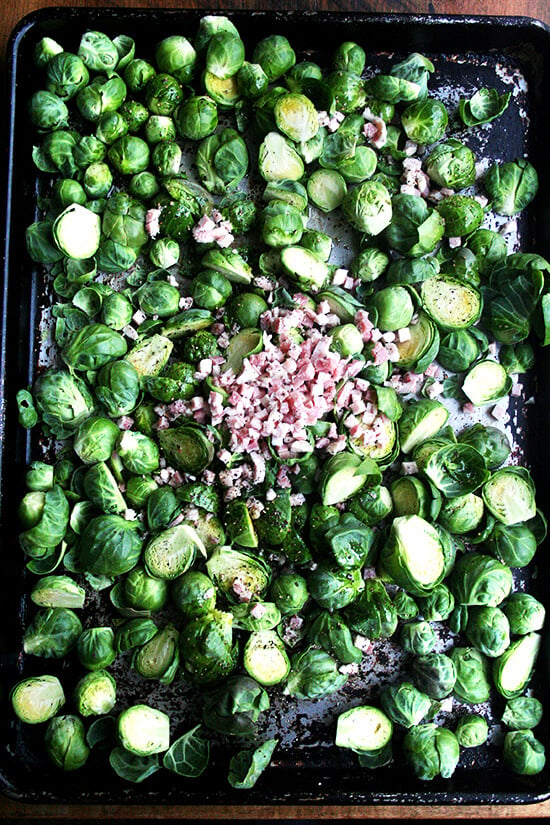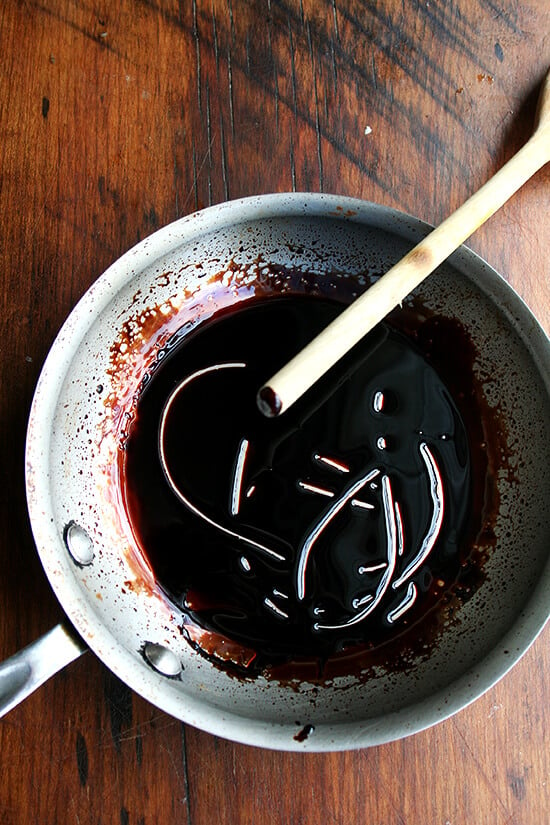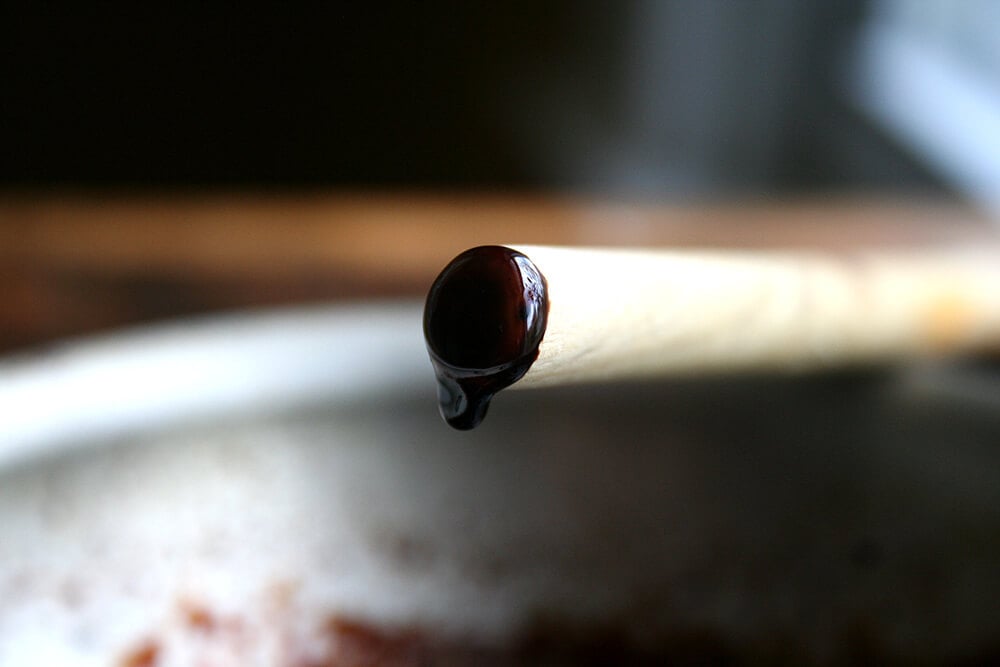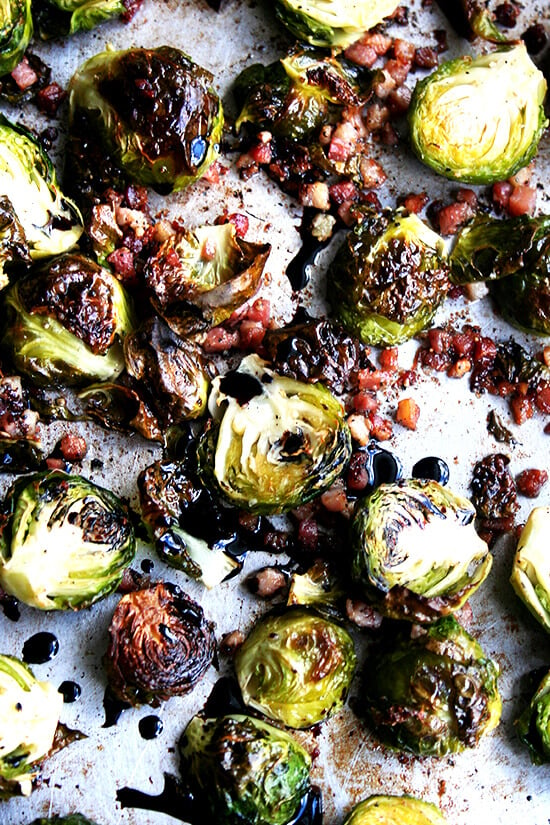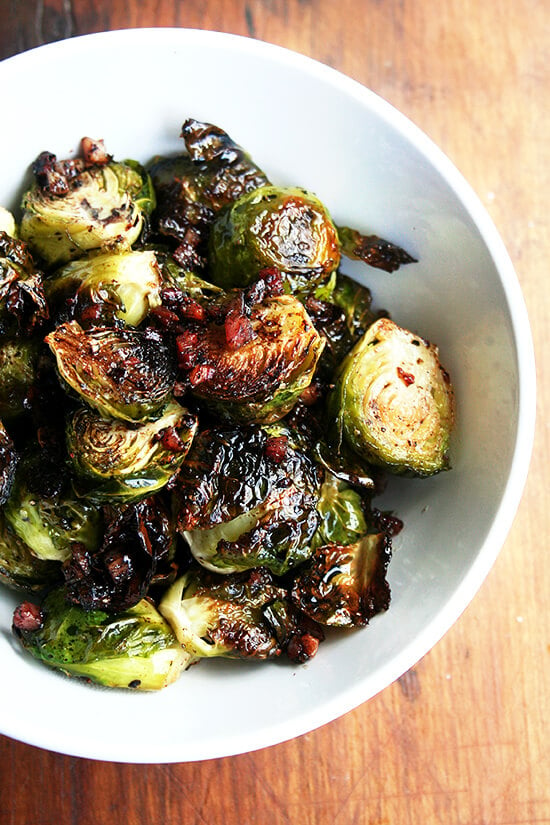 Print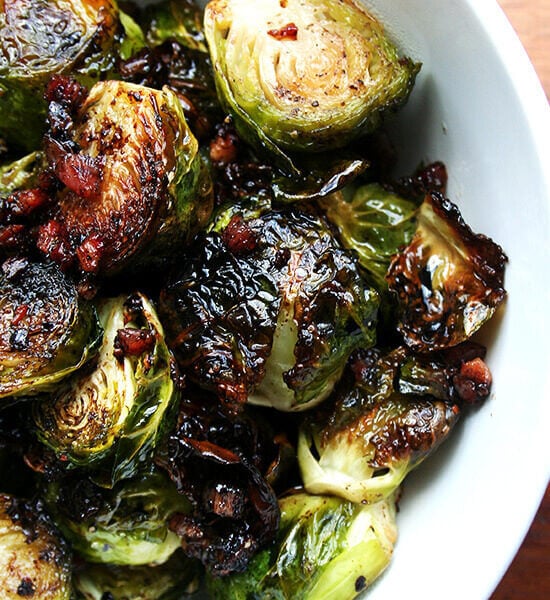 Ina Garten's Balsamic Brussels Sprouts
---
Author:

Alexandra Stafford

Prep Time:

10 minutes

Cook Time:

30 minutes

Total Time:

40 minutes

Yield:

6
Description
Source: The Barefoot Contessa's Foolproof
Notes: As noted above, I served these Brussels sprouts with the mustard-roasted chicken for a dinner party. The rest of the menu was simple, too: we started with a ball of burrata sprinkled with sea salt served with crackers and peasant bread, and we finished the evening with Balzano apple cake.
Also, I recently made them without pancetta, and they were still delicious.
* You can buy expensive aged balsamic vinegar that's syrupy or you can boil balsamic vinegar until it's reduced to half its volume. If you are making a smaller pan of sprouts, start with a 1/4 cup; if you are making a larger pan, start with 1/2 cup.
---
Ingredients
1 1/2

lb. brussels sprouts, trimmed and cut in half through the core — leave the teensy ones whole

4 oz

. pancetta, sliced 1/4 inch thick

1/4 cup

olive oil

1 1/2 tsp

. kosher salt, or more or less to taste

1/2 tsp

. freshly ground pepper, plus more, to taste

1

Tbs. syrupy balsamic vinegar or

1/4 cup

to 1/2 cup standard, store-bought balsamic*
---
Instructions
Preheat oven to 400°F.
Place the Brussels sprouts on a baking sheet, including any of the loose leaves. Cut the pancetta into 1/2-inch dice and add to the pan. Add the olive oil, the 1 1/2 tsp. salt (or less — start with a teaspoon if you are sensitive to salt) and the 1/2 tsp. pepper and toss with your hands. Spread out the mixture in a single layer.
Roast the brussels sprouts until they're tender and nicely browned and the pancetta is cooked, 20 to 30 minutes, tossing once at the 20-minute mark. Meanwhile, if using standard balsamic vinegar, place it in a small saucepan or frying pan and simmer gently until it is reduced by half and looking syrupy — be careful here! Err on the side of under reducing — once the balsamic starts thickening, it can burn quickly. At the first sign of the balsamic getting too thick or dark, transfer it to a small bowl.
Remove pan from the oven, drizzle immediately with the balsamic vinegar and toss again. Taste and adjust the seasoning with salt and pepper. Serve hot.
---
Category:

Side Dish

Method:

Roasting

Cuisine:

Italian/American
Keywords: Brussels sprouts, pancetta, balsamic, Ina Garten, Barefoot Contessa
This post may contain affiliate links. Please read my disclosure policy.